One of the various designs and trends that Indian ethnic clothing has seen in 2022 is undoubtedly the popularity of high-neck blouse designs. Everyone is wearing at least one of the High Neck Blouse Designs, which come in a wide variety of patterns and designs with a vast number of possibilities to pick from, including Bollywood divas, socialites, and more. This holiday season, you could consider High Neck Blouse Designs and show off chic outfits like a diva in your own right. Wherever you go, you'll be turning attention when you wear the ideal saree with the greatest High Neck Blouse Designs and the appropriate ear and neck statement accessories. Now, let's look at some of the stunning High Neck Blouse Designs.
1. Collar High Neck Blouse Design 
When you mention high-neck, collared blouses can't be far behind. These types of blouses aren't particularly trendy right now, although there have been a few small updates recently. The collar portion is decorated with stone or threadwork, or you can choose anything else. M ore ornate style collar to give your saree a little something more. If you want to avoid seeming overly formal, be sure to accessorize lavishly and choose a relaxed or modern saree drape.
2. Zipper High Neck Blouse Design
This high-neck, the zippered blouse design is the most recent and is a must-have for any woman during the wedding season. This high-neck blouse's adaptability is what makes it most distinctive. By choosing a stiff shoulder pad design over a cold shoulder design, you can have this jacket created in a more manly or feminine fashion.
3. Keyhole High Neck Blouse Design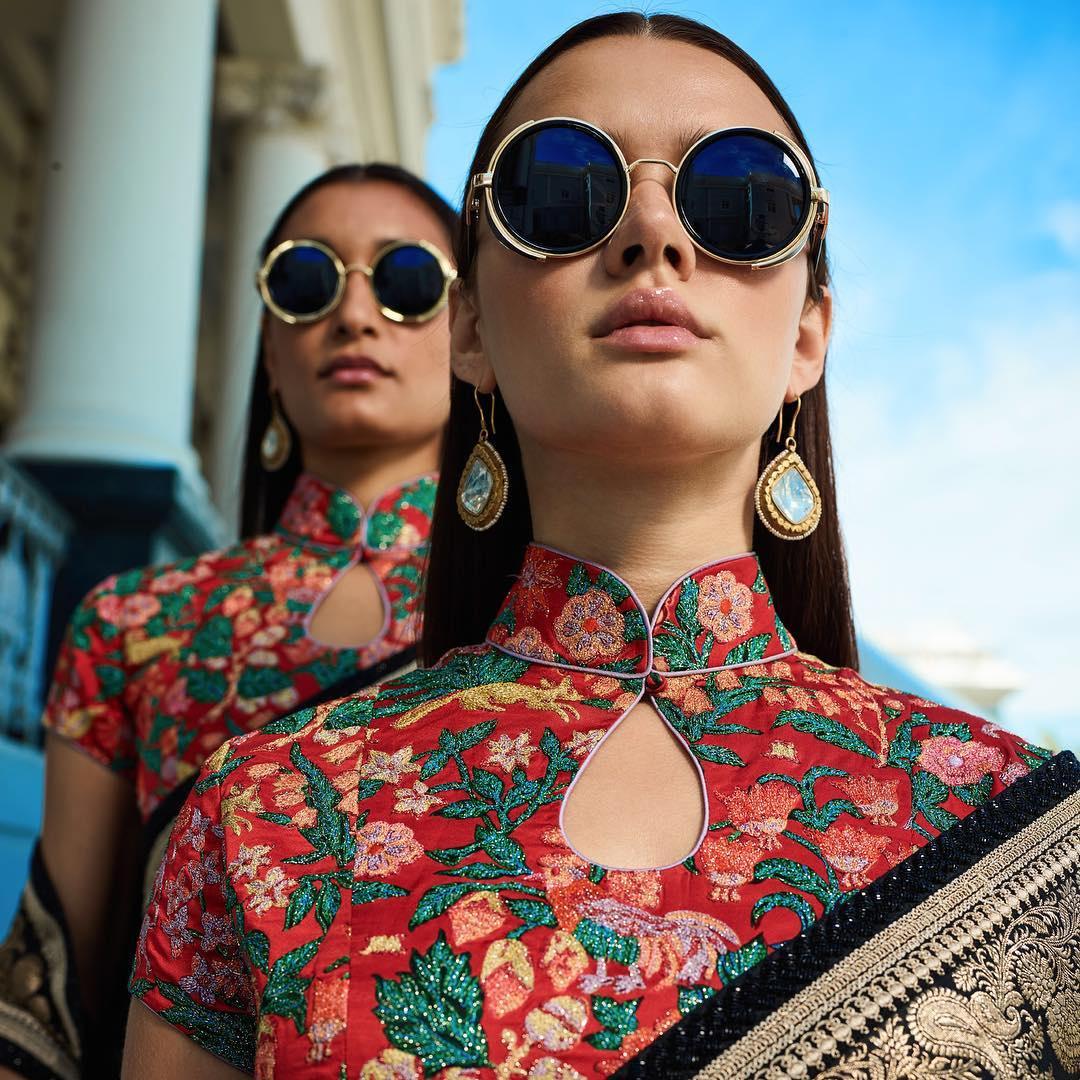 A high-neck keyhole blouse is a good option if you enjoy a little bit of playful flesh exposure. Similar to the buttoned-up design, the keyhole can be positioned on the front or back of the shirt. Additionally, you can change the cut-size out's to suit your comfort level.
4. Sleeveless High Neck Blouse Design
It is the blouse style that many prominent Bollywood actresses favor the most. For a party-ready style this wedding season, wear a basic, solid-colored saree with a contrasting heavily embroidered sleeveless high-neck blouse.
5. Full Sleeves High Neck Blouse Design
Many renowned fashion designers, including Sabyasachi Mukherjee, currently favor full sleeves and a high neck blouse. This style of blouse, whether it is printed or embroidered, gives off a really elegant appearance. Hair buns and free-flowing side curls go well with full-sleeved, high-neck blouses.
6. Trendy Front High Neck Blouse Design 
This floral high-neck blouse design epitomizes glamour at its finest. If your saree or lehenga contains intricate embroidery, all you need is a high-neck shirt that complements the look without drawing undue attention to it. This blouse achieves just that.
7. Net High Neck Blouse Design
Every season, a net saree may help you rock the look. Why not flaunt your exceptional facade by donning a net high-neck blouse design?
8. High Neck Blouse Design with Rounded Collars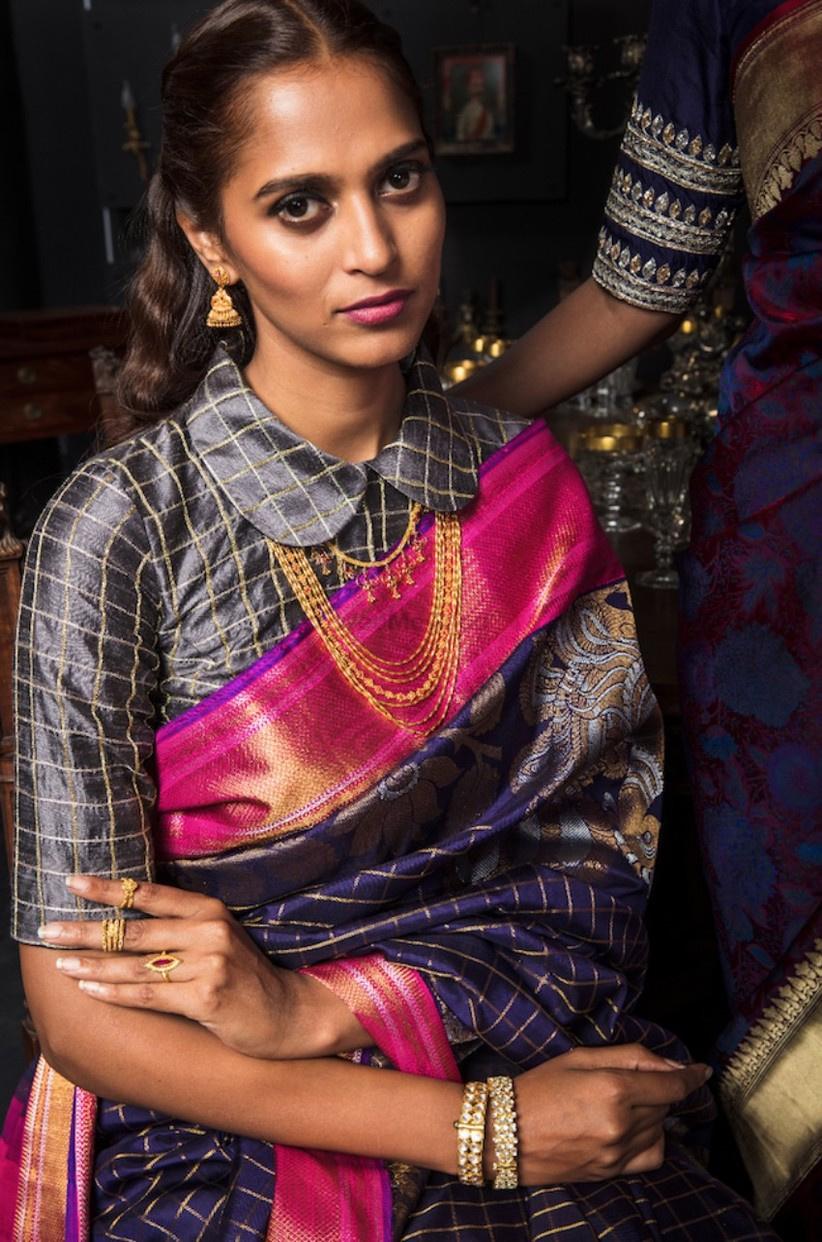 Although this blouse is straightforward, its unconventional collar makes it stand out as evidence that beauty lives in the details. The only thing that was necessary to turn something plain into something lovely was a collar with round edges.
9. High Neck Blouse Design with Gold Zari Work on the Front
The high-neck blouse with zari embroidery is here to save the day if you're looking for a classic blouse with a dash of beauty. The elaborate embroidery on the front steals the show, and the blouse's lighter shade looks elegant.
10. Ruffled High Neck Blouse Design
This high-neck blouse design is surrounded by ruffles that seem both beautiful and adorable. For pre-wedding events, millennials are crushing on these hues, sarees, and designs.
11. Stellar High Neck Blouse Design
Poocho Designs for high-neck blouses always spark controversy for the right reasons. Due to their originality, these high-neck blouse designs are currently dominating the market.
12. Modern High Neck Blouse Design
This high-neck blouse style combines elegance and intrigue. It is easy, fashionable, and built especially for women who are constantly on the move. 
13. Cold-shoulder High Neck Blouse Design With A Twist
In this pattern, one side features a shoulder cut-out and the other has no sleeves. Pretty inventive, no? It should be worn with a synthetic or sheer saree so that the neck pattern is the center of attention.
14. Tribal Touch High Neck Blouse Design
Who said high-neck blouse styles had to be understated and modest? To have fun, experiment with color and print. This gorgeous closed-neck blouse is making us feel tribal.
15. Halter High Neck Blouse Design
Do you not adore the halter neck look? This outfit can be worn casually, traditionally, or even during a celebration!
16. Lace Collar High Neck Blouse Design
It makes sense that a blouse with a high neck and lace collar would look lovely together. Simple yet very powerful! The appropriate amount of drama is added by the hint of lace at the collar. Furthermore, the lace collar serves as a neckpiece, so you don't even need one.
17. High Neck Blouse Design With Sequins
Simple but so classy! When wearing a stunning, intricate saree like this one, a straightforward high-neck blouse is required. This one is guaranteed to steal the stage thanks to the intricate collar.
18. Princess High Neck Blouse Design
Sonam Kapoor looks lovely in her high-neck blouse. Not just the embroidery, but also the neckline's intricate design, has us smitten! Make sure to keep your makeup and accessories to a minimum when wearing a bold blouse like that.
19. Play With Pearls High Neck Blouse Design
We appreciate how this pearl-studded high-neck shirt looks. This one is just what your wardrobe needs if you don't mind going overboard. We're certain that pearls are a great addition to any Indian-inspired outfit!
20. Sheer In The Middle High Neck Blouse Design
This gorgeous bandeau blouse with such a thoughtful cutout is "sheer" genius. You'll steal the show at the next wedding you attend if you wear it with a plain satin lehenga or saree.
21. Waist-Length with High Neck Blouse Design
The notion that blouses should have a specific length is challenged by this most recent trend. Your curves will be highlighted by this new waist-length blouse with elbow-length sleeves and a collar.
22. Square Cut-Outs Sleeveless High Neck Blouse Design
Well, your neighborhood tailor won't be able to make this. Even if it might not be the most straightforward style to discover, the search will be worthwhile! The neck's distinctive cut-outs are likely to draw attention.
23. Cut-out Collared High Neck Blouse Design
This high neck, cut-out collar, and sleeveless shirt has a very fashionable and feminine appearance. We are totally in love with this blouse. This blouse is a good option for your farewell and freshmen celebration. There's no doubt that you'll get everyone's attention.
24. Jacket Pattern High Neck Blouse Design
You can wear a stylish outfit by choosing a high-neck jacket blouse pattern. Put on the jacket over your regular blouse for an Indo-Western style if it was made to match the saree design. Try this attire for your next important occasion.
25. Mandarin Collar High Neck Blouse Design
The distinct mandarin style chine collar neck with three-quarter sleeves also looks good paired with reshmi sarees for a royally charming look that possesses old-world glam. pair a saree look like this with oversized earrings like statement jhumkas or dangler earrings and avoid any sort of neck jewelry.  

26. Semi-Sheer High Neck Blouse Design
a fully covered neckline, yet sheer sections allow you to see some shoulder skin. I find the idea of wearing sarees with sheer net collar shirts intriguing. You might certainly choose to have some Kundan or stone-decorated accents on the netted area or collar borders if you wish to add some dazzle and gloss.
27. Collar High Neck Blouse Design With Button Row In Front
The entire center potli button row detail with embroidery work on the collar and sleeve borders is another collar high neck design to explore. The long sleeves and collar neckline may seem a bit overdone, but using sheer fabric for the sleeves strikes a decent balance and adds a touch of dreamlike chic.
28. High Neck Blouse Design With Ethnic Motifs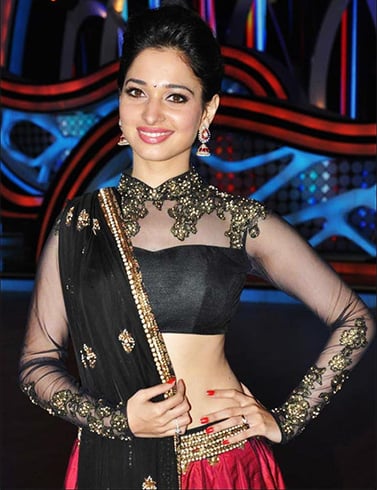 You cannot avoid the gorgeous ethnic motifs on high-neck blouses with long sleeves and solid-color silk sarees that are currently in style. When the evenings demand a formal touch, wear it best. Add stunning cosmetics, a stylish hairstyle, and heels for the feet to complete the look.
29. Standing Collar High Neck Blouse
Another seductive alternative for a saree combination is standing collar high neck blouse patterns. With some embroidery or stonework, they can seem festive and gorgeous. As it is a highly coveted and modest blouse idea, you can experiment with different saree draping styles and middle button rows or even zipper details with blouse patterns like these.
30. Patch Work High Neck Blouse Design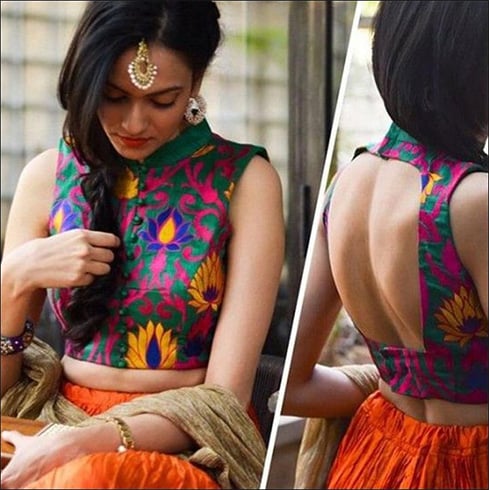 Choose your style and take your selection; go genuinely ethnic and necessary for the nine days of Navratri or wear it when the Dussehra gatherings occur. Patchwork high-neck blouse designs for silk sarees are currently popular and come in colors from the brightest to the darkest. There are numerous ways to drape a saree to show off the blouse's embroidery.
These gorgeous high-neck blouse designs are ideal for party outfits, indo-western appearances, and work attire/parties. Choose your look and customize it for the occasion. You can also check other blouse-related articles here. Enjoy your day!