When we talk of Bollywood divas who look fair and lovely without makeup the name that comes to our mind instantly is that of Yami Gautam. She has got flawless and naturally glowing skin.
Looking beautiful doesn't mean that you have to spend thousands of rupees in salons for getting skin treatment. There are many effective and easy to follow beauty secrets which have been passed upon to us by our grandmothers. These age old secrets work wonders for your skin. Now, it's high time that we should trust and use those harmless and easy to do beauty recipes and watch out for it's magic:
Face Packs For Fairness Having One Ingredient
At times, one thing lying in your kitchen has all the qualities of glowing skin. It is the time to unfold those hidden qualities of that ingredient of kitchen.
1. Potatoes for Flawless Skin
These have mild bleaching properties in them just like lemon. But as they are not acidic in nature they are much safer for all types of skin. They leave a polished glow on your skin. Apply raw potatoes paste as a mask and wash off after 15 minutes. It removes suntan and blemishes leaving your skin an even toned and fairer looks.
2. Banana for Flawless Skin
It is known for its skin whitening effect.  It provides instant glow and refreshment to your dull and tired face. Make a banana paste and apply it on a clean face. Wash after 15 minutes and see the difference. If you have sun tanned or burned skin mix milk or honey to it.
Face Packs For Fairness Having Two Ingredients
It is always said 'Two is better than one'. For those who wish to add goodness of more than one ingredient to their face mask, here it is:
1. Lemon And Yoghurt for Flawless Skin
Lemons are known for their skin bleaching properties but not every skin responds well to it. So, add yoghurt. It will leave your skin soft and supple. It will help to get rid of acne marks and blemishes. Mix a tablespoon of fresh unflavored yoghurt with a few drops of lemon juice. Apply on a clean face. Leave for 15 minutes and rinse off. Both these ingredients are wonderful for removing suntan. You can use full cream milk also instead of yoghurt for the same result.
2. Yoghurt And Dried Orange Peel
After finishing off an tasty orange keep its peel. They are rich in vitamin C and have skin lightening properties. It helps to improve skin's complexion and is astringent. Grind dried orange peels into a fine smooth powder. Take one tablespoon of this powder and mix it with one tablespoon of unflavored yoghurt. Apply on face and leave for 15 minutes. After it is dry, remove it with wet fingers in circular motion. It is an excellent natural scrub. It not only exfoliates but moisturizes dull and dry layer of skin also.
3. Turmeric And Tomato
Turmeric is a wonder spice. Whether you add it in dishes or face pack, it helps you to remove acne marks and pigmentation, de tans your skin and leaves a stunning glow on it. The goodness of tomato juice acts as a natural toner. It helps to get rid of excessive oil of your skin. Mix turmeric and tomato juice and apply on the face. Let it dry and wash with tepid water. Tomato juice is antioxidant and turmeric lightens the skin tone. If you have excessive dry skin then replace tomato with curd.
Face Packs For Fairness With Three Or More Ingredients
Sometimes it takes more than two things to get rid of tan. Here are some packs which you must try on weekends to get rid of dry or dull skin.
1. Cucumber, Turmeric And Lime Face Mask
Take a tablespoon of cucumber juice and add a few drops of lime juice, teaspoon of turmeric and a teaspoon of glycerin (in case of dry skin). Mix together and apply all over the face including under and around the eyes. Leave it for 15 minutes then rinse. For best results, use this face pack daily. It is also great for oily skin if you exclude glycerin. It is an amazing whitening pack for all skin types.
2. Ubtan
This traditional ubtan is the best exfoliation. Take one spoonful of gram flour (besan), add one teaspoonful each of lime juice and turmeric. Make a thick paste by adding rose water. Apply on face and let it dry. Then wash off with cold water in gentle circular motion. This homemade remedy is highly effective for naturally glowing and silky smooth skin. You can also add milk cream (malai) in this pack.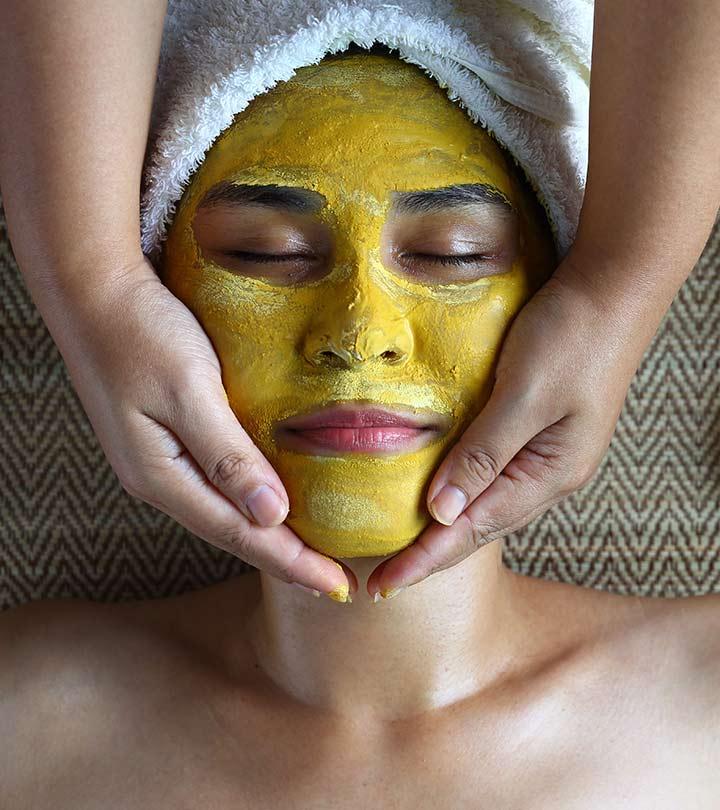 But you must remember that merely applying face packs will not give you an everlasting flawless skin.
Use these homemade packs and let these natural things show their magic on your face and skin.