When is your wedding bell ringing? As a bride, you deserve to look as gorgeous and stunning as stars- After all, it's your day! Grab the best Indian Bridal Hairstyles- Be it loose curls, high bun, puffy crown or side braid choose the best for you.
Gorgeous And Beautiful Hairstyles That Are Just Perfect For Your Big Wedding Day!!
#1 Lovely Half Up And Rest Is Down: Indian Bridal Hairstyles
Sweep your half hair up and tie them with a bunch of flowers. The frills and wisps on your face will give romantic look. Let the strands fall down half on your shoulders and a half on your back to give the dense hair look. Always remember that Indian Bridal Hairstyles makes your look prettier.
#2 Lovely Side Braid Crown
The heavy one side braid with floral decoration will look great on the day! It Keeps your half face light and easy for perfect clicks. If you have long hair then you can go easy with long flicks and a loose strand of hair. Decorate your hair with flowers, beautiful hair accessories and glitters and shimmers.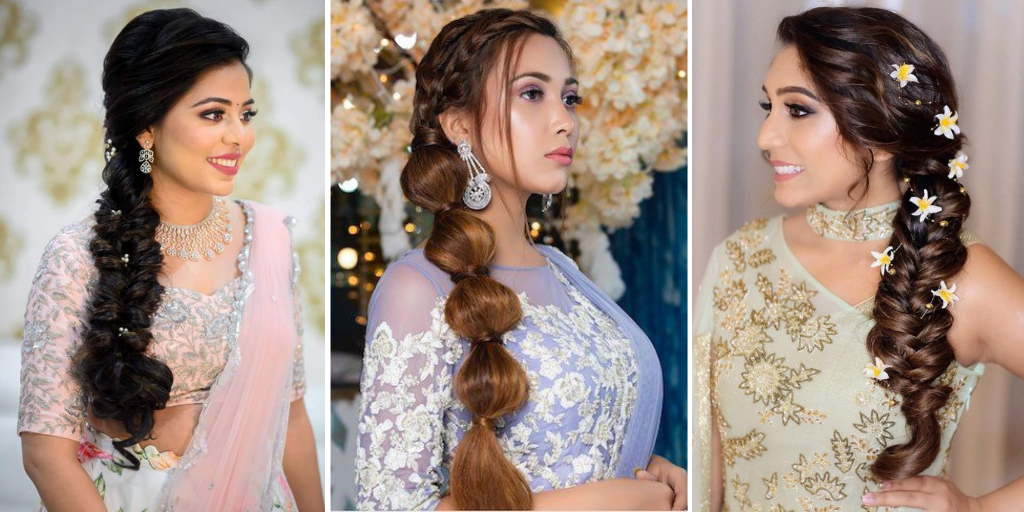 Watch Now- Lovely Side Braid Crown Hairstyle Tutorial 
#3 Decorative Side Braid! Indian Bridal Hairstyles
Braids will always be trending, now and forever! Just decorate it with pearl jewelry to look stunning! Side braid Hairstyles can be decorated with pearl jewelry, try flowers jewelry or glitters to get that trending bridal look. You can decorate your long side braid with the jewelry that is attached with the mangtika. A long stretch of jewelry will look astonishing!
#4 Sweep Everything Up
Take all the strands of hair and ribbon it down or just sweep it up in a messy way! If you got curly or heavy hair then just go with this all swept hair style and use satin ribbons, hairband of flowers or just tie hair with beautiful hair jewelry!
Watch Now- Sweep Everything Up Hairstyle Tutorial
#5 The Classic Romantic Loose Frills: Indian Bridal Hairstyles
If you have ever read a classic love novel, this is the only hairstyle they have ever shown! Loose frills of hair with floral crown and satin silk ribbon falling down to your back. You can wear a tiara with these hairstyles or a crown of roses or any flower that goes well with your wedding dress! Remember to use a long satin ribbon so that it falls properly back.
#6 Classy Ballerina High Bun
The most romantic, classy and clean hairstyle ever! When you are not at all sure about which hairstyle to go for, just go with this evergreen hairstyle! Accessorize the bun with flowers or hair jewelry and see the magic! Be it curly hair or straight hair, any hair type can be adapted to this ballerina high bun. No flicks and no lose hair strands will make it look better. Pin up the loose hair from sides and bottom! Use fresh flowers to get the awesome look.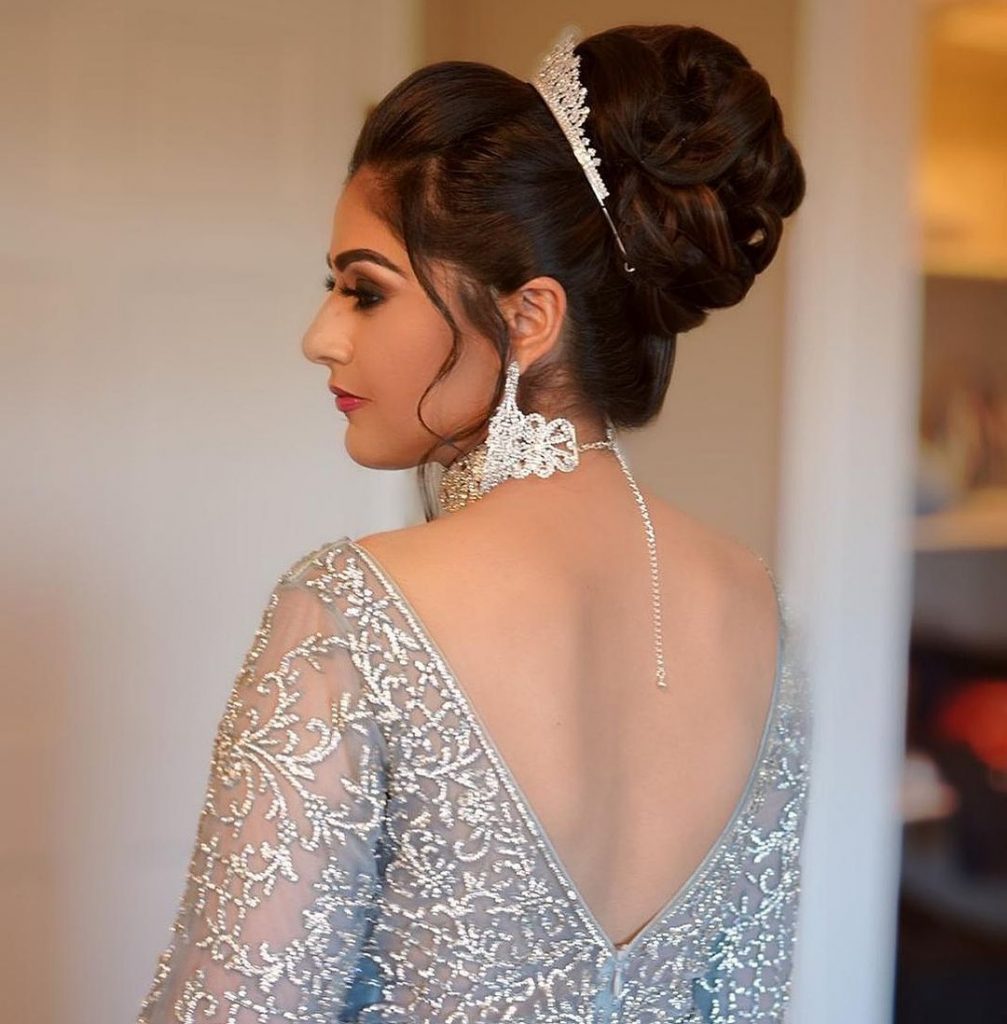 #7 Small Braid, Long Braid, Loose Braid- Just Braids! Indian Bridal Hairstyles
The cluster of braids will look sexy and trendy! This hairstyle will take your appearance up to the new level! Different type of braids will do wonders if flower accessories are added to it. Irrespective of your face structure (light/heavy), this hairstyle will look good on your big day. Remember that loose braids can ruin your bridal hairstyles- Pin up your hairstyle nicely.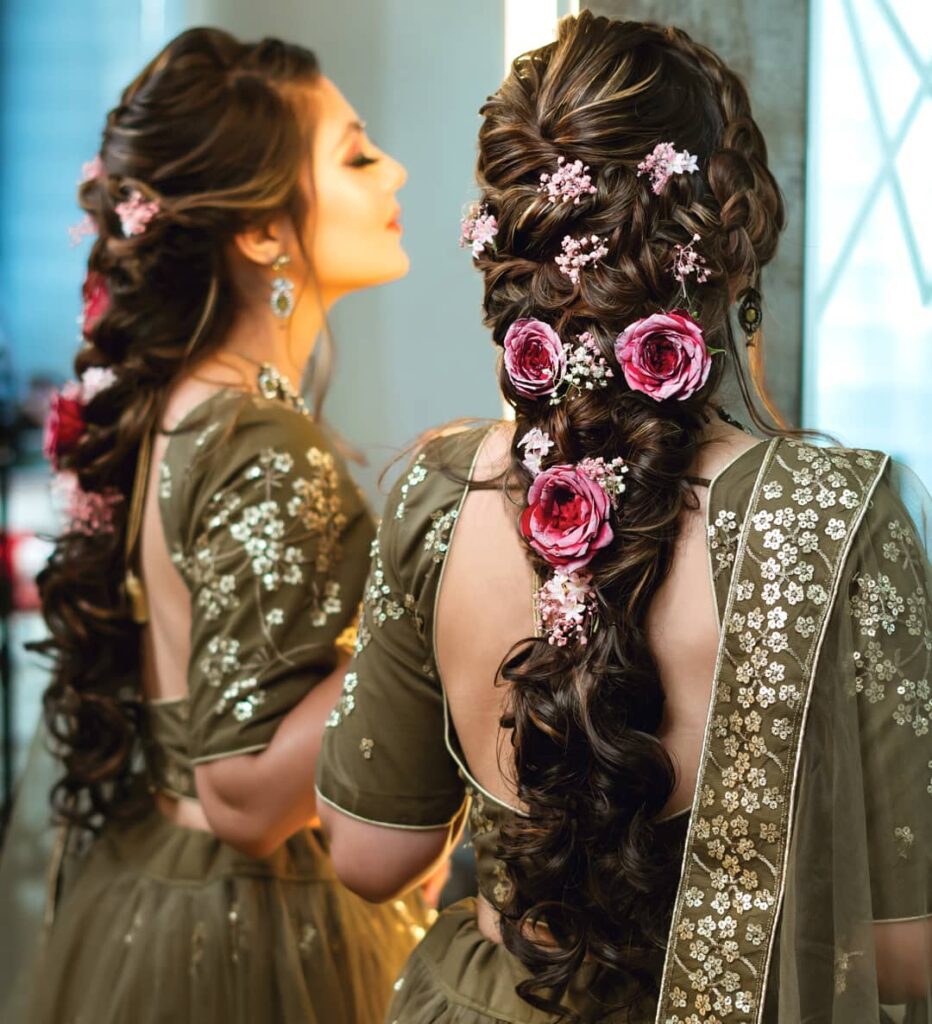 #8 The Vintage Victorian Look!
The lovely vintage hairstyle at its best! The sexy bun is tied with crown braid, complimenting the bun! The wisps of hair in front will do wonders by giving romantic look to your face. You can try the bow/knot or play with satin ribbons in your bridal hairstyles easily. You are at an advantage if you have curly hair.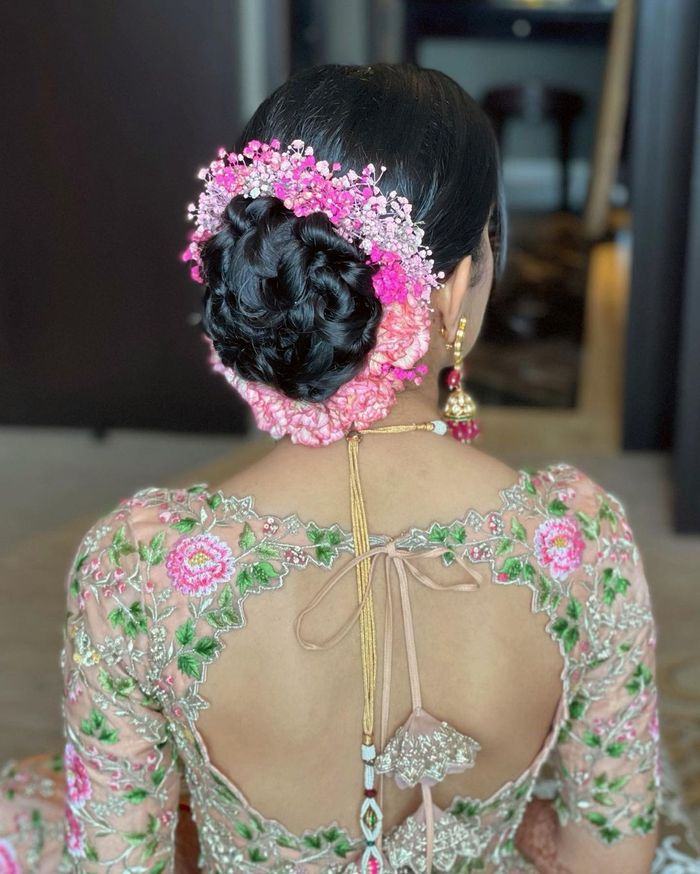 #9 Waterfall Braid Hairstyle
Watch Now- Waterfall Braid Hairstyle Tutorial
Exclusively For You- 50 Easy And Simple Mehndi Designs!
The first thing is, this waterfall hairstyle will look best if you have straight hair and that too long. This is a super sexy and cute bridal hairstyle that blends waterfall and braid together. Cover the crown area with thick braid and falling waterfalls from the braid. The straight waterfalls will look awesome on your big day. Just add a crisp of flowers, glitters, and shimmers!
#10 Beautiful High Bun With Hair Wrap!
When you use this clean and beautiful hairstyle, it emphasizes your strong facial features. Wear this hairstyle with lehenga and saree. Whatever your outfit is for a wedding day, just get the high bun with hair wrap hairstyle and look modish. Add a crisp and cover the hair wrap with roses or fresh flowers to enhance the look!
#11 Classic High Bun With Twists And Turns!
This will give a neat and tidy look if you are going with a royal outfit for your big day. A very lavish bridal hairstyle that has twists, curls, and turns.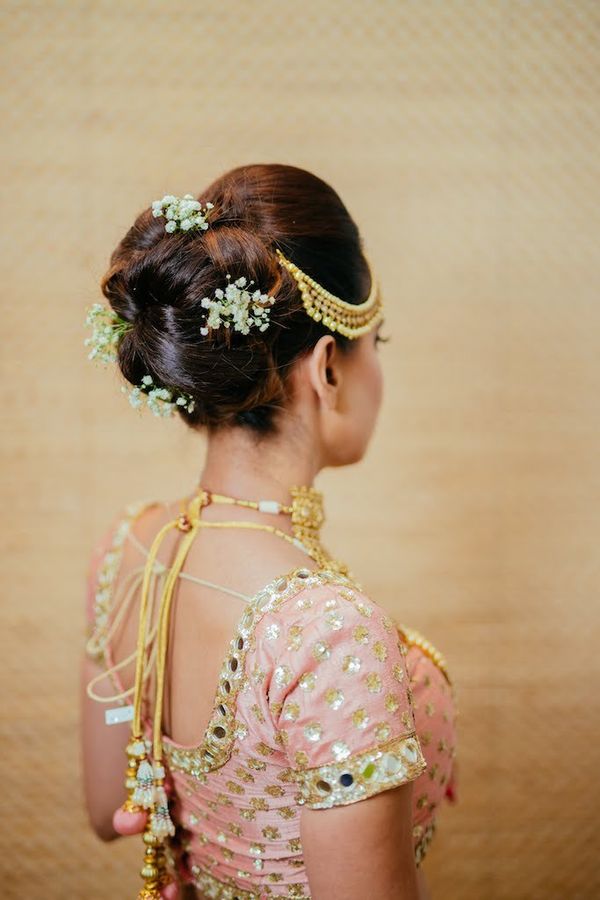 #12 Down Side Chignon With Twisted Side Sweeps
Downside chignon, bridal hairstyle rest on the nape of your neck and shoulder and gives a beautiful flower look. This hairstyle is super stylish and sexy. Once you achieve the clear flower look, cover the flower bun with curls and twists of hair strands.
Watch Now- Beautiful Braided Flower Updo Tutorial
#13 Soft Textured Side Curls With Fringes
Straight hair looks beautiful, but curls take the hairstyles to next level. The best thing is, curled hairstyle looks awesome on Indian brides. What you have to do is, side sweep your hair strands to your left or right and decorate those curls with hair jewelry.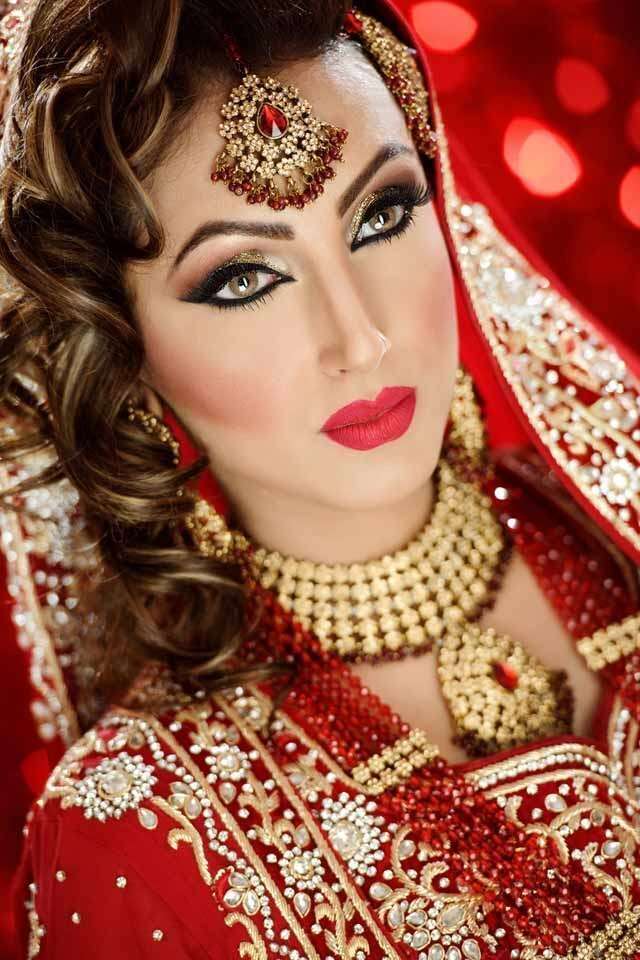 #14 Princess Hairstyle For The Wedding Day
This bridal hairstyle will look good only on long hair, be it curly or straight. For this, you need a sexy pearl hair clip or get a crown that looks great on you. This hairstyle is made with twists and turns and gives you bunch of curls that will brighten up your look instantly. Don't forget to get a stunning crown for your big day!
#15 A Perfect Indian Bridal Hairstyles Updo! Royal Hairstyle!
Recommended Read- How To Wear Saree? 20 New Stylish Ways To Wear Saree!
This hairstyle is all about combining the twists and curls and making a sexy bun out of it. It will be best made if you have long hair. Hairstyles look beautiful when they are braided and have curls. This royal hairstyle needs a slim studded hair clip or band to hold the curly hair updo. You can use fresh flowers to decorate your hair.
#16 Pretty Loose Curls With Sexy Updo!
This hairstyle is the intense hairstyle that will enhance your facial features. You should know that this is the most romantic hairstyle you can have. Soft curls, twists and turns and a real updo with a crisp of princess hair clip will do wonders to your wedding ceremony! Show your beauty with soft twisted curls!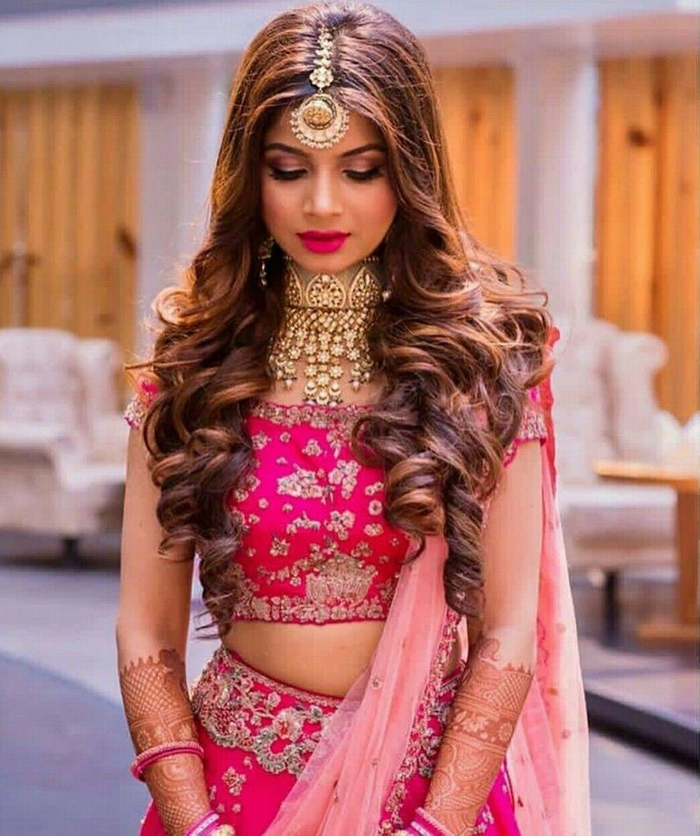 #17 Frozen-Inspired Wedding Hairstyle!
You can easily carry frozen-inspired wedding hairstyle for your engagement or wedding function.
Watch Now- Frozen-Inspired Wedding Hairstyle
#18 Red Carpet Bridal Hairstyles!
This is fancy, classic and eternal red carpet chic hairstyle. Look trendy on your big day with this bridal hairstyle. The blend of curls, twists and turns will make this style go fabulously on you! Give it a try and add a beautiful crisp with a rose on the nape of your neck.
#19 Beautiful Braided Flower Updo!
If you are planning to wear exquisite neckpiece or statement earrings on your big day, then braided flower up do is good hairstyle to go with. For this hairstyle, you should have long hair. With beautiful braided flower up do, enjoy your classy look!
#20 French Fishtail Braid Hairstyle
French fishtail hairstyle is a gorgeous hairstyle. Long fishtail braid on one side of shoulder and a braided crown will enhance your looks. You can also make a low nape bun of French fishtail by wrapping the braid in circular motion and fixing it nicely with bob pins. Don't forget to give your braided crown, a royal look!
Watch Now- French Fishtail Braid Hairstyle
#21 Trendy Updo Braid With Hair Wrap
Tighten the crown's braid so that your strands don't fall out. With rest of hair make thick braid and give it snail rounds. Never wrap your bun tightly. Keep bun loose near your neck nape. Glitters and shimmers will enhance the beauty of updo braid hairstyle!
Watch Now- Trendy Updo Braid With Hair Wrap Tutorial
 The beautiful Indian Bridal Hairstyles are brought to you by Baggout. These are the simplest, easiest yet very stunning hairstyles that will make you look like a princess on your big wedding day- Shine Out Loud because it's your day darling!
HAPPY WEDDING!!!