Henna is one of the sexiest, safe and stylish forms of temporary tattoos that are loved by almost every other girl. We absolutely love Mehndis and also there are so many girls that we know who drool over Henna. This blog is dedicated to all those ladies. In this blog, we are going to see some of the most amazing Kangan Mehndi Designs.
Kangan is something which a girl would like to wear on some special occasions only. And also pair them up with a beautiful Henna design would be like a cherry on the cake. So, in this blog, we are going to see some of the most beautiful and pretty Kangan Mehndi Designs that you should check out.
There are many traditions for wearing a Henna Mehndi. Usually, women like to wear Henna on some special days like festivals, birthdays, marriage anniversaries and much more. Not only is the Kangan Mehndi Design linked to all the happy days or the celebrating days of a woman's life, but also they do have some really brilliant health effects. But, let's see some of the best Kangan Mehndi Designs for you to try.
Also read: Best Karvachauth Mehndi Designs
1. Mandala Kangan Mehndi Designs
Mandalas are in trend! No wonder what you see, there could be nothing as infinite as a Mandala. Mandalas are really aesthetic to look at and thus it makes them a good choice to have a Kangan Mehndi Design of them.
2. Half Hand Kangan Mehndi Designs
When it comes to a Mehndi design that can go well with a Kangan or also put it simply, a Kangan Mehndi Design, then there's nothing as good as a Half Hand Mehndi Design. We found this design to be filled with so many details that you won't regret having this Kangan Mehndi design for any of your occasions.
Also Read – 51 Simple Mehndi Designs
3. Intricate Woven Kangan Mehndi Designs
If you are someone who loves to have some spacious intricately woven Kangan Mehndi Designs, then this one would be something that you won't mind having on your hands. This design may have some very simple circles, peacock designs and floral patterns.
4. Floral and artsy Kangan Mehndi Designs
Floral prints are found in almost every other Mehndi design that you see. When we talk about Mehndi, the very first design that we could imagine was Floral and Artsy Kangan Mehndi Designs. And such types of Mehndi designs is also very much loved by women because of their simplicity and clean style.
5. Indo Arabic Kangan Mehndi Designs
Arabic Mehndi Designs are also very popular in the world of Henna Mehndi. These are some of the same Mehndi Designs that derived their inspiration from the Arabian Countries. However, when they came to India, they got a little mixed up to form Indo Arabic Kangan Mehndi Design.
Also Read: Check the trending Front Hand Mehndi Designs
6. Modern Kangan Mehndi Designs
Modern Designs are also very much liked by women. As time changes, the preference of the people also change. Thus, we have also included the Modern Kangan Mehndi Design. These designs would love way more aesthetic than the usual ones. And these designs would also go with Suits or western clothing as well.
7. Bracelet Style Kangan Mehndi Designs
This modern design on the classic mandala mehndi pattern gives an elegance and classy look. We adore how thick strokes are used to create a shaded design with curvy bands on the fingers and a beautiful design on the wrist that resembles a bracelet.
8. Bangle Wrist Kangan Mehndi Designs
To achieve a striking balance, this magnificent floral pattern focuses on the wrist area with many thick shaded ornate bands. Indian ladies wear bangle sets on special occasions like weddings and festivals, which inspired this mehndi design.
9. Lace Glove Inspired Kangan Mehndi Designs
Another trend that is trending these days is lace glove henna patterns, which resemble a glove and make for a highly modern pattern. Several flowers are arranged to form bands that are joined together by a netted pattern. Floral netting and swirl accents are also added to the fingers for a stunning aesthetic.
10. Bands Kangan Mehndi Designs
If you don't want a whole hand mehndi design for your wedding day, it's crucial to find a stunning and creative design that has a bridal appeal. This bangle mehndi design may appear overwhelming, yet it surprisingly looks amazing on hands.
11. Geometric Kangan Mehndi Designs
If flowery patterns bore you, take a turn and have a unique geometric pattern on your wrist and surprise everyone. This unique mehndi pattern is best suited for western or fusion wear since it employs a lot of tiny strokes.
12. Bridal Bangle Full Hands Kangan Mehndi Designs
Full hand mehndi designs with little to no vacant places are chosen by brides. This mehndi design features numerous bangle-inspired bands on the wrist area, as well as a netted mesh on the hand. This mehndi designs are attractive and elegant to look at!
13. Shaded Leaves Kangan Mehndi Designs
If you are looking for something simple yet boho type look, then you can opt for this shaded design. Whatever the design is, whether floral or arabic, make it simple and shade the flowers a lot which will give a boho and a carefree look.
14. Simple Kangan Mehndi Designs
Want a simple yet gorgeous mehndi design? Try this elegant illusion jewelry design and look attractive and gorgeous perfect to attend a wedding of a close relative. Young girls just love this illusion design. This design is also very simple with simple lines, dots, and swirl strokes.
15. Minimal Kangan Mehndi Designs
For a unique mehndi design like this, skip the flowers, leaves and focus on the paisleys. This design has paisley design creates a connecting line that reaches the fingers and has a sober yet appealing appearance. When you're short on time, try this design because it's simple and also quick to put together.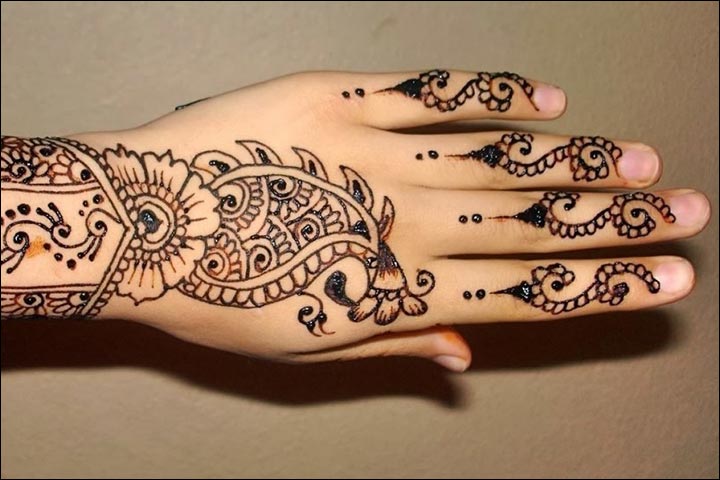 16. Fusion Kangan Mehndi Designs
This front hand mehndi pattern is a refined work of art, with thick and thin strokes expertly balanced for an exquisite look. Try this mehndi pattern for an engagement party or a festive occasion.
17. Traditional Kangan Mehndi Designs
This shaded bangle mehndi pattern covers the entire length of the front hands and is both attractive and difficult. This mehndi is a more sophisticated and detailed design of a mesh design, with thin and thick strokes for an intriguing look. This is a design you should choose if you want a unique pattern for your hands for a special event such as your engagement or your wedding.
18. Easy Kangan Mehndi Designs
Try a basic wrist band like this if you don't like extensive and detailed mehndi patterns but still need to have mehndi because the occasion requires it. This tattoo type art features floral strokes with leafy elements, and it's quite straightforward to do even for beginners.
19. Shaded Kangan Mehndi Designs
Are you looking for a design that is both simple and cute? Well, we have got it figured out for you; this design is just perfect. It will be perfect for parties or any other special occasion!
20. Jaali Kangan Mehndi Designs
This is a lovely matching mehndi pattern that is perfect for beginners. Netted bands are created on the wrist area which makes it very attractive and just WOW! You will need a professional to create this design.
21. Spiral Kangan Mehndi Designs
This is a gorgeous sleek spiral mehndi design with shaded elements for a fashionable aesthetic. Mostly, young girls love this mehndi design since it is really pretty and chic. Also, it helps you make an uncomplicated statement.
22. Swirl Kangan Mehndi Designs
If you thought that simple designs couldn't be appealing, you need to reconsider. This unique hand mehndi design, which is lined stroked with swirl patterns for a seductive visual appeal and a gorgeous look. The little girls loves it the most. It's also easy to make.
23. Dotted Kangan Mehndi Designs
This is a lovely dotted mehndi pattern that is perfect for beginners. This is something you can do yourself for low-key occasions like family gatherings and cultural events. When done in symmetry on both hands, this matching mehndi design looks stunning.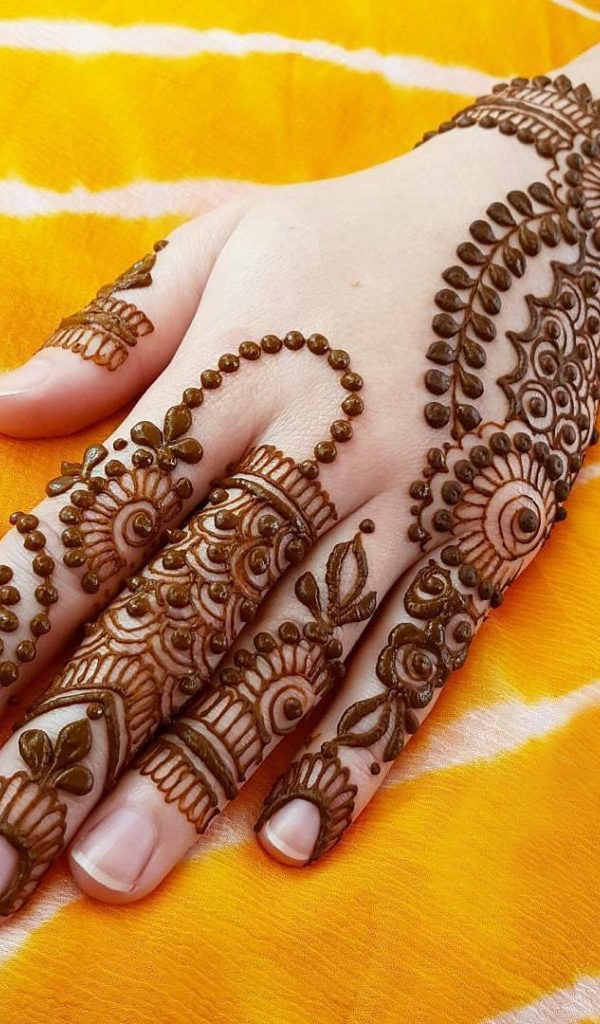 24. Checkered Kangan Mehndi Designs
Looking for something unique? This mehndi design has lot of rooms and also nothing beats a true combination of checkered patterns and mandalas, and this one has our hearts!
25. Portrait Kangan Mehndi Designs
Just perfect classic mehndi design with gorgeousness. You can also include a photograph or cartoon or animals and birds like elephant, peacock as portraits in the design to make a spectacular entrances on your wedding day. Also having beautiful quote is also just icing on the cake.
So, these were some of the best Kangan Mehndi Designs that we had for you. If you liked any of the designs mentioned in this blog, then do share it.