Crochets dress designs are the best for a hot summer. If you are looking for something breezy, light, soft, comfortable, as well as trendy, crochets are the perfect choice. You can make a crochet dress at home by watching some video tutorials or learning from someone, but you can also buy them online at affordable prices. 
If you're as smitten as we are with the gorgeous throwback styles of a stunning crocheted dress, here are some great patterns to get you started!
1. Vintage Lace Crochet Dress Designs
Of course, you can wear gorgeous crocheted designs as a vintage flashback, but what if you could get your hands on the original patterns that those gowns were made from? Check out the design below of a vintage lace crochet dress, make an original design with an inspiration from this vintage dress, and also show off your vintage style statement!
2. Ombre Crochet Dress Designs
Perhaps your unique style is detailed but straightforward in terms of construction? Then you might want to try crocheting this gorgeous ombre dress from crochet dress design! We admire how they achieved the subtle ombre look by using a colour gradient yarn. Whatever colour you choose for your own, it'll be wonderful!
3. Crochet Top Fabric Dress Designs
Are you still beginning to crochet and want to incorporate your new talents into a summer outfit in some way? Then perhaps this basic crochet top fabric dress is more your style!
4. Short Crochet Summer White Dress Designs
You've never been a big fan of long gowns and you have your birthday party in summer? No worries, short dresses are currently in style, so you're in luck! Try this amazing cute little crochet dress that's still elegant enough to wear to any occasion in summer, even if it's your own party.
5. Crochet Fit And Flare Dress Designs
Do you love fit and flare dresses? So, just in case a baby's outfit is still too intimidating, here's something much more manageable for you to try first!
6. Crochet Curved Hem Bodycon Dress Designs
Crocheting a lengthy gown may appear difficult, but you can also try a curved bodycon dress with hem design and imagine the sense of satisfaction you'll feel when you finally get to try on a dress you made yourself! The neck of the dress is simply stunning, and we love the hem design.
7. Pretty Baby Rosette Crochet Dress Designs
Are you looking for something cute or floral to design? Then start with something simpler, like a crocheted rosette dress for a little girl in your life!
8. Bell Sleeves And Ribbon Waist Crochet Dress Designs
Maybe you're going to a wedding and need a dress with a bit more covering around the shoulders and arms, but you still want it to be unique and stylish? Hence, this amazing crocheted dress with three-quarter bell sleeves with a waist ribbon is just right for you!
9. Oval Motif Party Crochet Dress Designs
When we talk about crocheted dresses, people tend to think of them as either beach dresses or formal dresses, but we don't believe that is the case! We've seen a lot of gorgeous designs that can help you make a casual cocktail dress that can be dressed up or down depending on how you accessorize.
10. Vintage 60s Mini-Mini Crochet Dress Designs
Are you inspired by creating a more truly "old" type dress by following a vintage pattern? Then you'll adore this 1960s-inspired party dress pattern! The waist cutouts, classic collar, and "mini tiny" length are all things we adore!
11. Summer Tunic Crochet Dress Designs
Crocheted tunic dresses have always been a favorite of ours because many of them are designed to be worn as a woven over layer over a simple fabric tank top dress. What an amazing way to spice up your appearance!
12. Red Pineapple Crochet Dress Designs
Is the pineapple stitch one of your all-time favorite stitches to work with, and you've spent the entire post looking for a pattern that incorporates it? Then we may have found the perfect dress for you!
13. Dinky Crochet Baby Dress Designs
Are you interested in creating a small baby dress using your crochet talents, but you're concerned that the previous patterns we showed you won't suit the baby you have in mind? Don't worry, there are lots of newborn patterns available in really small sizes!
14. Vintage Empire Waist Mother-Daughter Crochet Dress Designs
Are you still thinking about how awesomely beautiful and vintage the clothes crocheted from ancient designs from another era looked, but you haven't found one that suits your own taste yet? Then here's another adorable alternative for you to think about! It's a 1960s pattern with an empire waist skirt and an extra wide size range. We can't resist a cute matching set.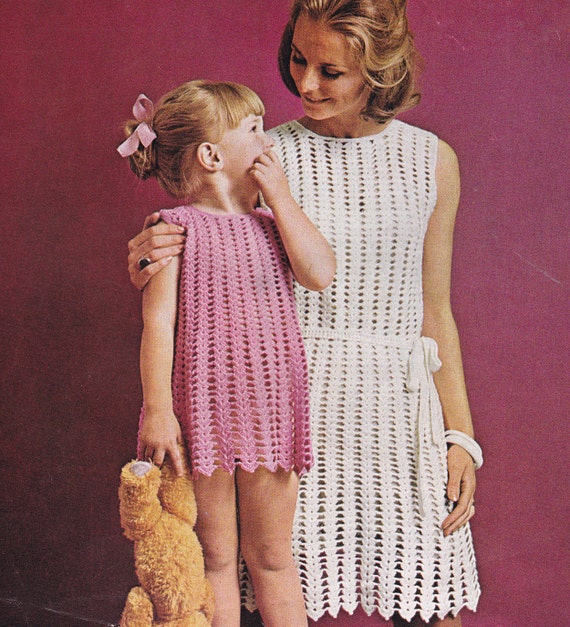 15. Kaftan Crochet Dress Designs
If you have to cover up your sexy body at a beach, then do it in style. Take your look from bikini to bar, by wearing an sassy lacy Kaftan crochet dress. 
16. Bohemian Crochet Dress Designs
Want to roam like a free spirited, wild like a gypsy hearted? Then why not try an easy breezy boho crochet dress during a very hot summer day! 
17. Colorful Crochet Dress Designs
Check out this colorful crochet dress with vibrant colors that blend together to create a lovely rainbow straight on a woman's skin.
18. Striped Crochet Dress Designs
Whatever color of stripes you want, whether it's zebra stripes or tiger strips or rainbow strips, a striped crochet dress can never go wrong on a beach party for a hot summer day! 
19. Abigail Fairy Crochet Dress Designs
Want your little girl to look like a fairy at her little fancy dress party? No worries! Make this cute little fairy crochet dress below with a flexible pattern to accommodate any size and rock the fancy dress party!
20. Off shoulder Crochet Dress Designs
Off shoulders are now on trend in the fashion world. Try out this gorgeous off shoulder crochet dress and make the heads turn at your beach party! 
Conclusion
The above given designs are without a doubt some of the most beautiful designs available! Do you have a friend or someone in your family who loves crocheting and crocheted clothes as much as I do? Share this page with them to provide them with a few fresh patterns to select from and comment down below which one was your favourite?