Cotton sarees are one of the most popular amongst women. Their comfort factor scores the highest amongst all types, and since they are less hypoallergenic in nature, they are preferred even widely. Given are 30 different types of cotton sarees that speak of style, sophistication and sootheness at the same time:
Marigold print: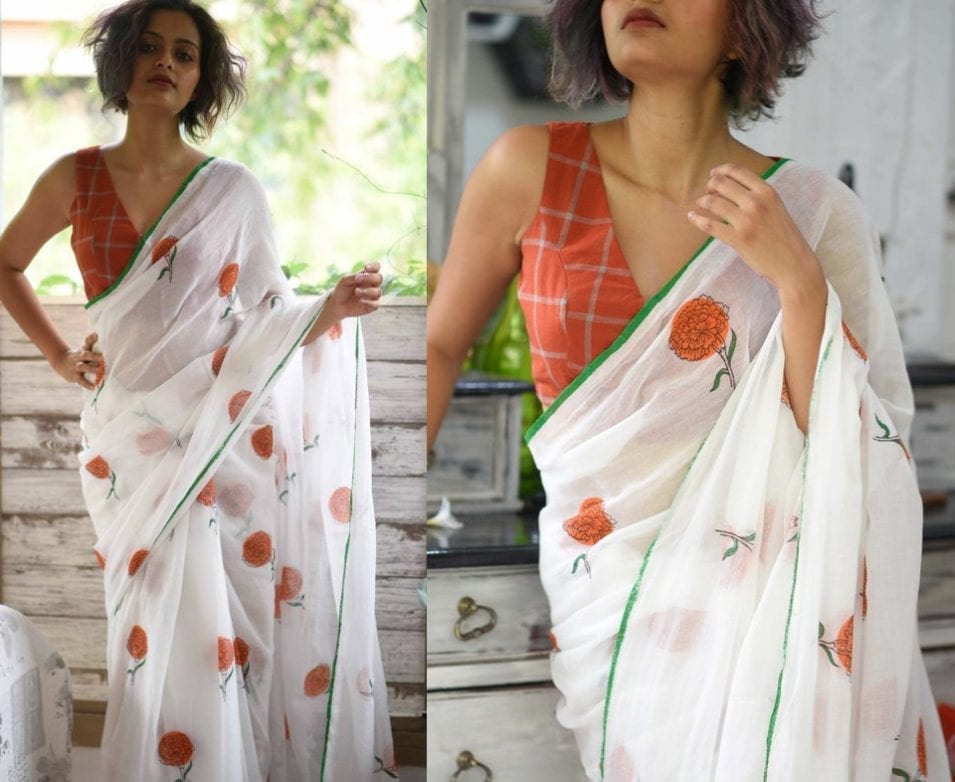 The marigold print is a rare occurrence in any type of saree. The white cotton background gives the perfect canvas for it to pop up with a splash of warmth.
Coffee brown and Silver: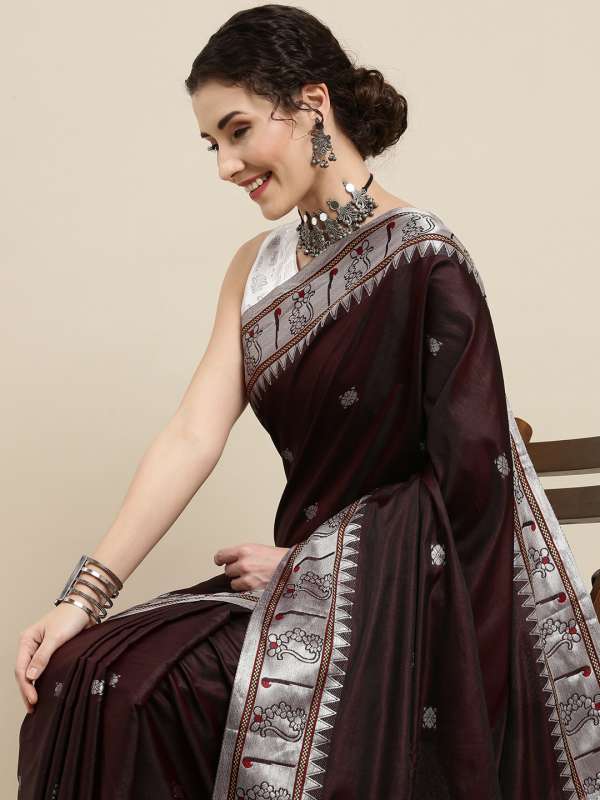 Coffee brown is one of the most sought after colours by the buyers. The silver work adds a touch of coolness to the otherwise warm colour, and makes this a terrific saree. It is one of the best types of cotton sarees.
Pure white: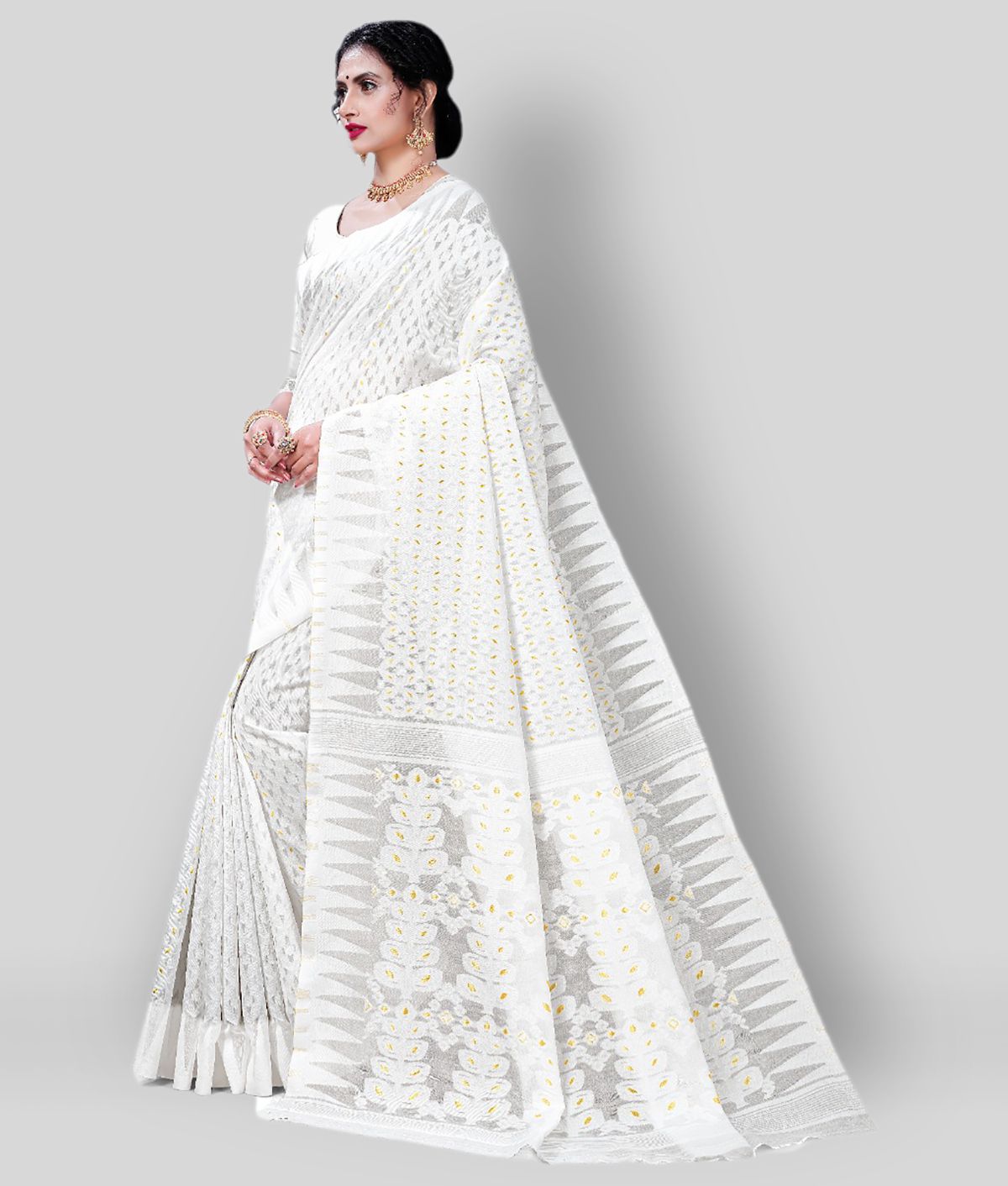 One can never go wrong with a pure white cotton saree. It radiates innocence and traditionality, and would look good with a contrasting blouse as well.
Burnt Sienna:
The burnt sienna is a very natural warm colour, and any saree in this colour looks good on the Indian skin. The golden strips in the saree elevate it even more.
Black and Gold:
The classic combo of black and gold ALWAYS pays off. There is no dearth of customers who would buy a black and gold saree anytime. It is a classy and timelessly sophistication colour combination for sarees.
White and Gold: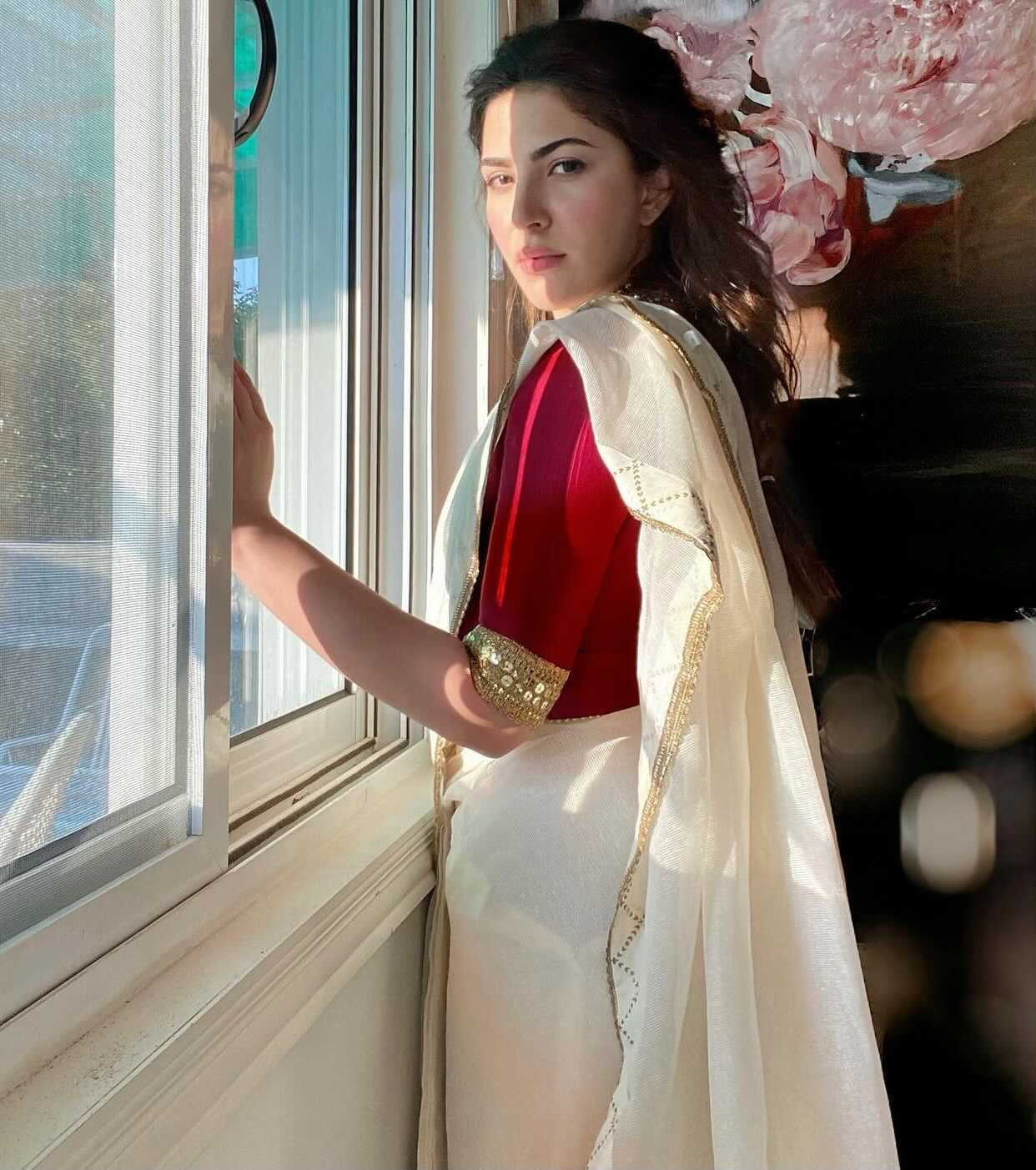 The white and gold combo gives off an angelic vibe. Paired with a crimson blouse with golden trimmings, it is one of the most visually appealing combinations, making it one of the best types of cotton sarees.
Olive green: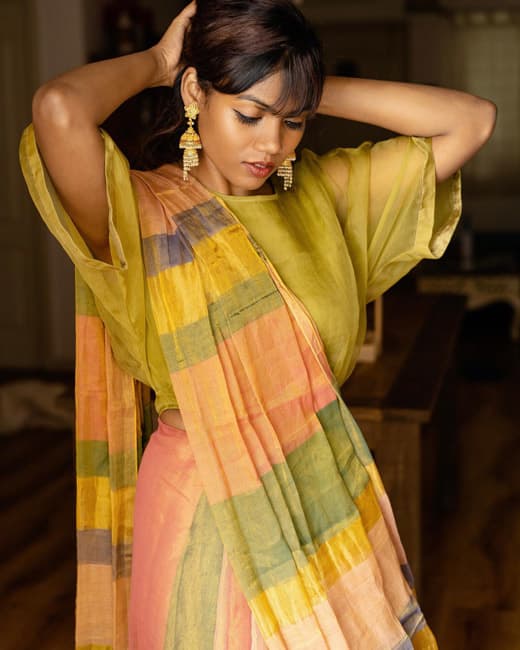 The colour olive green is a rare occurrence in any kind of clothing item, let alone sarees. Yet this saree boasts of a funky colour combination of olives, pinks and yellows.
Paintings and murals:
Sarees with paintings on them are always a hit, especially in traditional occasions and festivities. Sarees like these will always ensure you have all the eyes of the saree admirers on your outfit.
Also, Types of glass organza sarees you must check out
Indigo blue:
One of the most sophisticated colours, indigo dyed sarees are something else altogether, exuding an allure unlike any. The silver work only highlights the already beautiful colour.
Pale green:
Pale green sarees have a naturalistic look to them. The deep green border of this enhances it even further, and makes it a beautiful piece.
Black-red-yellow combo:
Black, red and yellow pair extremely well and that can be seen very well in this saree. Adding a touch of silver jewelry will only oomph up the entire look.
Pink and yellow:
The pink and yellow saree gives off a sweet vibe. The sweetheart neckline is apt for a blouse of such a saree, as it perfectly compliments the already cutesy vibe of the saree.
Mint green combinations:
Mint green is all the rage now. It is a colour that brings a soothing feeling and this saree is a perfect example of it.
Lavender:
Lavender, or mauve, is another popular colour choice these days. It is bright, refreshing and aesthetic: the perfect combination that the younge aged women are looking for these days.
Sandalwood:
Sandalwood coloured sarees are rare to come by and stand out with its simplistic beauty. The contrasting blouse creates an enigmatic look, paired with this particular shade of saree.
Raspberry Pink:
This deep raspberry pink is one of the most sought after colours in sarees, and sarees of this shade often get sold out pretty fast. It is definitely one of the best types of cotton sarees.
Black and pink:
This stellar combination of black and dark pink is the one to envy upon. It looks absolutely fabulous paired with silver jewelry. It is one of the best types of cotton sarees.
Wood:
The wood brown gives the saree a very naturalistically pretty look. It looks good paired with either monochrome or contrast blouses.
Sky blue and white:
The sky blue and white are a terrific combination, while the deep pink and golden makes it even brighter!
Maroon and orange:
Both the warm colours suit each other so well: the orange contrasting over the brown while the latter brings out its bright shade. A truly beautiful types of cotton sarees.
Indigo: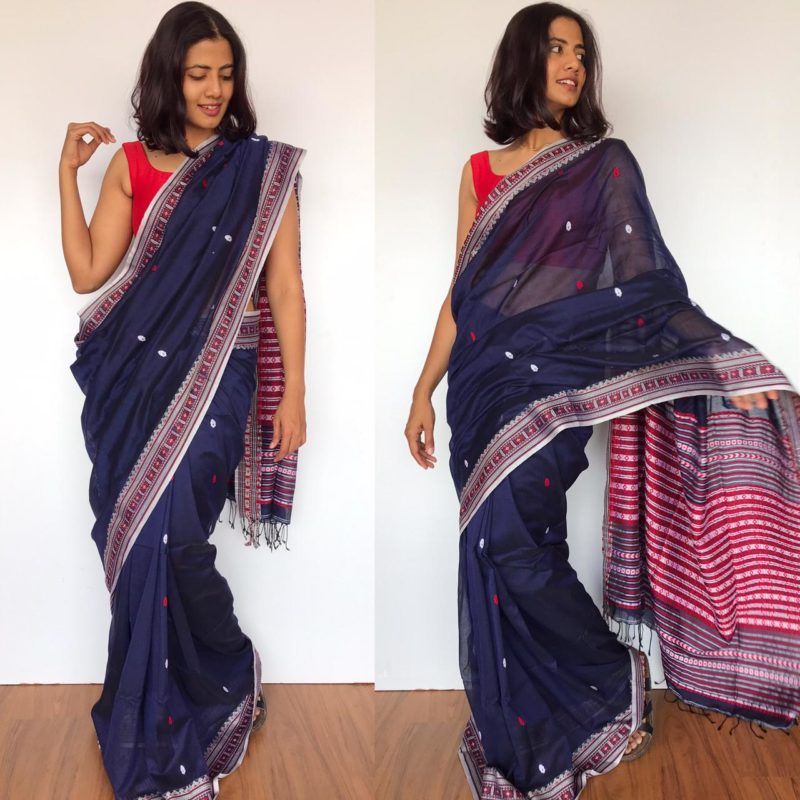 The indigo dye is one of the most favourited types of cotton sarees, for it is a symbol of sophistication, simplicity and beauty all at the same time.
Ice blue:
The colour ice blue is unique and sarees look great in this beautiful, uncommon shade. It is one of the most unique types of cotton sarees.
Canary yellow and white:
The combination of a bright yellow with white gives off a peaceful vibe. It is very aesthetic to look at, and is a great saree to have.
Floral print:
The floral print makes the look even more feminine, and gives it an ethereal vibe.
Pink and white:
The pink and white combination is a much favourited colour palette as it is very soothing too look at.
Sap Green: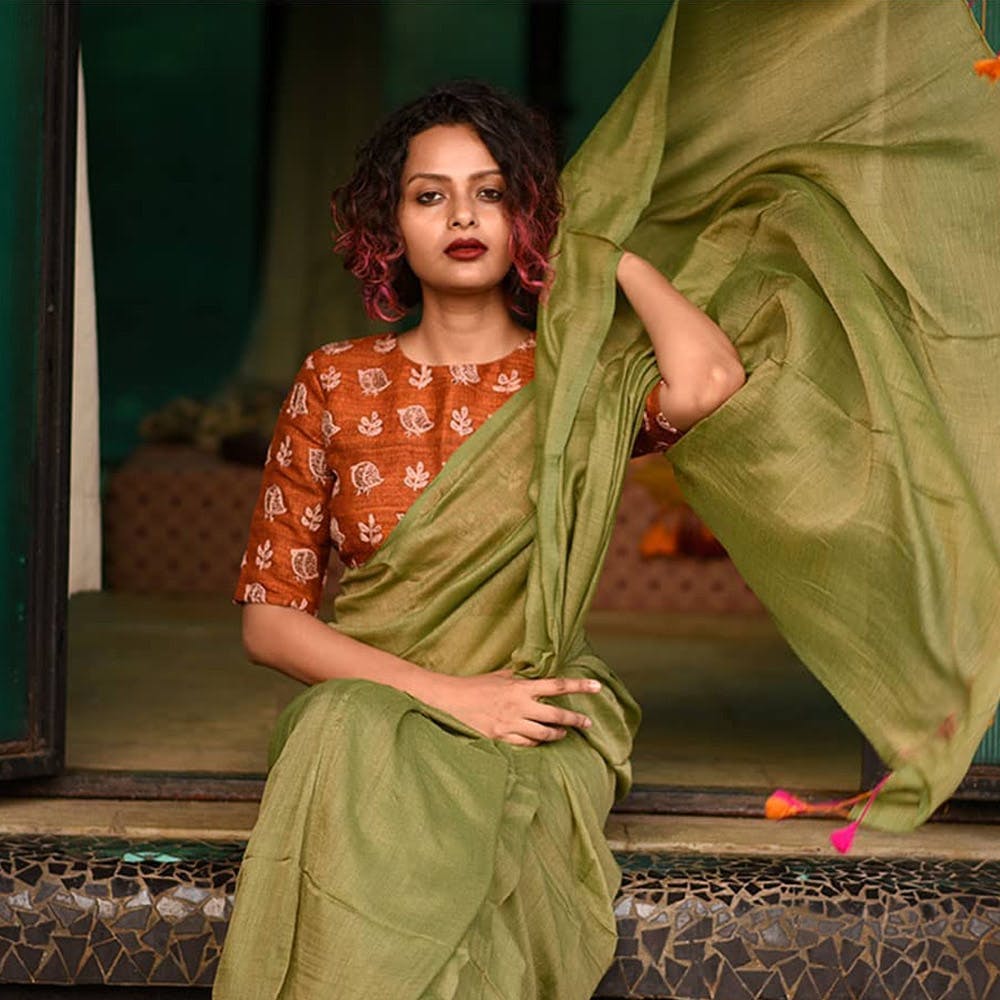 The sap green is a very naturalistic colour, which looks great on any skin tone. Paired with a burnt sienna blouse, it looks even more stunning, making it a very earthly look.
Sea Green:
The sea green is yet another versatile colour shade, that is one of the most aesthetic colours to be trending.
Batik:
The batik print is always a popular in ethnic pieces, and is the most present in sarees. Batik sarees are perfect for any kind of occasions and have a casual feel to them.
Mint green and gold:
The mint green and gold form a terrific combination. Both the colours have a regal feel to them, and make the saree one of the best types of cotton sarees.
Classic white:
The classic white cotton saree is a cult favourite, and looks great with batik blouses in contrast. It is one of the best types of cotton sarees to ever be made.
Conclusion:
Cotton sarees have a simplistic aesthetic. Blending with silks and rayons, it can be glazed and have ashine of its own. Pure cotton sarees lack lustre of any sort and yet shine amongst all other sarees.
Check out our other works at: Baggout.com