A shrug is one of the best fashion inventions ever! This versatile outerwear garment, a cross between a cardigan and a jacket, is appropriate for all seasons and weather conditions. Layering with a shrug can instantly transform a simple outfit into a chic ensemble. According to fashion experts, a woman can never have too many shrugs because the various designs and patterns in this segment lend different looks that you have never tried before! So, if you want to up your "shrug" game, keep reading to discover the Latest Women's shrugs worth a try!
Cropped shrugs are short-length shrugs that are ideal for layering with t-shirts, camisoles, and tank tops. These small shrugs are ideal for experimenting with a chic-casual look in the summer and spring.
1. SHIMMER SHRUG
This gleaming shrug allows you to shine at any time of day. The knitted black and red cropped shrug is an excellent choice for enjoying a cool evening breeze. It has full sleeves and a top button closure that exposes the bust line. You can wear it with any kind of jeans and look gorgeous. To look stunning, layer it over a basic crop tee or a camisole.
2. BLACK FORMAL SHRUG
At first glance, this black shrug appears to be a black blazer. Pair the black shrug with a black chiffon top and blue jeans with a slightly flared cut to create a smart casual outfit. To appear taller, pair the flared jeans with a pair of black heeled ankle boots.
3. INDO-WESTERN CAPE SHRUG
avant-garde Shrug to distinguish yourself from the crowd. The grey embellished garment is unlike anything you've ever seen. It is fashionable, astute, and functional all at the same time. Aside from providing adequate coverage and a layered effect, the shrug also has a modern appearance. Wear it over black jeans or trousers for a clean look.
4. RED SUMMER SHRUG
With this red cropped shrug, you can layer your outfits in the summer without feeling hot and sweaty. The delicate lace material adds a breezy feel and a chic twist to your everyday looks. The outfit has full-length, cuffed sleeves and front faux pockets. You can wear it over jeans or skirts and experiment with different looks!
5. SHEER SHRUG
The crop-top shrug is an excellent choice for layering with camisoles and spaghetti tops. To add a feminine touch, the semi-sheer shrug has embroidered detailing on the front and back. It also has a button closure and a straight hem for a perfect fit. Wear it with bootcut jeans to complete the look.
6. COTTON CHECK SHRUG
This checked waterfall shrug in white and beige. The cotton shrug has an asymmetrical handkerchief hemline that gives your outfit a layered look. The full-sleeves, elasticated wrists, and loose waist keep you looking and feeling stylish. Keep it on hand for a sassy and stylish look while traveling. Combine it with loose-fitting jeans for a relaxed look.
7. WOOLEN SHURG
Ditch the drabby old sweaters in favor of this stylish grey knitted shrug, which will keep you warm in cool weather without sacrificing style. The ribbed open-front shrug has full sleeves and an asymmetric hemline, giving the outfit an edgy look when worn inside. You can wear it with western and Indian dresses to look sophisticated and sensual, as well as with the perfect pair of jeans.
8. NET SHRUG
Layer a dainty black netted shrug over your basic camisole or t-shirt to add a feminine touch. The cropped shrug features a sheer body, half sleeves, and an open front. The dreamy floral laced fabric keeps you both stylish and breezy. It's perfect for going from tomboy to delicate darling in the blink of an eye.
9. DENIM SHURG
his uber-chic denim shrug that ups your glam factor Long sleeves, an open front, and a high-low hem characterize the blue self-design denim shrug. It even has a shirt collar and hidden pockets on the sides. To look like a Rockstar, pair it with any basic t-shirt and denim.
10. KNIT FRINGE SHRUG
Don't be disheartened if you don't have the ideal body type right now. For one thing, you can always put in some effort to get in shape. Second, fashion is about both beauty and fun, so regardless of your current state, make sure you do some styling and have fun. Shrugs, in any case, look good whether you are overweight or too thin. A white knit fringe shrug, for example, can be worn with a royal blue vest top, black skinny jeans, and pale pink open toe heels.
11. FLORAL SHRUG
Wear your boyfriend ripped jeans with a cute solid top and floral shrug for a pretty summer look. Going out with friends, casual dinners, or evening dates, this shrug will make you a stunner while also allowing you to be comfortable and beautiful.
12. REVERSIBLE STRIPED SHURG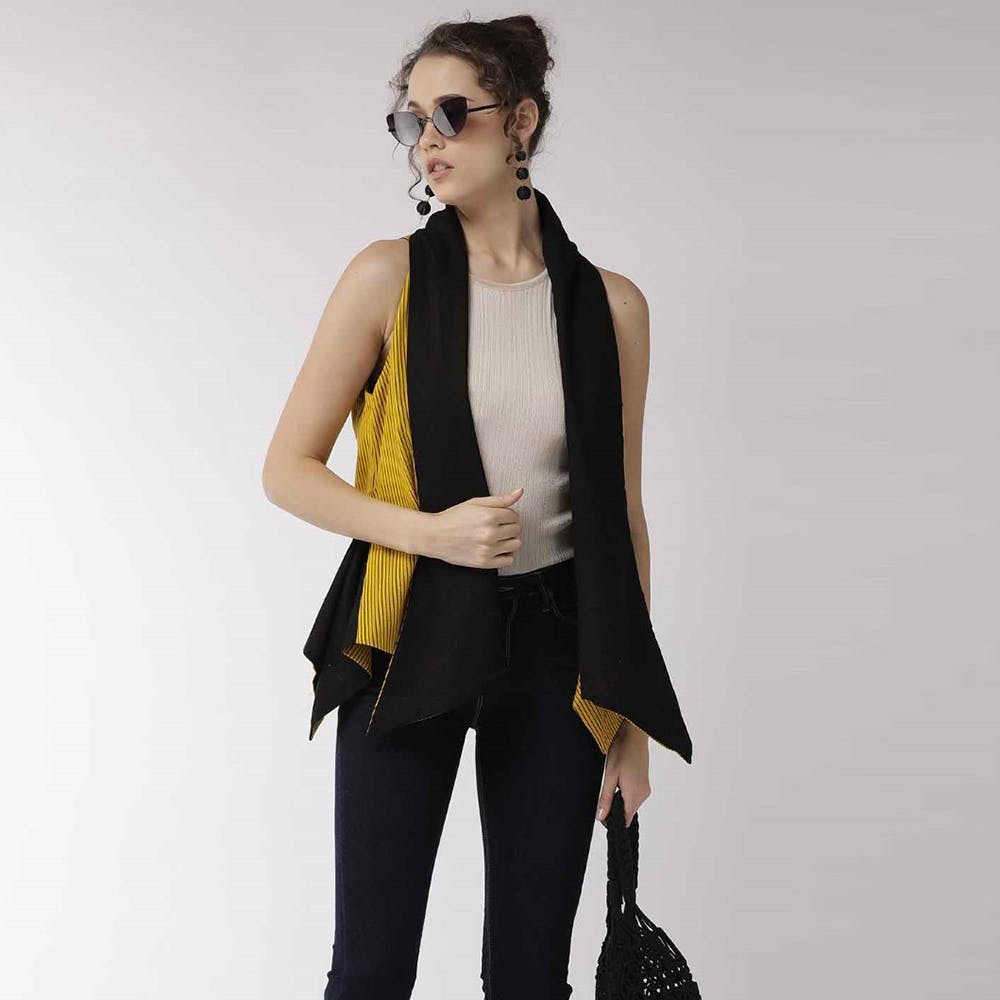 We had no idea a shrug could do so much until we discovered this Asymmetric Hem Striped Reversible Shrug. Two complete outfits for the price of one, one of which is a classic sleeveless black shrug look. You will look stunning if you pair it with gleaming black jeans.
13. CHIFFON SHURG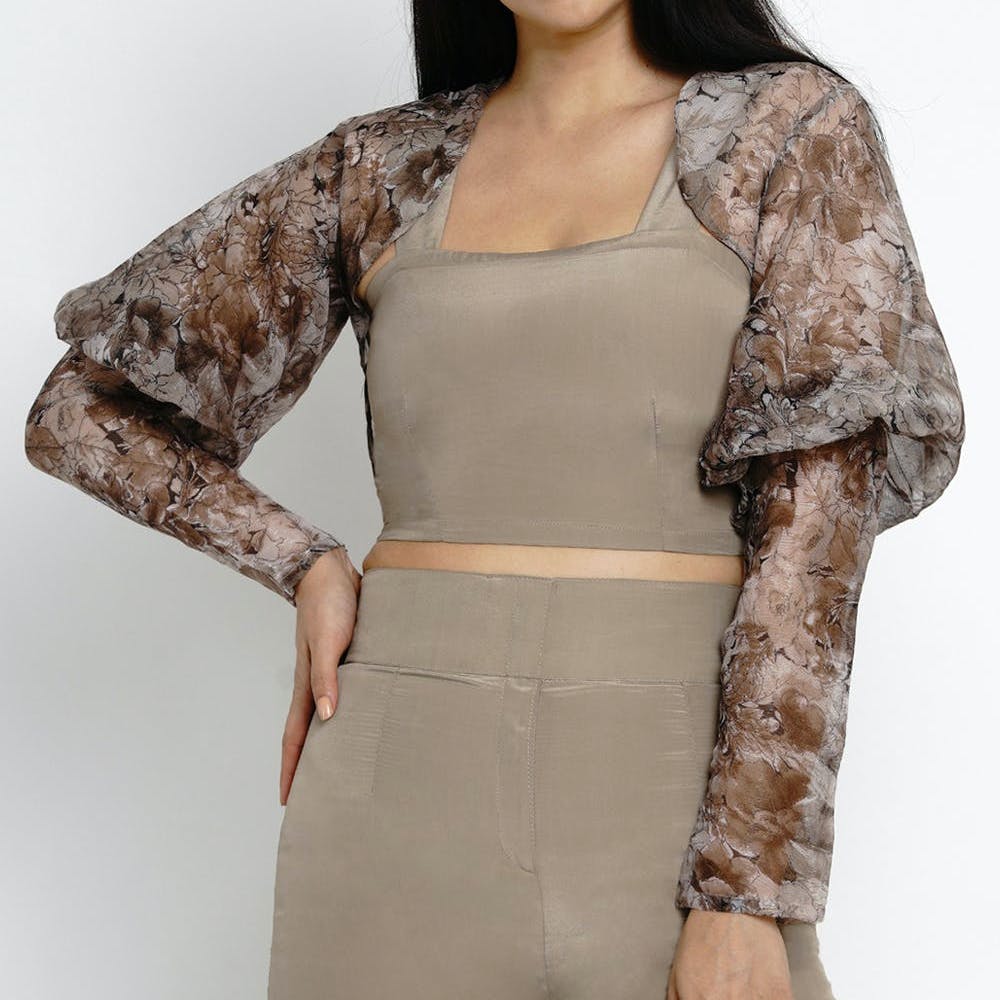 When you want to show off your flirty side, choose this Women Brown Floral Lurex Chiffon Shrug. We see this type of shrug as a trend that will never die. It's not too serious, but it's totally it-girl approved. Wear it with a pair of skinny jeans or bootcut jeans to look sleek and pretty.
14. CROCHET SHURG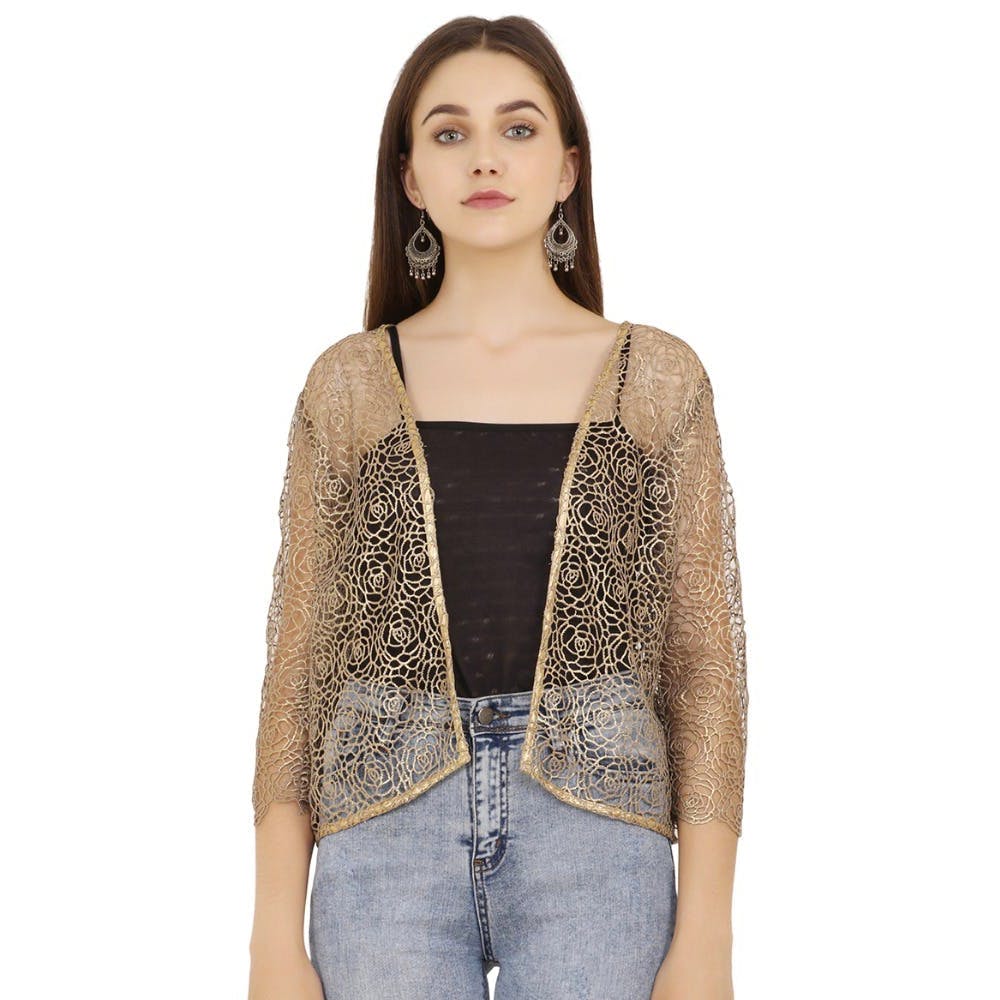 Lace and crochet has always been a favorite, especially when it was available in shrug form. It's both tasteful and experimental, which is something we enjoy and recommend you do as well.
15. INDIE SHURG
This list would be incomplete without an Indie rocker. Bold, beautiful, and desi to the max, just like you! In this, you could also pull off an Indo-western look.
16. EMBROIDRED SHRUG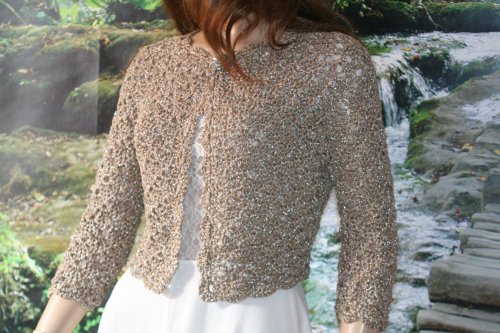 If you are a girly girl who enjoys looking unique and glowing at any event, this embroidred shurg with beads and patterns such as flowers and butterflies is a must-have. It can be worn with jeans, a skirt, or even a lehnga.
17. DOLMAN SLEEVE SHURG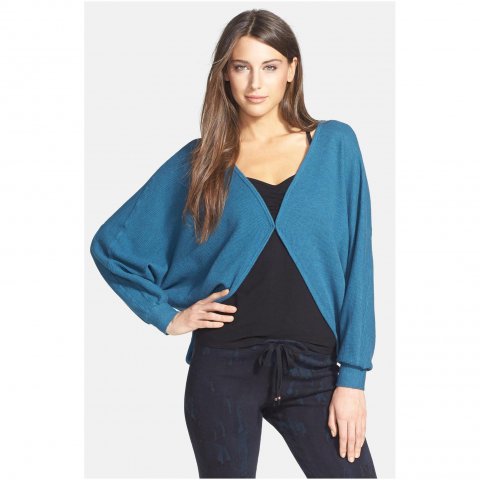 When paired with an A-line lehenga, dolman style shrugs have very cute sleeves that give you a beautiful vibrant look. You can wear this shrug with Capri jeans, but it looks even better with traditional lehengas.
18. MASABA SHRUG
If you've always wanted to dress up like a Disney Princess, now's your chance! Get Jasmine's look from Aladdin. Masaba brand designed this type of shurg first time, which looks great on jeans, gowns, lehngas, and dresses.
19. HUG SHURG
It is new and totally different kind of shurg, it gives you a feeling of hug and even looks very preety on white solid top and pair of jeans. It gives you elegant look.
20. CHANDERI SHURG
This type of shurg is pricey and so unique and pretty. It gives you classy look and makes you look confident. You can pair it up with jeans, skirts and even lehngas.
Here are a few stylish ways to pair a short shrug with jeans. I hope you found this article helpful. You should also read our other articles. Have fun styling!