The tulip pants came into existence being influenced from the Ottoman fashion. The cuffs are essentially overlapped in most styles, while being puffed or flowy in general. Given here are the top 30 types of tulip pants designs that look absolutely aesthetic:
Yellow satin cropped:
The mustard yellow tulip pants are absolutely gorgeous with their pleated look.
Cream self-embroidered:
These cream self embroidered pants are absolutely a snatch. It is one of the best tulip pants designs in this given list.
Ice blue solid:
This ice blue pant looks refreshing, cool and absolutely stylish.
Black embellishments:
Black embellished tulip pants are the best tulip pants designs to ever exist; a classic, always.
Desert Rose:
The colour is unique and makes up for a very aesthetic outfit.
White with frill borders: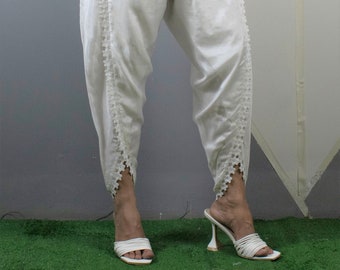 This looks sweet and very ethnic in its outlook.
Mustard yellow with embroidery:
These mustard yellow tulip pant designs with embroidery are sophisticated and give an ethnic touch to the entire look.
Brown with embellishments: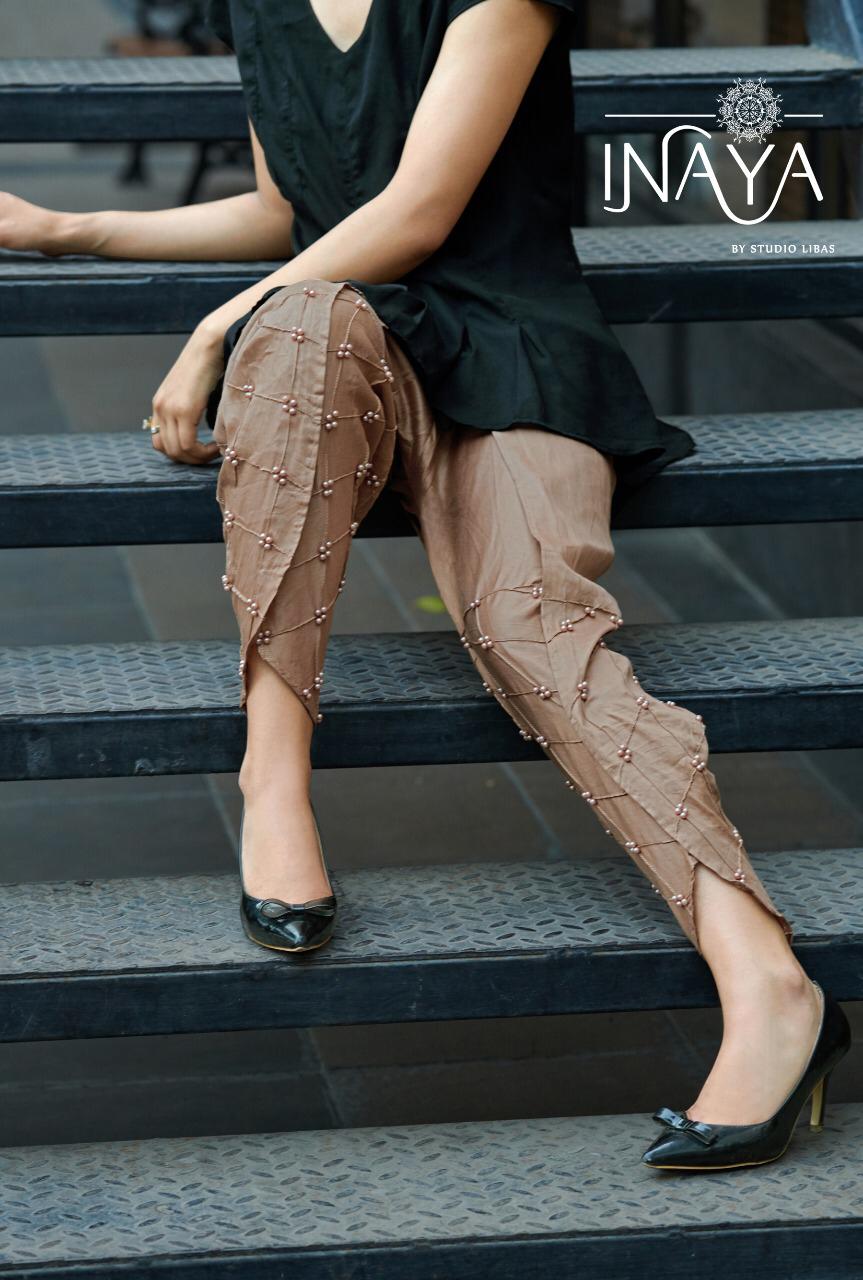 This brown embellished tulip pants are one of those Pinterest-esquely aesthetic pants.
Off-white with floral embellishments: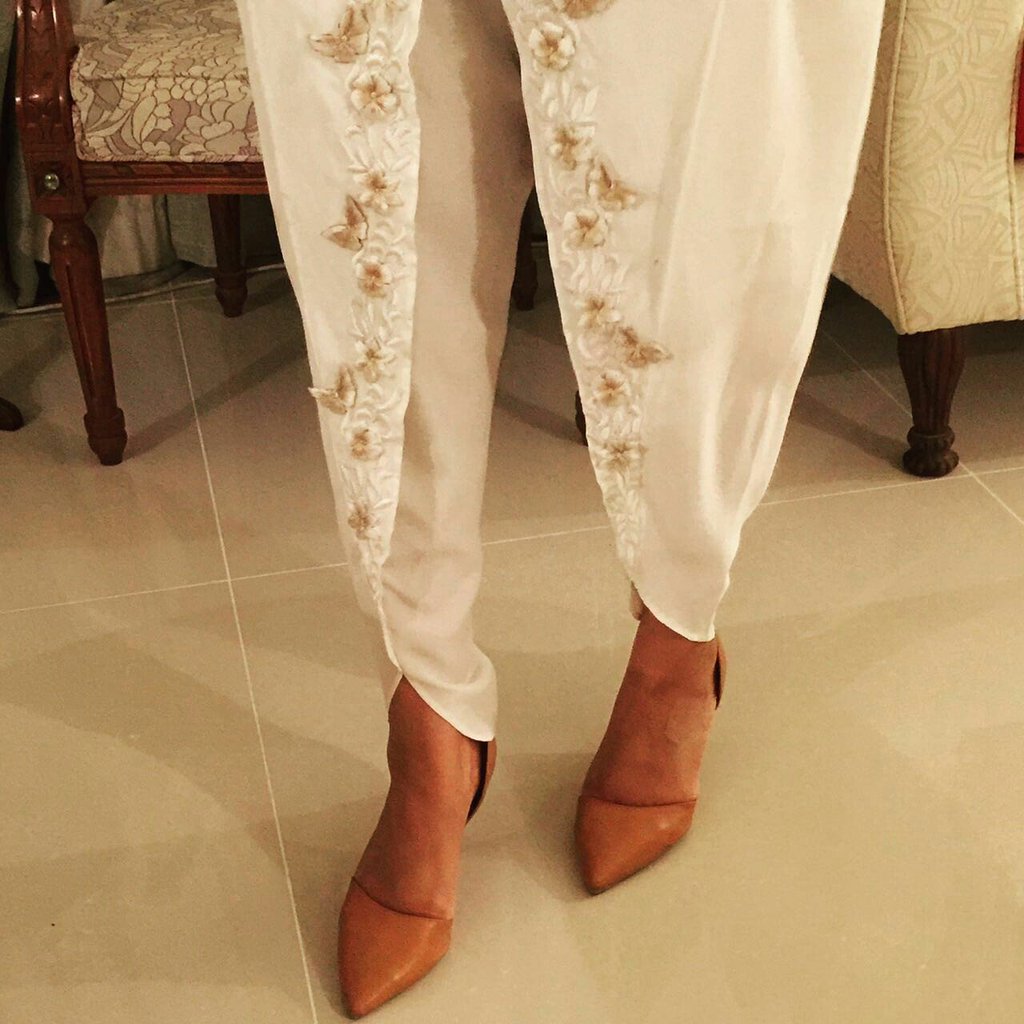 These look beautiful and give off an almost calm vibe.
Maroon solid:
These look very ethnic and would look great when paired with a kurti.
White with black embroidery: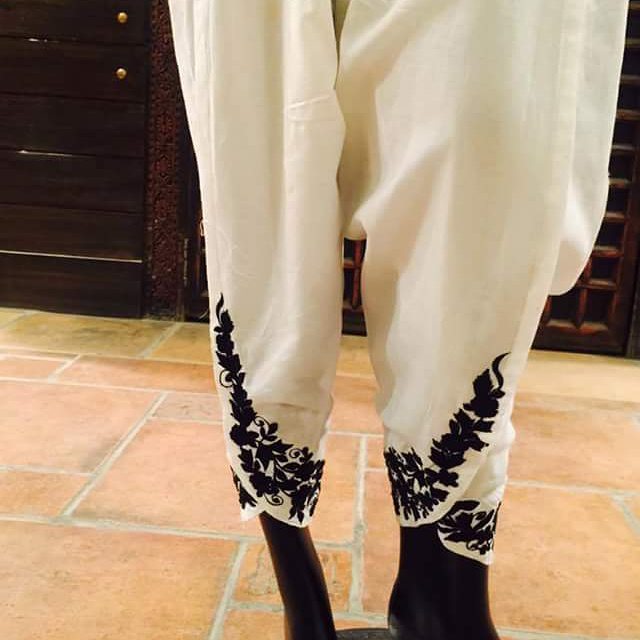 With classic colours, the tulip pants designs with this palette look posh, elegant and sophisticated to every stitch.
Black with embroidery in warm colours:
This fiery tulip pant looks absolutely starking and gorgeous.
Cream with brown embroidery and embellishments:
These tulip pants look stylish with its embroidery and beautifully placed embroidery.
Blue with tassles:
The tassles add a rather edging design to the otherwise plain tulip pants designs.
Light yellow with designed border: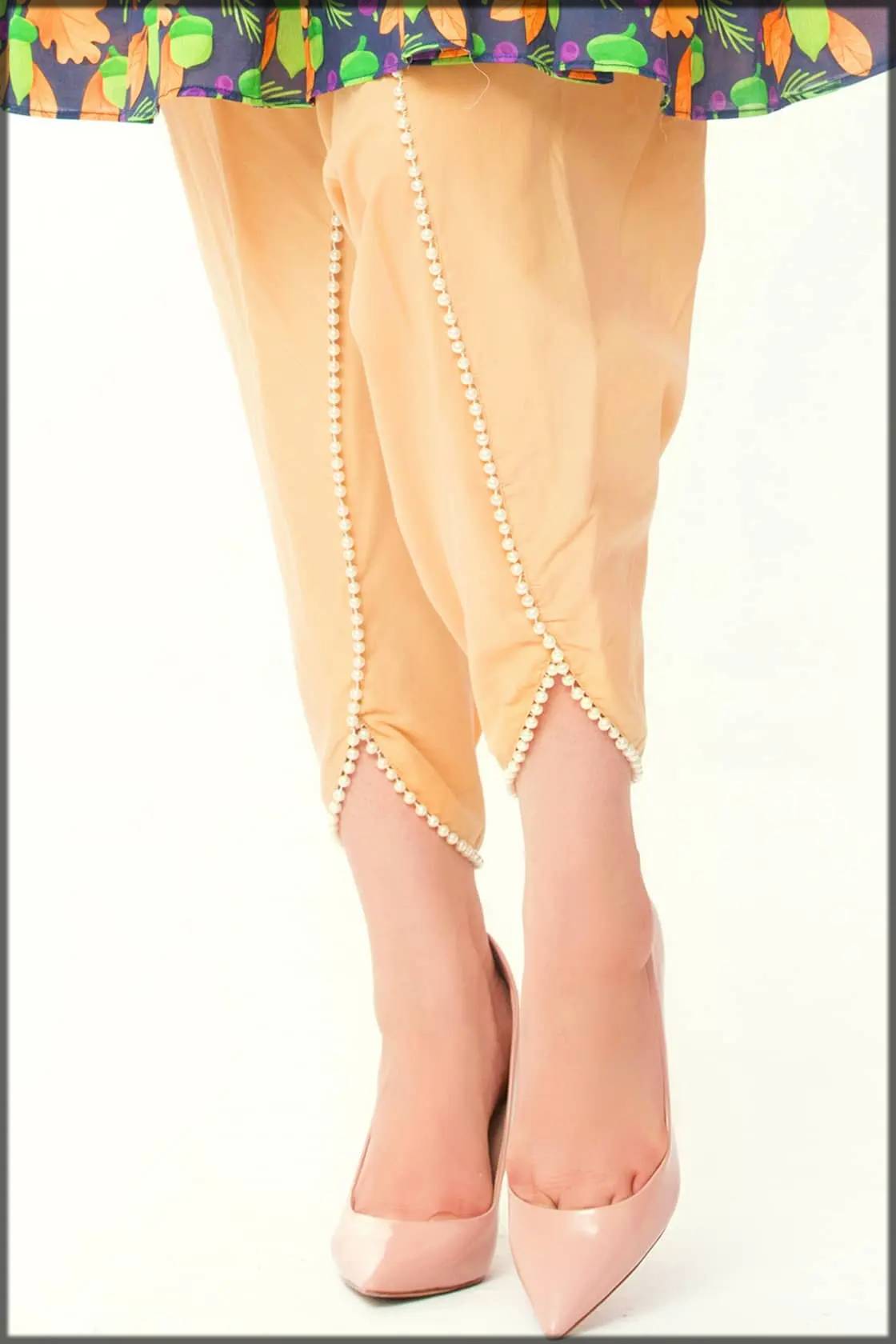 These tulip pants are simplistic and yet gorgeous at the same time.
Green and white combo: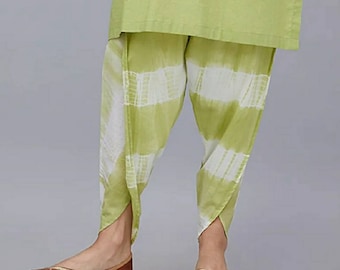 This white and green combination looks soothing and calming.
Yellow with beads at borders: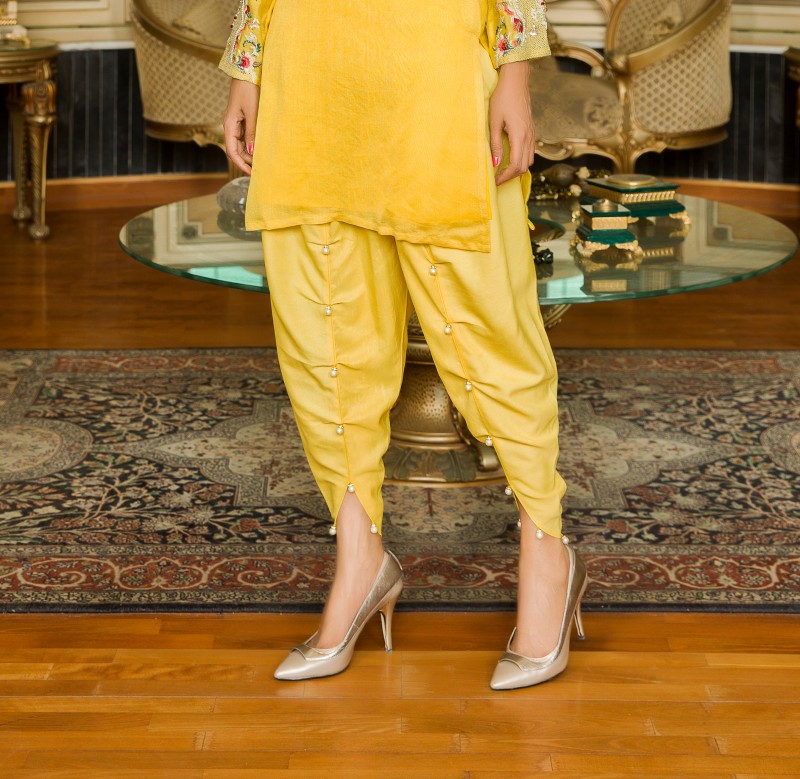 These yellow tulip pants designs are sophisticated and elegant and suitable for any ethnic occasion.
Solid white: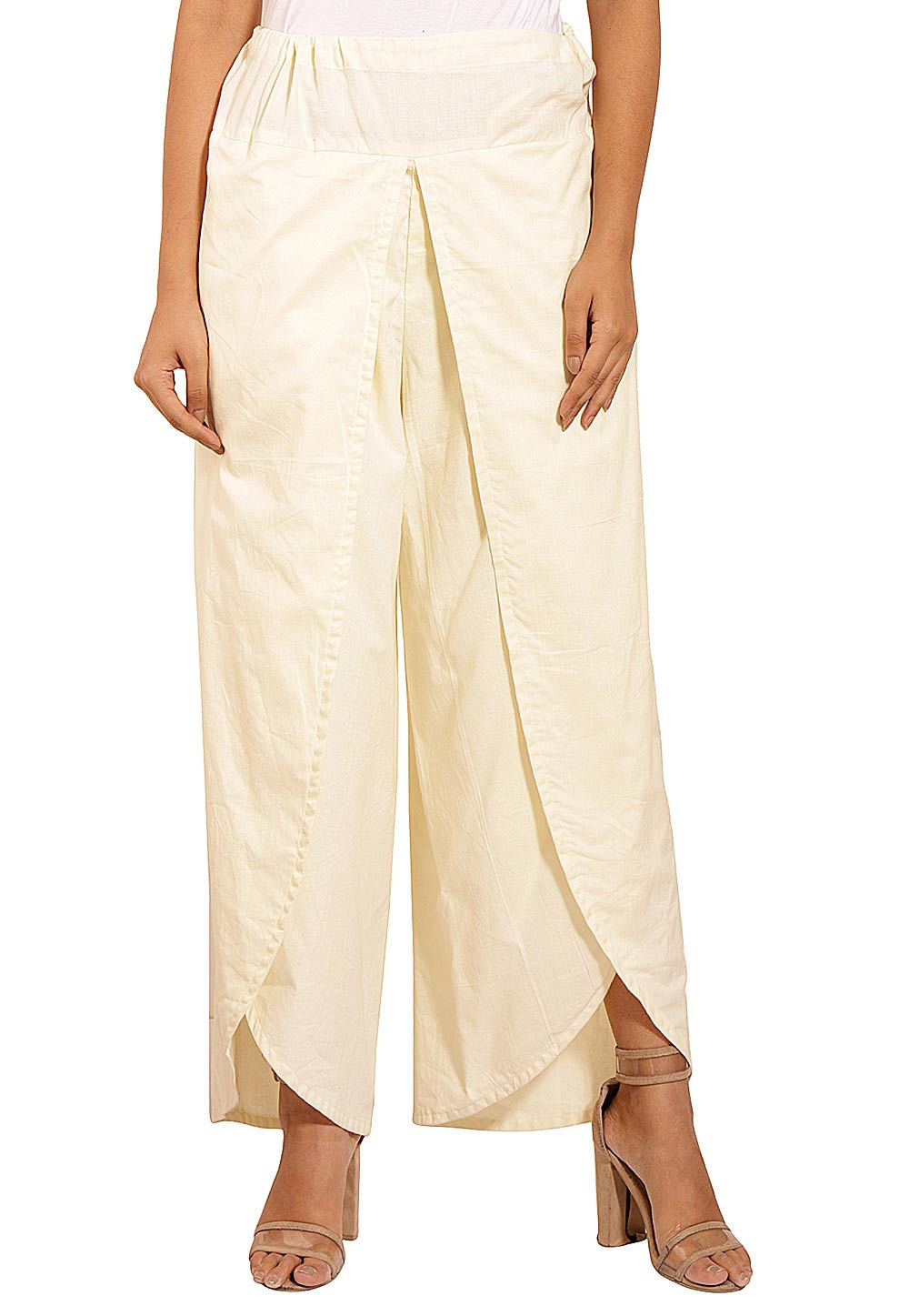 These solid white tulip pants are very aesthetic and look absolutely great when paired right.
Green with gold prints:
These have a very ethnic vibe to them, and are generally paired with kurtis.
Cream with designer borders:
The border designs are delicate and sophisticated, and these are one of the best tulip pants designs in the given list.
Beige:
These beige pair of tulip pants look very posh and are really aesthetic.
Cropped black solid:
These black mid length tulip pants look really fashionable are really popular amongst women.
Sap green with folded cuffs:
These are one of the bets tulip pants designs in the entire list, with his natural vibe and soothing colour.
White satin with ruffled borders:
Satin clothes are all the rage in the fashion trends now, and these pants do just to it.
Brown with light embroidery:
These look really sophisticated and are a kind of solid aesthetic in style factor.
Grey satin:
This grey satin tulip pants are stylish, fashionable and look great when paired with a black upperwear.
Full length solid black:
A classic and always one of the best tulip pants designs in this list, these would look good with practically any upper wear of suitable length.
Light brown satin:
Brown satins give off a sleek vibe, and one of the best types of tulip pants designs.
Pink with blue embroidery and embellishments:
These are ethnic in appearance and are best paired with kurtis of the same complimentary colours.
Brown with front tie:
One of the most common and popular kind of tulip pants designs, these are almost a must-have for every woman.
Conclusion:
Tulip pants are comfortable and look very trendy: the two main components for a piece of clothing to be trendy! They are available in a variety of materials like cotton, linen, satin and so on, which helps in pairing them with with upperwear.
Check out more of our works at: Baggout.com