The Haldi ceremony is one of the pre-wedding rituals in a Hindu marriage. Turmeric (haldi), oil and water are applied to both the bride and groom by married women on the morning of the wedding. The mixture is believed to bless the couple before the wedding. Most brides and grooms choose to wear yellow for the auspicious day. Here are the top 30 dresses for Haldi ceremony that is sure to bedazzle all:
Ready to wear sarees: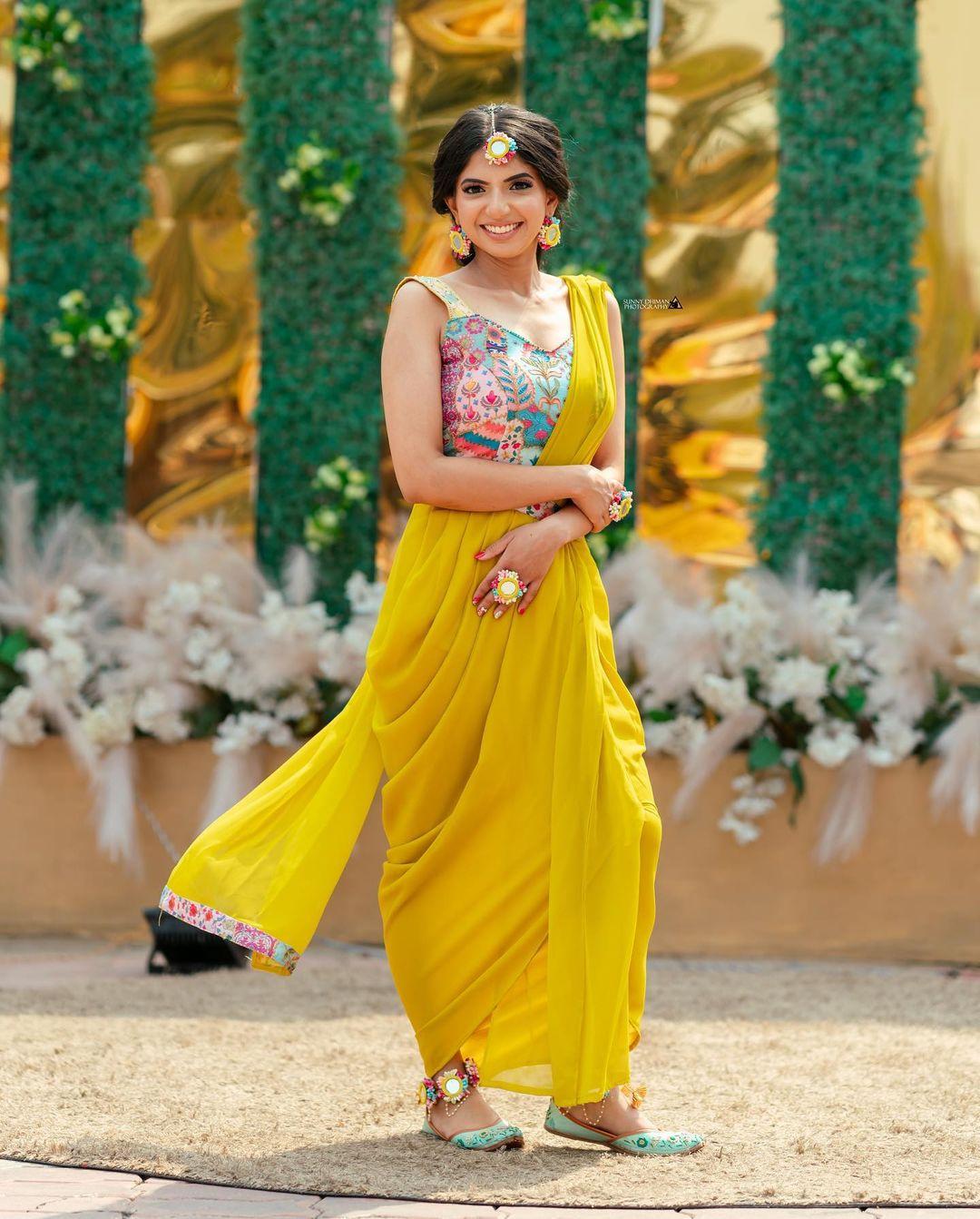 Ready to wear sarees are always one of the most preferable outfits on hectic days like these, owing to their ease of wearing.
Two piece lehenga set with flower accessories:
Flower accessories are a great addition to two piece lehenga dresses for haldi ceremony.
Lehenga with asymmetric top:
Asymmetric tops paired with lehengas are the best combination, because they are cool and ethnic at the same time.
"Bohemian" get-up: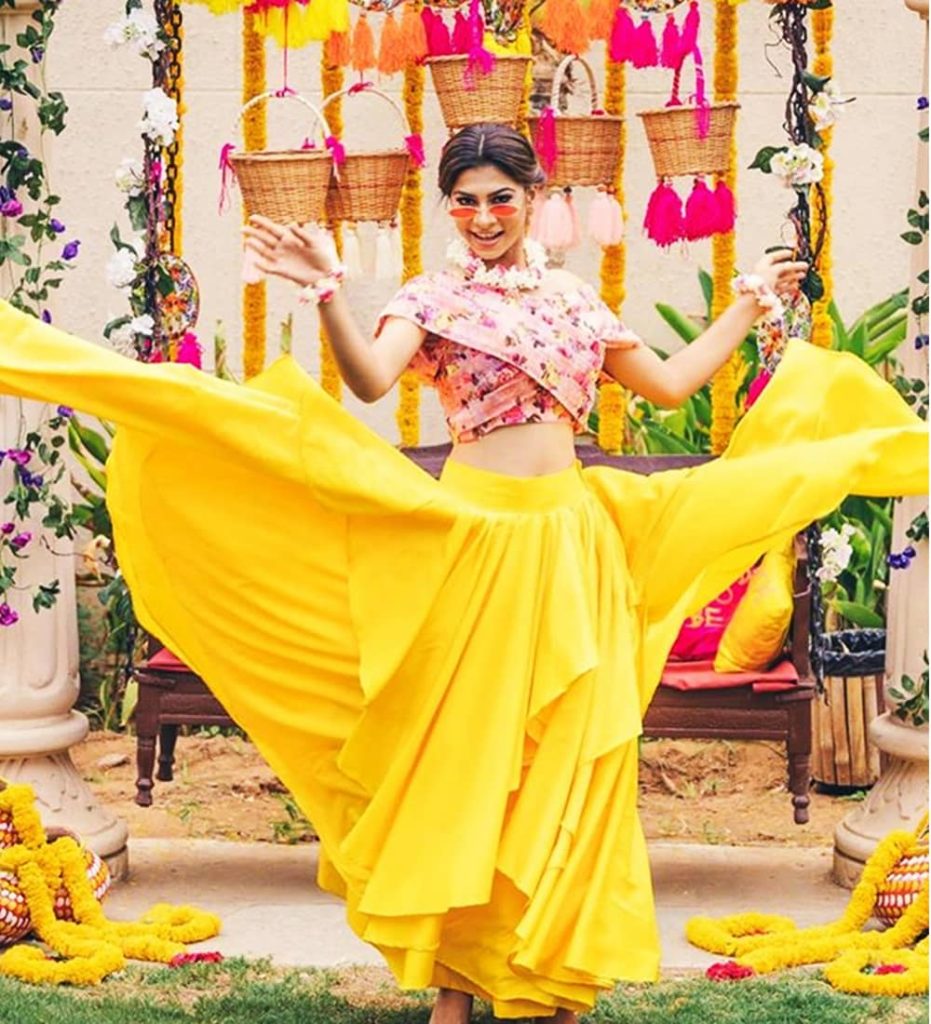 The Bohemian dresses for haldi ceremony are all for experiments, funky looks and beautiful combinations.
Sporting black:
Although black is kind of a taboo colour in any Hindu marriage, in nominal amounts is is allowed and makes good combination.
Also read, Woman Kitty Party Dress Code Themes For Your Kitty Gang
Silver zari work:
Silver zari work look beautiful in any ethnic outfits that are worn in traditional occasions.
Floral design lehenga:
Floral design lehengas are the ideal dresses for haldi ceremony, and are a staple in the occasion.
Lehenga with kaftan-esque top: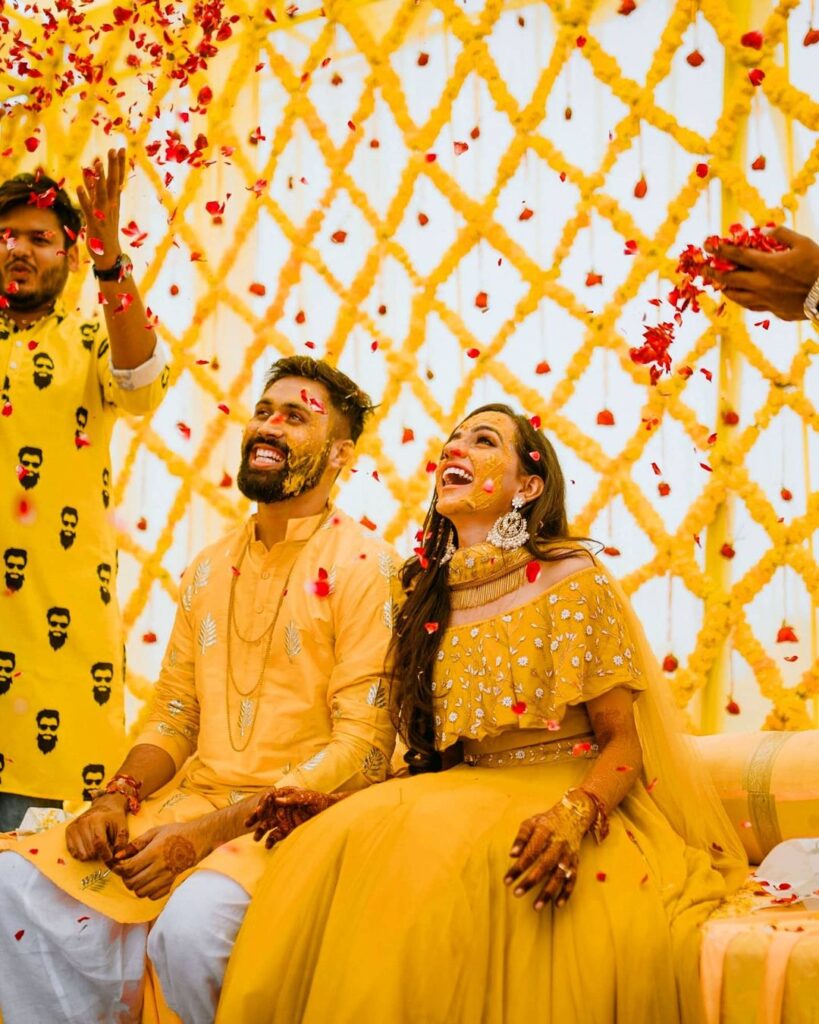 Kaftan tops have always been a popular wear and pairing them with lehengas have only hyped them up even more.
Gorgette spaghetti strap anarkali: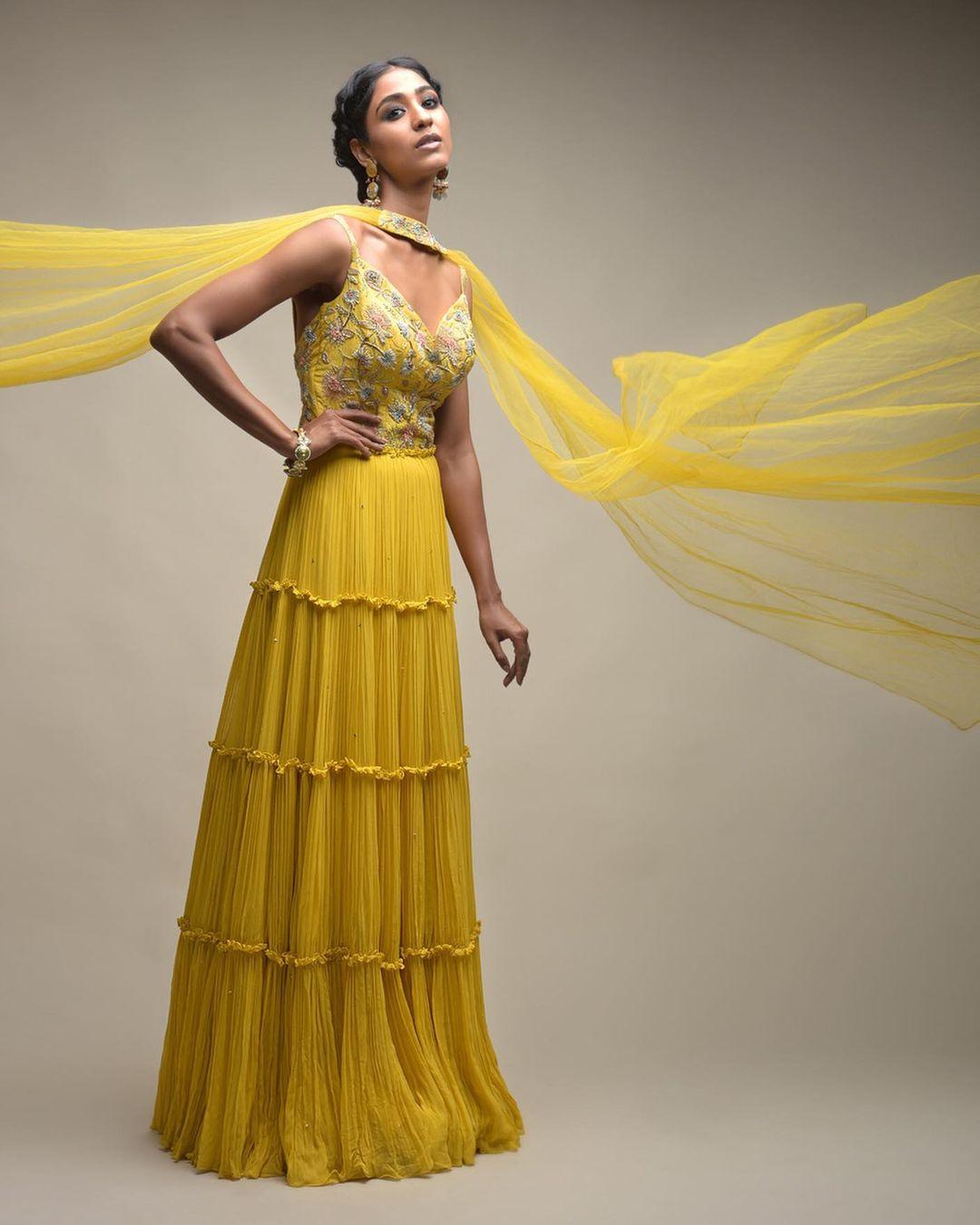 Spaghetti strap anarkalis are trendy and stylish which their western look in ethnic approach.
All about contrasts:
The contrasting colours with yellow look out-of-the-box, and the trendiest for the bride who really wants to 'stand out'.
White prints:
White in yellow is agood combination, especially with how calmingly beautiful it looks.
Simple solid colour anarkali: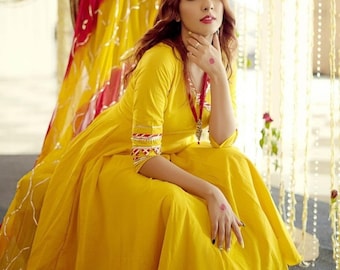 Simple solid colour anarkalis are the best dressed for haldi ceremony, for they are purely in traditional colour.
Anarkali with a contrasting orni:
Contrasting ornis are the most common kind, to pop up the otherwise simple kurti.
Ghaghra and choli: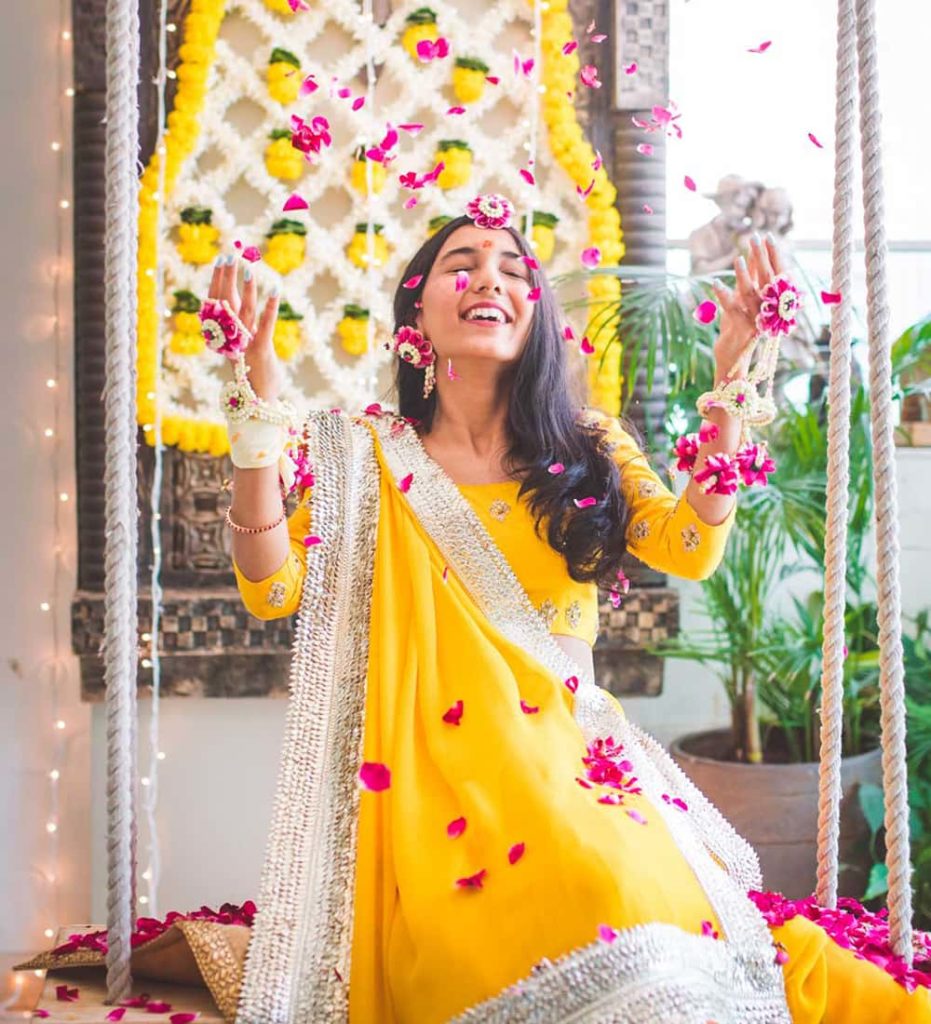 Ghaghra and choli look absolutely beautiful in every haldi ceremony, due to its traditional look.
Gorgette saree with golden borders:
The gorgette sarees are a beauty of its own, and the golden adds to its glow.
Half-saree: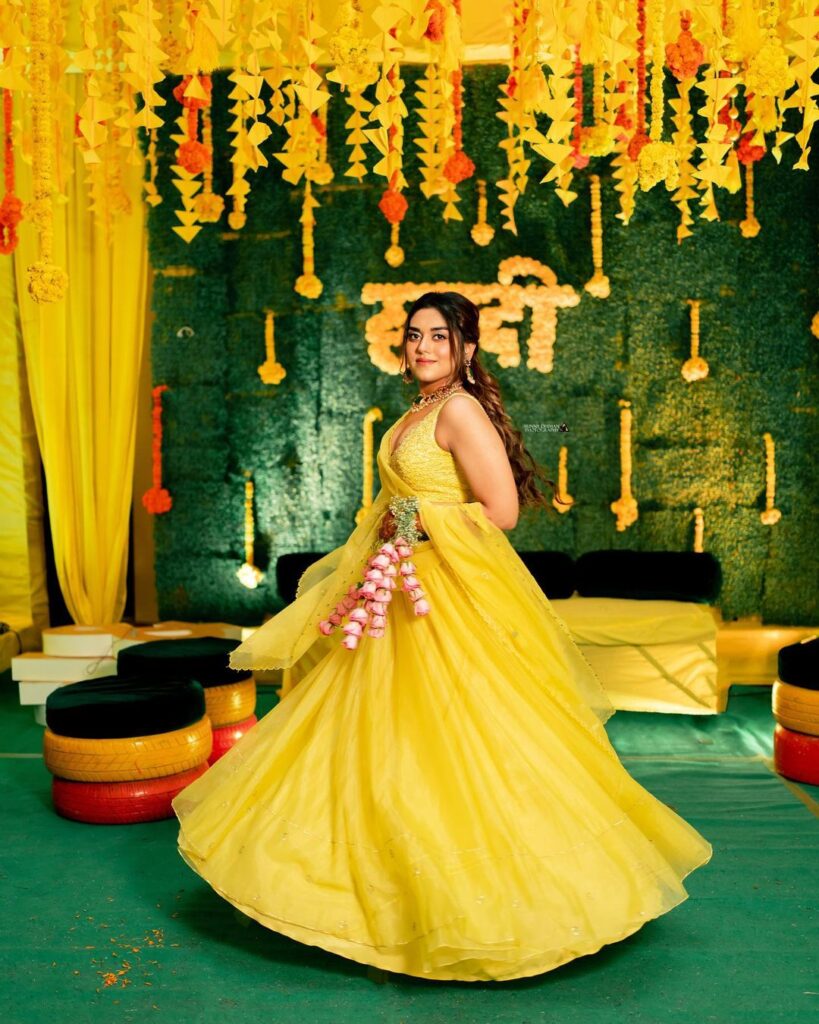 Half sarees are extremely popular, especially in South India, and in haldi ceremonies can be worn in the colour yellow.
Two piece with an embroidered shrug: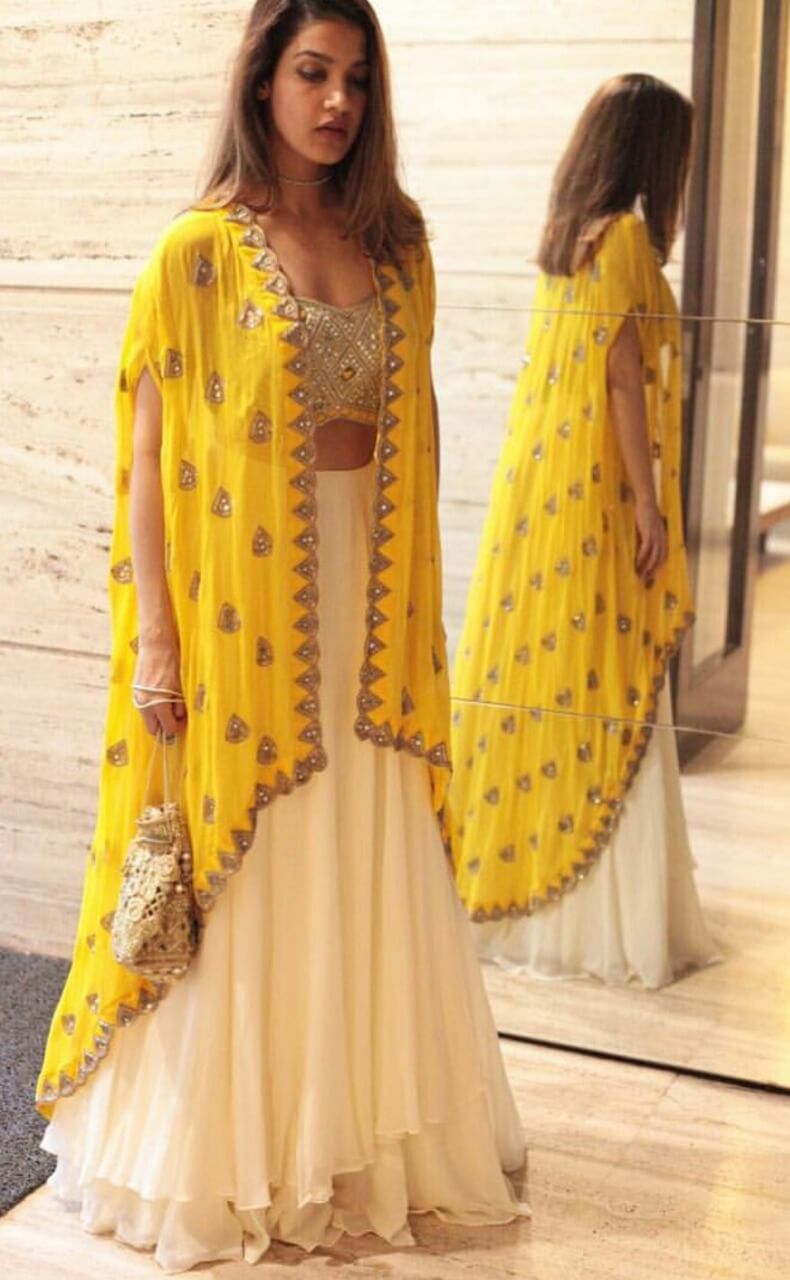 Another Bohemian look, the shrug is long and ornamented, complimenting a comparatively simpler two piece.
Matte look gharara: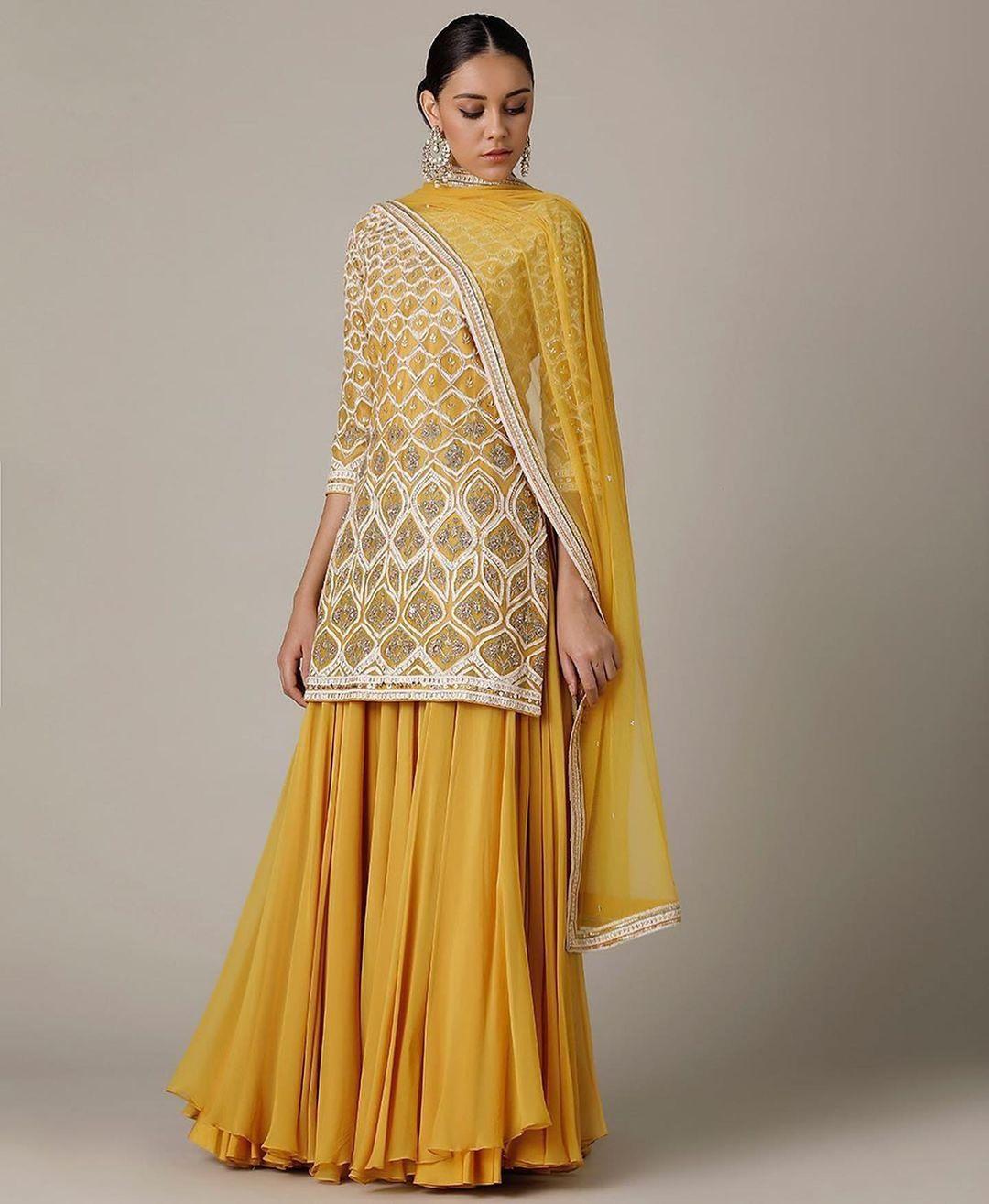 This gharara set is sophisticated and polished to a matte finish, making it one of the best dresses for haldi ceremony.
Bohemian lehenga:
This Bohemian lehenga set has a skirt with a wrap-like situation, and a blouse with bell sleeves.
Front split anarkali: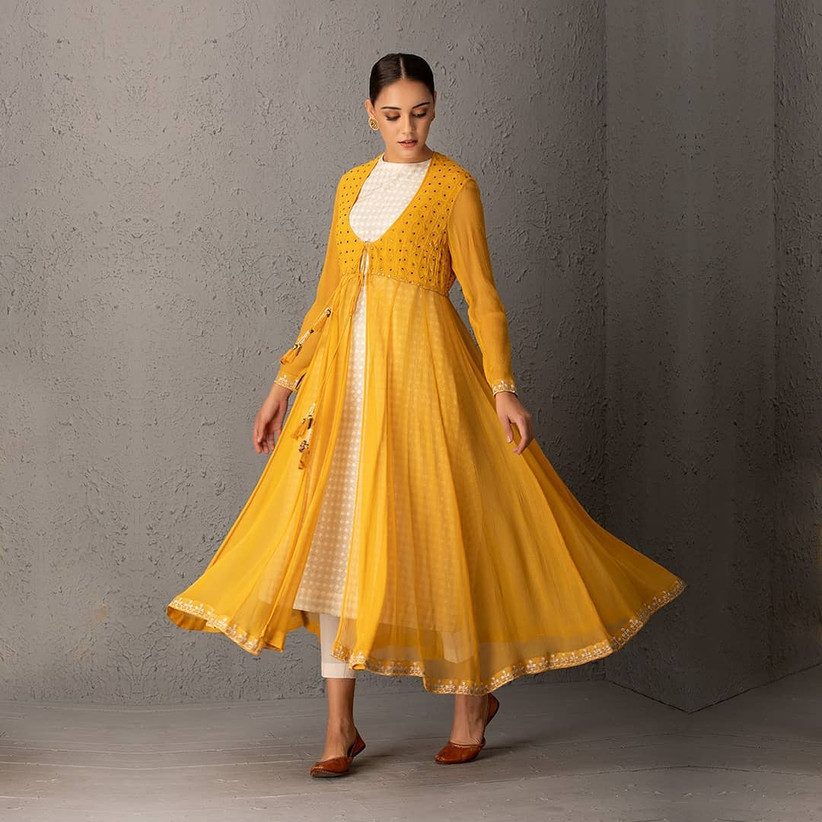 Front slit anarkalis are really popular for any event regardless, and would look great in a haldi ceremony.
Chic look with palazzo and shrug: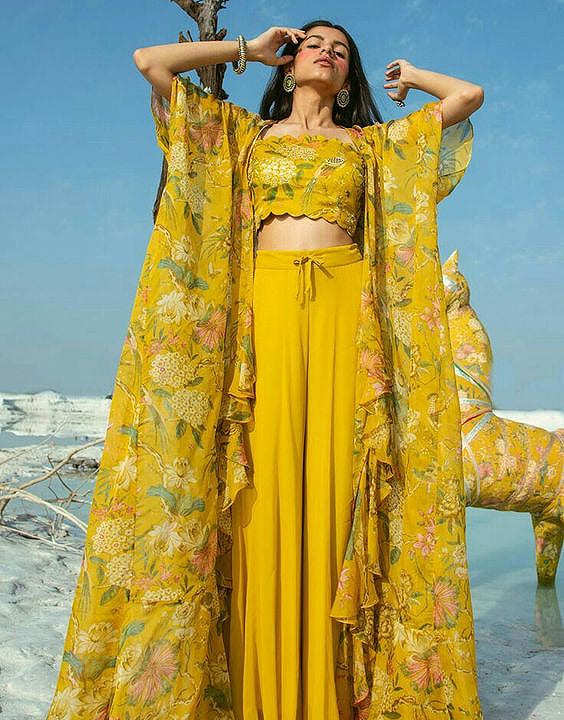 This chic look has a designer shrug and blouse, with a simpler palazzo pant complimenting both.
Sharara:
This sharara looks beautiful and regal, and is defintely one of the best dresses for haldi ceremony that a bride can wear.
The "Greek" look:
The "Greek" look is stylish, trendy and upbeat and can be worn by Gen Z haldi ceremonies.
Lehenga with a floral top and solid skirt:
The floral top pairs well with the solid colour skirt in this outfit set.
Cotton saree with a green touch: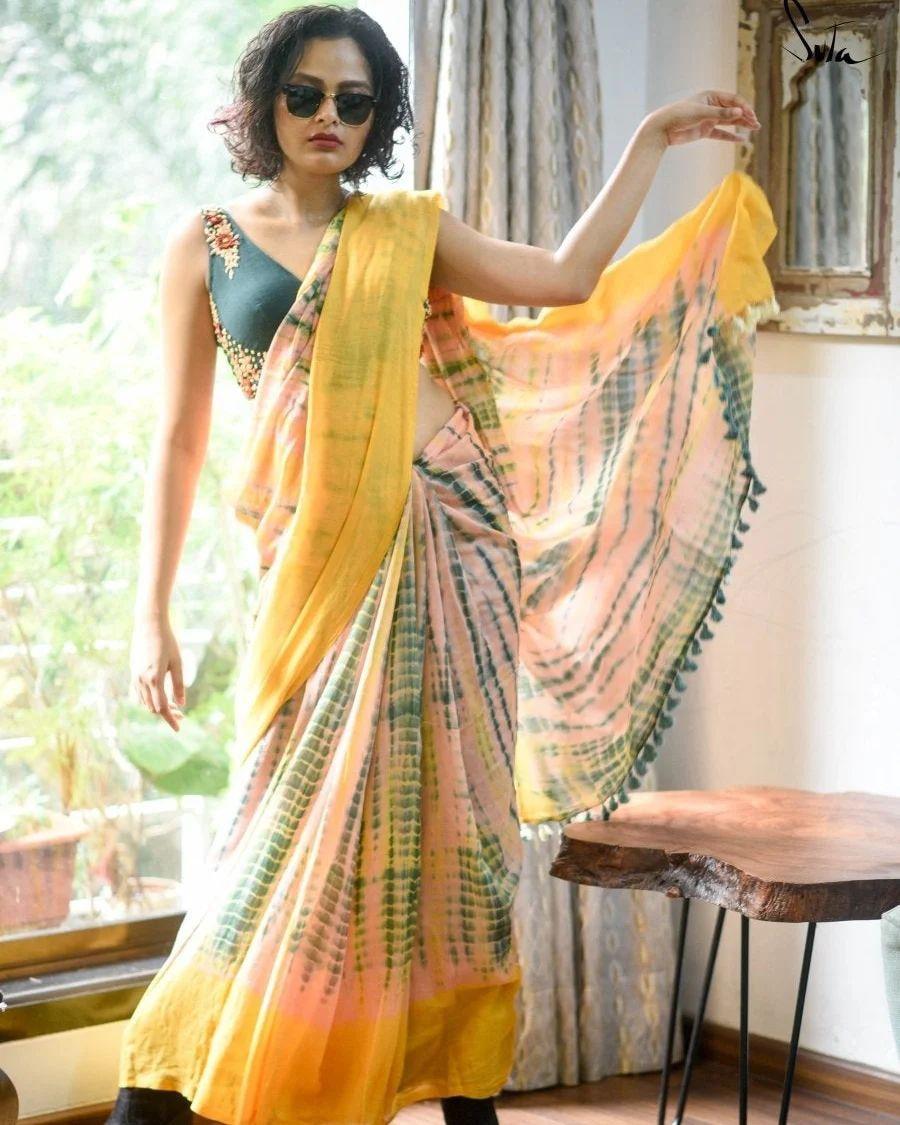 The green brings out a natural vibe to this yellow saree, and is definitely one of the best dresses for haldi ceremony.
"Radha" style:
This look requires a yellow anarkali suit and lots of flower accessories to pair up with it.
Gown:
With embellishments to its net arm sdie, the modern bride would love this look on her haldi ceremony.
Sharara with shrug: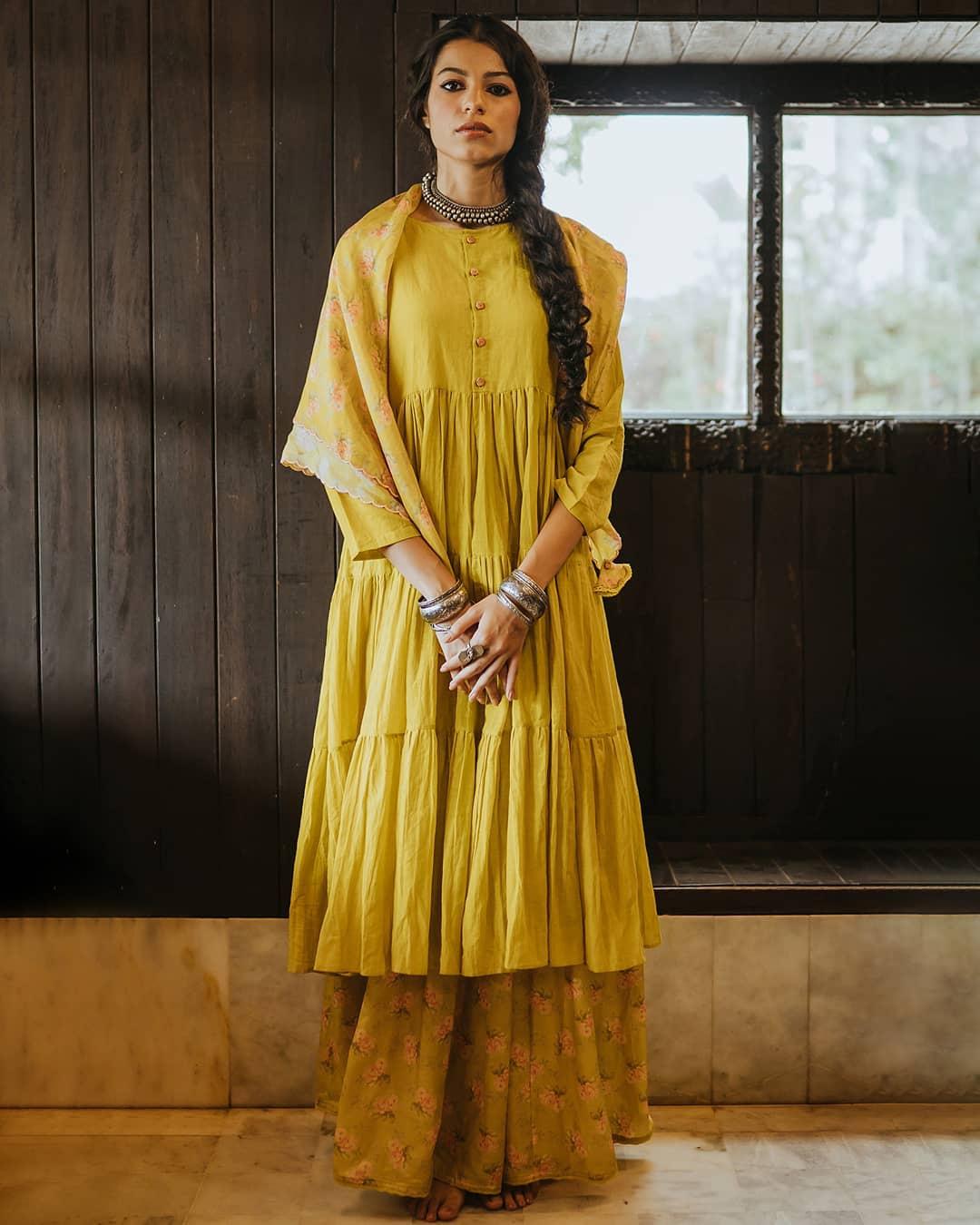 This overall look with the gorgeous outfit is aesthetic and makes one want to prefer it all for themselves.
Embellished kurti: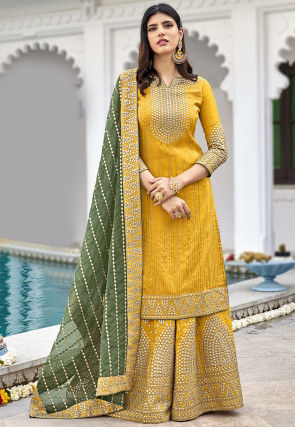 The contrasting bottle green orni along with the rich embellishments look absolutely great.
Lehenga with off-shoulder top:
Off-shoulder tops are THE rage now and look great when paired with a lowkey lehenga skirt for the full effect.
Conclusion:
The Haldi is an intimate ritual, where the family and loved ones really pull out the stops in order to ensure that the bride is covered for her wedding day and the married life ahead. It is a day where she deserves to outshine all others!
Check out more of our works at: Baggout.com