Juttis are a versatile piece of footwear that truly combines fashion and comfort. For centuries, they have added character to every Indian outfit while also providing the desired panache with denim. They had to wait until now, for some reason, to have their true moment of glory.
This season, juttis are finally in style. There is a plethora of jutti options available in the market, ranging from Swarovski studded to zardozi embroideries, handcrafted to thread motifs, and basic prints to designers. Whatever the occasion, you can easily find a jutti to match your outfit. Need more information? Here are the best places to buy this ultra-chic footwear:
1. FIZZY GOBLET
Fizzy Goblet is a celebrity favorite, with fans including Janhvi Kapoor, Sonakshi Sinha, Katrina Kaif, and Shloka Mehta. The Jonas brothers wore customized juttis by the brand to the #Nickyankimehandi ceremony in Udaipur, and Sonam Kapoor Ahuja chose them as her mehandi giveaways. Expect pretty prints and embellishments in their collections, as well as cutesy designs like this Paris-inspired pair. The label also boasts a standing collaborative line with designers, which is refreshed every season.
2. NEEDLEDUST
Needle Dust is widely regarded as one of the industry's pioneers of handcrafted leather juttis. All of their juttis feature Swarovski crystals embedded in basic prints and memory foam. They have recently launched a 'mom and me' collection and are located in Shahpur Jat.
3. PURELY LUSH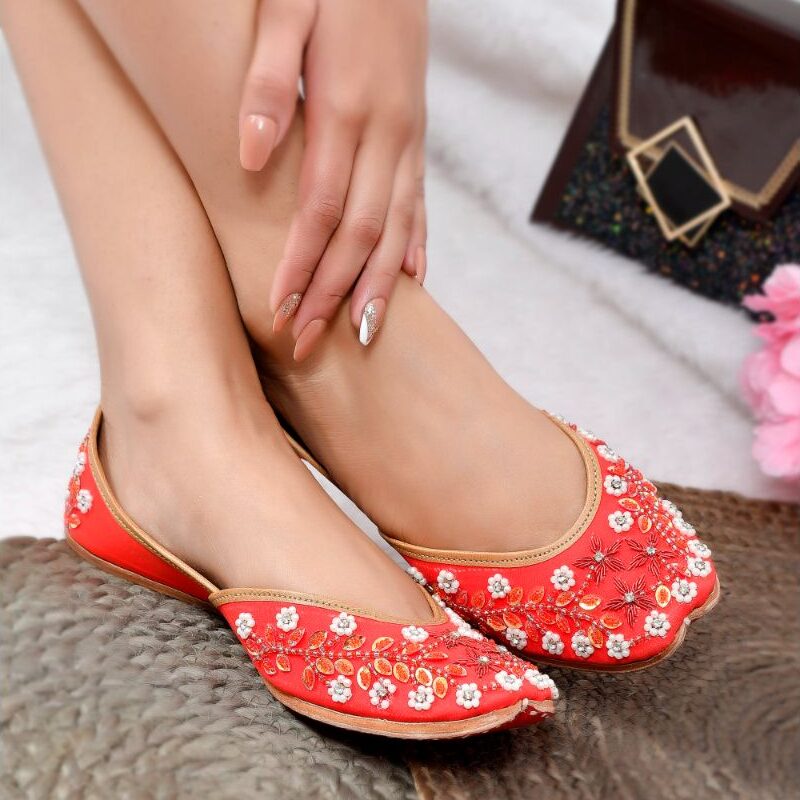 Purely lush offers an exclusive range of juttis in gota, Kundan, zardozi, and hand embroidery. They guarantee exclusive designs and high quality.
4. JUTTI CHOO
The brand's sensibility is reflected in the name, which is cheeky, playful, and no-holds-barred. Jutti Choo stays true to its Punjabi roots while incorporating a generous dose of bling into its designs. There are collections dedicated to brides and zari embroidery, as well as quirky patterns like Garfield and puppets. Jutti Choo is a designer whose name was inspired by the famous international label, Jimmy Choo, and who wears summer blossoms on their Punjabi juttis.
5. HOUSE OF VIAN
The emphasis is on capturing the essence of Indian craftsmanship with meticulous attention to detail. But that doesn't mean House of Vian's juttis isn't entertaining. With designs like floral embroidery on a striped base, the brand keeps it young. The limited edition juttis embroidered with the London skyline will also be a big hit with London fans. They have become a favorite among the fashion elite due to their passion for creating the most exquisite footwear collection. A wonderful combination of heritage and personality.
6. CORAL HAZE
Because of their passion for creating the most exquisite footwear collection, they have become a favorite among the fashion elite. A fantastic blend of heritage and personality. Coral Haze, a Rida International brand, is known for its Victorian prints and offers an exquisite collection of designer handcrafted Punjabi juttis. They are designed to be comfortable for extended wear and to prevent foot sores.
7. VARELI BAFNA
Is there a jutti for every occasion? You can find it right here. Juttis in mellow hues with Jaipur-inspired wall art prints is ideal for pairing with cotton kurta sets and off-duty tunics. The more formal variations, such as those with tassels, are exactly what the wedding season ordered. When it comes to holiday-appropriate numbers, the French knot embroidered pair with clouds and hearts will be ideal.
8. SHILP SUTRA
Even though the brand is focused on Punjabi juttis, they hope to incorporate crafts from all over the country into their designs. Consider the 'Shishmahal' collection, which pays homage to Rajasthani artisans. Every collection is an innovative take on the classic jutti, with pompoms, 3D embellishments, and threadwork to faux leather bases with metallic embroidery.
9. THE HAELLI
The Haelli's customized hand-painted numbers, a quirky twist on the ethnic footwear, will stand out in a crowd of embellished juttis. While there are plenty of florals to choose from, the quirky designs—think unicorns, penguins, and statement slogans—are the ones to go for.
10. PASTEL AND POP
As the name implies, color is an important component of this mix. InTherighter the color, the better. Color-blocked florals, a rainbow of vibrant bead work ghungroo accents, and multi-hued designs—in their design vocabulary, there is no such thing as too much color. Midas' touch? Personalized dust bags for your prized possessions.
11. JAYPORE
Women aren't the only ones who adore their juttis; they also cater to men. Jaypore, one of the few websites with a men's collection, has some pretty amazing pieces that will dep up your Indian wear. The best part is that they have a fairly detailed size chart that includes US and UK sizes. This silk jutti with red zardori embroidery and applique work was our favorite from the women's section.
12. ANEK HANDICRAFT
Anek Handcrafts is a leading manufacturer of Punjabi Juttis for women. This brand offers a plethora of Jutti designs suitable for a variety of occasions. The benefit of purchasing Juttis from Anek is that each Jutti is handcrafted to perfection, preserving the authenticity and essence of traditional Punjabi Juttis. One thing that sets Anek Handcrafts apart from the competition is its affordable collection.
13. HOUSE OF SAYA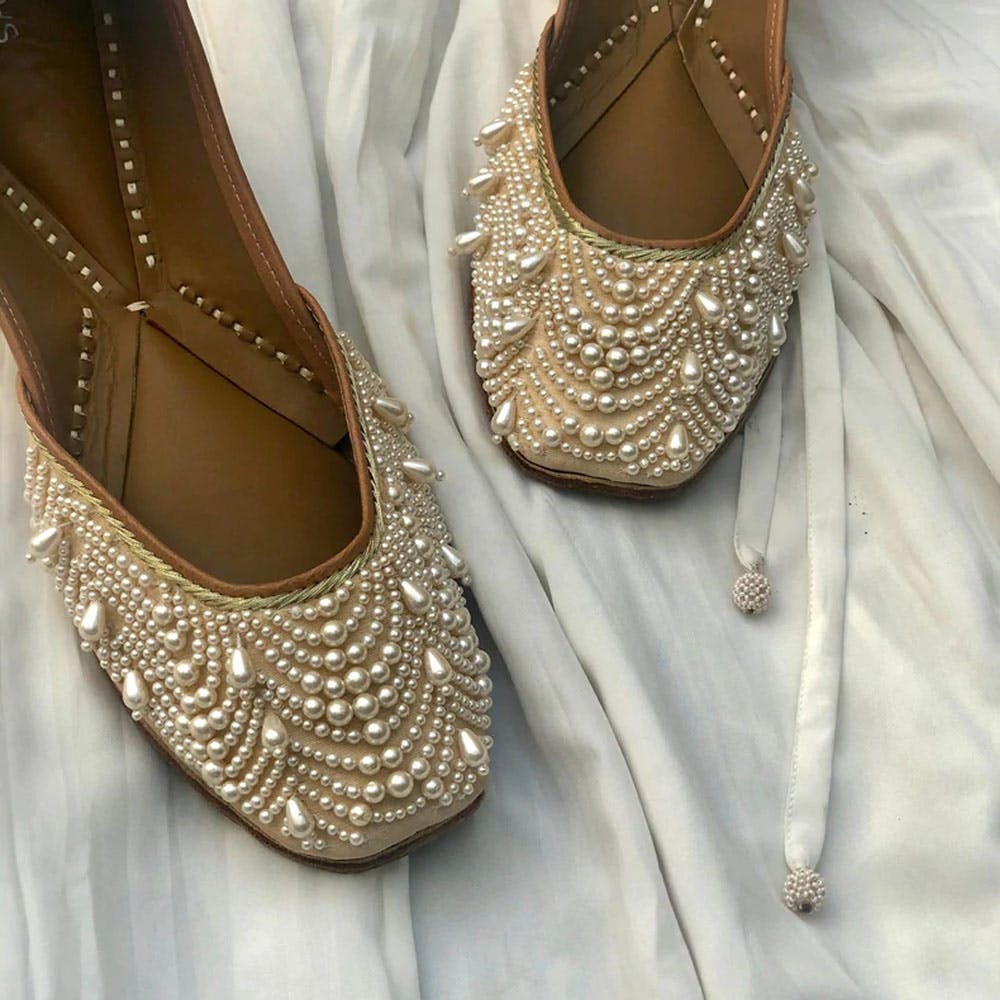 This brand is inspired by a new take on authentic Indian handicrafts. Saya is a brand where you can find a pair for every occasion, from everyday wear Juttis to flats and a wide variety of festive collections. This brand is personally recommended by our team due to its high quality and durability.
14. LOVE FOR JUTTIS
The vibrant color combinations and top-notch, artisan embroidery in Love For Juttis' collection exudes royalty. The designs are traditional with a contemporary twist. These juttis, made of genuine leather and silk, feel like magic on your feet. The floral designs that catch our attention are intricate, feminine, and classy. The sole is cushioned, making it easy to walk in.
15. THE ORNATE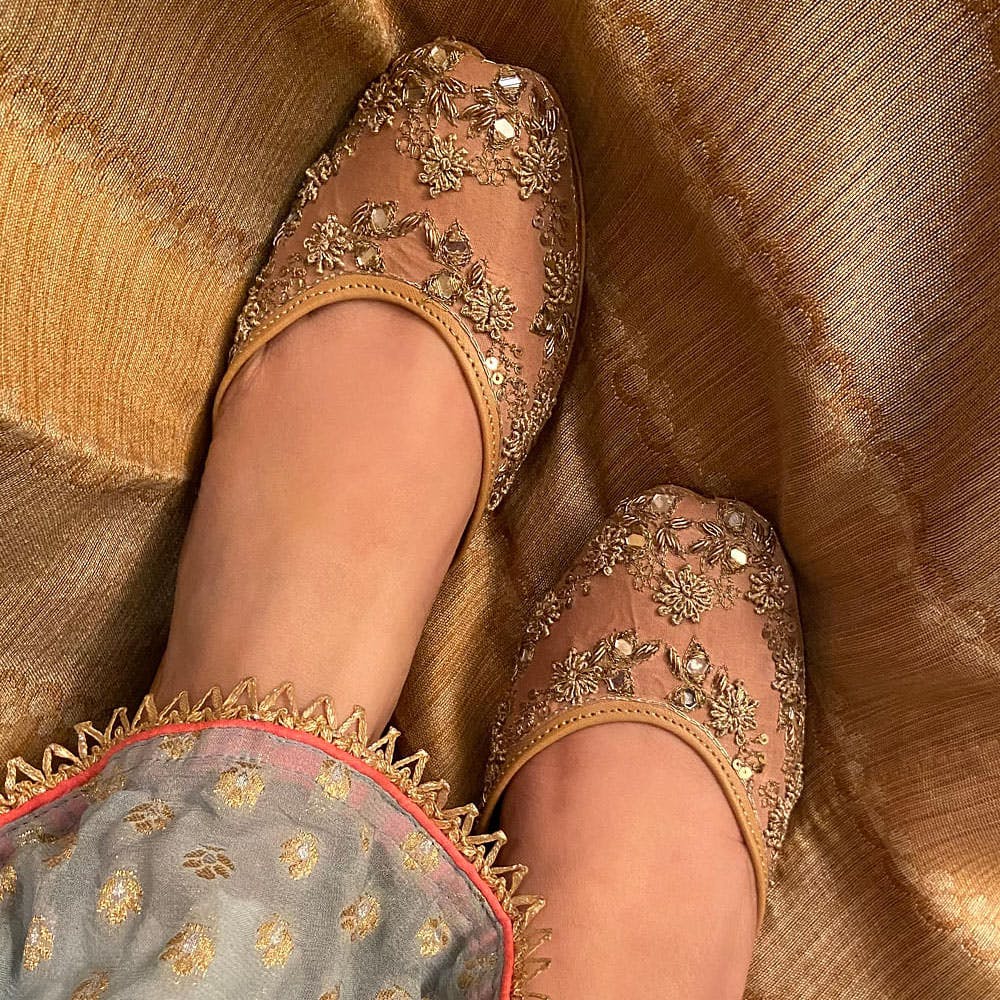 The Ornate is one such fashion label that sells embroidered juttis. We adore the simple patterns and gorgeous designs that we can rock outside. The mirrorwork juttis are our favorites because they exude comfort and style. There are also pearl embellished pieces, threadwork pieces, and many more. We adore their pastel colors, which are ideal for summer. Ornate also has a selection of Kohlapuris to match your kurtas.
16. JUTTIESMAKER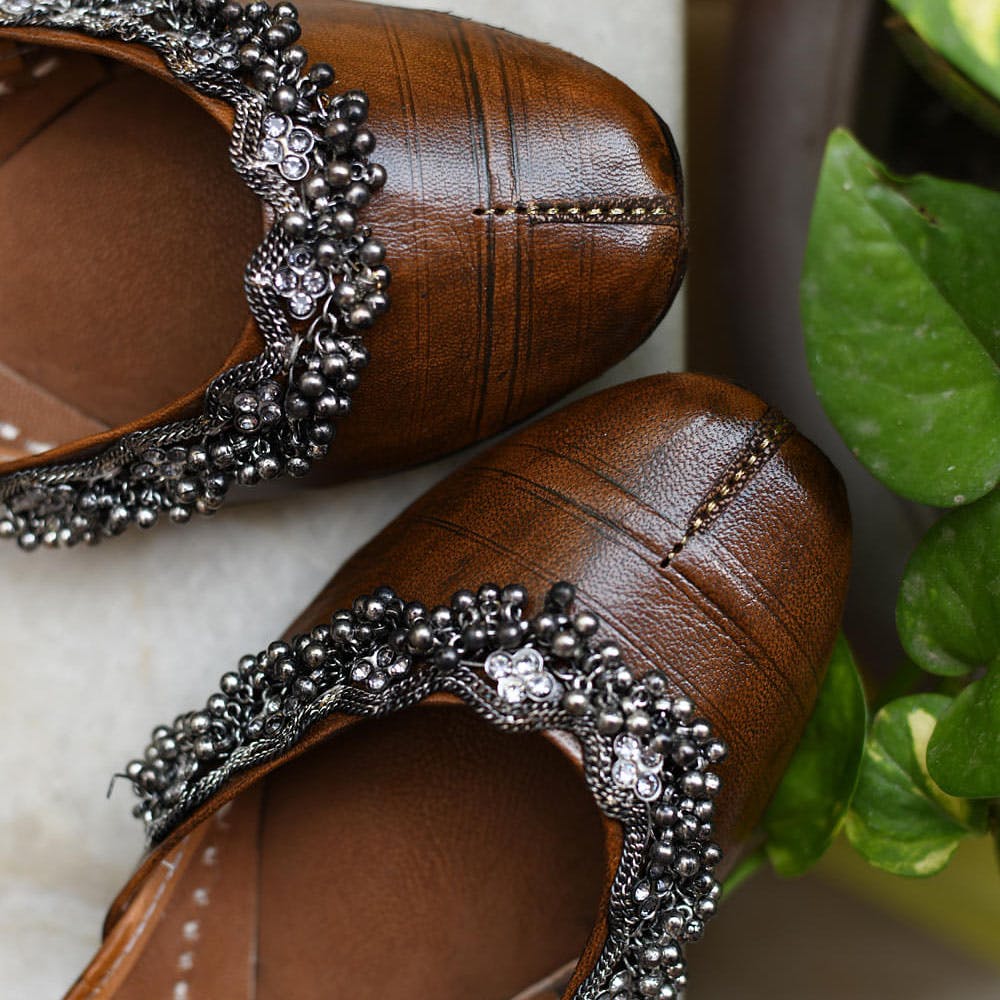 Juttiesmaker, based in Dilli Haat, is one of our LBB favorites for all things chic. This mojari is meticulously crafted and reasonably priced, with exquisite embroidery, high-quality fabric, and embellishments (most of their collection is under INR 1,000). Look for indigo pieces with mirror work. They also have a large selection of Kohlapuris.
17. IKKHU
If you're looking for bright and colorful juttis, Ikkhu should be your first stop. They have juttis that are embellished, embroidered, and handcrafted in a variety of colors, and we love that they have simpler options for everyday wear as well as more elaborate designs for special occasions. They also have a variety of toe sizes to choose from!
18. HAZEL THREAD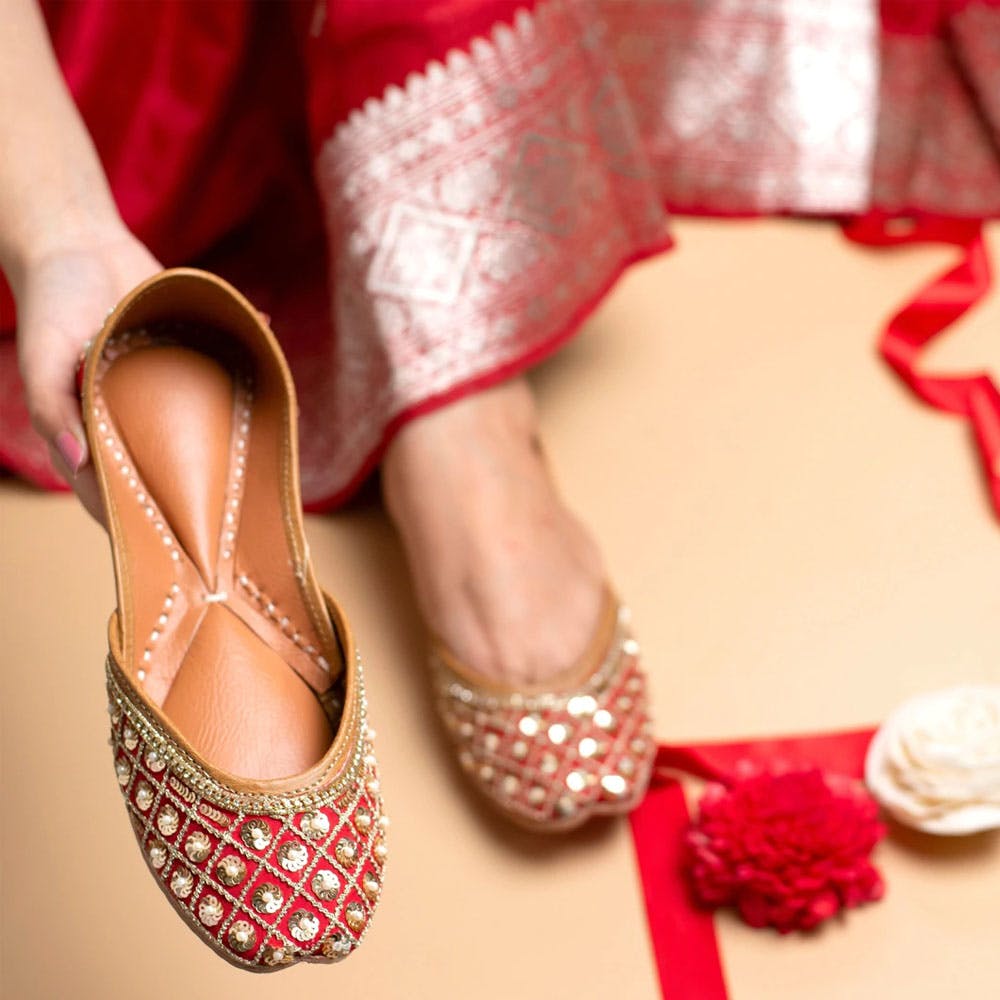 Hazel Thread has a pair for every occasion, from festive wear to casual wear to weddings. The Juttis' elegant design and fine craftsmanship piqued our interest. They sell authentic Punjabi juttis and can also make the order. We particularly like their brown classic Juttis, which give us a Patola vibe. They also have matching clutches to go with your Juttis.
19. KURRBAT
Kurrbat, founded by two women, represents the youth and their interpretation of fashion in Punjab's rich culture, as seen through modern contours. Apart from the fact that they are beautifully designed with tons of colors and embellishments, they support craftsmanship and provide work to local artists, which is why we would encourage people to get a pair of juttis from them. Unlike most juttis, the sole is cushioned, making them comfortable.
20. TAUR JUTTI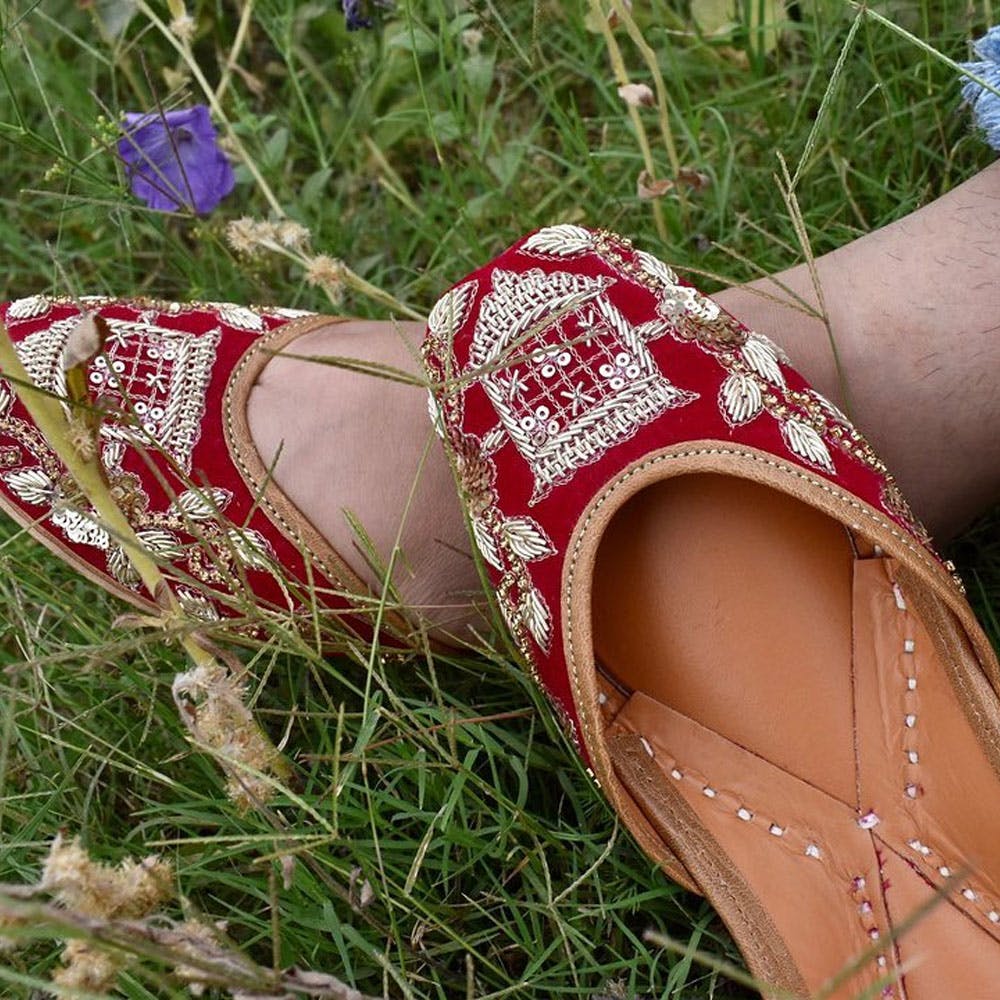 Taur Juttis has a beautiful collection of contemporary and traditional Juttis. They have a pair for everyone, from casual day wear to ornate wedding wear to even office wear. They have a wide range of designs and colors to suit all tastes.
These are the exclusive Juttis shopping sites that will help you stand out and rock the look. Other websites where you can find different types of Juttis include Myntra, Amazon, Flipkart, Meesho, Nykaa, etc. I hope you found this article useful. You can also read our other articles by clicking here. Have fun shopping!