The majority of Indian women prefer to dress in ethnic attire in India, which is why many Indian brands cater to this need. Undoubtedly, ethnic wear appears understated and elegant, and you can always incorporate hints of your style into it, as the way you dress reflects your inner self. Indian ethnic wear is such an elegant fashion that many people, including foreigners, choose it for various occasions. People like to dress up in the vibrant colors that our ethnic wear provides, regardless of age or reason for the gathering.
This article will list the top thirty websites where you can buy Indian ethnic wear. The unending demand for traditional clothing necessitates the establishment of top-tier websites that cater to the needs of high fashion. Continue reading to find out which website best suits your fashion preferences.
1. BIBA
Biba is not solely an online fashion brand, but it does offer online services. It is a label famous for its spunky women's ethnic wear collection. The brand name has been around for a while, and Biba has successfully proven its mark with skilled professionalism in serving its customers. Many women have stopped to shop at their stores because of their modern take on Indo-Western style. Given the current pandemic, their online service has kept shoppers occupied. Biba is primarily a women's clothing brand, but their little girls' collection is also worth a look.
Biba's extensive collection is vibrant and funky. Their sequence work, embroidery, and tasteful colors tie the entire look together. The Indo-Western styling encourages working women to choose Biba more frequently.
2. TJORI
Tjori is a new and distinct online shopping platform specializing in ethnic wear. It is an online brand that connects customers and artists from all over India and the world. Many customers have been drawn to their holistic approach to enhancing the distinct style of traditional wear. Tjori has a diverse collection that successfully meets the needs of the majority of its customers. Their children's and men's collections are equally appealing.
Try Tjori for your new traditional collections if you like your ethnic wear to be trendy and comfortable. Tjori's dynamic collection will help you jazz up your ethnic look.
3. W FOR WOMEN
W for Women is another long-running contender in the market for ethnic wear for women. It has many offline stores throughout the country and an equally successful online store. Their fashion theme is mix-and-match, and their selection of daily and festive wear is very tasteful. They offer a variety of stylish Kurtis as well as fancy ethnic print dresses.
Ladies can now purchase their products more easily thanks to their online store. The intelligent option provided by W is also ideal for working women.
4. FABINDIA
Fabindia is India's largest private marketplace for traditional techniques, skills, and hand-crafted processes.
Fabindia connects over 55,000 rural craft producers to modern metropolitan markets, laying the groundwork for skilled, long-term rural employment and preserving India's traditional handicrafts. Fabindia's garments are handwoven and made from hand-printed fabrics, and the company's products are visually appealing to customers. The products of Fabindia are classified as entirely organic, in conversion, or natural.
5. GLOBAL DESI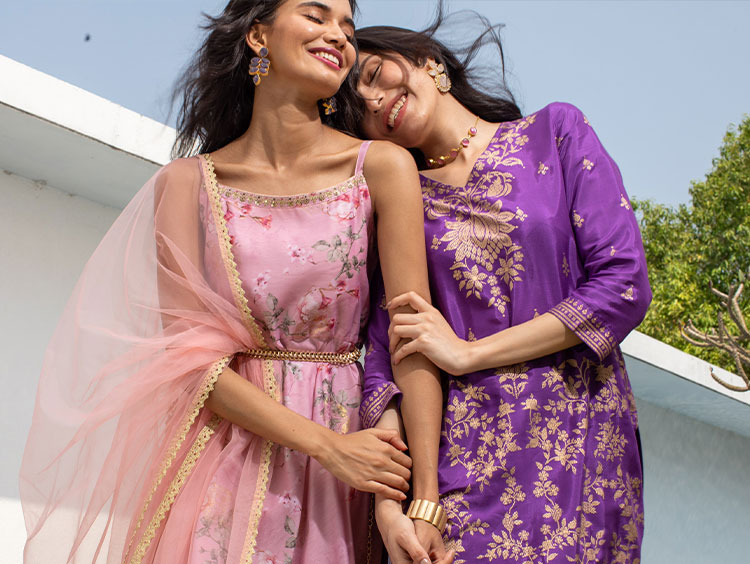 Global Desi, as the name implies, is an affluent contemporary ethnic wear brand. The label is also not only available online but also has several physical locations. Their online venture helps them meet the rising customer demand. According to their website, Global Desi is "a vibrant and free-spirited brand of the boho-chic ensemble." Many modern traditional wear enthusiasts are drawn to their visually appealing collection. This brand is also only available to women. They have a large selection of ethnic clothing. Global Desi's patents include ethnic sarees, Kurtis, and sundresses.
The Global Desi collection is ideal for ladies who prefer to dress boho for their outings. Their colorful variant options make it difficult for a girl to choose one over the other.
6. INDYA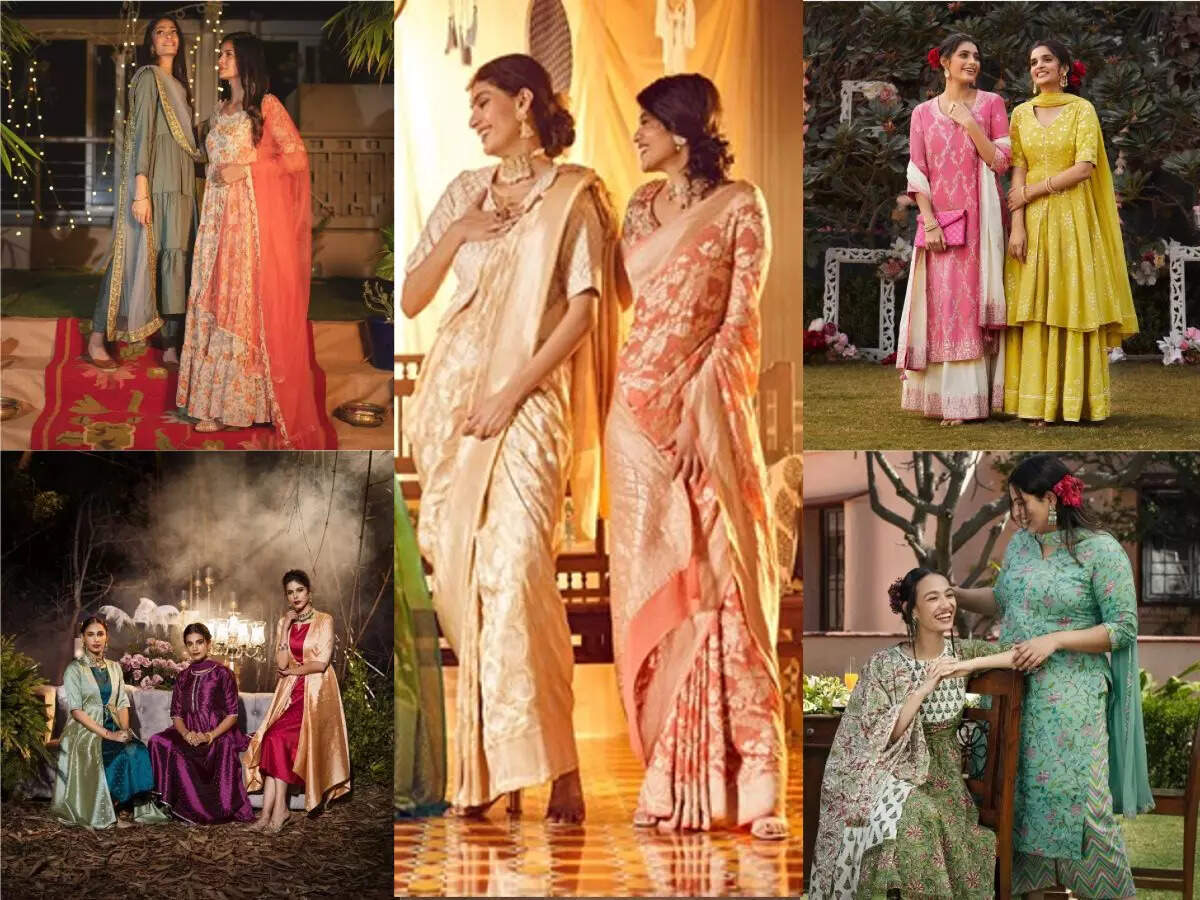 The House of Indya is available online and in stores. Indya's products are high-end designer fashion, and Bollywood actress Shraddha Kapoor serves as their brand ambassador. The label's products are described as "modern-ethnic wear." This store's diverse selection caters to a variety of tastes and preferences. Their stunning and trendy take on ethnic wear has prompted them to go online to reach their global customers.
Indya is a brand that promises high-quality product designs and materials. Their vibrant selection of holiday attire will undoubtedly catch your attention.
7. SUTA BOMBAY
Instagram is one of the OTT platforms that has launched some aspiring ethnic wear entrepreneurs. Suta Bombay is one such online store that looks stunning on Instagram. Suta is a traditional saree store. Their collection, on the other hand, is extremely fashionable. Sujata and Tanya established their brand and are now one of the leading online stores meeting modern demand for traditional six yards.
Suta Bombay experiments with different colors, patterns, and designs on sarees, and their affordable prices add to their allure. Suta Bombay's online store is a must-visit for ladies who prefer a chic and minimal look when draping a saree. You will be spoiled for options.
8. CHAKORI ETHNIC
Chakori Ethnic is yet another online store whose success can be seen on its Instagram page. It also specializes in a wide range of sarees. They offer sarees in both tasteful minimalist and stunning designs. Their collection meets modern demands. Chakori Ethnic's products exude the aesthetic vibes most women seek in ethnic wear.
Chakori Ethnic offers delicious options for sarees for formal and festive wear. Their Instagram page beautifully highlights their successful customer satisfaction journey.
9. MARGHAZII
Margazhii is a brand that offers sarees that are both eye-catching and comfortable. They use tonal shades to create a soothing effect on both the viewer and the wearer. They, too, are active on Instagram and successfully serve their customers via their website and social media page. The Margazhii brand's social media handles and website are a plus, as is their trendy mix of Indian ethnic wear and statement silver jewelry.
Check out Margazhii's website if you want to buy beautiful prints and colored sarees. They also offer suggestions on how to deck out the six yards beautifully and comfortably.
10. JAYPORE
Jaypore is an Indian ethnic wear label that takes pride in incorporating traditional designs into modern cuts. This online store maintains a comprehensive website that curates traditional products ranging from handloom to personal care. Jaypore's website also features an equally appealing men's collection.
11. SOCH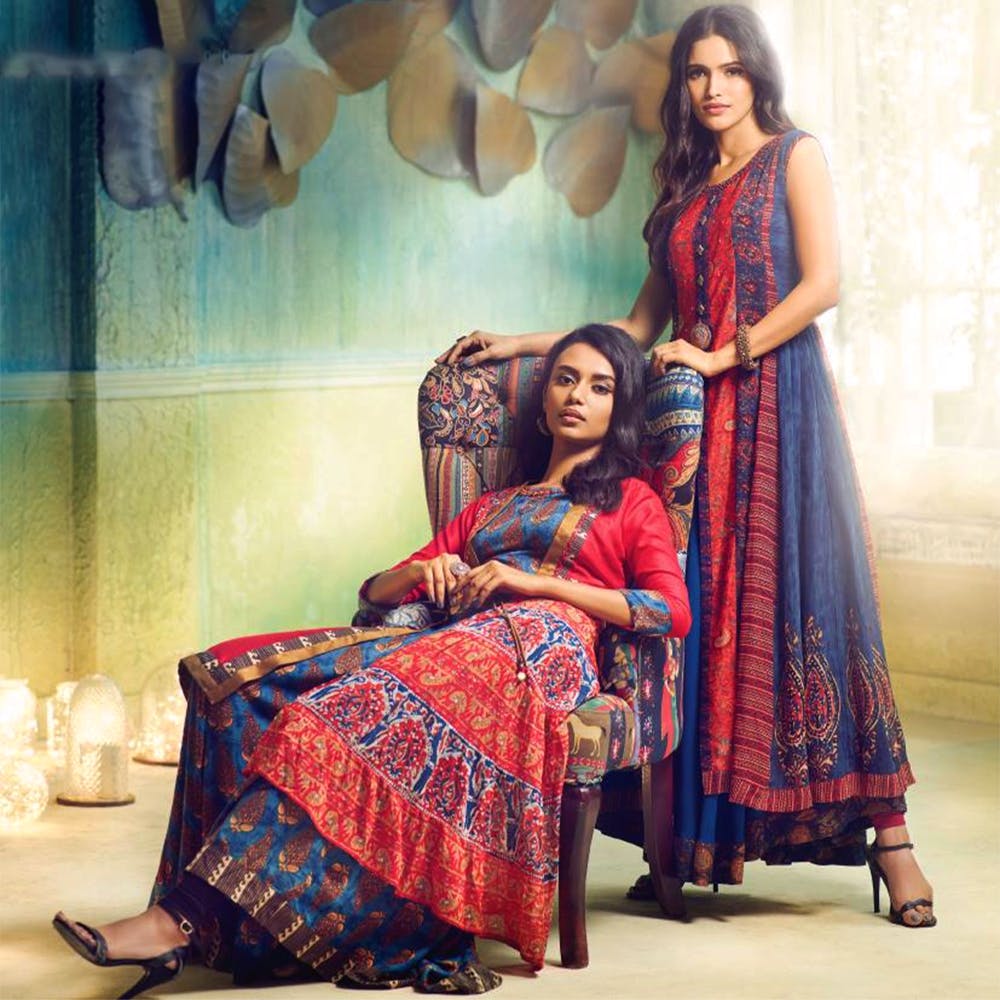 Soch's clothing complements the achievements of today's cosmopolitan woman at work, at home, and in leisure.
Soch is a fearless collection of prints, colors, designs, and textiles that celebrate life and creation. Soch strives to constantly update its line with newer designs and outfits while blending years of traditions in a way that no other brand can match. Because of its high-quality hand-picked textiles, distinctive use of colors, complex embroidery, and beautifully rich Indian aesthetic has pioneered the term "fashion" in the Indian ethnic setting. Soch provides an exclusive range of ethnic wear meticulously crafted from the finest fabrics such as cotton, chiffon, crepe, silk, brocade, voile, and mixes sourced from various parts of India.
12. CRAFTSVILLA
Craftsvilla's goal is to become a classic in a world of trends. Craftsvilla was founded in 2011 by Manoj and Monica Gupta to sell ethnic clothing and accessories on their eCommerce platform.
To capture India's cultural diversity, Craftsvilla.com employs a marketplace concept. They connect local artisans and designers directly to global clients, increasing their income, eliminating intermediaries, assisting them in brand creation and promotion, and preserving culture, traditions, and values. According to the brand, this journey will not only benefit Indian creatives but also allow customers to discover and purchase items that they would not be able to do otherwise.
13. CHIDIYAA
Chidiyaa is for the free-spirited, for those who express themselves through their clothing. Chidiyaa is driven by a desire to keep Indian crafts and traditions alive. They believe in the beauty of handcrafted goods, where each item reflects the unique personality of the artists with whom they collaborate. Chidiyaa's mission is to unearth Indian history and take customers on a fashion journey steeped in history, spirit, and legacy.
Chidiyaa aims to provide you with unique age-old crafts, such as exquisite hand blocks from the Kutch desert, timeless weaves from Andra, and regal silks from Banaras.
14. LIBAS
Libas Impex, defined as young, stylish, and modern, is a fashion brand that tells the story of a new generation of free-spirited, independent, and aware Indian women. Libas' ongoing goal is to provide a contemporary, stylish, and lively selection of ethnic and fusion apparel that is carefully selected by global fashion trends.
They specialize in kurtas, but they also carry a wide range of bottom wear and dupattas that you can mix and match to create your ideal look.
15. THEIASCAPE
Loomers and weavers are the last vestiges of an era that valued craftsmanship above all else. They are the last defenders of traditional Indian weave craftsmanship, which still uses handlooms to make our dream sarees.
TheiaScape's goal was to find and provide a specialized platform for all of the vibrant local arts and handicrafts that resonate with our culture. As a result, choosing Handloom means prioritizing legacy over all else. Their weaves, trinkets, and lifestyle products are all handcrafted, eco-friendly, and fashion-forward, as imagined and innovated by the subcontinent's most talented artisans.
16. RANGRITI
Rangriti is an Indian clothing line for women that is bright and cheerful. Rangriti is a unique fusion of Rang-color and Riti-fashion that produces a line that is a fine blend of feminine cuts and beautiful shades that are in sync with the latest fashion trends.
Rangriti offers high-end fashion at very reasonable prices, making it the ideal solution to every woman's desire to make every day special. The brand aims to bring freshness, variety, and style to every woman's closet by offering a wide range of beautiful kurtas, Anarkalis, churidars, dupattas, leggings, and Kurtis in pleasing prints, colors, and patterns.
17. RAIN AND RAINBOW
Rain and Rainbow can easily become your one-stop destination if you like a lot of colors and traditional Rajasthani elements in your ethnic wear. Among the brands we have listed today, this is one of our favorites to shop from. All of their ethnic outfits have a strong Indian ethnic feel to them. Their traditional collection, which is filled with beautiful colors, combinations, eye-catching prints, intricate embroidery, and threadwork, will undoubtedly help you find the perfect ethnic outfit for this festive season.
18. AKS
Aks is another Indian brand that takes a contemporary approach to ethnic fashion. It is evident in every kurta and Anarkali suit they offer. Their trendy high-low kurtas, asymmetric kurtas, floral printed kurtas, collared office wear kurtas, straight kurtas, and A-line kurtas will suit you perfectly. Their stunning collection will entertain you and earn you plenty of compliments for being a modern diva wherever you go. Aks by Nidhi is available for purchase on a variety of e-commerce websites. Flipkart and Amazon are the best places to buy Indian clothes online because Aks always has a 50% discount on the latest styles.
19. GERUA
Gerua is an Indian clothing brand for the modern woman who wants to make a statement with their Indian attire. It rose to prominence due to its distinctive designs on various e-commerce websites. Their kurtas and anarkalis feature vibrant prints and classy cuts for the independent woman whose style reflects her unique personality.
20. AURELIA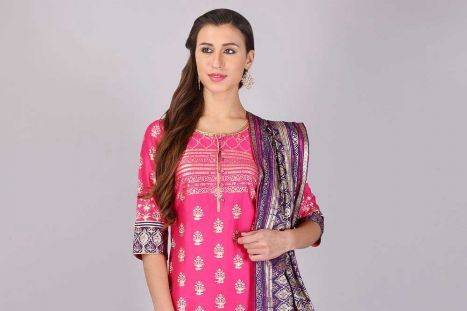 Aurelia is another great ethnic wear brand in India that is part of TCNS Clothing co. ltd, the same company that founded W for Women. Aurelia's clothing line is much more intriguing, affordable, and easy to wear due to its fusion approach, which combines modern silhouettes with the perfect blend of traditions and culture. They provide modern Indian women with an ethnic wear at affordable prices without sacrificing the branded experience, just like the Latin word "Aurelia," which means "golden and dazzling." With all of this, you will undoubtedly dazzle in your ethnic best.
21. SHOPPERS STOP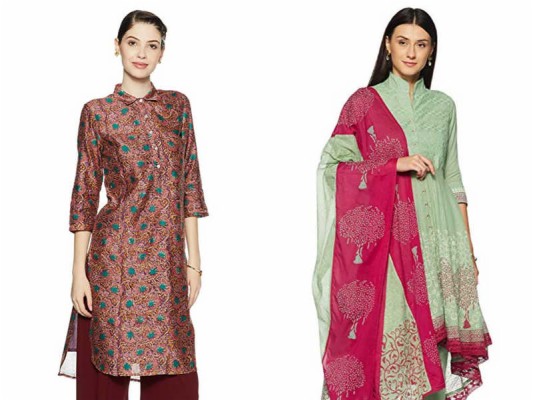 STOP, one of Shopper Stop's strongest brands, offers a wide variety of ethnic wear, including contemporary kurtas, clean silhouette Indian suits, and ethnic workwear that reflects modern styles with classic touches. STOP's modern and sophisticated ethnic wear collection celebrates the individual style of Indian women, while clean silhouettes, comfortable fabrics, and impeccable tailoring capture the essence of the brand—a one-stop shop for everything fashion! With a Shoppers Stop outlet at every turn, you can try on an outfit before purchasing it. 
22. JAIPUR KURTI
If you're looking for exclusive designer Indian Kurtis, Jaipur Kurti has a wide selection of traditional ethnic wear that carries an essence of cultural values, as seen in their Salwar Kameez, Kurtis, Palazzo, Kurta Pant Set, Kurta Skirt Set, Pants, and so on. This brand guarantees the quality of its clothing!
23. SHREE
Shree, The Indian Avatar is a popular selling brand on e-commerce portals for its ethnic wear, which is influenced by international trends and adheres to three fundamental tenets: fashion, price, and quality. Shree has a wide range of kurtas and bottoms to choose from whether you're going to work, a party, brunch, college, or simply running errands. To look your best, pair Shree's A-line kurtas/Anarkali Kurtas with leggings or churidars. One of the most trusted Indian brands for women, offering quality products at the most competitive prices to the Indian market.
24. ANOUK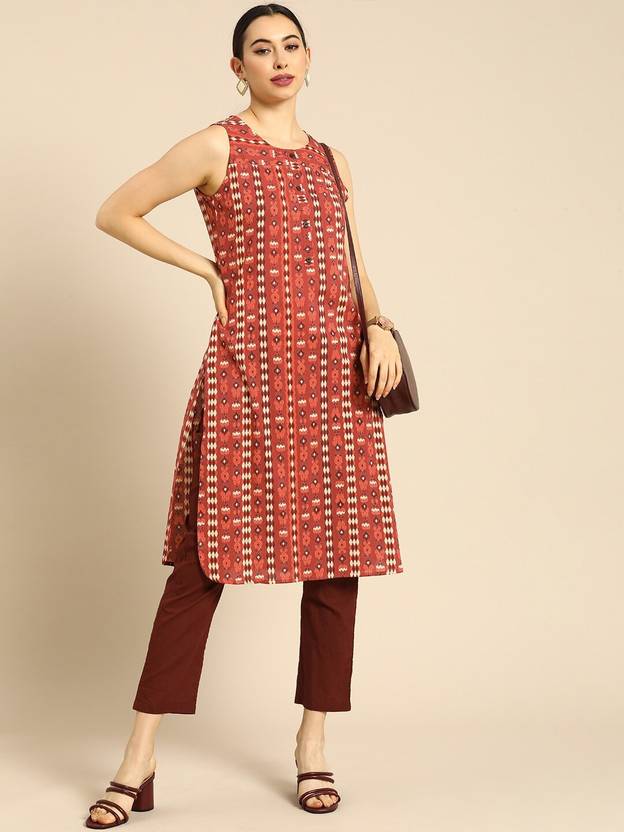 Anouk is an Indian ethnic wear brand that believes ethnic wear should be bold for those who like it as edgy as well as sensual. Their clothing reflects a sense of style that embodies their tagline "bold is beautiful." If you want ethnic wear that is bold, vibrant, stylish, and even edgy at times, Anouk's entire collection is for you. Anouk has it all: bold prints and cutting-edge designs. The brand believes in celebrating Indian women and is the first of its kind to create stylish, contemporary, and modern Indian ethnic wear for women.
25. JUNIPER
The brand provides fashionable and contemporary Indian ethnic wear by focusing on trendy silhouettes with a traditional and heritage feel, resulting in an elegant look. They have a large selection of ethnic and fusion wear clothing for modern women with a traditional twist. The ethnic clothing brand is based in Jaipur, and you can expect high-quality products at reasonable prices.
26. KALKI FASHION
KALKI is a dynamic and innovative brand that offers the best of contemporary, ethnic Indian fashion and fusion-wear styles. The beauty of nature and heritage in art, architecture, and culture, intricate creations, and the modern world, to India's home-bound handloom traditions, inspire KALKI's design and aesthetic sensibility.
27. LAVANYA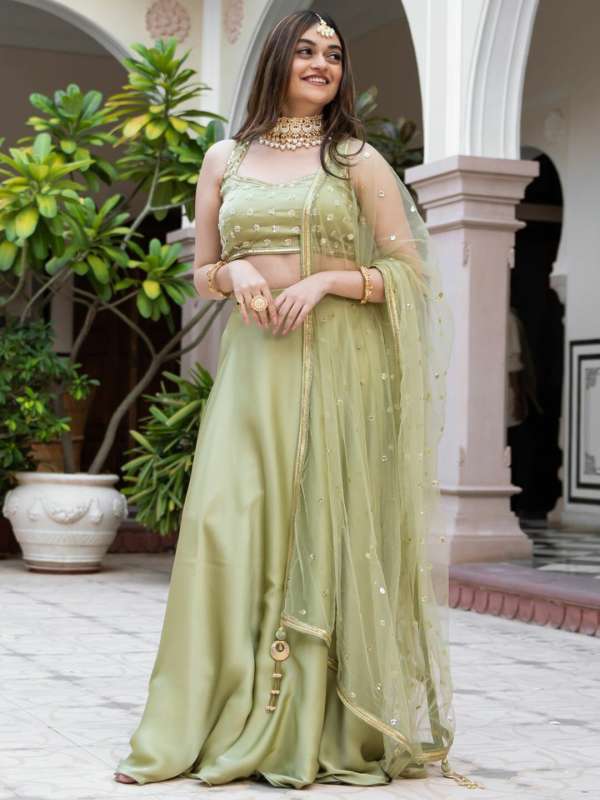 Lavanya the Label is a brand that combines traditional finesse with modern designs. Lavanya the Label will make it simple for you to browse various types of clothing right at your fingertips.
28. NORDLICH
All of our products are made by Indian tailors and artisans using Indian raw materials. It is not well-known, but its products are both beautiful and long-lasting.
29. CHIQUE
Chique is a rapidly expanding Indowestern womenswear brand with stores across India. Chique is reinventing a completely modern approach to fashion by being simple, innovative, and progressive. Chique provides affordable designer wear for all of the stylish Indian woman's casual and occasion wear clothing needs.
30. HOUSE OF AYANA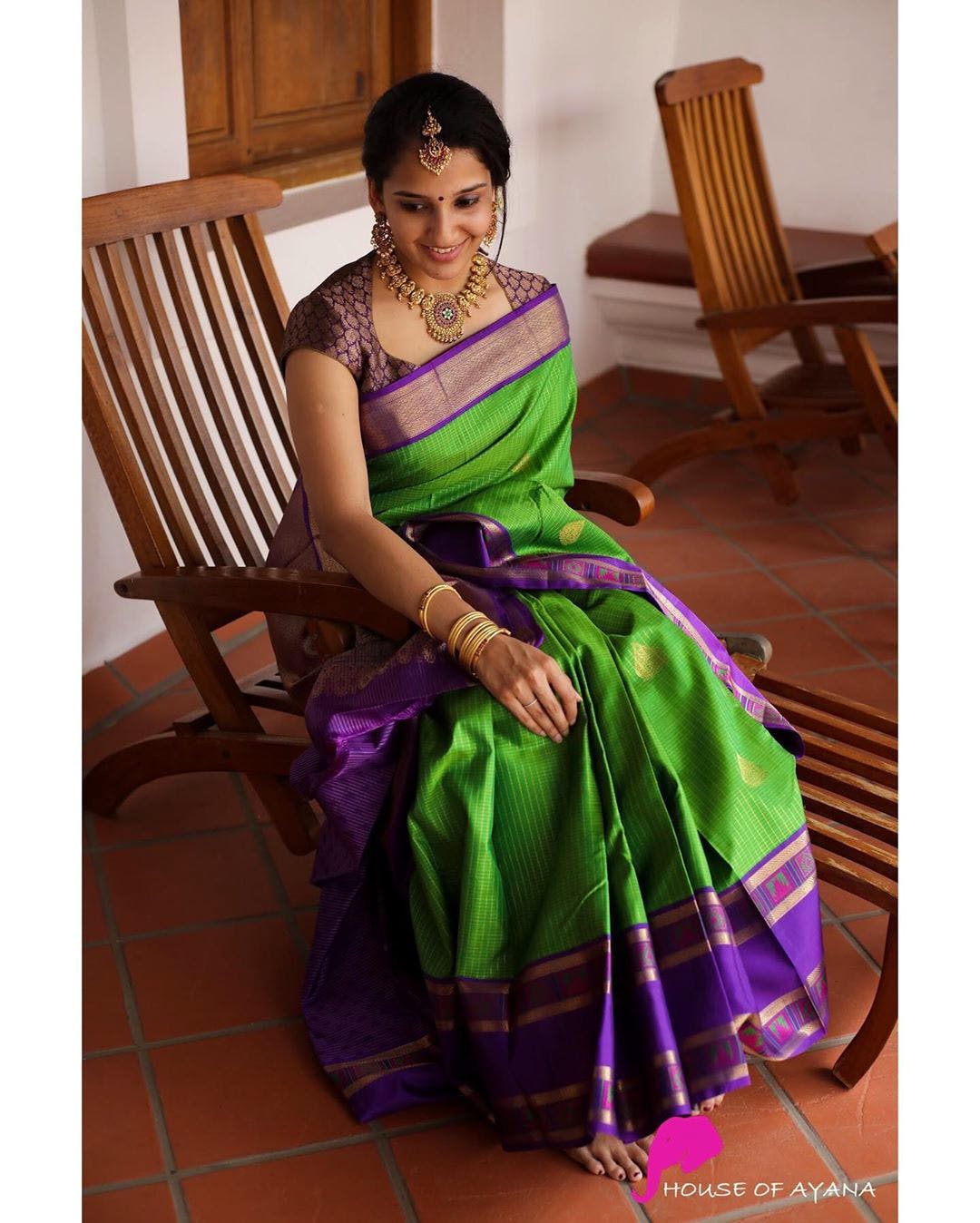 Since its inception in 2016, Ayana has been defined by its vibrancy, luxurious craftsmanship, and social ethos. It is a well-known and reputable brand. The product quality is excellent, and the price is reasonable.
Here are the top 30 ethnic clothing websites. Other sites where you can find ethnic wear include Amazon, Myntra, Meesho, Limeroad, Tatacliq, and others. I hope you found this article useful. happy shopping! 🙂