We enjoy the visual pleasure of Queen Padmavati's enchanted entrance and her dancing to the beat of "Goomar."  The royal attire, known as the "Lehenga," as well as the song's atmosphere have stayed in our minds. India is a country with many different festivals and faiths. Every lady searches for ethnic clothing to wear during the festival season, and there are currently a large number of ethnic clothing options accessible. But the lehenga, a timeless favorite that is also fashionable, is unquestionably the most noticeable outfit. Shopping for lehengas is a must whether you are purchasing ethnic clothing for celebrations or special events. There are modern patterned lehengas available today for every party, so you can just enjoy your appearance without losing your love for Indian traditions.
1. MODERN LEHNGA FOR COCKTAIL PARTY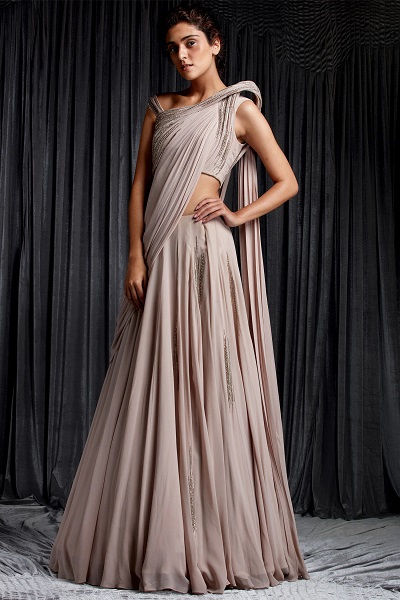 A gorgeous hue that is appropriate for all age groups, an unusual lehenga like this will make you look your best while wearing simple yet stylish attire. In fact, the color is so striking that you will undoubtedly stand out in a throng at any cocktail party or wedding reception you choose. It's a piece of designer clothing that appears incredibly intriguing and stunning.
2. SEQUIN EMBELLISHED LEHENGA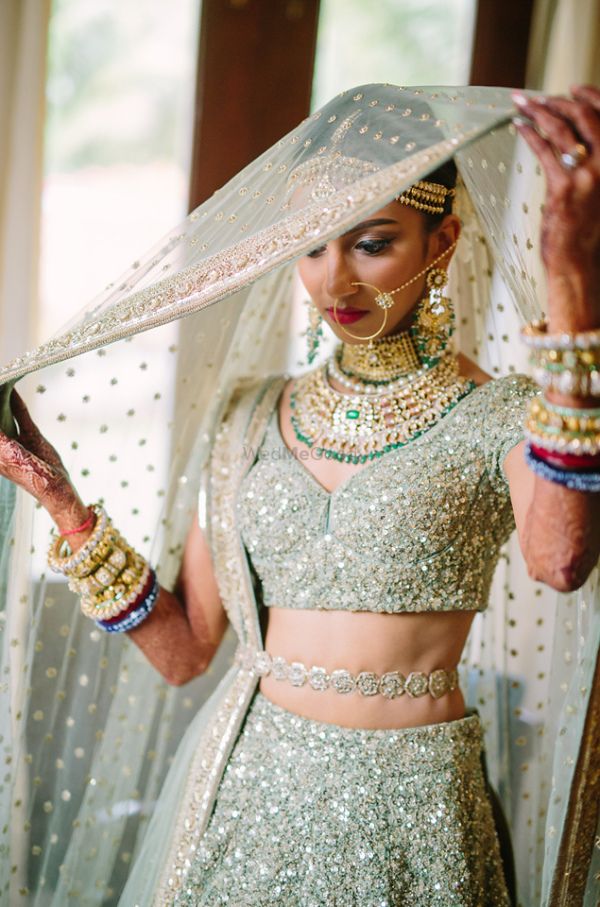 A highly trendy and modern choice is sequins all over. ideal for a party appearance specially in weddings or indian parties.
3. MULTI-LAYERED LEHENGA
This lehenga has a distinctive cut. They are composed of several horizontal layers that are stacked at varying heights. These layers have uneven hems, and the placement and textures of the embellishments vary, giving them an unusual appearance.
4. PANELLED LEHENGA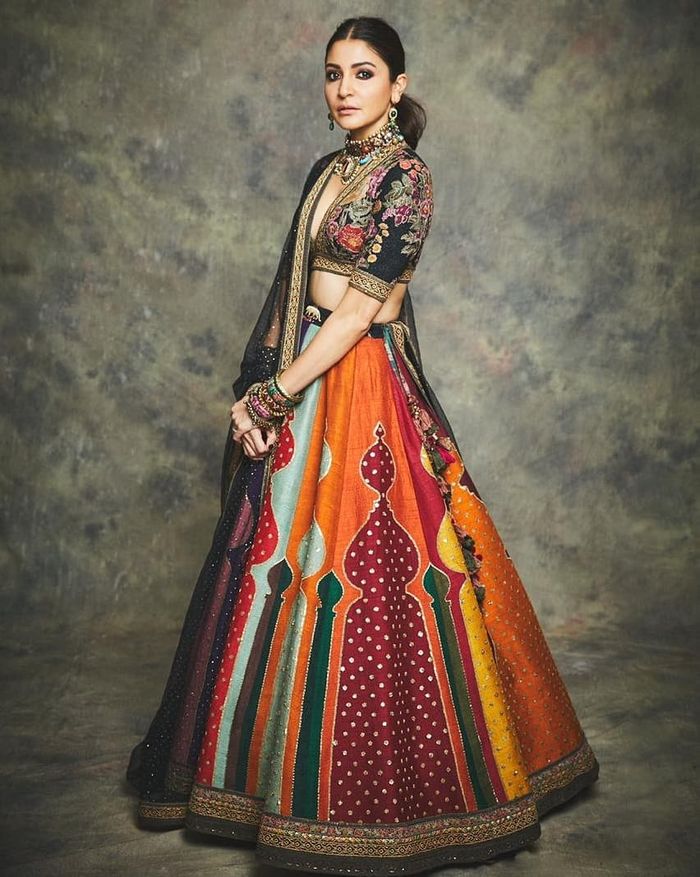 There are some elegant panels attached to the flare's end on this lehenga. The panels are employed to provide a contrasting design and more volume to the flare at the hemline, giving the outfit a glam appearance. It is simple to wear it to special events or parties.
5. BROAD AND FLARED LEHENGA
This lehenga is an example of a traditional western outfit. They are quite popular right now. The color of the choli complements the skirt's incredibly voluminous and flared design. These typically have fluffy textiles, which increase the volume.
Advice: For these sorts of lehenga skirts, select neutral, sheer, or light pastel colors. The fullness of the skirt is complemented by a little sequin choli.
6. FISH-CUT LEHENGA
Why are you holding out? Show off your captivating beauty in a lehenga with a mermaid cut, which has a tight uppercut and stretches out into a fishtail at the base.
A small line separates the mermaid cut from the fishtail cut. A mermaid-cut lehenga broadens out above the knee, bringing to reality our childhood vision, while a fishtail lehenga has smaller flares below the knee.
6. BENARASI LEHENGA
Although these lehengas can be any shape, they are typically flared or A-line. Although they have a pleated appearance, the rich silk Benarasi brocade fabric is what really stands out. They lack any other decorations other than a large gold lower border. Sabyasachi Mukherjee, a renowned fashion designer, popularized the look. View further Sabyasachi lehengas.
7. NET/ MESH LEHENGA
Mesh lehengas are becoming more popular since they are light, appear rich, and go best with any print or pattern, as was previously noted for the layered lehenga. Whether it be flowery, embroidered, or simply plain designs.
Advice: Women with larger frames should avoid wearing mesh since it will make them appear fluffier and less attractive than women with slimmer figures or smaller waistlines.
8. GOTTA- PATTI LEHENGA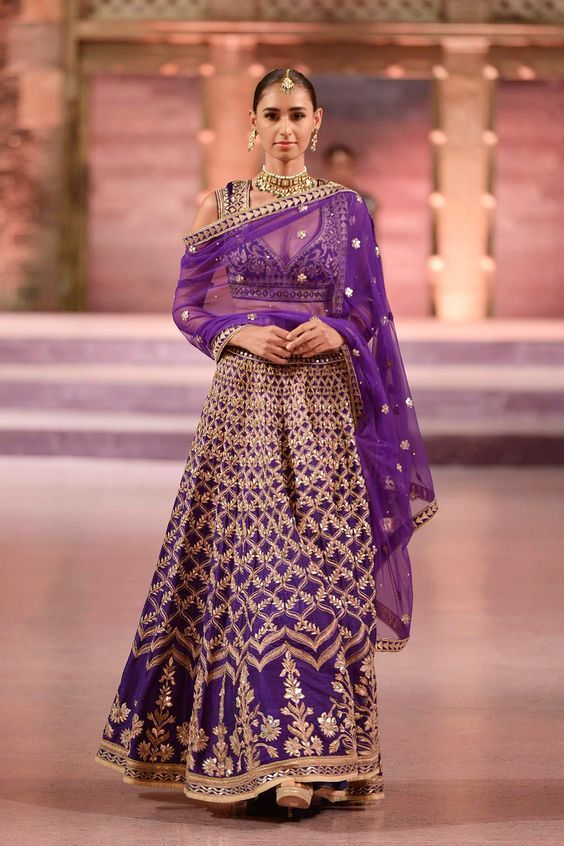 Gota patti is classic and timeless- and a great option for the bride!
9. RUFFLED OR LAYERED LEHENGA
Some of you may be of the opinion that it is merely a fashion statement and not a specific form of lehenga like those mentioned above but trust us when we say that in recent years it has also emerged as a fashion statement and is a distinct sort of lehenga with layers or ruffles all over the skirt. If the frills don't have an excessive amount of embroidery or embellishments, it is not only stylish and modern-feeling but also quite airy and lightweight to carry. The layers can match or contrast with the foundation skirt's hue.
10. LEHENGA WITH A LONG HEAVY JACKET
Stylish lehenga and long jacket combination. If the lehenga is plain, make sure the long jacket is lavishly embroidered; the reverse (heavy lehenga and plain long jacket) won't look good together.
Advice: The length of a long jacket should match that of the lehenga.
11. PRINTED LEHENGA
These lehengas are embellishment-free and feature printed floral or textured designs. They have simple colors and are very light in weight. If you're a guest at an Indian wedding or party at a beach destination, consider purchasing one of these. Pair with crop tops without sleeves.
12. SHARARA CUT LEHENGA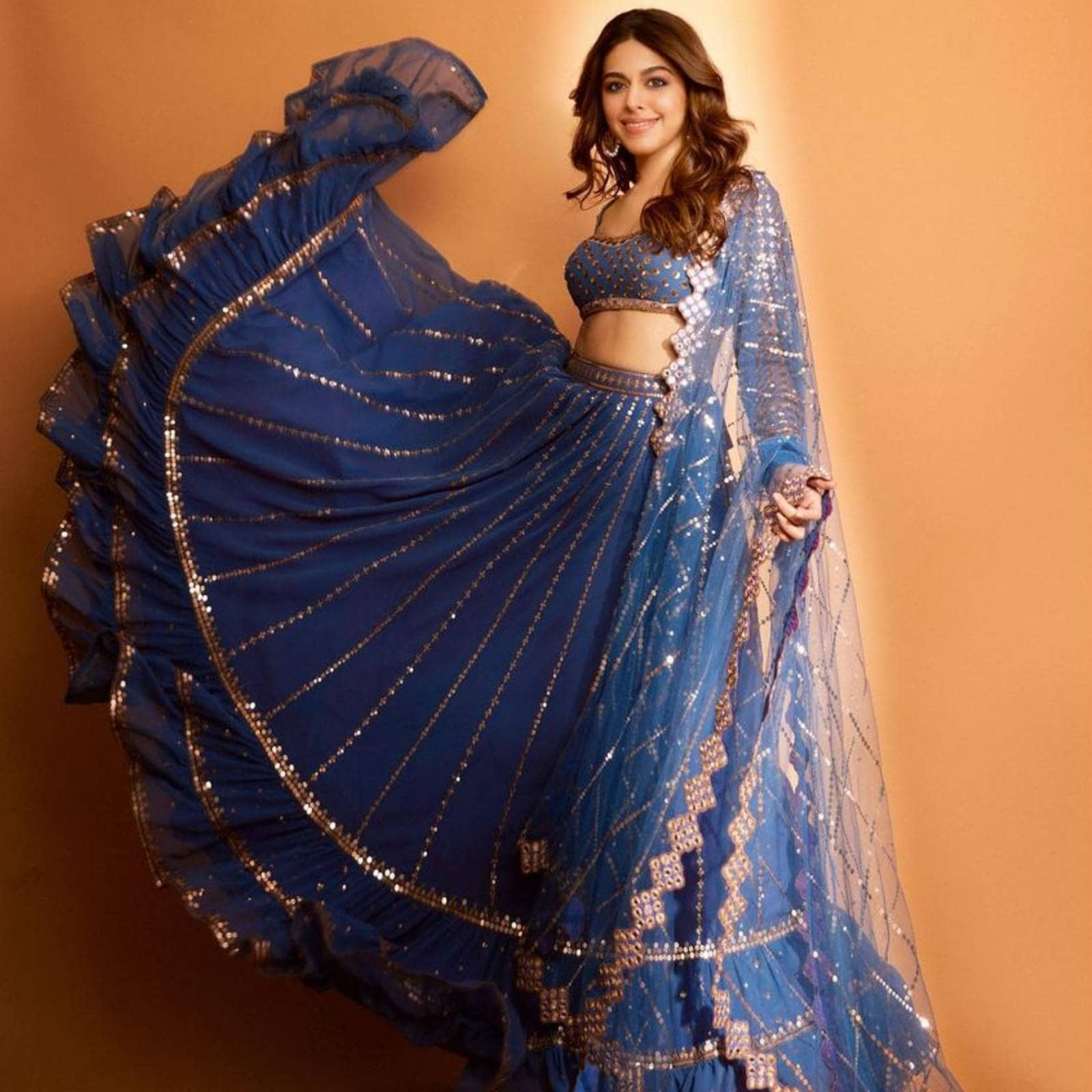 You should be aware that Muslims tend to like shararas, but if you want to seem truly traditional while wearing something out of the ordinary, you can choose this look. Although they are stitched from the middle of the hem like a pair of pants or palazzos and do not entirely belong to the lehenga brigade, they can still be classified as lehengas because of their excessive flair. It is typically worn with long kurtas, though a slightly shorter kurta, as long as it is not too short, is also an option.
13. ZARDOZI LEHENGA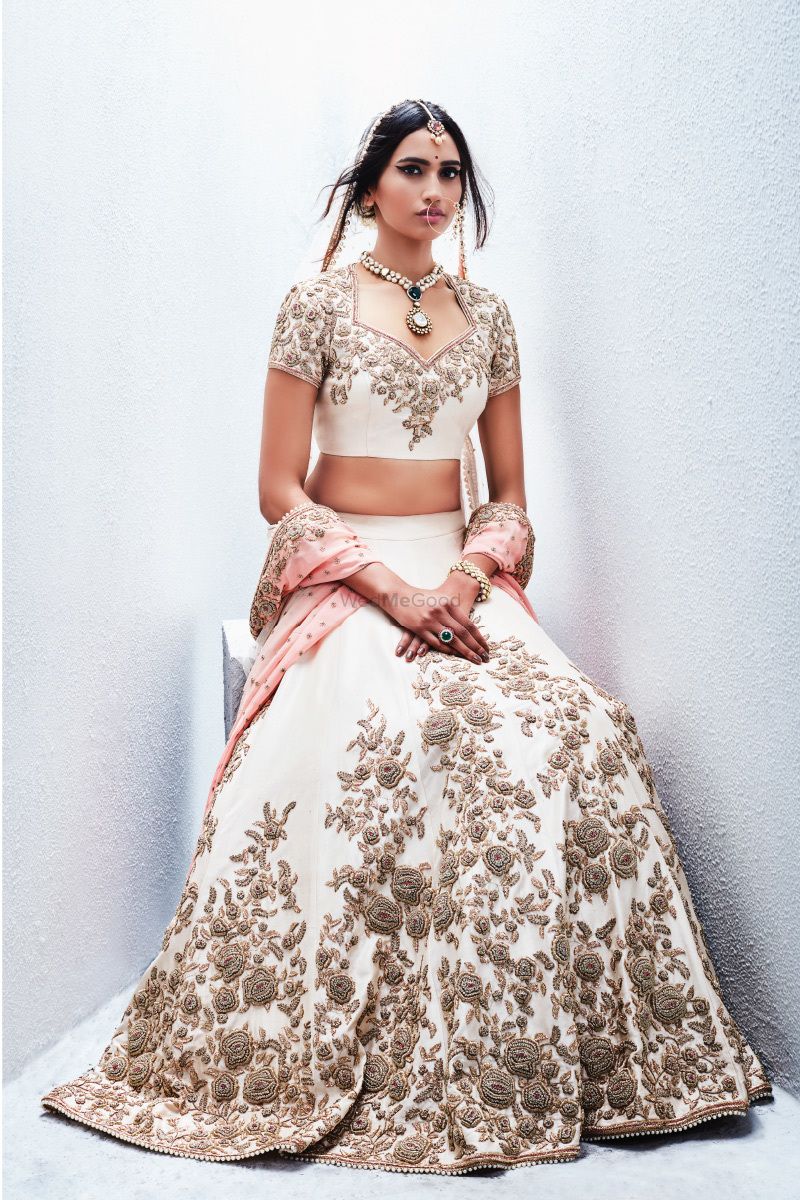 Another popular choice that looks amazing! attractive and elegant for the Indian wedding. Add some delicate jewelry on it to make it glow.
14. BALL GOWN LEHNEGA
The bottom hemline of the circular lehenga neatly forms a circle, making it one of the flared varieties. The fall is similar to that of former ball gowns. If you are tall, prefer this design for ball gown celebrations, or if you wish to maintain your Indian heritage while maintaining a modern appearance.
15. KAJIVARAM LEHENGA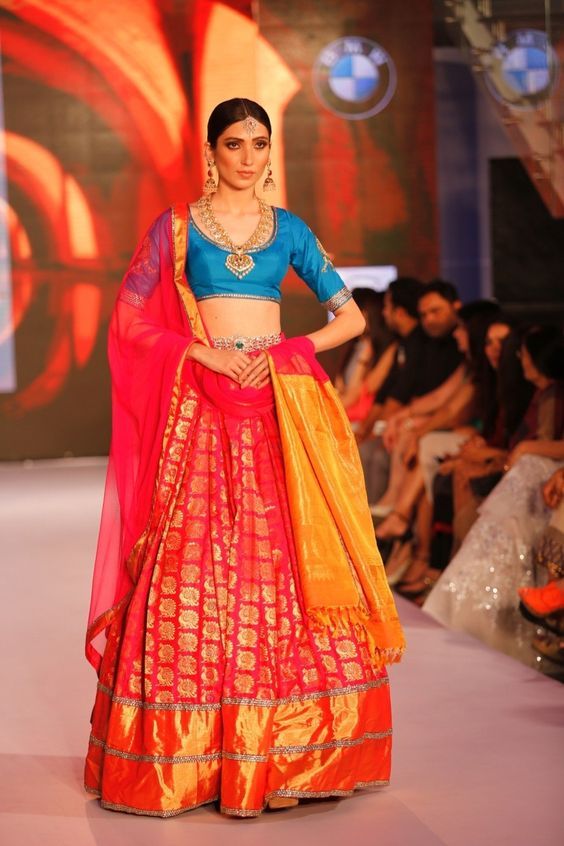 Works so well for fusion weddings and looks super glam!
16. STRAIGHT-CUT LEHENGA
As the name suggests, this lehenga style is ideal for women who dislike ghera, or fluff or pleats, in their lehengas. The skirt has a straight shape that follows the body's curves and complements nearly every body type. The hourglass, apple, and rectangle shapes work best; the pear and body types with thin frames do not.
17. JACKET STYLED LEHENGA
The only thing distinctive about this style of lehenga is the jacket, which gives your complete look and personality a boost. The small, tight-fitting jacket that goes with the lehenga boasts elaborate embroidery and beautiful details. Choose this type of lehenga to look unique and sassy and make a lasting impact on others.
18. FLARED LEHENGA
The most amazing of all is classical and oldest. If you adore volume and pleats, this style is for you. It has a broadly flared skirt with a circle at the hemline. Flowy fabrics are typically used because the lehenga skirt twirls well and makes a full circle. It is most appropriate for small, private events like engagement parties, mehndis, sangeets, even Haldis, or any other occasion along these lines.
19. APPILIQUE LEHENGA
Your lehenga is unique thanks to the 3D craftsmanship! It's a go-to lehenga for you if you're a woman who enjoys being the center of attention at parties.
20. A-LINE LEHENGA
The term "A-line" must be familiar to you if you're Indian or know an Indian. The A-line design was quite popular during the period of our moms, or in the 1970s and 1980s, but it has recently come back into fashion since it can be both traditional and modern depending on the fabric and cuts used.
Tip: Because of the A-line hemline, which cinches at the waist and flares outward toward the bottom, this style of lehenga is best suited for tall, slender, and pear-shaped bodies.
21. CROPPED LEHENGA
As opposed to the lengthy, flowing length of the traditional lehenga skirts, these skirts are ankle-length or stop just above the ankle. These skirts typically have panels and pleats. These shouldn't be worn to a wedding, but if you're going to a western-Indian celebration, you can choose the look for a morning event.
22. CHEVRON PRINT LEHENGA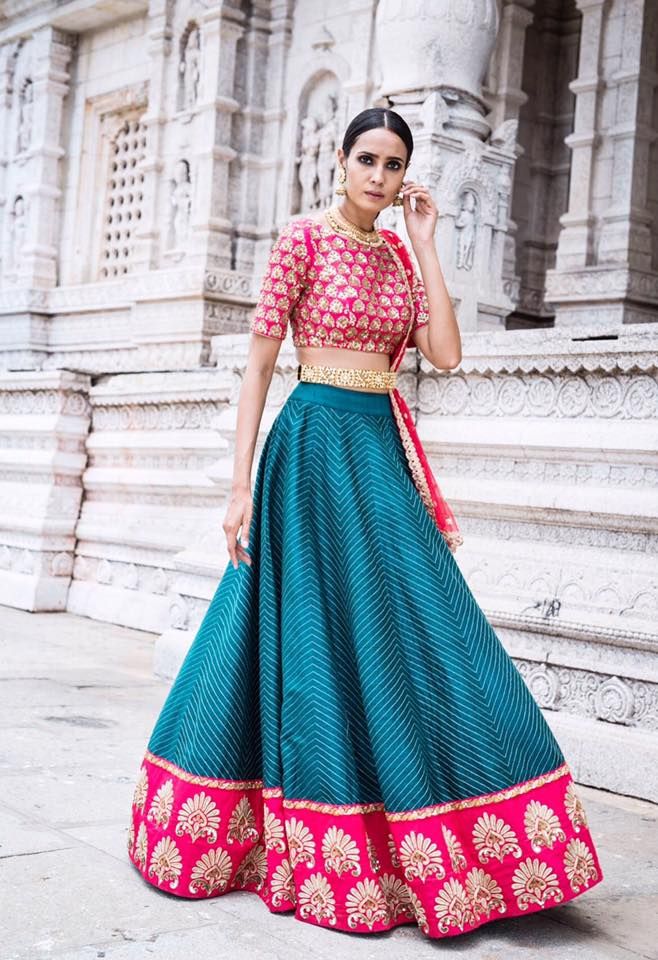 These embroidered chevron lehengas are perfect for the new year since modernity and tradition are combined! Perfect for a unique party outfit.
23. NET BRIDAL LEHENGA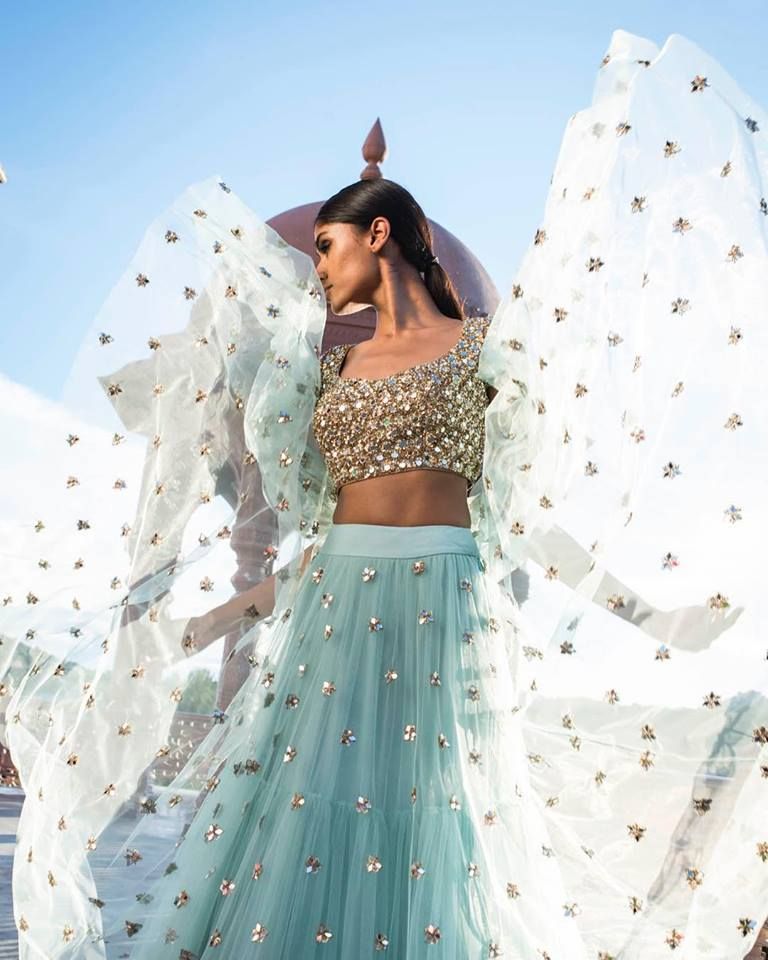 Simple and pretty for the bride who loves shine and don't want a heavy lehenga. Net is another hot fave!
24. TISSUE LEHENGA
Another choice you have is tissue, which looks lovely when paired with lace. Not too difficult to carry and perfect for the party look.
25. LACE WORK LEHENGA
One word to describe it is stunning, and we hope more women understand that. Ideal for the wedding of your best friend.
26. RAW SILK LEHENGA
The raw silk embellishment lehenga is unquestionably the one you would like if you consider yourself to be classic.
27. PATOLA LEHENGA
If you enjoy colorful things. The greatest patola lehanga for you is one that you can style because it is blended with a variety of colors.
28. OVERSKIRT LEHENGA
The overskirt is an item of Indo-western clothing that was modeled after overskirt gowns in western culture. It is made up of a long strip of fabric that is barely halfway around a straight lehenga skirt, typically at the back. With this style of lehenga skirt, consider bridesmaid dresses, friend weddings, and engagement parties. Put it on over a peplum top.
29. VELVET LEHENGA
Perfect for gatherings and ceremonies in the winter! Warm, snug, and stunning!
30. KALIDAR LEHENGA
This lehenga style, as its name implies, includes horizontal panels embroidered along the flare of the lehenga in the manner of kalis, or the petals in a flower. Too many panels in the lehenga increase the volume of the flare dramatically, which heightens the overall appearance's elegance.
Tip: The hourglass, pear, and petite body types are best suited for this lehenga style, while apple, straight (or rectangular), and slender body types are not.
Hope youfind this article helpful. You can also check lehenga related articles here. Find your type of lehenga and enjoy the party season. 😉