A boat neck, also known as a bateau neck or the Sabrina neckline, is a broad neckline that crosses the collarbone almost to the shoulder points in both the front and the back. a neckline that is really fashionable and is still in style. The boatneck blouse is a perfect addition to your saree wardrobe because it is modest yet stylish. Here are some boat neck blouse designs you will like-
1. Red Color Boat Neck Blouse Design
A very plain but attractive blouse, its golden checkered stripes add to its beauty. When worn with boat-style necklines, rani haars look great. To add some variety, wear a lengthy necklace with pearls or emeralds in contrast. Younger ladies might try a new design at the graduation ceremony.
2. Tassel Detailed Boat Style Neck Blouse Design
Tassels are the newest fashion craze, and the lovely blouse pattern shown above is a fantastic way to add a tassel to your boat neck for a chic saree style. This blouse style gives sarees a more modern feel and goes well with silk and designer sarees. Choose the color of your blouse, purchase the fabric and tassels, then bring this boat neckline blouse photo to your local tailor to get it sewn without any problems. Both designer and pattu sarees go well with this blouse.
3. Embroidered Boat Neck Blouse Design – Front and back with lower back tie-ups
This totally embroidered boat neck blouse has a seductive appeal that makes it ideal for attending parties and wedding-related occasions. A full sleeve or longer sleeves serve as an expanded canvas, and you can choose a wide back cutaway to balance things out if you want to show off the exquisite threadwork art. These days, lower back doris are in, and you should definitely attempt one with a front boat-neck blouse.
4. Simple Three Quarter Boat Neck Blouse
Sarees with modest necklines are the most popular for business attire, and a boat neckline is the perfect formal neckline because it is neither too deep nor too high. For a classy business-wear saree look, select basic boat-style neck blouses with elbow-length or three-quarter-length sleeves.
5. Mirror Work Boat Neck Blouse Designs
Instead of using maggam or stonework this holiday season, try a light mirror work boat pattern blouse. Here, the boat neckline is adorned with mirrors and beadwork, while the rest of the blouse is left unadorned. You can choose a flattering sleeve length and look stunning at every occasion or event. To make it stand out in a crowd, try combining mirror work with brighter, more brilliant colors.
6. Boat Neck Designer Blouse With Side Slit Detail
Your boat neck pattern blouse might look much better overall with a few small adjustments. A chic cut-out on the shoulder can add excitement to a printed shirt with short sleeves. This cut-out style is an adaptation of the cold shoulder trend, however, it only features a cut on one side with contrast piping to increase its impact. This blouse can be worn with cotton tant sarees for both formal and casual occasions.
7. Floral Printed Boat Neck Blouse Pattern
When worn with printed blouses that have a boat neck, plain sarees or even silk sarees would appear elegantly basic yet eye-catching. Any type of print can be used, although florals are ideal for celebratory clothing. You can choose saris with vibrant flower motifs for daytime occasions or sarees with darker floral prints for evening parties. Put on minimal jewelry and cosmetics to go with your plain sari and printed blouse outfit.
8. Short Border Sleeve Boat Neck Blouse
If going entirely sleeveless isn't something you favor, you can also think about wearing incredibly short border-length sleeves, like the ones on the boat neck shirt in the image above. Because of its incredible versatility, this type of basic blouse should be a staple in every desi saree lover's wardrobe. The best choice for festive clothing or wedding attire.
9. Multiple Cut-outs And Bead Detailed Boat Neck Pattern Blouse
This incredibly fashionable blouse pattern with a boat neck and several cuts in the front neckline is a must-try for you if you want to play crazily. This blouse adds a highly modern touch to the traditional saree look and is a fun way to stand out in a crowd. With a shirt like this, fit and finishing are crucial because the focus will be on the distinctive design pattern. Another wonderful detailing suggestion is to add a beaded sort of embellishment in the middle of the cutouts.
10. Sleeveless Printed Boat Neck Pattern Blouse Design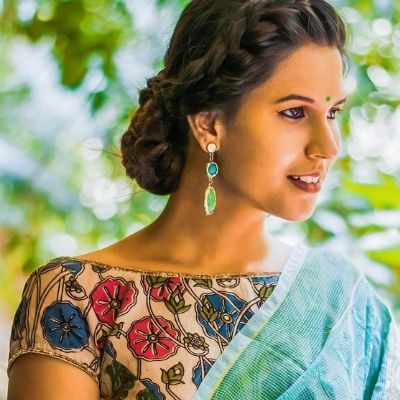 The height of refinement is achieved when wearing a well-fitted graphic blouse neck with plain sarees in neutral tones. If you're a working woman who wears sarees to the office, you must try this outfit. Although wearing armless at work would be OK, adding half- or elbow-length sleeves will offer grace if you're not used to doing so.
11. Maggam Work Embellished Boat Neck Blouse
When it comes to wedding sarees, maggam work blouses are the most popular. You can also attempt the boat neckline with stonework. You can turn heads right away by wearing a half-sleeved blouse in contrast color with light maggam embroidery around the boat neck and sleeve borders. This design of the maggam blouse will look stunning with all sarees with rich embroidery and kanjeevaram.
12. Elegant Long Sleeved Boat Neck Blouse Front and Back
If you want to experiment with a large back cutout, a boat neckline will go well with it and balance off the back skin exposure, giving the outfit a classy appearance. With a shirt like this, apply contrast stitching and sheer sleeves for an overall fashionable result. For an elegant party look, pair it with plain sarees. For a cocktail-ready look, accessorize with dangler earrings or hoops and a bright red lip. Try this blouse for an engagement celebration or reception party.
13. Plain Elbow Length Boat Neck Blouse Pattern
If you are the traditional kind who wants to play safe yet comfortable and stylish then this plain boat neck blouse with a three-quarter sleeve can do the magic for you. This kind of blouse is incredibly easy to style and get stitched and you can always alter the depth and the width of the boat neck a bit more to give it a bolder outlook.
14. Kasu Work With Eye Back Cut Boat Neck Blouse
Make your boat neck blouse pattern even more beautiful by using Kasu's work. This blouse includes a front boat neck, a rear eye cut-out, and coin-detailed edges for a traditional east-meets-west saree style. With this blouse, you don't need to wear any more jewelry because the coin work already provides enough dazzle to elevate your appearance.
15. Scallop Edged Off-Shoulder Style Designer Boat Neck Blouse
After some thought, I decided that the blouse pictured above should be included in this collection of boat neck blouse designs. Nevertheless, I added it. The scallop border on the neckline of this shirt, which is wide but not deep like a boat neck, makes it particularly distinctive. This will undoubtedly be a favorite among the younger crowd because it almost has the appearance of an off-the-shoulder top. Arrive at any party wearing a fashionable blouse like this to draw all eyes to yourself.
16. Sleek Cut Shoulder With Frill Boat Neck Blouse
Such a fun shirt pattern that you may try with printed or even brocade fabric. For an extra touch of style, add a frill layer of plain fabric at the neckline. Here, the use of brocade fabric, chilly shoulders, a boat neckline, and a plain blue frill on the neck area give the outfit a very sassy and playful feel.
17. Sequined Full Sleeve Boat Neck Saree Blouse
A boat neck full-sleeve blouse with overall sequins, like this one, is a terrific idea if you love sequins. Even with the most minimal design, this type of blouse shouts party and is a must-have if you frequently attend parties because it can be worn with so many different kinds of saris. For a sangeet-ready look, pair it with a plain saree of any color. Another great choice is sarees made of chanderi tissue silk.
18. Embroidered High Boat Neck Blouse
A perfect example of understated beauty is this shirt with a not-so-deep boat pattern and lovely embroidery embellishments. This blouse helps you step up your fashion game with its long sleeves. Prepare to receive some priceless compliments by wearing it with sarees or lehengas and jewelry in contrasting colors.
19. Boat Neck Blouse With Shoulder Embroidery
Try this minimalist technique by opting for straightforward leaf-style embroidery on the shoulder area if you want something distinctive yet classic. These days, placement stitching that only covers one shoulder is becoming more popular and gives sarees a chic look. This boat-style blouse may be dressed up or down depending on the situation to fit any event or party.
20. Boat Neck Blouse With Overlapping Details
This unique blouse idea with an overlapping detail boat neck and exceptional embroidery is the best choice for you if you want to keep to the traditional saree with modern fashion. If you believed that a saree would conceal that stunning, artistic blouse, then pay close attention to how the pleated pallu is draped from beneath the blouse layer to make the blouse the focal point. Not the simplest of blouse patterns to create, but if you want to stand out at a party, you'll need to put in a little more effort.
21. Frill Detailed Boat Neck Blouse Designs Front And Back
The newest fashion trend is frill-detailed necklines. If you think they appear too frilly and whimsical, pair them with traditional designs like kalamkari. The wide U-shaped back neck complements the boat neckline with front frill detailing, making it a top pick for cotton or printed sarees.
22. Simple Boat Neck Blouse With Borders & oval Back Cut
This blouse's style emphasizes comfort and class with contrast piping accents and a boat neck on the front for a breezy, carefree appearance. With an oval shape and potli buttons, the back is given a slightly sophisticated appearance while being basic enough to be worn with sarees for formal wear or even informally. ideal blouse for wearing to work.
23. Princess Cut Boat Neck Blouse Design
The princess-cut boat neck sleeveless style exudes timeless beauty. Simple saris with complementing borders can be worn with them. This would attract attention if you wore it to a party. It also looks fantastic with a chic skirt. These are the most latest boat neck saree blouses.
24. Wide Boat Neck Blouse Design
Although a boat neckline frequently ends just below the collarbone, if you want a deeper neckline, you can slightly adjust it. The deep neckline and waist corset of the wide boat neck blouse gives the lehenga combination a feminine, stylish appearance.
25. Puff Sleeves with Boat Neck Blouse Design
You'll undoubtedly receive compliments on your fashion sense. With only a few pleats on the shoulders, the pattern is straightforward. These patterns look best when used with pricey or simple sarees.
26. Sheer Boat Neck Blouse Design
A sheer boat neck blouse perfectly contrasts and completes the substantial aspect of a silk saree. We adore this boat neck blouse style, which has sheer fabric at the top and threadwork embellishment on the sleeves.
27. Printed Boat Neck Blouse With Side Keyhole Cut And Doris
A patterned boat neckline blouse with a side keyhole cut and doris, like the one in the above image, will help you improve your casual saree style game. For a romantic meal, sarees with kalamkari patterns in bright colors are a wonderful choice. When worn with plain sarees and a styled blouse like this, you can dazzle everyone even on a casual day. Simple pulled-back hair and pearl jewelry or studs are all you need to complete this look for daily wear. This blouse is a good option for a conservative yet fashionable formal saree style.
28. Trendy Boat Neck Blouse Design With Side Heart Cutout
A charming touch can be added to your basic blouses by using the increasingly fashionable unique side cuts. Try a boat neck blouse with a heart-shaped side cut if you don't like maggam work or deep-back cuts on your saree blouses. For added effect, add some embroidery, sequins, or beads around the heart cut. These blouses are suitable for events including anniversary celebrations, engagement parties, roka ceremonies, and Valentine's Day dinners.
29. Glam Boat Neck Blouse Designs With Netted Neckline
Blouses with lace accents look fantastic at parties. You can choose from options like sheer sleeves, laced necklines, or a neckline and sleeves made of lace, which will appear quite alluring. When worn with a plain saree in a solid color, this blouse design is sure to make you stand out on any occasion. However, bra straps can look particularly out of place with this style of blouse.
30. Back Tie Up with Boat Neck Blouse Design
This boat neck blouse sets itself apart from competing designs with its scoop-back tie-up accent. This pattern is ideal if you want to show off your lovely back!
The best boat neck saree blouse might not be as easy to choose as you might believe. You must consider a number of things, such as the event type, color schemes, and the front and rear boat neck blouse designs. Women look through a range of blouse design catalogs in their search for the perfect shirt, yet many are dissatisfied. The boat neck blouses, which were influenced by the sailor's neck shirt pattern, immediately became popular among Indian women. I sincerely hope you find this post useful. You may view more of our articles by clicking here. Enjoy your time!