Do you need to wear something different? Be creative and add a contemporary spin to your standard Anarkali Kurti. Here are some incredible styling suggestions for simple Anarkali kurtis if you have a similar assortment in your wardrobe. The majority of Indian celebrities favor wearing basic anarkalis, but their dupattas and accessories give their modest anarkalis a glam edge. The best part is that you can even make a plain Anarkali Kurti look like a party costume by adding different accessories. Let's look at how to achieve that here:
1. PLAIN WHITE LONG ANARKALI KURTI WITH COLOURED DUPATTA
A white Anarkali can look stunning when paired with a white palazzo and contrasting dupatta. Make your outfit simpler by wearing a dupatta made of cotton or rayon. If you plan to wear it to a party, bring a thick dupatta.
2. SHORT ANARKALI KURTI WITH DENIM JEANS
In the summer, a flared, multicolored anarkali kurti can be paired with embroidered, denim jeans for a laid-back brunch gathering with friends and family. With some vibrant matching khussas and a classic duffel bag, you can up your style ante.
3. ANARKALI KURTI AS A DRESS
Going on a long-awaited journey to some historic palaces to experience the magnificent Indian past? This white Anarkali with embellishments and embroidery is the ideal option. Put your hair back in a sleek bun, put on a pair of statement-making, large, black-polished jhumkas, and put on a pair of strappy white flats. Put your necessities in a white baguette that matches, though a brightly colored bag would also be a wonderful choice.
4. MULTI-SLIT ANARKALI KURTI WITH PALAZZO PANTS
One of the most recent party fashions is this anarkali kurti with several slits. This multi-slit anarkali kurti might be the ideal party outfit if you wear it with a straight palazzo. This kurti's eye-catching red color with the golden palazzo pants gives it a very fashionable and chic look.
5. SHORT ANARKALI KURTI WITH SHARARA PANTS
This fit, an anarkali with a contemporary twist, is perhaps our favorite. This wedding season, wear a short Anarkali with a pair of embroidered sharara to be the best-dressed guest, steal the show, and turn heads. Give your jewelry the best effort possible while opting for a natural makeup look with some bright inner corners and black lips. For all the compliments you'll receive, carry a bucket bag or a box bag!
6. ANARKALI KURTI WINTER LOOK
Anarkali styling in the fall can look quite gorgeous. It seems wonderful and dreamlike to spin in Anarkali while the maple leaves fall. Layers are essential for this style, so keep that in mind. Underneath the Anarkali kurti, wear a pair of trousers and a wool turtleneck. Put a belt around your waist and a printed scarf around your shoulders to secure the scarf in place and give the Anarkali more structure. You've suddenly become a diva!
7. ANARKALI KURTI WITH DHOTI SALWAR
Choose a dhoti salwar in the same color or a different color to go with your short anarkali kurti. Wear some silver jewelry, such as jhumkis, let your hair down, and be the party's queen by standing out from the crowd.
8. PRINTED STRAPPY ANARKALI WITH SOLID COLOURED DUPATTA AND PANTS
Wearing this strappy, deep V-neck Anarkali and startling everyone would add drama to a desi family function! Show the crowd that Anarkali is far older than they are and that if even that is evolving, it's high time they evolve as well. To finish the look, add a few silver bangles to one hand and put on a pair of attention-grabbing jhumkas.
9. PRINTED ANARKALI WITH PANTS FOR A SUMMER LOOK
With this lovely, unbound Anarkali, spread happiness. Wear a blue, chiffon, airy Anarkali like this one to embody the boundless vitality of a rushing stream! Style it with a little white sling bag, a pair of white, straight-leg pants, and a pair of white box heels. To finish the appearance, don't forget to wear white striking earrings!
10. CHIKANKARI ANARKALI KURTI WITH LEGGINGS
Chikankari is a well-known, elaborate embroidery style that originated in Uttar Pradesh's karigari and is ideal for an anarkali kurti. Get a beautiful and ethnically elegant beauty with this lovely green and white chikankari hand-stitched kurti. It appears majestic, captivating, and tone-appropriate! You can wear it with white leggings or with wedges, a gorgeous chikankari dupatta, and hefty ethnic accessories.
11. SERENE BLUE ANARKALI FOR AN AESTHETIC LOOK
For tranquil and leisurely mornings and days that inspire you to rekindle your spiritual connection. Spend the day reflecting and meditating while donning a calm blue Anarkali like this one. Minimalist accessories, perhaps only with studs. Take some time for yourself; you deserve it.
12. ANGRAKHA ANARKALI KURTI WITH SKIRT
The latest trend in the sector is the Anarkali kurti and skirt sets. You can add this vibrant mustard yellow angrakha kurta with a skirt to your collection of festive clothing. Despite how simple it may appear, the sophisticated self-design and appearance enhance the glitz and glitter. It provides comfort, a velvety texture, and the appearance of a royal piece inspired by the Mughals. Put on a matching yellow skirt with it. To properly dress it, you can also add traditional shoes or flat heels with jhumkas and bold neckpieces.
13. FLORAL PRINTED ANARKALI KURTI WITH FANCY SLEEVES AND KEYHOLE NECKLINE
This long crepe anarkali kurti in dark blue has stonework and a floral print all over it. It has balloon sleeves and a keyhole neckline with a hook fastening. It's the ideal casual outfit for going out with family and friends, and if you wear long gold earrings with it, you'll appear party-ready.
14. SIDE SLIT ANARKALI KURTI WITH JEANS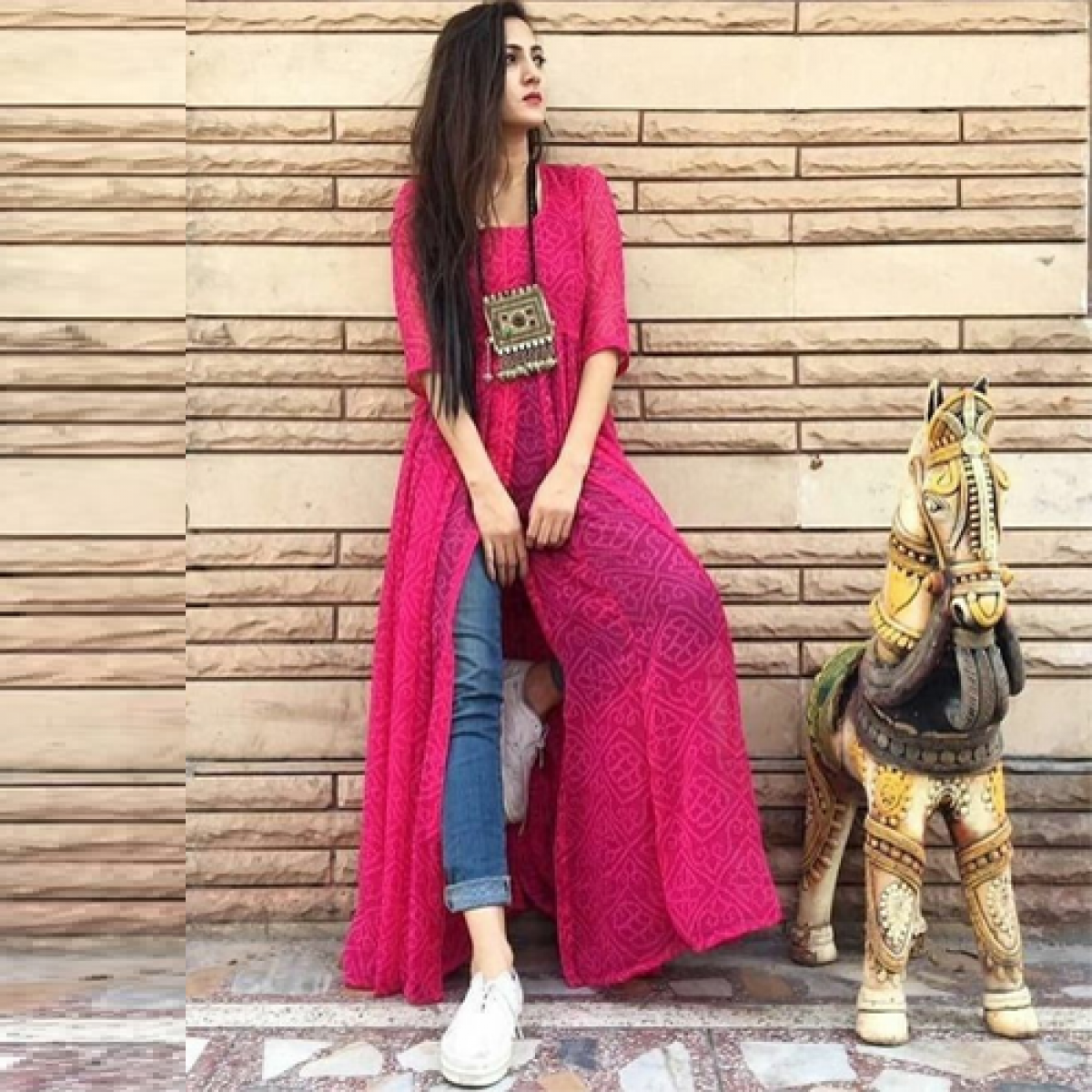 This stunning anarkali kurti looks fantastic with jeans for a more laid-back vibe. Despite being a long kurti, it is less formal than the classic style because of the large side slit. It can be worn to put together a wonderful look with your preferred pair of jeans. Additionally, it is cozier than short shirts.
15. SHORT ANARKALI KURTI WITH THREAD WORK
Pair a white anarkali short kurti with thread embroidery cozy dhoti pants and a dupatta made of net. You'll be prepared for the wedding or any other party appearance. It looks good with colorful bangles and booties.
16. ANARKALI KURTI WITH CENTRE SLIT AND FRILLS IN BOTTOM
For the majority of us, pink is our color of choice. The summer months are the perfect time to wear a pleated anarkali kurta with a fitted bodice and slit cut in the center. You can wear this style at university or college parties. To give the entire outfit life, add matching pink khussas with tilla and sequence work. This look will be completed with a little pair of golden jhumkis and an ethnic bun or open hairstyle with a center parting.
17. MANDARIN COLLARED ANARKALI KURTI WITH MULTICOLOURED DUPATTA
We advise selecting a piece like this if you want to go for a classic and elegant appearance. envious flare from the waist down and a high mandarin collar. A vibrant blue and red dupatta with an emerald green color will offer a splash of vibrancy. To finish the outfit, add a bindi, some red lipstick, and green drop earrings.
18. FLOOR-LENGTH ANARKALI KURTI WITH SHEER DRAPE
A member of the bridal party, but the sangeet night was too wild? We've got you covered even if you're hungover, so don't worry. Especially if you've had too much to drink. Choose a floor-length, bare Anarkali kurti with a matching sheer drape, like this one. Take a purse with embellishments and add lots of necklaces, earrings, and maang tikas to it. Keep your black sunglasses nearby to cover off those flaming eyes!
19. ANARKALI KURTI IN VELVET WITH CIGARETTE PANTS AND ORGANZA DUPATTA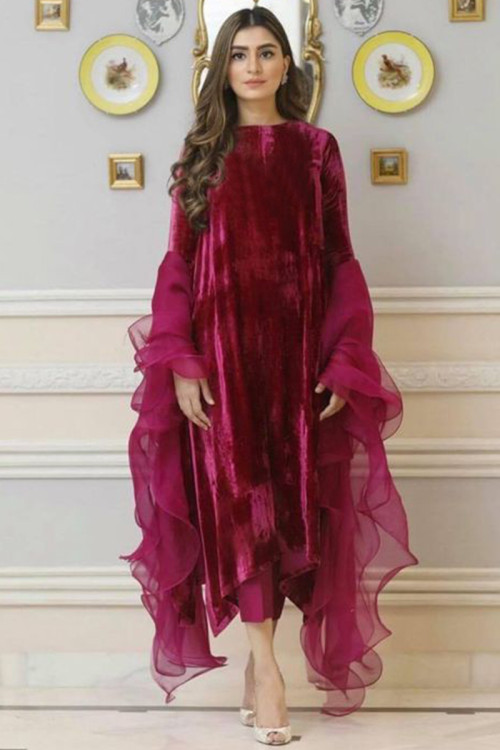 This basic anarkali kurti is specially made for fashionable women who like to stand out since it would look fantastic with the same-colored cigarette pants & organza dupatta. This outfit is ideal for a night out, and you can wear it in the winter because velvet is warm, keeps you from getting sick, and enhances your appearance.
20. ANARKALI KURTI WITH JACKET
Use your mother's old silks or embroidered sarees to create lovely waistcoats and jackets! Add them to your anarkali kurti ensemble to make it even more ethnic-looking. The more ornamentation, the better. Get contrasting colors in various materials, think outside the box, and do something altogether different! Do it with flair.
21. ANARKALI WITH FANCY DRAPE DESIGN AND CROP TOP
Now that drapes are the newest Indian fashion trend, this one is a must-try. It is fairly simple to dress an anarkali with a fancy drape and an embellished crop top above it if it is basic. You might choose a drape that contrasts with your anarkali rather than sticking with the same color.
22. ANARKALI KURTI WITH CHANDERI SHRUG
Wearing your basic plain anarkali kurti with a chanderi shrug or another colored or printed shrug will dress it up. Thanks to the fashion of your clothing, it will offer you a modern appearance. Any plain kurti can be made more fashionable by adding shrugs and jeans. For an Indo-fusion look, any shrug style can pick between long and short kurtis. So get ready to make a statement at any event with this fashionable attire.
23. BLACK ANARKALI KURTI WITH SILVER DUPATTA
There's no need to be concerned if your only clothing is a plain black anarkali kurti and you have to go to a party. Dress for the party with a silver, black, or golden dupatta, matching jewelry, and high heels.
24. DENIM ANARKALI KURTI
Everyone like wearing denim. Put on your favorite denim anarkali kurti and style it with some simple wedges or heels; you can also go for shoes and still look effortlessly stylish.
25. DEEP BACK ANARKALI KURTI
A white Anarkali with no back, please! For a floor-length Anarkali, pair it with a bottle of green dupatta. To bind the back, add latkans in a related hue. Put your hair up in a bun to give off the backless sensation and decorate it with flowers. Have them follow your escape.
So what are you waiting for, style up your Anarkali kurti and make them watch your unique and elegant look. Hope you find this article useful. You can also check other articles here. Happy shopping & styling! 😉