Velvet is a unique fabric that has long attracted attention, particularly during the winter. It is a highly desired fabric that many fashion designers and fashionistas view as being incredibly adaptable. Velvet is a luxurious fabric that is soft, richly textured, flexible, and elegant. Velvet suits are once again in style and are more popular than ever. As winter has arrived, here is your best chance to wear this silhouette and claim it at your forthcoming winter wedding occasions!
1. Velvet Punjabi Suit
The ideal material for winter to be warm and fashionable is velvet. Choose a classic velvet kurti kameez, match it with contrast-colored crepe bottoms, add a georgette dupatta, and you're done.
2. VELVET LONG FROCK SUIT
Try the long frock style if you want to achieve the indo-western look with a velvet suit. This style will appear exquisite for festive wear and includes a flared lower half. A kalidaar silhouette or perhaps an umbrella cut gown will look beautiful, but you will need extra fabric. Add a dupatta with lace borders and net trim along the neckline for a self-designed velvet ensemble suitable for a princess.
3. VELVET SUIT WITH MID-SLIT KURTI
Get one stitched for yourself this holiday season because middle-slit kurtis are currently a hot style. Choose lace borders with Kundan or mirror work, and choose fabric in deep, dark colors. For a clean look, add some pockets and bottoms in the same color.
4. SIDE-CUT VELVET SUIT
The side-cut suit is the perfect choice if you want to dress up in velvet. By wearing embroidered bottoms over a basic suit and adding a silk dupatta, you may further glam up this appearance. can there be any more wow?
5. VELVET SHARARA SUIT
Another popular trend that you might try with velvet fabric is the sharara suit. If you want to try something different with ethnic clothing, this is a good choice. Get the sharara top and pants sewn from the same material, and for the ideal balance, add a contrasting net dupatta.
6. VELVET GOWN SUIT
Add a thick dupatta in a light fabric to add some glitz to a plain, simple velvet frock. A net dupatta can instantly transform your dress from plain to quite beautiful. Try it!
7. TULIP CUR VELVET SUIT
The georgette fabric sleeves and collar embellishments will elevate your kurta to greater levels and give it a trendy punch. Velvet kurtis are currently popular.
8. VELVET ANARKALI SUIT
Due to its weight, velvet doesn't flare out, but if you play clever and put velvet at the bust area while choosing a light fabric like chiffon or georgette for the flare part, you'll have a stunning look on your hands.
9. VELVET ANGRAKHA STYLE SUIT
Try the angrakha style neck design with a velvet kurti suit if you like it and stand out in the crowd.
10. EMBROIDERED VELVET SUIT
The combination of velvet and embroidery can truly up the price and opulence of your velvet kurtis. The velvet A-line short kurti of this outfit includes lavish, intricate embroidery. Beads are also placed on bell-shaped kurti sleeves.
11. BASIC VELVET SUIT
The basic suit is extremely understated designer clothing. The stunning kurti fits perfectly for your ethnic events and is below the knees.
12. BRIDAL VELVET SUIT
Red must be one of the velvet's patent colors. This color needs to have been worn at least once by anyone who has ever worn velvet. You should decide on a maroon velvet suit or a traditional red velvet suit for your special day if you're seeking a color that will offer you a classy and regal appearance.
13. VELVET SUIT WITH COLD SHOULDER CUT
This asymmetrical kurti has a cold shoulder cut, slit sleeves, and a gorgeous design that sticks out. You will sparkle with this velvet outfit.
14. VELVET SUIT WITH SKIRT
Why limit yourself to wearing your velvet suit with casual bottoms when you can also wear a velvet kurta with a lovely skirt?
15. VELVET SUIT WITH RUFFLE DUPATTA
This one, with its loose velvet suit and ruffled dupatta, is for people who enjoy experimenting with their clothing while still keeping it simple and fashionable.
16. VELEVET SUIT WITH EYECATCHING BORDERS
Play with borders to draw attention to yourself. If you love to go all bold and sexy, definitely this one is your style. 
17. VELVET SUIT WITH PRINTED PALAZZO
We appreciate this velvet suit's combination with the printed palazzo, and it looks stunning. Not very shiny, but ideal.
18. VELVET SUIT WITH CONTRASTING DUPATTA
This velvet suit will appear elegant when you want to wear something simple but stylish. Do you not concur?
19. VELVET SUIT WITH ZARDOZI
For any special occasion, this ivory satin pleated palazzo and peach velvet kurta with zardozi embroidery are ideal. Add some silver jewelry to it, and you've murdered it.
20. VELVET SUIT WITH NET DUPATTA
Swooning over these ladies who made a statement with their appearance by pairing Patiala salwar with velvet kurtas and net dupattas.
21. VELVET SUIT WITH GOTA WORK Wear the classic velvet suit with gota work and rock your style if you want to seem Indian and stand out from the crowd.
22. VELVET SUIT WITH BUTTONED FRONT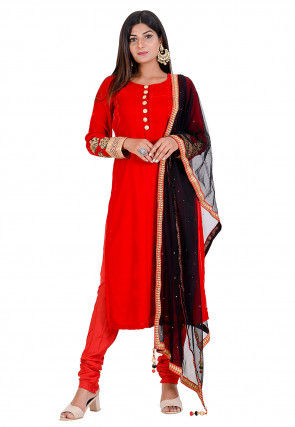 You can become the center of attention with a straightforward straight-cut kurti with button details. Palazzo pants are a great match for more zing.
23. VELVET SUIT WITH BROCADE PANTS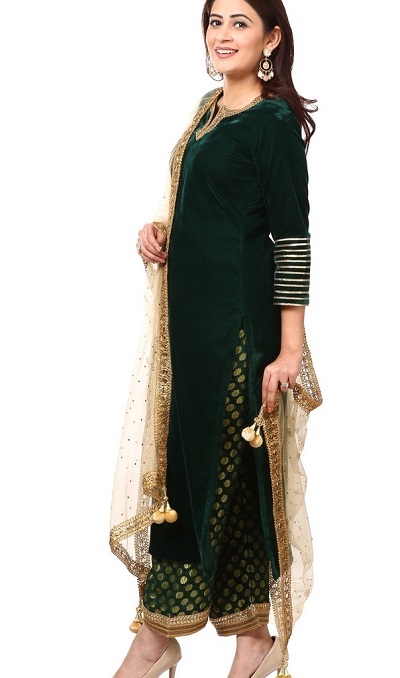 The medium-length velvet suit with three-quarter sleeves. Gota Patti is used to adorning the sleeves. The bottom of the pants made of brocade cloth has a border. This pattern is coupled with a golden dupatta. For women who desire to seem unique and elegant, this is a genuinely lovely design.
24. VELVET A-LINE PATIALA SUIT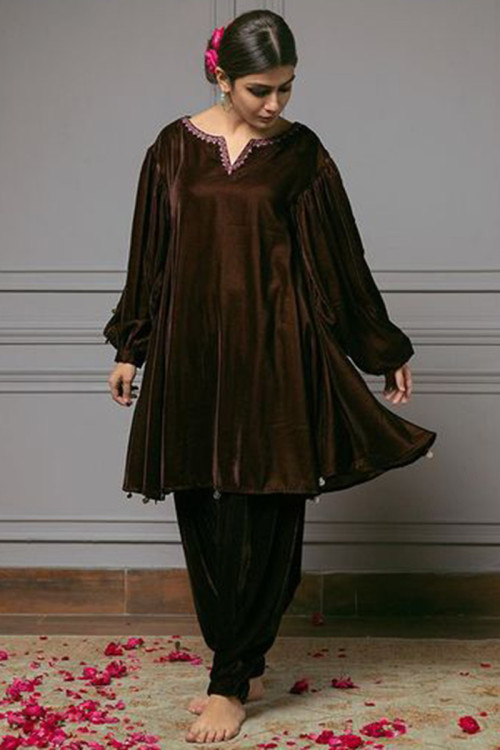 Wearing this dark brown velvet patiala suit will help you look good and enhance your ethnic charm at the upcoming social event. This holiday suit with a round collar and full sleeves was embellished with lace work. matched with a dark brown net dupatta and a dark brown velvet salwar.
25. VELVET SUIT WITH PUFF SLEEVES What are you waiting for? Style your velvet suit with puff sleeves and turn heads if you like puff sleeves.
Hope you like this article. You can also check our other articles here. Happy shopping!