Organza is a delicate-textured, lightweight fabric. Because of its ability to reflect light, it has gained popularity among women for its clothing. It comes in silk and firm crepe textures. There are several suits available that fit every woman. Consider using this selection of designs as a guide when creating your organza suit.
1. ORGANZA ANARKALI SUIT
If you enjoy wearing anarkalis and want to stand out from the crowd, choose an organza-style anarkali suit, straight-fit palazzo trousers, and high heels.
2. BLACK CHIKANKARI ORGANZA SUIT
This one is perfect for you if you adore the color black. Make them gasp when they see you in your all-black chikankari organza suit.
3. EMBROIDERY WORK ORGANZA SUIT
If you want to add some glitz to your regular suit, choose the organza suit with embroidered. It can be used for both a celebration and a simple function.
4. ORGANZA WITH HEAVY WORK SHARARA SUIT
This one organza suit is the most popular suit, maybe it is premium priced but excellent for parties. Pair it with some matching jewelry and make them stare.
5. SILK ORGANZA SUIT
This pista green silk organza suit set has elaborate thread embroidery on it. The outfit consists of a sheer silk organza kurta with a detailed buttoned neckline, beaded embroidery on the sleeves, and cupro crepe slip lining. Add an organza dupatta with embroidery along the length, followed by raw silk and crepe pants to complete the look.
6. MULTICOLOURED ORGANZA SUIT
This particular organza suit is unquestionably for you if you want to stand out and enjoy all the colors of the rainbow. Take the spotlight by wearing it with heels and complementing jewelry.
7. ORGANZA SILK SUIT WITH ZARI & MIRROR WORK
Organza silk straight-cut suit in golden yellow color with elaborate embroidery on the yoke and border in zari and mirror. Add a matching organza dupatta with embroidered buttis and border to finish it off. This one is ideal for you if you want to be uncomplicated but stunning.
8. PAKISTANI-STYLE ORGANZA SUIT
If you like Pakistani suits, this organza suit in the Pakistani style is for you. It contains motifs. It is basic yet lovely, Match it up with little earrings and you are all set to go.
9. ORGANZA PUNJABI SUIT
Light Dusty Blue Organza Gharara Suit features an organza kameez with santoon inner, santoon bottom, and organza dupatta. The embellishments utilized in this form of needlework include zari, thread, sequins, and stonework. Ideal if you're a bridesmaid for wedding-related occasions. Pair it up with a Punjabi jutti.
10. OFF-WHITE ORGANZA SUIT
With this Off White Embroidered Organza Suit, indulge in festivities and celebrations. The dupatta has lace trimming and contrasting embroidery all over the canvas. Choose this one if you are slender and like the color white.
11. ORGANZA NET SUIT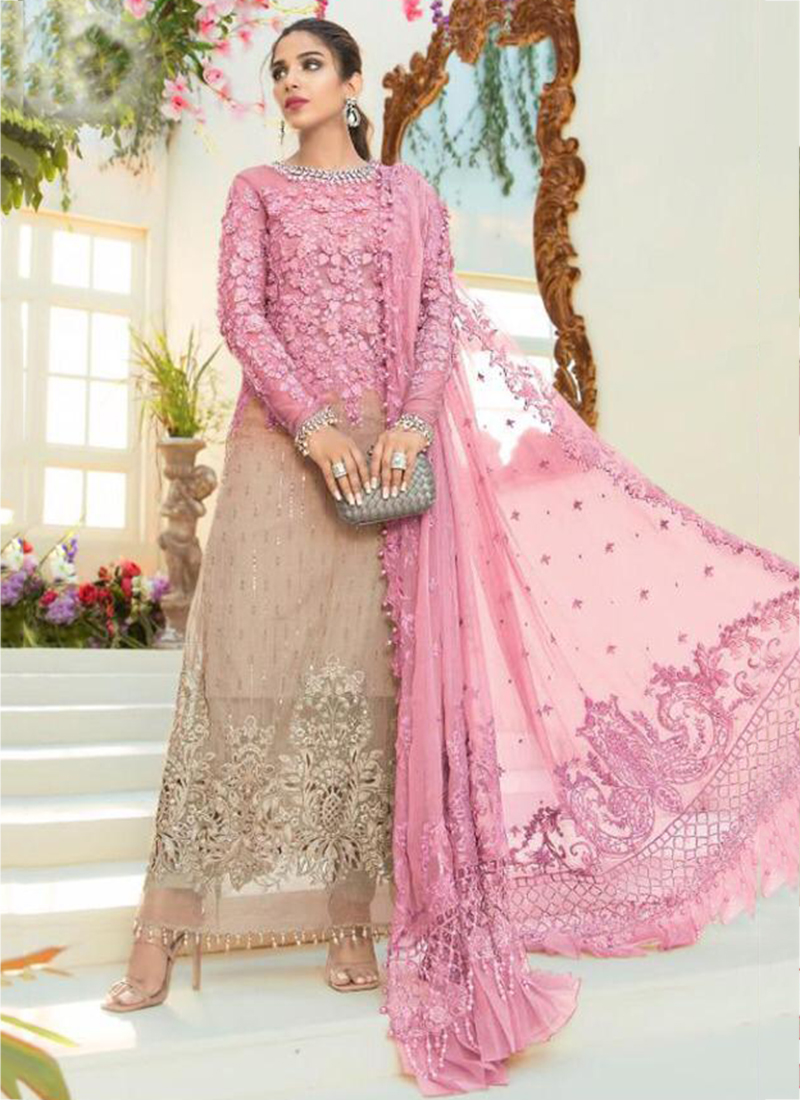 If your closest friend's wedding is coming up and you want to look amazing and steal the show, choose this organza net suit. It will look great when worn with similar heels, earrings, and pink lipstick.
12. CHANDERI & ORGANZA SUTI
If you dislike shimmer and brightness, this organza suit is made just for you. Put your hair in a bun, don this chanderi organza suit, with simple juttis, and you'll look stunning.
13. RED ORGANZA SUIT WITH GOLDEN DESIGN
This style of organza suit is highly popular because all you need to do is put them on and you'll be ready for any special occasion.
14. PRINTED ORGANZA SUIT
You want to be simple, but not too simple. then choose this style of printed organza suit, which will make you look both highly attractive and less basic.
15. PINK ORGANZA SUIT WITH FLORAL PATTERNS
If you're a girly girl who adores the color pink, choose this organza suit, which is entirely covered in floral motifs. Wear transparent heels and loose hair and voila you are ready.
16. ORGANZA TISSUE SUIT
Plain yet beautiful, this suit is best for you if you want to be simple and pretty and don't wanna outshine.
17. SHIMMER ORGANZA SUIT
So it's a shimmery event and if you want to go all traditional, then is shimmery organza suit is definitely what you want to have. Wear it with matching earrings and steal the show.
Hope you like this article. Happy shopping and styling! 😀