Women have started to rely on the stomach tuck method to give their bodies a pleasant form and fit as the trend of wearing the best-fitting clothing and constantly looking flawless. Dresses, jeans, skirts, and various other clothing can all be worn over the tummy tucker. Their primary function is to consolidate the rolls on your stomach and tuck them in. The tummy tucker reduces body fat and gives your body contour for a more acceptable fit for your apparel. Shapewear is always comfortable to wear. It appears as though every crease and lump you have has been ironed out! Consider Photoshop in three dimensions. And because inclusion is trendy, shapewear companies in India have risen to the occasion and are now providing models with styles that emphasize body positivity. So, unlike in the past, it's not about "looking slim" anymore; instead, it's about having your clothes look well-fitted. Here are some of the best tummy tuckers for women according to their ratings.
1. Honeylove Superpower Brief
Despite the price tag on these shaping briefs, Honeylove's effective targeted compression technology was particularly impressive. From hips up to the waist are supported by its supporting power. It's also important to note that these underwear, unlike ordinary briefs, include mesh side paneling to hide any lines. They are offered in sizes XS to 3X.
2. Adorna Women's Cotton Body Bracer Shapewear
In addition to giving you full-body coverage, it also helps to sculpt your stomach. Natural fiber is used to make the substance. Even when you wear it in the sweltering heat, this material keeps you comfortable by helping to absorb sweat. You'll continue to feel calm and at ease. The shapewear lets you wear your own undergarments for the bust and blends in so nicely that no one can tell you're wearing it and will undoubtedly congratulate you. With this shapewear, your entire body is covered from the torso to the knee, giving you the appearance of having an hourglass figure. All skin types can get this tummy tucker, and the stitches are very robust. It is available in all sizes, including XXX-Large, and has a sizing chart as well.
3. Maidenform Tame Your Tummy Seamless Shaping Briefs
These reasonably priced tummy tuckers, provide solid control in the midsection and back. Additionally, because of their seamless design, they blend nicely with any outfit. offered in sizes S to XXL.
4. Dermawear Women's Shapewear Mini Corset
The other product on our list that we recommend is made by Dermawear. This tiny corset helps weak abdominal muscles become tighter and immediately elicits a smaller waist. Your skin is massaged by the 4D stretch fabric. This corset enhances lymphatic and venous circulation, which helps prevent fat buildup. Additionally, it tones your muscles and strengthens your abdomen. This tummy tucker needs to be washed with caution. offered in two hues.
5. Hatch Seamless Maternity/Postpartum Belly Briefs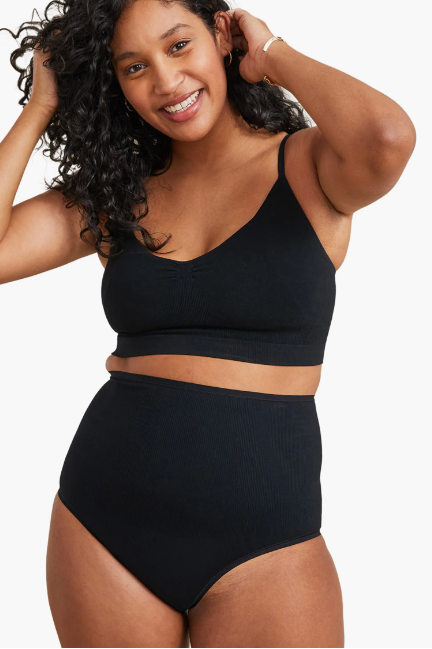 Hatch's high-waist tummy tuckers are created for maximum coverage and all-day use for women who are expecting or recently gave birth. Their soothing, silky compression fabric is cozy while supporting the midsection. Offered in sizes S through XL.
6. Clovia Women's Tummy Tucker with Silicon Grips in Black
The best choice for stomach tucks for ladies online is this one from Clovia. The tummy tucker delivers a smooth finish and fit that is ideal for the tightest of clothing and is made of a soft spandex and nylon combination. A high-quality tummy tucker will ensure that it maintains its shape and form even after numerous washings and frequent use, which is a positive sign. The belly tucker is the ideal item to stock up on and wear underneath slip dresses, bodycon dresses, fitting jeans, and other outfits.
7. Spanx Oncore Mid-Thigh Short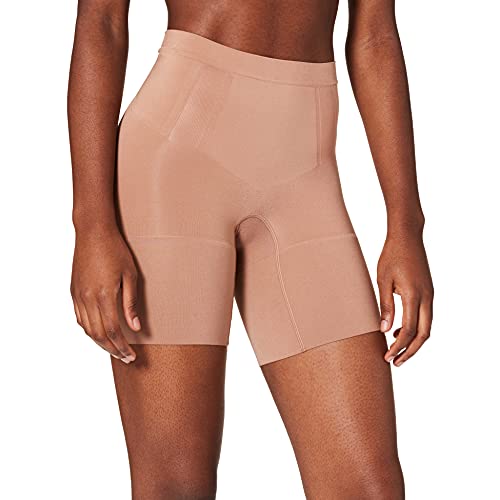 Shapewear worn beneath dresses should be able to smooth without being noticeable, whether it is for a big occasion or regular wear. These shorts in particular struck the ideal combination between light weight and shaping, slimming without feeling overly restrictive. They also offer excellent coverage without being overly lengthy on the thighs or too high in the torso. They're also fantastic for layering over skirts and pants, according to a GH editor who owns them. offered in 5 colors.
8. Jockey Women's High Waist Shapewear
Elastane, cotton, and nylon make up the fabric. Fabric with a cotton-rich elasticity. Seamless for the best comfort, zones of targeted compression for additional support. The high covering is provided, and the stomach is smoothed, shaped, and tucked in. It makes breathing easier for you.
9. Lace and Me No Rolling Down Tummy Tucker
The next item is a Tummy Slimmer Full Torso High Waist Panty, which is invisible from the outside and incredibly comfortable to wear. It is very effective in showing a slimmer feminine look and reducing the waistline. You are not required to fret about the shapewear rolling down because it has an exclusive light boning system that keeps it in place the entire time you wear it.
10. U.S. Crown Belly Trainer Corset Body Shapewear
This shapewear is ideal for you if you have the hourglass body type. This allows you to tuck your midsection in from all 360 degrees. The back fat is also removed in this way. With a floral lace pattern, it has a lovely look. three hook and eye columns for a tight hold. It has a boning system and a high waist shape. This prevents the shapewear from rolling down, making it more comfortable for you to wear. After giving birth, your stomach could feel loose. After giving birth, this shapewear can help you get back in shape with a firm, toned stomach.
11. Costafrey Women's Shapewear with Anti-Rolling Strip
This sleek and form-fitting waist trainer is perfect for giving your stomach a toned, tighter appearance. It's made of high-quality materials that are exceptionally soft, making it comfortable enough to wear for extended periods of time. Plus, its high waist prevents muffin tops and four steel bones prevent it from rolling down while you move around. Our waist trainer is designed to provide tight control over your torso without sacrificing any mobility or comfort! With this waist trainer, you'll look great and feel great all day long. It supports the tummy, buttocks, and lower back. There is no doubt that this may be worn, whether the occasion is formal or casual. It can be worn underneath any outfit in any season. This shapewear is offered in two hues.
12. Elevated Allure High Waist Tummy Tucker Thigh Shaper Shapewear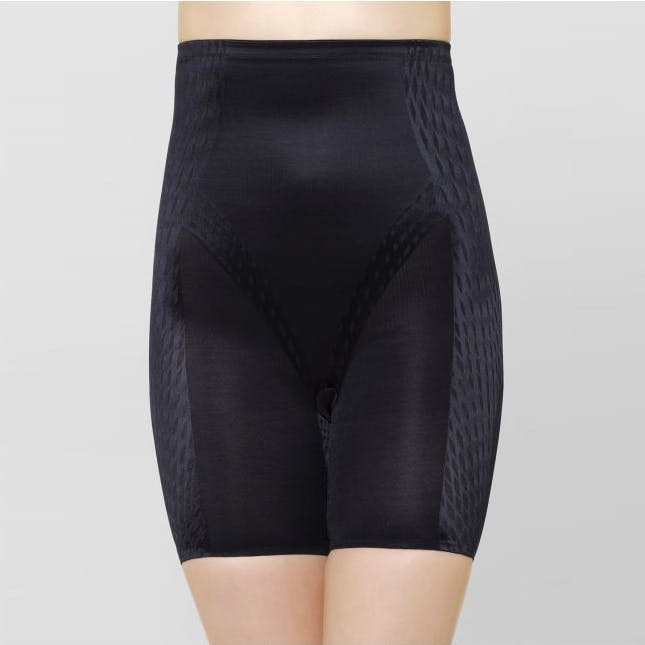 Lifting your back, flattening your tummy, and defining your waist are all benefits of this high-waist shaper. Underclothing, its seams won't be seen, and it simply dissipates. Avoid wearing this shapewear on especially hot days if you can because it is made of nylon and elastane and does not contain any cotton. Ideal for people who want to contour their rear; it includes knit-in panels that raise and define your butt. Wearable under skirts, dresses, or even high-waisted jeans.
13. Quttos Prettycat High Waist Mid Thigh Shaper Women's Shapewear
The following item on our list aids with mid-thigh and abdominal shaping. It looks smooth on the skin and effectively compresses the stomach. The panty lines won't be noticeable because it reaches mid-thighs, making it a great option for dresses. It typically clings to clothing, which is another issue we encounter. However, the new sleek yarns used in Quttos tummy tucker will prevent this. It is manufactured from premium microfiber. It has two hues. The style is available in high waist.
14. Nykd by Nykaa Waist And Thigh Shaper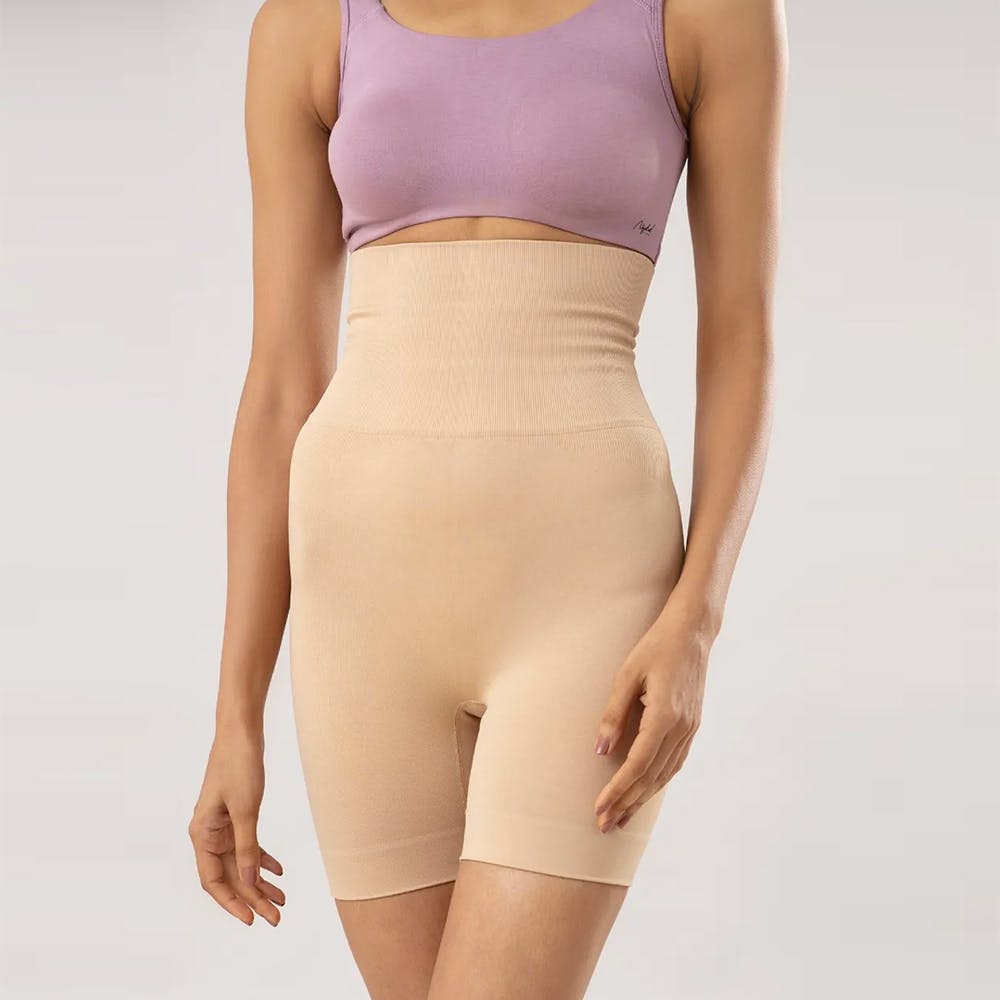 A piece of tummy tucker that will slim your waist by 2.5 cm and shape your thighs for a seamless look under your clothing. This Nykd by Nykaa waist and thigh shaper is fantastic because it is high-waisted and will reach your chest and bra line. Perfect for people who want to slim down their waist, and smooth out their backs, and thighs. Suitable for wearing underneath body-hugging kurtas, high-waisted slacks, dresses, and skirts.
15. Butt Chique Super Edge Tummy Tucker
Indian shapewear company Butt Chique is revolutionizing the industry there. The Super Edge is a product that shapes any lumps and bumps around the hips and tummy. It resembles underwear. The thin fabric is great for everyday wear because it feels like a second skin. It boasts a 100% cotton gusset lining for comfort, complete invisibility, and even a hook and eye crotch opening for simple bathroom usage. Perfect for people looking for shapewear that is comprised of breathable fabric and can be worn all day long.
16. Gassa Women's Slim n Lift Body Shaper High Waist
The item after that is made by Gassa, a brand name of "Regular Retail Pvt.Ltd." You appear 10 or 20 pounds lighter and slimmer right away. It makes you look fitter without the additional fat or lumps by lifting your buttocks, thighs, and hips, and tucking your stomach. Due to the fact that it also covers the thighs, no panty lines are visible. Its nylon and spandex construction makes it comfy and simple to wear. The shapewear never rolls down, and the support straps are removable. For comfort, there is a split opening that keeps you dry at all times. It has two hues.
17. Shaperx Sculpting Thong Bodysuit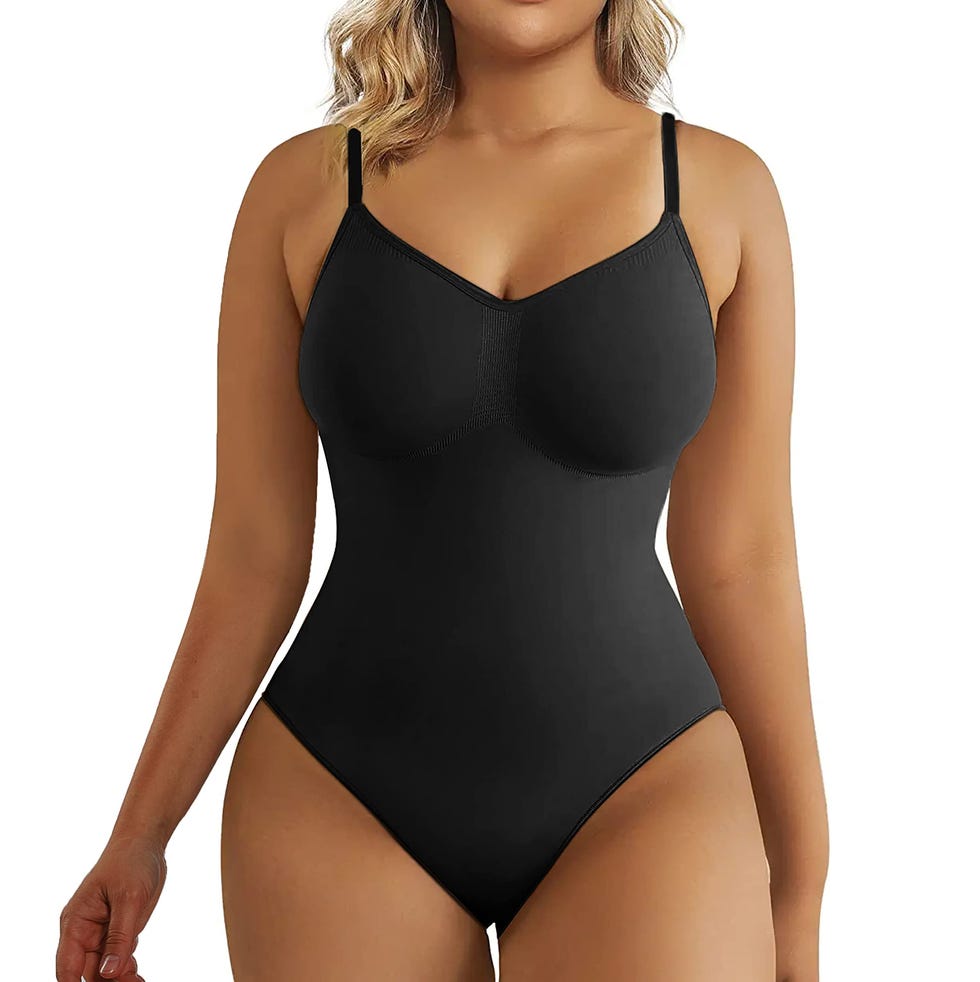 This thong design is the most popular tummy tucker bodysuit on Amazon because it has the shaping advantages of a bodysuit without the bothersome panty lines. The fabric's tight compression helps to smooth the area around the abdomen while still being light and elastic. Additionally, it aids in lifting your bust, and its thin straps are undetectable enough to wear underneath most outfits. "Buttery soft," one online reviewer gushed, while another added, "This bodysuit doesn't ride up."
18. Dilency Sales Grip Wire No Rolling Down Tummy Tucker
The next stomach tuck on our list helps you lose up to 3 inches off your waistline. The tummy and buttocks are the major areas that it concentrates on. It aids in belly fat loss while also shaping your buttocks. The shapewear has a wire control function that prevents it from rolling down while being worn. Soft flexible support strips that are attached to this also aid in keeping the shapewear from rolling down. This shapewear has no zippers or hooks and conceals extra fat. Because there are no panty lines, it is comfortable to wear. Also compressed is the hip region.
19. Mysha Grip Wire No Rolling Down Tummy Tucker
This shapewear aids in effectively tucking in your stomach. It has a high waist design that aids in displaying a firmer appearance. Additionally, it has a wire control mechanism that prevents the shapewear from rolling down while being worn. The shapewear also assists in reducing hip size. Polyester, cotton, and spandex are the materials used to make it. As a result, it is dry, stretchy, and incredibly comfortable to wear. Additionally, there are soft, flexible support strips that prevent the shapewear from rolling down. It has two hues.
20. Nyamah Sales Women's Cotton Tummy Tucker
This kind of boyshorts has a high waist and tucks the stomach in. Your thighs, stomach, and buttocks will all be minimized and shaped by the boy shorts-style tummy tucker. The Nyamah tummy tucking shorts have good elasticity and comfort, and when worn in the correct size, they can work wonders below your clothing. The ideal complement to your dresses, skirts, tees, jeans, and more. If you want a tummy tucker that is simple to wear, this is a terrific option.
DIFFERENT TYPES OF TUMMY TUCKERS AND THEIR USE:
1. Controlling Camisoles
The most popular form-fitting garment is the controlling camisole. They are simple and aid in managing your stomach. The people who wish to streamline their breasts for a seam-free silhouette from their shoulders to their hips but don't want to wear controlling pants should use these.
2. Controlling Shorts
Similar to Controlling Tights, which also tuck your thighs and bottom, Controlling Shorts performs the same tummy tucker shapewear function. However, it is a fantastic alternative to wear beneath a short dress or skirt.
3. Controlling Tights
For individuals who want tummy tucker shapewear that also tucks your thighs and bottom, Controlling Tights are essentially an all-in-one solution. This can be worn underneath any skirt or dress.
4. Corsets
Although corsets have been used for a very long time, they are not outdated. As evidenced by the numerous celebrities seen using corset belts and dresses, it is firmly back in style. But the main function of a corset was to tighten your stomach and reduce your waist. These ones that are removable are simple to put on, and your regular bra may be worn underneath them as well. For corsets, there is also a seamless version available.
5. Bodyshapers
Body shapers are a perfect choice if you want a full-coverage shaper that contours both your torso and your breasts. For regular use, try to use a light-but-firm material. This is essential. Any short or long dresses or skirts can be worn with these underneath. Body-shaping bras are not required to be worn.
6. Singlets
If you want to wear a plunging bra underneath, singlets are fantastic since they let you wear whichever bra you choose. You can choose from a variety of their forms while purchasing them. If you want a fancier alternative, get one with lacing. They aid in belly tucking as well.
7. Half Slips
Control slips are another name for half slips. If you want to wear a little dress or skirt, this is fantastic. Additionally, it appears to be a pencil skirt. It gives your thighs, stomach, and waist forms. Wearing them is quite comfy.
8. Slip Dress
The Slips dresses are excellent to wear underneath a small dress that offers complete support from the bust to the hips, just like half slips. Dress slips offer complete covering and an additional layer of support. Since they typically come with a built-in bra, you do not need to wear an additional bra. Additionally, there are many neckline possibilities.
9. Control Pants
Control pants are a fantastic choice for narrowing your waist and tucking in your belly. The ideal pair of jeans for a pear-shaped figure are these ones! Control pants go with practically everything, including dresses, skirts, jeans, and other types of pants. This is the best choice if you need to wear shapewear underneath a lehenga!
Hope you like this article! You can also check other articles by clicking here. Happy shopping!