Times have changed and so are Indian ladies. Their choice, style, and fashion have changed. But one thing is the same as before and that is their love for the Indian drape–Saree. They have been always fascinated by their designs, materials, and colors. They want to have them all in their wardrobe. Here 16 different type of sarees is given if you wear them you will mesmerize everybody with your style:
1. Banarasi Saree
Woven in Banaras, it is the most exquisite saree available. Heavy brocade and intricate zari work ornate in a heavy gauge silk this saree is a popular choice by brides for their trousseau.
2. Chanderi Saree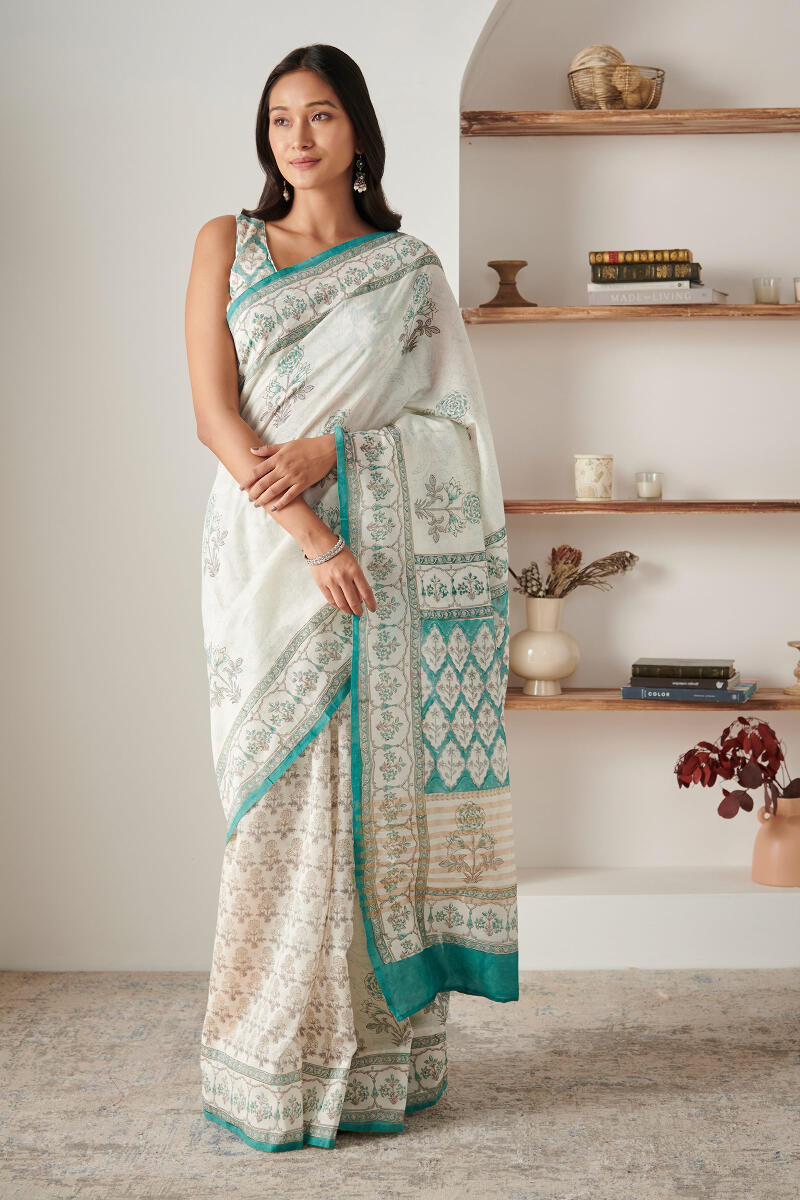 Made from silk and cotton these sarees are comparatively lightweight. Having translucent structure these are very comfortable to wear in hot summer months.
3. Bandhani Saree
These sarees are unique in print and pattern and belong to the Rajasthan-Gujarat area. These come in all possible colors and materials. Sometimes they are embellished with thread and mirror work, making them extra beautiful. They are popular, especially on Dandiya nights.
4. Kerala/Mundum Neriyatham
Originating from the southernmost state of Kerala, this saree is white/cream-colored with golden threads woven into its border. It is made from cotton and is very comfortable to wear in hot and humid weather. Nowadays, colored borders are also available, and sometimes elaborate Kerala mural paintings can be found on pallus.
5. Sambalpuri Saree
It originates from Orissa. It is made using a warp tie-dyed before the weaving procedure. These are heavily designed with traditional motifs like wheels, flowers, and shells. It has an intricate ikat weave.
6. Bafta Saree
This saree originated from Madhya Pradesh. It is a mixture of silk and cotton. It is comfortable and lightweight like cotton and has the shine of silk. the printing on it is generally blocked prints in intricate designs.
7. Murshidabad Saree
It is made on a power loom and has a lot of texture. With lustrous cloth and delicate Bengali tribal patterns, it becomes a unique piece to own.
8. Kota Doria Saree
These are inspired by the weather in Rajasthan. These net sarees are lightweight and perfect for dry and hot climates there. The original handloom version is rare but the polyester version is gaining popularity.
9. Venkatgiri Saree
This belongs to Andhra Pradesh. This is lightweight and is a crisp mix of cotton and silk and it has a shiny finish to it. It is woven in a close-knit gauge with a light golden zari border.
10. Pochampalli Saree
These sarees in cotton and silk are famous for their touch and feel. Their unique border design makes them perfect for daily wear. Air hostesses of Air India wear these only.
11. Kanjeevaram Saree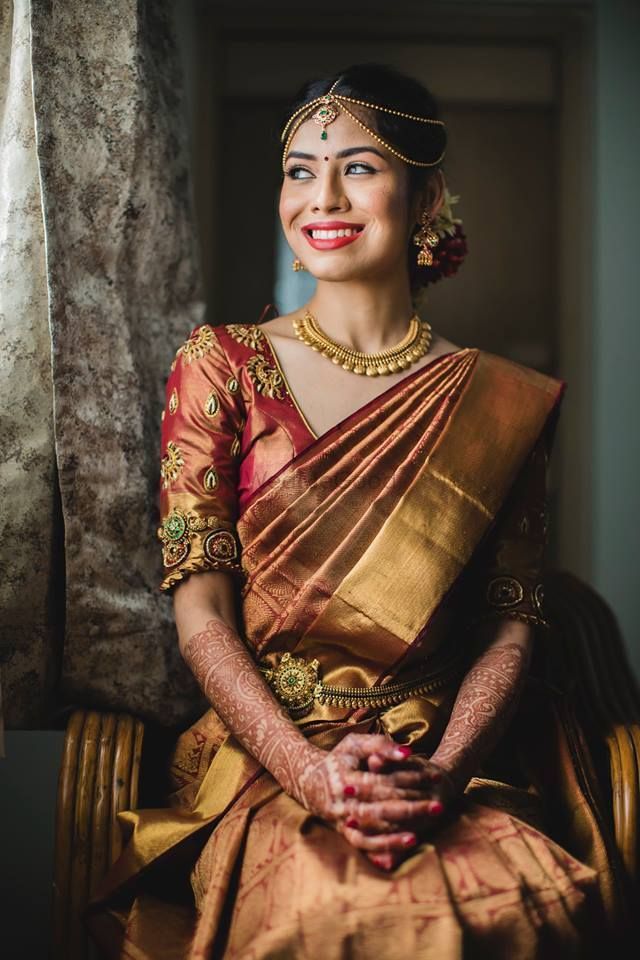 These have a wide contrast border, Intricate golden design makes them favorite bridal wear. Temple borders, checks, stripes, and floral buttas are generally found on these sarees.
12. Narayanpet Saree
These are made of fine silk or cotton with zari patterns and contrast borders. These belong to Narayanpet town in the Mahbubnagar district of Andhra Pradesh. It is auspicious wear.
13. Bomkai Saree
Ikat embroidery and thread work on a variety of materials – Bomkai is a must-have in your wedding trousseau.
14. Paithani Saree
This handwoven beauty in silk is something every bride should pack in her wedding trousseau! It is the saree which is from Maharashtra.
15. Muga Saree
This is the saree that originated in Assam. This special type of silk is comfortable and has a glamorous look – what more could you ask for?
16. Bafta Saree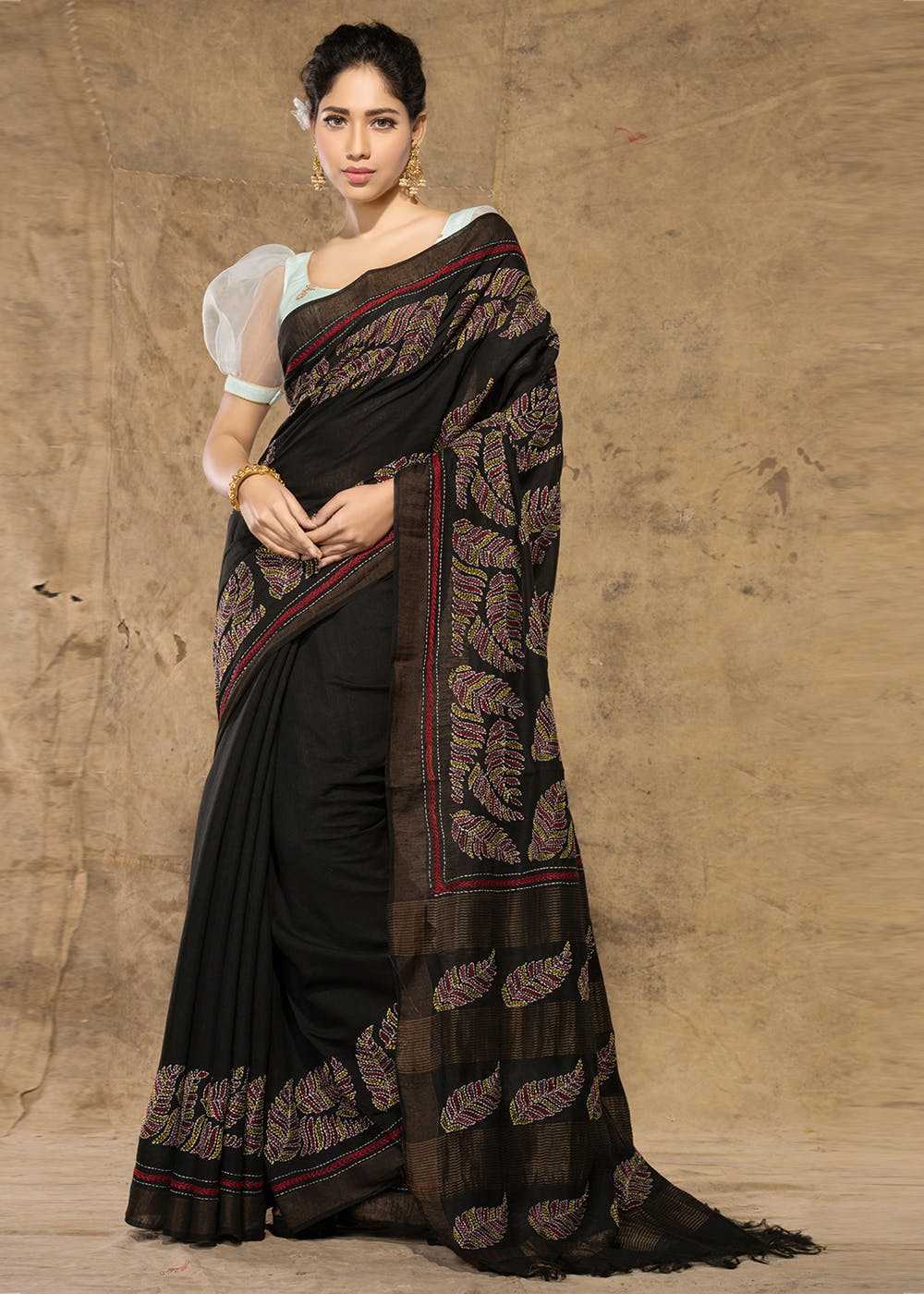 Originating from Madya Pradesh, this saree is a blend of silk and cotton. It is as comfortable and lightweight as cotton and has the shine of silk. The printing on these sarees is usually blocked prints in intricate designs.
It is fantastic to see so many varieties of sarees in our country. So you can choose among them and wear Indian heritage with pride.