Hello Ladies! We bring to you the best Peplum Blouse styles for you to give yourself an ethnic makeover in 2021.
Peplum blouse styles are a woman's dream since they serve to enhance her natural figure. They come in all forms and fit your body whether you are tall, short, slim, chubby, or moderate. You can simply put them on and look gorgeous, also you don't need to try hard to look good on them. They can be worn to a dinner party or date or as corporate wear, casual wear or even for festive wear. It goes well with pencil skirts, saree, and lehenga. Also, you can wear a beautiful necklace or jewelry around your neck.
Here's where you'll find the exact peplum blouse styles you're looking for. We have a wide range of designs that you will enjoy.
1. Off-Shoulder Peplum Blouse Styles
Off-shoulder designs are without a doubt the most popular in the fashion world. Take a look at some of the most popular off-shoulder peplum blouse styles in ethnic below.
2. Peplum Blouse Styles With Long Sleeves
Unless it's cold outside and you have to attend a dear one's wedding for which you've been waiting so much, you'd hardly notice a Peplum blouse. In this situation, a full-sleeved Peplum blouse with beautiful embroidery work will be just perfect. They protect you from the cold while allowing you to show off the flare of your lehenga. Combine a similar-colored embroidered lehenga skirt with such a blouse and you're ready to go. Check out some of the most popular peplum blouse styles with long sleeves below.
3. Deep V-neck Peplum Blouse Styles
This deep V-neck peplum blouse is always a winner. Also, you can never go wrong with a deep V-neck style peplum blouse with beautiful lehenga or a saree. Some of such designs are given below.
4. Peplum Blouses With Jacket
You may occasionally feel like adding a new style to your traditional saree. Consider an ethnic Peplum Jacket to be your ally in this case. It will not only serve as a cover-up for a beautiful blouse, but it will also offer a unique and stylish touch to your lehenga. Combine this ethnic bold Peplum jacket with a lehenga or saree and watch as you become the center of attention at the big occasion. Check out some of the peplum jackets for your ethnic wear given below.
Read more about Top 30 Types of Blouse Designs
5. Peplum Blouses With Ruffled Or Bell Sleeves
It's a lovely standout statement peplum blouse with ruffled or bell sleeves with beautiful dhoti pants perfect for your best friend's engagement or sangeet ceremony. A long embroidered lehenga skirt that matches the bell sleeves may also work if you truly want to make the sleeves the focal point of the overall ensemble. Also, you can pair it with a beautiful ruffled saree. Take a look at the designs below of ruffled or bell sleeves peplum blouse styles in ethnic.
6. Layered Peplum Blouses
Get a layered Peplum blouse that gives you a Victorian vibe when matched with an equally flared lehenga if you want to go all out with such a Peplum blouse and aren't scared to experiment. Be the queen of your reception ceremony with this look. You may also go for a Peplum with shorter layers and bold lehenga to match the layers.
7. Peplum Blouses with Puffed Sleeves
On a special occasion, do you want to feel like a princess? Then a puffed-sleeved peplum blouse is your best friend. This blue peplum blouse with puffed sleeves and also with a flared lehenga will make you feel like Cinderella at the party. Check out the beautiful ethnic Cinderella dresses below.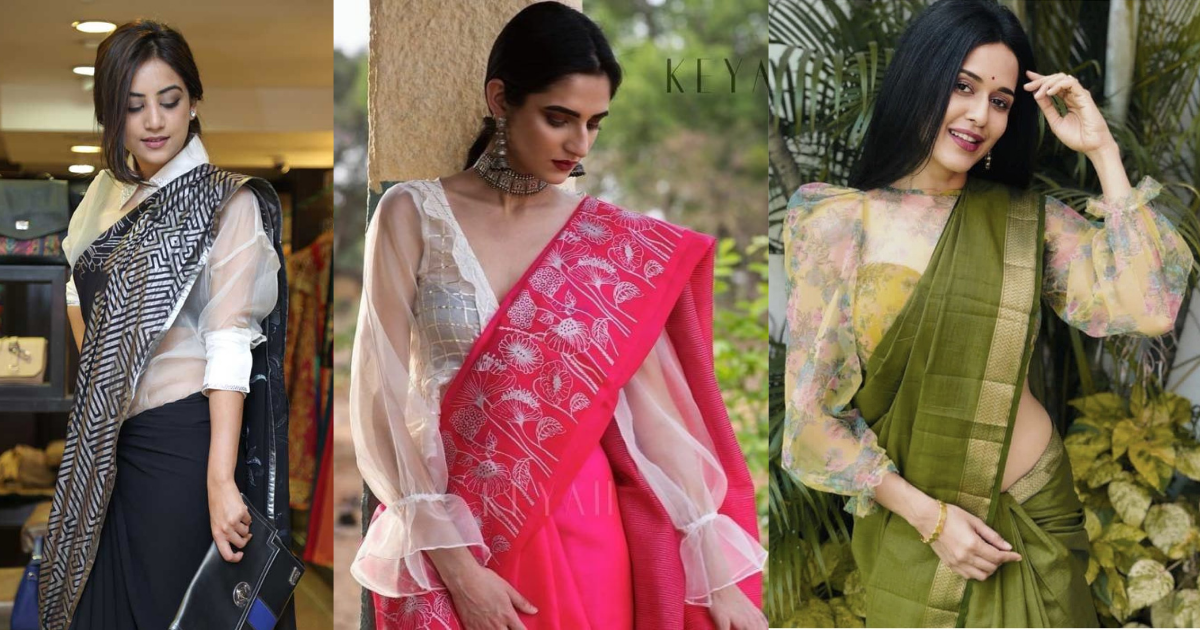 8. Buttoned-up Formal Peplum Blouses
When you don't want to be the show's sassy centre of attention but also don't want to be overly formal. Do you want to keep your blouse design simple but elegant? Get your hands on an elegant button-up Peplum with a little embroidery. When you're a wedding guest of a formal acquaintance, this one is ideal.
9. Intricately Embroidered Peplum Blouses
A perfectly embroidered peplum blouse is never out of style. Also, for a reception day outfit, pair a beautiful hand-woven silk peplum blouse with exquisite hand-embroidered zari work lehenga. Try out some of the designs below.
10. Front-Slit Peplum Blouses
The traditional front-slit peplum blouses have never left out of the trend. But it's even more difficult not to have one in your closet when they have a front slit with relaxing colors. You can also wear it with a dhoti pant or with a beautiful flared lehenga skirt.
11. Mid-Length Peplum Blouse Designs
It's autumn and you are neither feeling cold nor hot. Why not choose a peplum blouse with gorgeous mid-length design and with exquisite flared lehenga.
12. Cold shoulder Peplum Blouses
Cold shoulder peplum blouses are never out of style. Pair it with a beautiful saree or also with a gorgeous lehenga with some minimal jewelry and stand out on the occasion.
13. Floral Design Peplum Blouses
Floral designs are always a good choice for any event like a mehendi event or a reception. Also, check out the floral collections of a floral peplum blouse with a matching sharara that you may rely on for your vivacious mehndi event.
14. Short Peplum Blouses
Short peplum blouses, like the one in the photo, are really popular right now. Simply match them with a lovely lehenga skirt and of course you're set!
15. Corset Style Peplum Blouses
If you want to level up the sexiness of your outfit, opt for a corset-style peplum blouse and also match it with a saree for a super sexy look.
16. Double Flared Peplum Blouse Designs
Choose a peplum with two pleats if you want it to be more dramatic and also look gorgeous on occasion. They're actually double frills or pleats that provide a gorgeous peplum style look.
17. Collared Peplum Blouse Designs
You can also go with a collar and elbow sleeves for a peplum blouse. Also, rather than the traditional embroidery, a floral peplum can make you look simple, more unique and elegant.
18. Peplum Blouses With Unique Style Statement Sleeves
You can create your own style statement by wearing a very unique Peplum blouse that has a very simple design that is toned up by the exaggerated statement sleeves, making it ideal not just for a wedding party but also for Navaratri celebrations. Combine it with a sharara in the same print and you'll be set for any occasion. Also, check out some of the unique style statement peplum blouses below.
19. Simple and Classic Style Peplum Blouses
You can have a front-slit Peplum like this one without the flare if you desire a more plain, simple yet classy style. It will also look great with contrasting colored dhoti pants or a lehenga.
20. Scallop Edged Peplum Blouses
You'll look like a diva with a scalloped border adorned with pearls and beads.
21. Tassels And Twirls Peplum Blouses
The addition of tassels to a mid-slit peplum adds to the ensemble's allure.
22. Double Colored Peplum Blouses
Play around with different colors and try a half one color and half another color peplum blouses.
23. Asymmetrically Designed Peplum Blouses
Check out this red masterpiece which is an asymmetrically designed peplum blouse you must have in your wardrobe.
24. Colorful Peplum Blouses
You can also mix up different colors in one peplum blouse and make the heads turn on. Given below a peplum blouse with a jacket having three bright colors, all held together by the peplum blouse.
25. Black and White Peplum Blouses
What could be more elegant than a peplum blouse with black and white colored and with flares? Combine it with a plain black skirt to look like a sassy diva at your sangeet ceremony! This stunning set is suitable for bridesmaids as well.
Conclusion
I'm sure the next blouse you buy or sew will be a peplum one after seeing these stunning styles! In the comments area below, tell us which Peplum blouse is your favorite and which one you want to have embroidered for the 2021 wedding season.