"Let the Indian-ness show! Life is too short to blend in."- Paris Hilton
Are you looking for the Most Popular Ethnic Bottom Designs? Ethnic styled bottom wears have dominated the world of women's fashion in recent years, receiving a lot of popularity. Also, we've arrived in the year 2021, and we're no longer compelled to wear our favorite salwar suit sets in their original condition. The real joy comes from experimenting with different forms, fabrics, and silhouettes. They are the most versatile piece in any woman's wardrobe because they can be used with almost any form of upper wear to create a unique look. Here are 25 various and most popular ethnic bottom designs to try if you want to take your ethnic fashion to the next level:
1. Comfy Leggings Ethnic Bottom Designs
Leggings are the most comfy and also the most popular ethnic bottom designs that gives a classy look along with comfortability. They come in all kinds of fabrics, colors, and prints and are very flexible. If you are looking for a tight fit, sensuous and stylish outfit, a good pair of leggings can be your right decision!
2. Feminine Skirts/ Lehenga
They are one of the oldest styles of ethnic bottom designs from centuries. If you're already bored with leggings or trousers, then there's skirts and lehengas to rescue. You can pair stylish ethnic lehenga or a skirt with crop tops, kurtas, t-shirts, blouses etc. You can also accessorize it, and choose your own style depending upon the occasion. Go for it!
3. Chic Palazzos
Palazzo pants are a very popular ethnic bottom designs trend for women. They are loose, wide-legged, breezy and extremely comfortable to wear. This type of bottoms is very graceful, stylish and also versatile. Palazzo comes in all shapes and sizes and if you want to make a chic statement with palazzos, try out with a short kurta or a crop top!
4. Classy Patiala
Patiala pants are a contribution by Punjab to Indian fashion. With a lot of pleats, they look very classy and are very comfortable to wear. Being elegant and unique, these pants are a favorite for the celebrities especially in Bollywood movies like Kareena Kapur in Jab We Met. Pair it with a crop top and also with a jacket, create a fusion style and you are ready to go!
5. Sleek Sharara
If you are looking for a relaxed vibe, stylish, sleek and also a classic retro look, go for sleek shararas. They were a massive hit in the 90s and they are still in trend in the Indian market. Pair up with a short kurta or a choli and make the heads turn in your way.
6. Graceful Dhoti
Dhoti pants are the modern and the hottest style of ethnic bottom designs for women inspired from the traditional men's dhoti. Although they are very stylish and graceful, they have a lot of loose pleats which makes them edgy, classy and comfortable to wear and slightly hard to manage as they are wide. Style it with a short kurta with some right accessories and you are ready to go!
7. Smart Cigarette
Hey girls! Try modern and trendy cigarette pants to give yourself a smart traditional look with your kurta. Cigarette pants are smart and streamlined and also can be paired up with a kurta or top for any occasion. It's time to enhance your waistline and give yourself a sexy slimly look. Go for cigarette pants!
8. Classic Churidar
The traditional churidar pants are never out of style. They look best when long kurtas, anarkalis, etc. and are available in various styles. When paired with a dupatta and kurta, you can look very graceful and feminine, perfect for any occasion you want to go for!
9. Playful Culottes
Culottes are a younger and peppier version of a palazzo which are wide-legged, short and also add volumes of high fashion to your ethnic style and dressing sense. They are playful and fun to experiment with a short kurta. If you want to experiment with a fusion style with a little bit of fun, culottes can be the right choice for you!
10. Versatile Salwar
Salwar trousers are a wonderful blend between a palazzo and a Patiala. They're more tapered and have a well-defined outline. They go with any top or kurta, they are versatile which is why they are so popular among women in India.
11. Slender Tulip
Tulip pants are a modern version of traditional salwar, with wide pleats on top and narrow in the bottom. They are more sleek and slender than salwar. Tulip pants are for those women who like to dress in a bohemian, fun hippy way. You can also pair up with a variety of outfits for any occasion.
12. Stretchy Jeggings
Jeggings are a fusion of jeans and leggings which are stretchy, flexible, also quite revealing, and tough as well. They are available in any shape or sizes and can be worn by any woman. Jeggings come in a wide choice of vivid hues and pastel tints to go for.
13. Glorious Aladdin Or Harem Pants
Doesn't the Aladdin sound familiar? It's because Harem pants were commonly worn by the ancient Middle East women. It is also a popular animated character Aladdin, who wore a unique type of pants that fell long between his legs. This new fashion has now become a trend among young girls.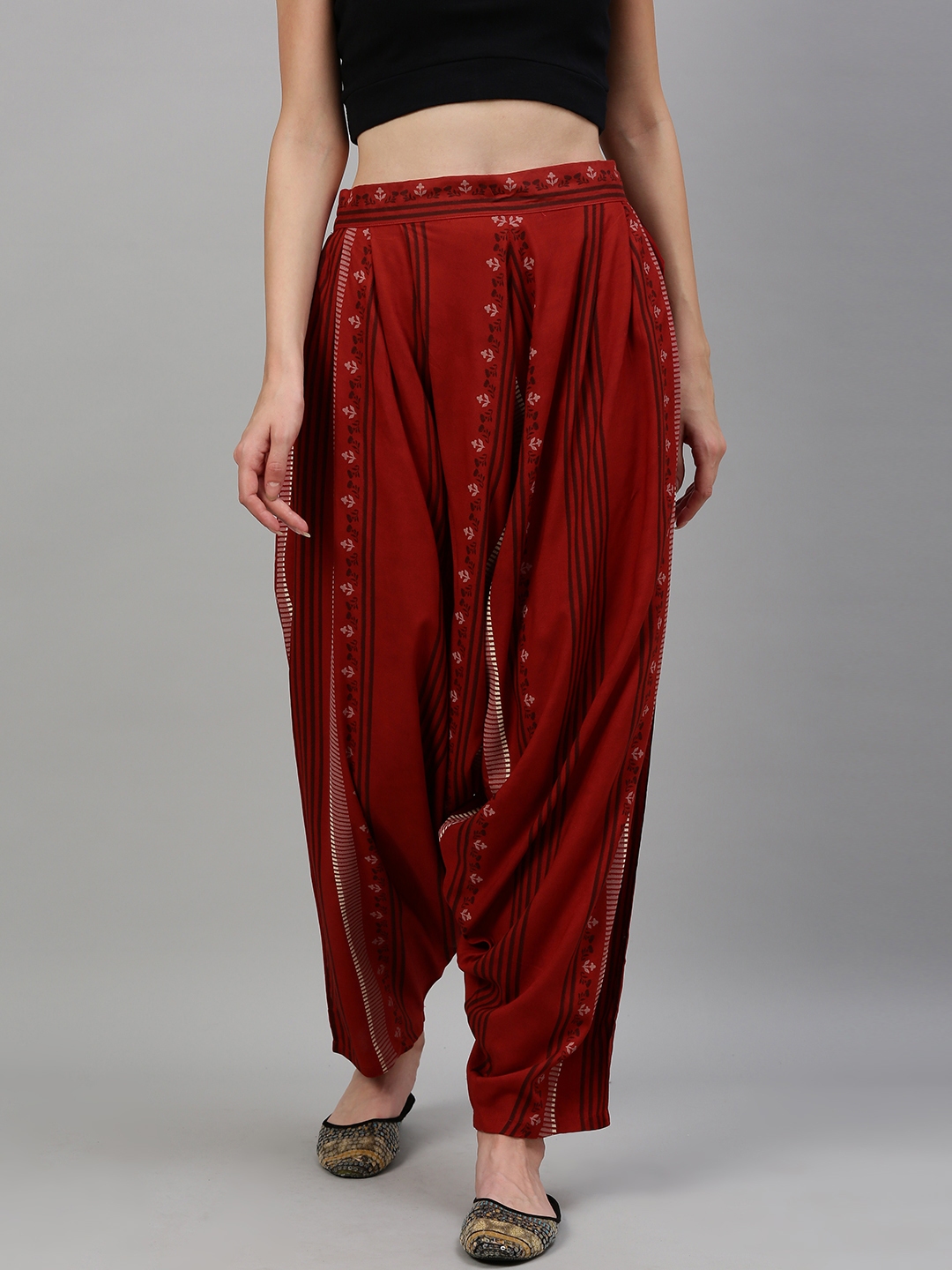 14. Sassy Jeans And Capri
Skinny jeans are now extremely popular among college students and teenagers. Jeans with T-shirts and tops have become fashionable, so why not try a kurta with jeans?
15. Stress Free Wide Leg Pants
Don't worry if skinny jeans are torturous in the summer whether you are going for work or college. Go for comfy wide leg pants and become comfortable and also stress free in summer!
16. Evergreen Bell Bottom Trousers
Are you looking for something classic but sexy, stylish and comfy as well? Then go for bell bottom trousers. They are a retro hit as well as trendy, most popular among the fashionistas right now. Go for it!
17. Cute Lacy
Lacy bottoms are the latest trend of loose lacy flowy bottoms. If you pair them with a kurta, they look more cute and also very stylish. If you want to look cute, fun and playful as well as stylish too, go for lacy bottoms!
18. Unique Straight Fit
You can pair up straight-fit pants with any kurta or shirt. Take a look at what we have for you—this pair of unique straight fit pants with pockets. It is also available in different types of prints and colors.
19. Stunning Embroidery
A little embroidery on your pants is all it takes to make them ready for any ethnic top. They can make you look stylish, gorgeous with the embroidery details and also sassy as well. Take a look at these stunning embroidery pants below!
20. Decent Jodhpuri
Nothing can beat a decent pair of Jodhpuri pants when it comes to comfort. You can choose beautiful colors and prints with any solid tee or top. Check out the pair of Jodhpuri pants below which is so self-contained!
21. Cheerful Colorful
Check out the beautiful colorful bottoms below, they can make you look cheerful and fun when you pair them up with a plain solid colored kurta or a top. 
22. Gorgeous Stripes
You can never go wrong with striped bottoms and any ethnic top or a kurta. The top can be a plain color or colorful whatever you chose for but when paired with a striped bottom, it not only enhances your look but also makes you look gorgeous and trendy.
23. High Fashion Ruffles
Hey girl! Are you bored with the old palazzos and shararas? Then why not add up a little ruffles to your old trousers or palazzos or shararas and make your outfit look like a just out of a high level ramp show. Go for it girl!
24. Beautiful Poncha Designs
Salwars can be worn in a variety of fashions, including plain, Patiala, palazzos and also modern day dhoti styles. But what about the salwar's hemline and poncho? When there are so many different ways to make your ethnic bottoms look more fascinating, it shouldn't be left plain. Check out the beautiful poncho designs ethnic bottoms below and also pair them up with one of your favorite tops or kurta!
25. Simple Pleated Trousers
Do you want to try a simple but elegant trousers for ethnic but not as straight-fit or bell bottom but just a few pleats to make your look simple and stylish as well. Well, then check out the following simple yet graceful pleated trousers and pair them up with a ethnic kurti from your wardrobe!
Conclusion
Hope you have found the right guidance from our article and also now you can choose any of the above-mentioned fashionable ethnic bottom designs. Experiment with your bottoms by mixing and matching to create your own style of ethnic wear. Comment down below which was one of your favorite styles you would like to share about!