Are you looking for your 'perfect saree' to wear on your farewell party? Or want to pull-off your saree look with trendiest saree then here is the answer for all your queries. We know that the pandemic is still not over and going out for shopping is a bit dangerous. So, we have curated the best online saree shopping sites for you.
Here are some best online saree shopping sites list.
Chidiyaa
'Chidiyaa' the name means, the house sparrow that we all grew up watching as kids and no longer see. It's an attempt to go back and relive the lazy summer afternoons. Chidiyaa, is for the free-spirited, the one who finds clothing as a form of self-expression. At Chidiyaa, they keep their silhouettes classic while paying great attention on the purity of the fabric used. Their prints and weaves are designed by in-house designers and curated from artisans across villages in India. From exclusive handblocks from the desert of Kutch to the timeless weaves from Andra and the royal silks from Banaras, they aim to bring you age-old crafts with a niche contemporary twist.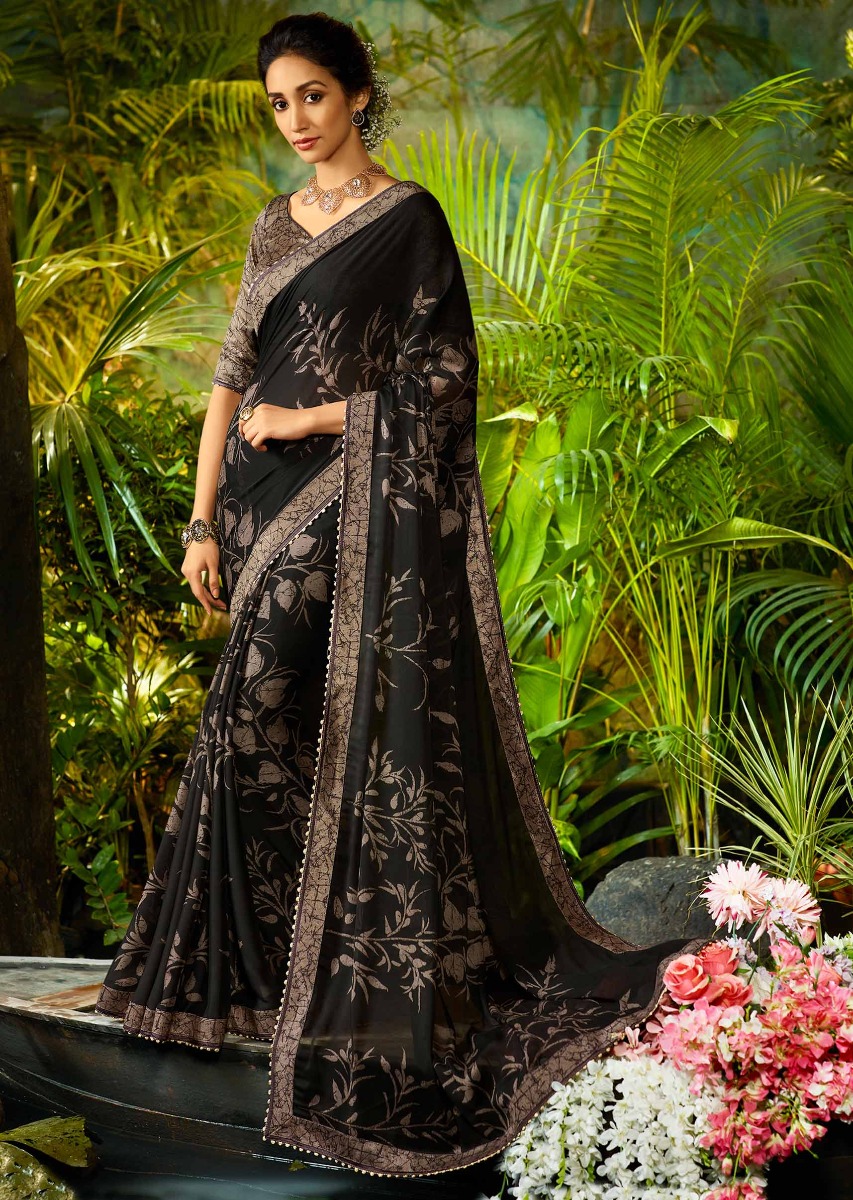 Suta
Suta is the most humble product we meet and live with every day. It means thread. Su- Sujata and Ta- Taniya were elated when they discovered the magic of the syllables in their names. The brand SUTA is a fresh design house that centers on creating a range of attire with a blend of tradition and contemporaneity. Suta's crafted inspirations pay attention to details and the designs add elegance, boldness and grace. SUTA or thread, the basis of the brand's inspiration is a reminder of the craft traditions of India.
Fabmaniya
Fabmaniya has a beautifull collection of sarees on their site available in different categories like Bollywood Saree , Designer Saree and much more. So, your dream of wearing the saree your favourite actress wore can become true here at fabmaniya and this is the reason it is in our best online saree shopping sites list.
Orgenza
Orgenza's mission is to create a truly worldwide online shopping experience for their clients, they guarantee exceptional quality and craftsmanship across their whole range, backed by quick and safe operations from purchase to product delivery and beyond.
Also, Types of glass organza sarees you must check out
The Haelli
The name 'HAELLI' comes from HELLI (short of Haveli), a commonly used synonym for huge ancestral homes in the villages of Haryana. The name symbolizes our connection with our cultural roots. At Haelli, first they launched juttis and after the great success of their juttis range they decided to launch their first line of hand-painted print sarees, keeping intact the fun and quirkiness they are known for.
Sakhi Fashions
At Sakhi, they understand the modern women – real women of today, confident of themselves, fully engaged in life, playing varied roles as professional, wife, entrepreneur, home maker, executive, mother, designer, artist and many more. She makes all our lives vibrant and beautiful.
Vani Vrtti
Vani Vrtti started as a home art studio from a beautiful valley named Koraput in Odisha, now placed in Bangalore, India. Vani Vrtti aims to generate a valuable livelihood for the true artisans and weavers community of India and make them feel proud and confident about their art, craft, tradition and their profession. It is effortlessly trying to ensure that Indian art and craft does not die with time and is being transferred from generation to generation.
Poonam Depo
With the vision to provide excellent quality products and meet every requirement of clients satisfactory, they have carved a niche as reputed manufacturer, exporter, trader and supplier of Sarees. Their products that include Silk Sarees, Georgette Sarees, Designer Sarees, Cotton Silk Sarees, Handloom Cotton Silk Sarees, Bollywood Sarees, Wedding Sarees etc., are appreciated by for their eye catching designs, color fastness, comfort, attractive styles and long lasting nature.
Zari Banaras
The Zari Banaras has the honour of presenting a glimpse of the artistic greatness that has influenced the nation's legacy. The woven sarees on our website are inspired by the "cloths of gold" type of weaving techniques. Imperial atelier weavers used complicated techniques to capture the appearance of lavishly enamelled gold on sarees at a time when silk weaving had achieved its pinnacle. Zari Banaras' products are one-of-a-kind and resemble antique fabrics, although they are not exact replicas.
Maraassim
MARAASSIM – Means a Relationship. A relationship between you, them and the beautiful world of Handwoven & Handcrafted Textiles. They at MARAASSIM try to blend in the traditional with contemporary because we believe that creating garments with a fresh perspective while retaining the essence & legacy of the craft itself is key for its survival, growth and promotion.
Aliyana
Aliyana – A beautiful you has the finest collections which even celebrities like Jacqueline Fernandez, Amy Jackson and many other artists like to wear and have visited the stores in-person. Aliyana have a collection of lehengas, shararas & gararas, sarees, evening gowns and designer suites.
Saree Envy
Saree Envy is an Online Marketplace for High End Indian Womens Fashion. Their primary brand is Aavaranna. If there is one word to describe Aavaranaa, then it would be 'grace'. The decor in green simply adds to the exuberance and elegance of the store. The store houses a variety of sarees and salwars to choose from.
Mavuris
At Mavuri, working at collating the diverse range and having the best weaves available for you to choose from. Handwoven masterpieces, each having their own unique style of weaving, are sourced from across various regions of India. Covering the length and breadth of the country, we collaborate with respective local weaver communities, thereby further encouraging their livelihood.
Pithi
Pithi is best an E-Commerce platform which has been particularly intended for Fabrics lovers. It is an online commercial center where one can undoubtedly purchase Ethnic Indian Fabrics without burning through whenever. Best items offered by us incorporate patterns and conventional Apparel, that go well with Indian and western outfits. It is in our best online saree shopping sites list.
Tantuvana
These woven stories aim to bring a new aesthetic to traditional Sarees by innovating century old skills." TANTUVANA takes its inspiration from the pages of Indian history and we endeavor to be a brand, empowering traditional artisans and reinventing Indian handcrafted creations. TANTUVANA brings to you exquisite, handmade, handwoven creations directly from the artisans.
Swtantra
To match the Art and Science of textiles – Swtantra was born. Their sarees have simplicity of design with strong character in each fabric that they choose but with great quality. They are careful to offer great quality and design at affordable prices which is why they do not offer discounts or Big sales.
The Asopalav
"THE ASOPALAV" is a cotton clothing label under the fashion house white official – styled, designed and created by Riddhi Vaghasiya. They seek to delight you with apparels that your love flattering silhouettes, stylish designs at reasonable prices which let you shine through. Their promising way of providing their products made us add them into our best online saree shopping sites list.
Fabcurate
At Fabcurate, they facilitate all the designers out there to create anything of their imagination using an array of premium quality fabrics curated specially for you. These fabrics are sourced directly from traditional fabric merchantswho are the masters of traditional craft. Due to the fabric high-quality it is a part of our best online saree shopping sites list.
Vastranzo
Vastranzo is based in Jodhpur, Rajasthan. They believe at sustainable fashion and the material they use to weave their Saree is cruelty free. They believe that money should not stop you from wearing what you want and hence they provide the sarees at a really affordable price.
Odette
Mamta Roy, the founder of Odette, is an avant-garde woman who understands and interprets fashion. Shri Murari Lal Poddar, an entrepreneur whose principles are based on what she learned from her father. Odette's excellent collection is the reason for its inclusion on our list of the finest sites for kurtis.
Banarasee
Banarasee is an online platform to promote the rich heritage and art of Varanasi city. They are simply a team of art lovers, working passionately to put forward the art of Varanasi in the global market. Their main target is not to sell products, but to deliver a pinch of the city's rich culture in every household. They promote our heritage art
Fabloe
Fabloe sells fabrics to businesses as well as individuals, online as well as in-store. With their endless variety of fabrics to choose from, Fabloe is your one-stop destination for all your fabric needs under a single roof as well as site. Fabloe has some exquisite collection of sarees made from their fabric which you'll love it. It is in our best online saree shopping sites list.
Ethnos
Ethnos : The Essence of India. Ethnos is a direct-to-consumer brand that offers fashionable and high-quality Indian ethnic clothes at wholesale costs. It was founded in 2020 by IIT and IIM alumni. Ethnos is a lean online-only brand and makes into our best online saree shopping sites list.
Picchika
The cultivation of a sense of purity, as practised by the saints, is derived from Jain spirituality. The purity of peacock feathers is symbolised by the label Picchika, which denotes craftsmanship and divinity. Picchika's works come to life with the capacity to enchant us thanks to the hand painted botanicals by Jaipur's outstanding craftsmen. Their founder, Urvashi Sethi, continues her ode to feminine grace and expressions of delicate beauty.
Sazrika
Sazrika means in Sanskrit (સશ્રીક) Lovely, Puja had a dream of opening her own boutique where she could give options to all the ladies to wear comfort with confidence. " Sazrika's designs are exquisite and culturally rooted for every Indian occasion, it reflects the taste of the festive spirit. There are various possibilities for embracing a women's beauty: saree, kurti, blouse, and lehengas, all these and much more are available at Sazrika.
Dira
Dira by Dimple. At Dira, their endeavour is to perpetuate our heritage through artistic clothing and jewellery. If you are looking for chiffon sarees with some beautiful prints pr pastels then this site is for you. Go grab your favourite pastels in sarees.
Sundarii
With Sundarii Handmade as a medium and a voice to spread awareness about sustainable fashion and handicrafts, they have been able to make Ajrakh, an immensely demanding and rare handicraft ,known to many. It gives them a lot of joy to see people talking about and liking Ajrakh for its uniqueness, as not many knew about this craft when they started out.
Soch
Soch is a symbol of tradition unlike any other. It's a one-stop shop for all your ethnic needs, from designer attire to sophisticated fashionwear. In 2005, the first dedicated Soch store debuted. Since then, every business has portrayed Indian workmanship in a modern lexicon. Soch honours Indian women with a contemporary lifestyle through its inventive utilisation of traditional crafts.
The Crafts
The Crafts Clothing was founded with a beleif that style shouldn't break the bank. Their goal is to change the way you think about fashion by delivering premium quality designs at radically fair prices. All their products are handmade supporting more than thousands of craftmens, weavers and dyers from Banaras as well as from various parts of the country. It is in our best online saree shopping sites lists.
Pratibha Sarees
Pratibha Sarees, a multi-generational retailer of handwork sarees and lehengas, is a brand that is deeply rooted in their history. They have been selling traditional, culture-centric, and authentic sarees and lehengas handcrafted by their artists for women of generation since 1987. They are old school with a current love of pure constructed hand-work sarees and lehenga, and they speak in a vibrant language of textile tradition.
Conclusion
Next time you look for best online saree shopping sites reach out these sites, where you can easily find what you are looking for. From Bollywood to Designer, we have curated a blend of all of this for you.
Click here, to check best 30 sites for buying luggage.