Salwar suits are one of the most popular regular ethnic wear of women in India. A beautifully silhouetted salwar suit with attractive colours is sure to make one fall in love with how they look every day. Buying a salwar suit is a thing of deliberation for one must buy it in accordance to their personal preferences and styles. Given below are some of the best salwar suit brands one can check out:
Biba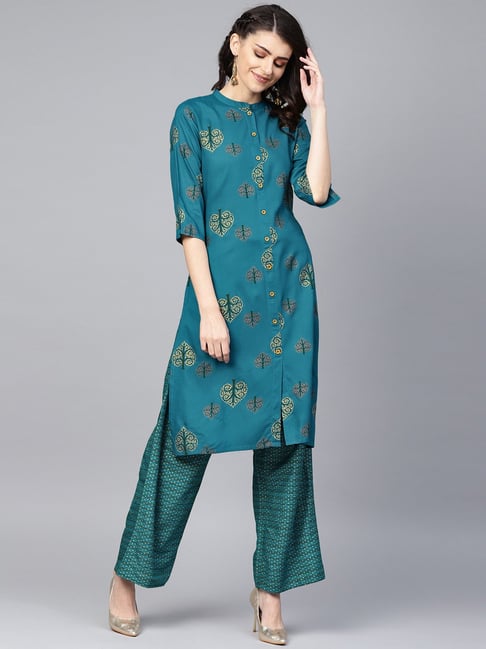 BIBA offers contemporary and trendy ethnic wear offline and online at a much budgeted price. It has a wide range of clothing that offers accumulation, even for young girls from age two onwards. The popular brand owns a diverse range of ethnic apparel consisting of kurtas, salwar-kameez sets, dupattas, bottom-wear, patiala-suits, mix and match apparel, floor-length anarakalis and many more other combinations. It is one of the best salwar suit brands.
FabIndia
The products from FabIndia are made using hand-based processes. Their products are naturally crafted, contemporary and timeless. From block prints, to khaki and organic silk, FabIndia puts everyone in awe. It is one of the best salwar suit brands. and wearing a FabIndia salwar suit is sure to remind one of India's traditional handicraft and the organic process that goes behind creating every outfit.
Melange
Working women can definitely look for salwar suits from Melange, as they have a professional touch. Moreover, their high-low, embellished are equally stunning and worth owning.
Libas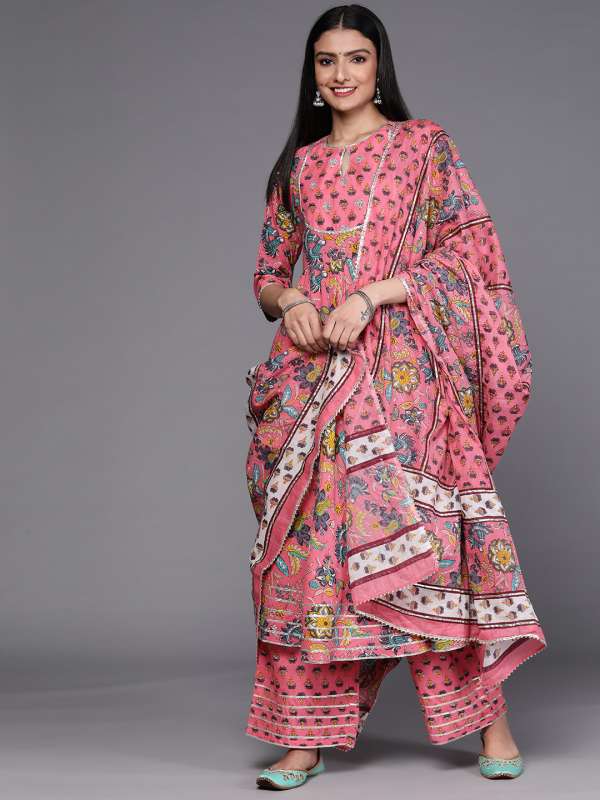 Libas has the best of young, stylish and modern styles of ethnic Indian wear that perfectly define the new age Indian women. Their outfits are upbeat, free spirited and fashionable. It is one of the best salwar suit brands.
Also read, 7 Types of Leggings that every girl should own
W for Women
Popular for its fusion wear, W for Women is one of the most trusted brands when it comes to ethnic wear brand in India. The brand takes inspiration from the latest fashion trends and forecasts from the west and transforms them into silhouettes and styles acceptable to the modern Indian woman. It is one of the best salwar suit brands and their ethnic wear is by far the most conventional and provides outfits for every Indian woman.
Global Desi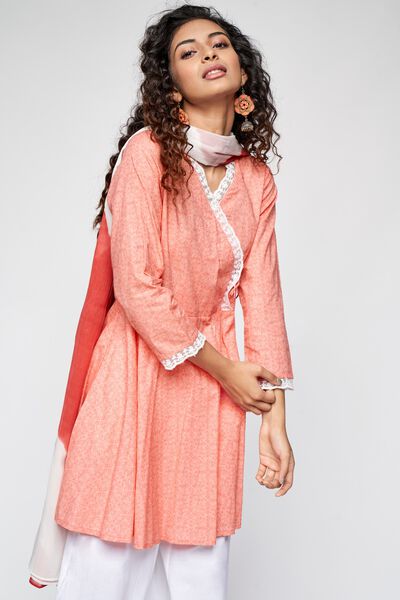 This brand is an Indian-inspired youthful, colorful and boho-chic label which has a global appeal to all its outfits. Due to its combination of Western and Indian rich heritage, it is widely popular among the youth of India.
Soch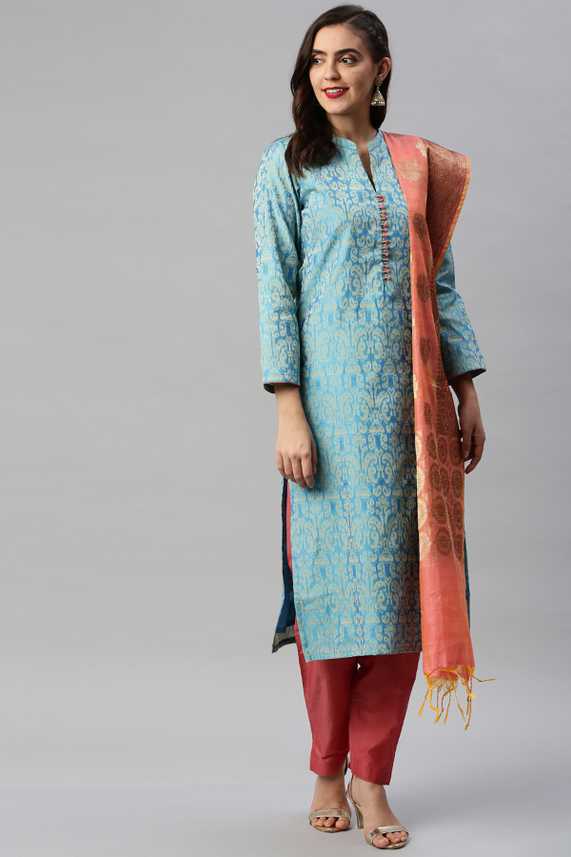 Popular for its hand-picked fabrics, insane use of colours, elaborate embroideries and rich Indian aesthetics, Soch has pioneered the term' ethnic fashion' in Indian ethnic heritage. From exclusive designer wear to elegant fashion wear, Soch is your one-stop brand for all your ethnic needs.
Sangria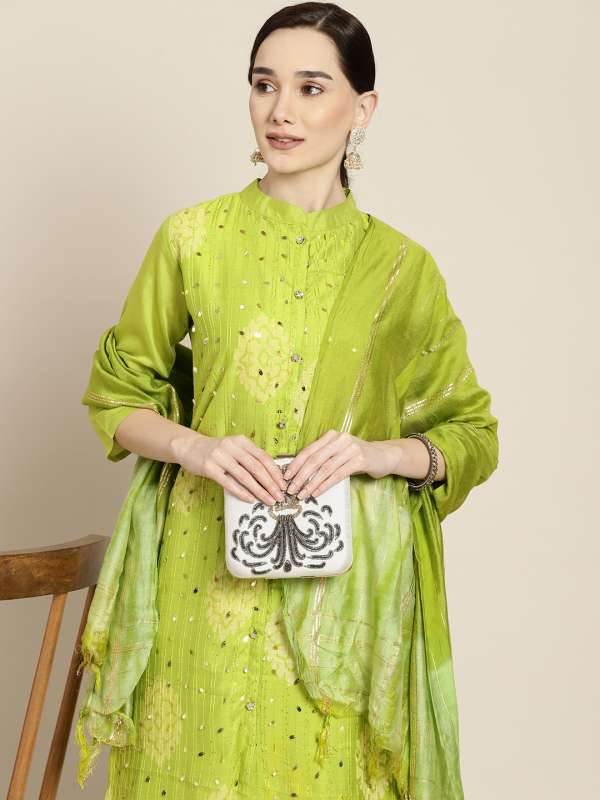 Sangria offers you the latest in-trend ethnic wear that are value for money. Affordable fashion that also keeps up with the latest trends, Sangria has an enormous range of salwar suits and it is a one stop shop for ethnic wear. It is one of the best salwar suit brands.
Rangriti
Rangriti, as the name suggests, is a brand that offers beautiful women's Indian ethnic wear at an affordable price. It caters to the desires and needs of the modern Indian women. It has won several hearts with their contemporary designs, classic patterns, elegant cuts, mesmerizing hues and breath-taking designs.
Aurelia
Aurelia's clothing line is a lot more intriguing, affordable and easy to wear as it has a fusion approach with a combination of modern silhouettes that have the perfect blend of traditions and culture. It is one of the best salwar suit brands, providing the modern Indian women with ethnic wear at affordable prices without compromising on the branded experience.
Kimora
With its vibrant palette of colours and rich designs, Kimora has been an expert in the wholesale market. Kimora, as a brand, is a reflection of India as a culturally diverse and rich country. Through their designs, they project the experiences of the generations of art, culture, people and their lifestyles. It represents how India has found its own expression with a variety of influential cultures around.
Mahaveer Fashions
Mahaveer Fashions, a renowned name to reckon engaged in manufacturing, supplying & export of ladies salwar suits comprising designer suits, anarkali dresses, printed fancy suits, casual suits & lots more. Established with the motive of offering wide gamut of suit collection, Mahaveer Fashions established themselves as one of leading suit manufacturers & exporters in the textile industry. Their enchanting collections of suits are known for the optimum quality & latest style.
Sahiba
The Sahiba Group is one of the pioneers in the textile manufacturing business in India, specialising in the development of textile design. Their modern equipment, expert staff, and advanced computerized systems enable us to provide leading services to the fabric industry and the garment trade not only in India but also on a global scale. It is one of the best salwar suit brands.
Shree Fabs
They are leading designers of latest salwar kameez and salwar suits in India, and one of the best salwar suit brands in India.
Deepsy
Deepsy is slowly but steadily becoming one of the largest suppliers of unstitched salwar suits in India. Their super hit designs are very famous amongst the women in India.
Ajio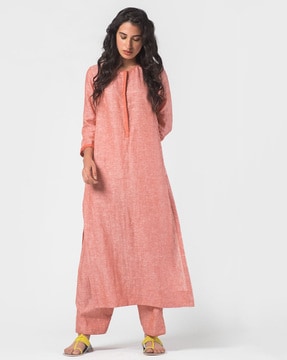 Ajio has a variety of traditional and fashionable salwar suit collection. Apart from salwar suits they also have printed churidar, churidar with leggings, ankle length pants, flat front pants, palazzo with semi elasticated waist, stretch churidar, anarkali kurta, flared kurta, floral print straight kurta, etc. It is one of the best salwar suit brands.
Haniyas
Haniyas is known for traditional and casual salwar suits. Here one can get different style and sizes of salwar suits for daily wear, party wear, wedding wear and casual wear. They also have luxury salwar suits collection.
Ives
Ives is also famous for designer kurtas, straight kurtas, printed anarkali kurtas, office kurtas, skirts, designer tops, etc, and has variety of salwar suits collection like printed, striped, formal, embroidery, party wear, daily wear, and so on.
Vishudh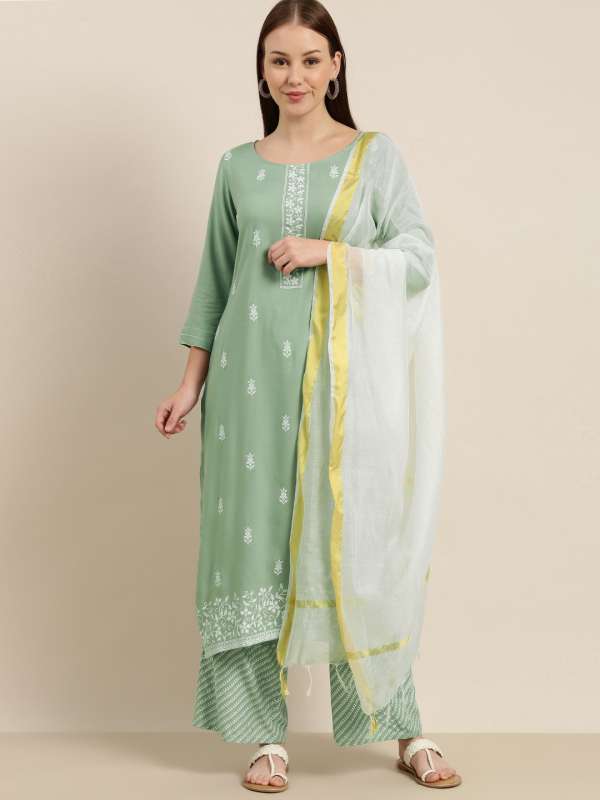 Vishudh is another brand that Indian women can explore. They exude the vintage charm in some of their collections. They use designs like the zari work, sequins, embroidery are their primary detailing.
Rain & Rainbow
All the ethnic outfits of Rain and Rainbow have the rich Indian ethnic sense. Filled with beautiful colours, combinations, aesthetic prints, intricate embroidery and thread work, their traditional collection will definitely help you to get that perfect ethnic outfit.
Aum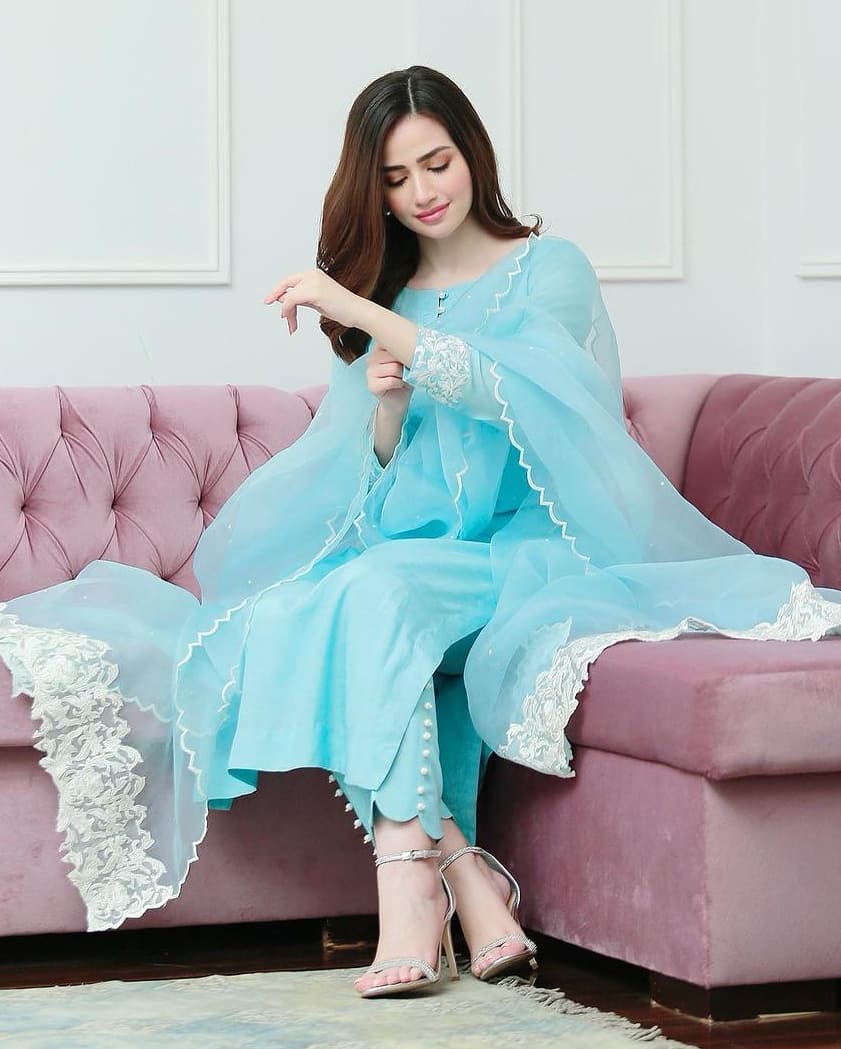 Aum brand is also something to look at. Their collection is stylish and the colours are bold and subtle that one can pick as per the occasion. These are inspired from the designer collection, therefore, the styling and the design is very modern for most of them. The use crepe and viscose a lot and Asymmetrical style is their forte. It is one of the best salwar suit brands.
Aks
Aks is another Indian brand that reflects its modern approach towards ethnic fashion. Their stunning collection is sure to amuse one and get them tons of compliments for being a contemporary diva wherever they go.
Rangmanch/Akkriti by Pantaloons
Pantaloons, one of India's leading fashion and lifestyle retail format launched their in-house lines that celebrate Indian ethnic styles with their cutting-edge designs. Few of their ethnic wear exclusive brands include the mix-n-match range by Rangmanch, fusion wear by Akkriti and occasion wear by Trishaa. It is one of the best salwar suit brands.
Gerua
Gerua is an apparel brand for the new age woman who likes to make a statement with her Indian wear. It gained fame with its unique styles on various e-commerce websites. Their salwar suits are full of vibrant prints and classy cuts for the independent woman whose style reflects her individuality.
Karigari
Karigari is another clothing brand that is very popular on e-commerce websites for its ethnic wear. The salwar suits they offer are very minimal and modern with incorporated aztec/tribal elements in them.
Haute Curry
Haute Curry has different collections with elements of contemporary fashion and traditional silhouettes, and is a perfect way to infuse traditional chic into the wardrobe.
STOP by Shoppers Stop
One of Shopper's Stop's strongest brands, STOP offers a great range of ethnic wear that include contemporary kurtas, clean silhouette Indian salwar suits, ethnic work wear which is a reflection of modern styles with classic touches. STOP's modern and sophisticated ethnic wear collection celebrates the Indian women's individual style while clean silhouettes, comfortable fabrics and immaculate tailoring sum up the essence of the brand. It is one of the best salwar suit brands.
Shree
Shree is very popular selling brand on e-commerce portals for its ethnic wear is influenced by international trends, and follows three fundamental premises: fashion, price and quality. One of the most trusted Indian brand for women that offer quality products at the lowest possible prices to the Indian audience.
Anouk
Anouk is an Indian ethnic wear brand that believes ethnic wear is not sensuous but also bold for those who like it edgy. Their clothing pieces reflect a sense of style that cover their tagline' bold is beautiful'. The brand believes in celebrating Indian women and is the first of kind to design bold and unconventional Indian ethnic wear for women that are stylish, contemporary and modern.
Juniper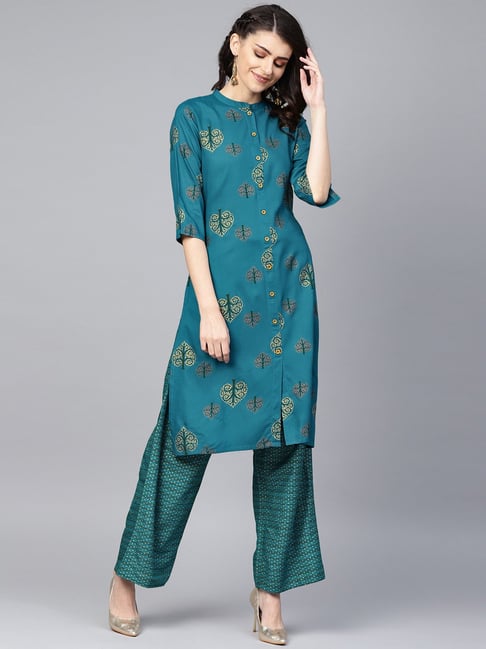 Juniper offers Indian ethnic wear that is fashionable and contemporary by focusing on trendy silhouettes with traditional and heritage feel resulting in an elegant look. They have a huge range of ethnic and fusion wear apparel for contemporary women with a traditional twist. It is one of the best salwar suit brands.
Conclusion:
Salwar suits are one of the most beautiful and assembled ethnic outfits a woman can wear. It is comfortable, easy to wear and affordable. It is an outfit one can wear in both formal and informal settings and hence, is a good multi-purpose outfit to have in the wardrobe.
Check out more of our works: Baggout.com