Given their appearance, sleeveless tops are extremely fashionable, attractive, and instantly convey an edgy appeal. Because of their wide range of designs, they work best for many situations and events. You are mistaken if you believe that these tops are only suitable for particular body types, skinny, and young girls. We offer body-positive images and variations that can fit everyone equally and comfortably because the fashion industry is constantly growing. We have curated list of different types of sleeveless tops just for you.
Let's have a look at these types of sleeveless tops:
Sleeveless One Shoulder Top
Are you looking for something new and cutting-edge in the fashion sector since you've become tired of the casual options? The best option might be this sleeveless top with one shoulder suit. This clothing is youthful but appears incredibly stylish on anyone who wears it with ease. It has a solid blue design with ruffles and a one-shoulder style. It is in our types of sleeveless tops list.
Linen Sleeveless Shirt Style Top
At the moment, linen is the most widely used fabric. This linen burgundy solid shirt type top is perfect if you're looking for a shirt look with the convenient sleeveless option. This outfit is ideal for women who want a modern style in busy schedules and have fewer preferred days. It features a shirt collar, button closure, and a simple yet attractive look.
Velvet Sleeveless Cowl Neck Top
Nowadays, most of us rarely see velvet dresses or tops. However, this teal blue cowl neck knitted solid pattern top is unquestionably a stylish choice for designer clothing. This fabric instantly lights up and subtly improves the overall fashion statement of individuals wearing it thanks to its sensual and modern appearance. It is in our types of sleeveless tops list.
Partywear Sequin Sleeveless Top
Another word for partywear is sequin tops. While we have known for decades that these different dresses and shirts appear hot and elegant without effort, this particular multicoloured encrusted sequin boxy top is a total fantasy. It looks incredibly fashionable and is the perfect choice for women who love to look like diva with a square neck and shoulder straps variety.
Polka Dot Sleeveless Blouson Top
The polka-dot pattern has been popular in the fashion industry for many years. These adorable little dresses with wonderful prints are still beloved by all generations. Here is a brand-new black polka-dot variation. This has a zip closure in the back with the option of a blouson top. Women who are interested in stylish everyday wear must have this item in their wardrobe collection because it is the best and ideal choice for casual regular daily use. It is in our types of sleeveless tops list.
Peter Pan Collar Sleeveless Sheer Top
The black peter pan collar sleeveless top epitomises class and sophistication. It imparts a subdued vintage and traditional old-school style while blending with modern and lively colours. It is perfect even for formal attire, quickly transforming into something dignified and youthful.
Maroon Chiffon Sleeveless Top
It's not necessary to dress up or undergo a costly makeover in order to seem fashionable or lovely. You may still make a classic, edgy style statement while wearing simple clothing and still appear flawless and diva-like. A maroon embroidered top in chiffon is one such great appearance for adding a decorative touch. This affordable top looks incredibly stylish and costly while still being trendy and fashionable! It is in our types of sleeveless tops list.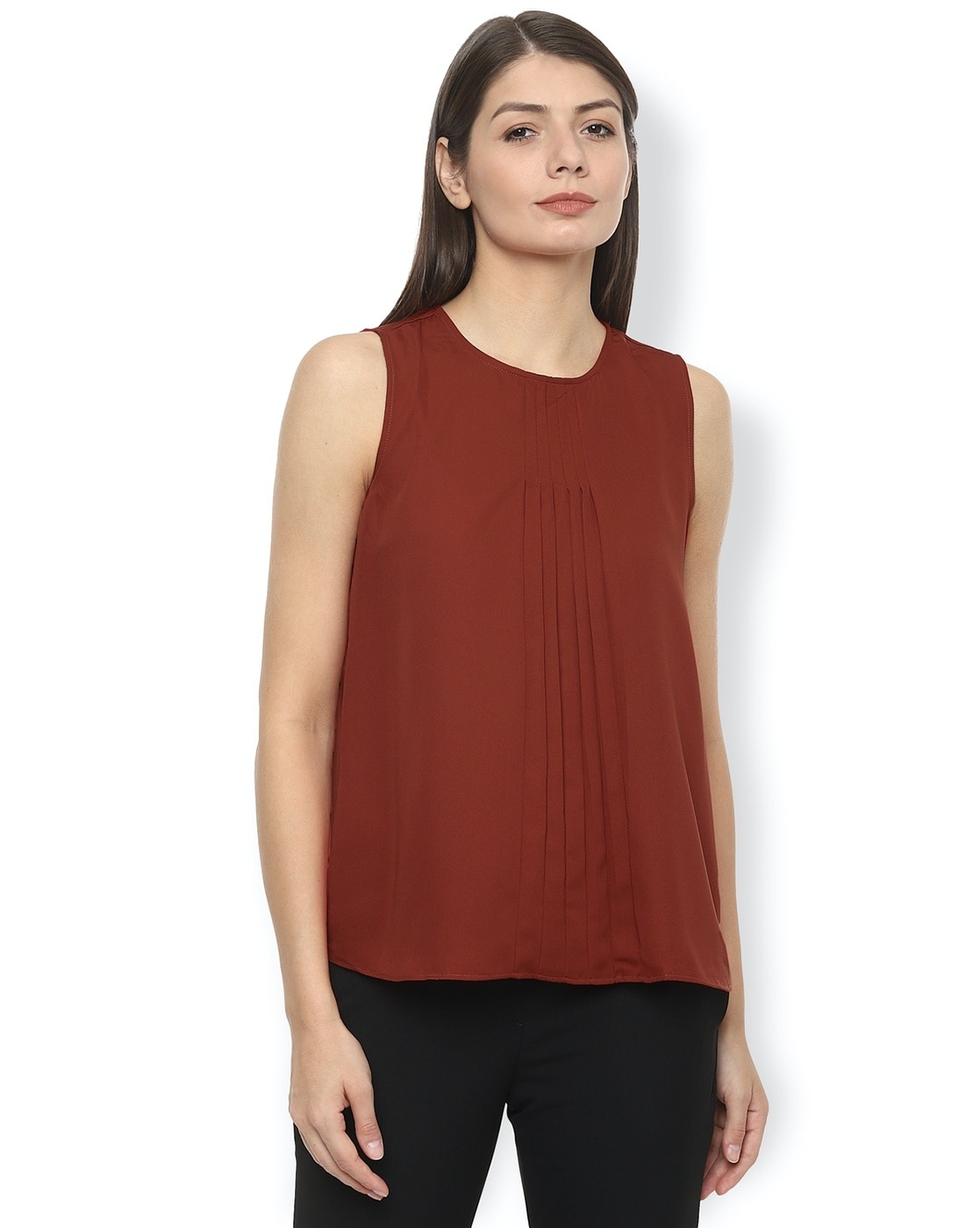 Superdry Sleeveless Peasant Top
Do you know what a peasant model top is? This streamlined, edgy, multipurpose garment has a square neck and no sleeves, and it is available in cream or off-white. It contains eyelet embroidery, which adds a touch of grace and elegance. Given the trendy statement it makes, women of all ages adore this classic variation. It delivers with ease.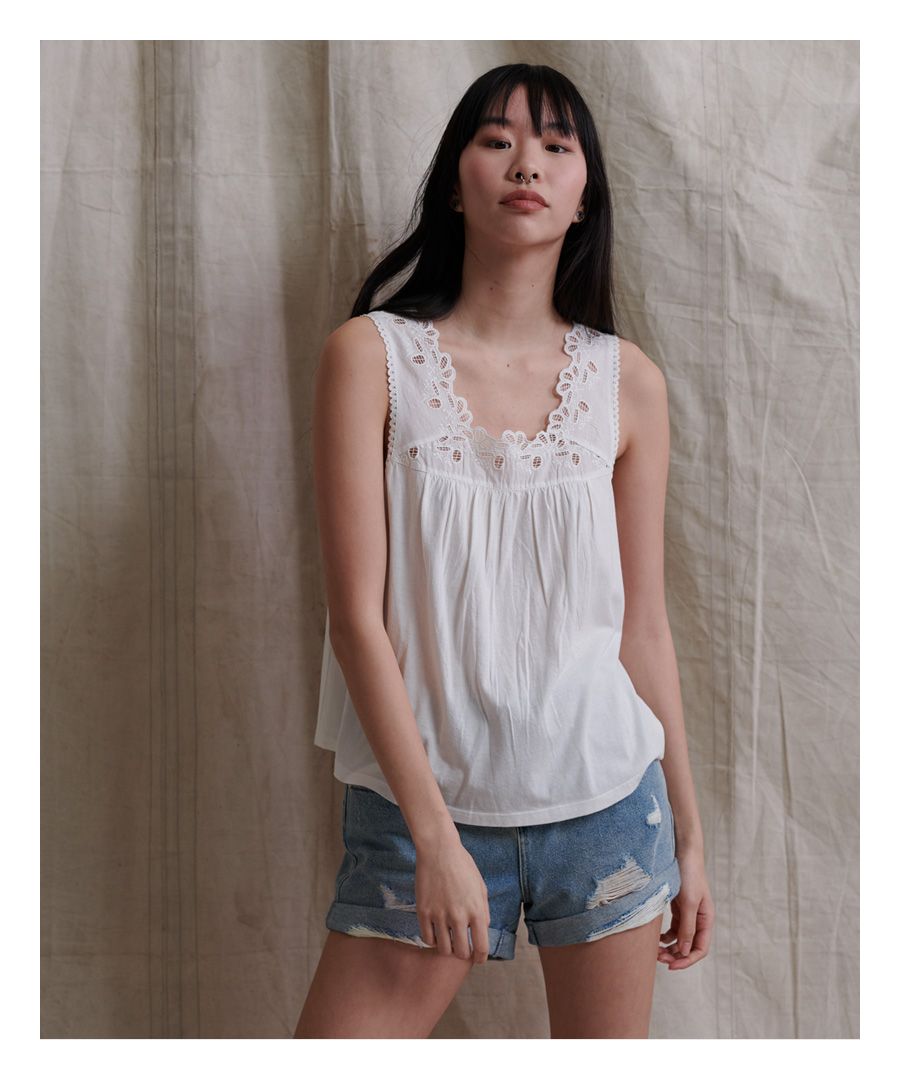 Designer Embroidered Sleeveless Tunic Top
Do you enjoy wearing fancy clothes? Do you not want to favour non-branded, one-of-a-kind clothing? If so, this option is ideal for you. The pink sleeveless tunic top from Ritu Kumar features stunning embroidery and a complex pattern close to the collar. The costume, which has a mandarin collar and a pastel pink appearance, is an exquisite and graceful item that you shouldn't pass up.
Denim Sleeveless Wrap Top
While the cotton denim fabric variety is extremely popular in the twenty-first century and is probably utilised in every outfit, here we are with a sleeveless top variation. This wrap-style blue solid denim shirt has a button fastening and a fashionable, edgy, and sensual appearance. The rope-patterned circular neck sticks out as being distinctive. Recently, high-neck tops have been really popular, and this is one of our absolute favourites! It is in our types of sleeveless tops list.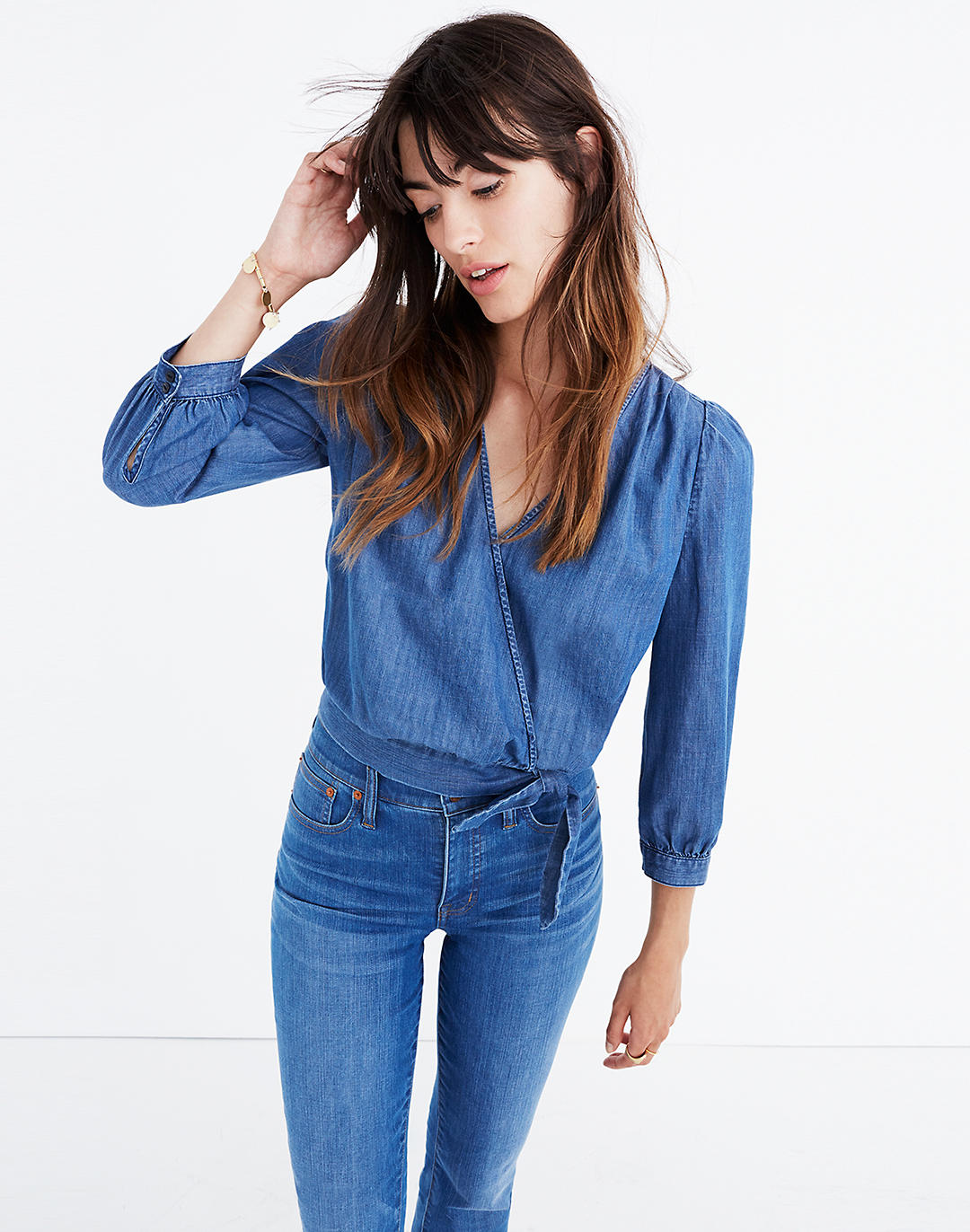 Lace Sleeveless Peplum Top
Several new millennials are sporting peplum tops once again. The version of this sleeveless top we prefer in black with self-design lace has a V neck and a zip fastening. This is the one for you if you enjoy retro and traditional, graceful designs yet want to exude a modern, edgy, sleek vibe. Your distinguished and opulent self-design will undoubtedly make you stand out from the crowd. It is in our types of sleeveless tops list.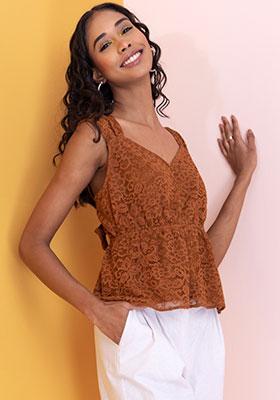 Plain Sleeveless Turtle Neck Top
Turtleneck tops are retro and were popular again a decade ago, but they are now back because of their elegant and lively touch. One of our favourites is this basic blue, sleeveless turtleneck shirt with its distinctive appearance and beautiful fashion statement. It is adaptable, can be worn on a variety of events, and makes women of all ages look young.
Cotton Sleeveless Printed Tops
This navy printed A-line sleeveless shirt is a gorgeous and perfect fit if you consider yourself to be a woman of comfort and simplicity and want to dress simply for everyday wear. Anyone can look thin and lean by wearing an outfit with a mandarin collar and textured ruffle look near the neck. The white prints give it even more charm. It is in our types of sleeveless tops list.
Long A-Line Sleeveless Top
Do you adore the modern aesthetic and find inspiration in the newest celebrity fashions? If so, this colourful longline dress has a matching ruffle to suit your needs. This garment is nothing less than an ensemble of elegance and refinement, with ruffle detailing close to the shoulder area and a grey solid style statement. It has a modern, edgy appearance that is perfect for women who don't like to give up on fashion.
High Neck Sleeveless Layered Top
Recently, high-neck tops have been really popular, and this is one of our absolute favourites! This sophisticated layered top in a dusty pink tint exudes only a contemporary appearance. For any woman who does not want to choose between formal dress and fashionable outlooks, its magnificent style and formal appearance make it the perfect choice. It is in our types of sleeveless tops list.
Conclusion
The sleeveless fashion style has its roots in western culture. Additionally, it's fashionable to wear shrugs over these sleeveless tops, which creates a cute heart-shaped effect. It also gives the wearer a polished appearance. The wool and chiffon tops are eagerly approached by women. Women with medium-sized or slender arms typically choose to wear tops with no sleeves. Keep Shopping your favourite sleeveless tops. Be Confident.
Click here, Top 30 long tops that are everyone's favourites!