Shirt type blouse designs are trendy to look at, and make the wearer look sleek and sophisticated. It is one of the most sought after blouse designs today and given here are 30 shirt type blouse designs that you must definitely try out:
Full sleeved blue satin:
Satin blouses look sleek, and full sleeves give it an even more polished appearance.
Red collared:
Red collared shirt type blouses look bold, and the common traditional zigzag pattern make it look real nice.
Chinese collared full length: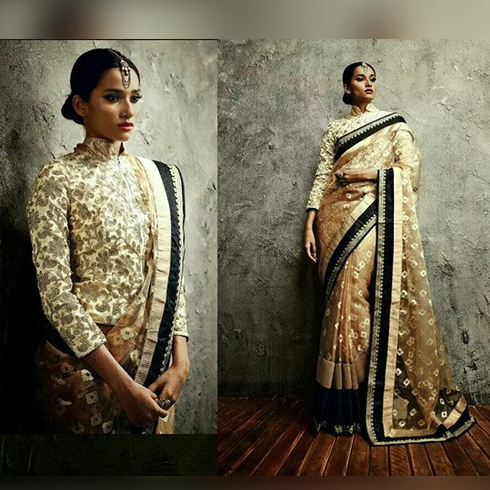 These look even more aesthetic with its almost shirt like similar appearance.
Full sleeved solid red:
This solid red blouse almost looks like a shirt, and looks super elegant when paired with the right accessories.
Also Read, Top 30 Types of Blouse Designs
Black collared:
The black collared shirt type blouse look even more elegant when paired with a contrasting solid saree.
Mustard yellow, with printed collar:
The mustard yellow shirt type blouse designs with kalamkari collar are literally to die for!
Silver:
Silver shirt type blouse designs look polished and sophisticated, owing to their overall matte look. Here, the embellishments add extra dazzle.
Full corset type:
Corset type blouse designs are a fitted form of shirt type blouse designs, and look gorgeous when paired with sarees.
Pale yellow and silver:
The combination of pale yellow and silver is a rare and astounding creation, and looks delightful.
Check Out The 25+ Latest Churidar Neck Designs In 2022
Peach floral:
The peach floral chikankari work shirt type blouse designs are absolutely red-carpet worthy!
Box hems:
Box hems make the outfit look edgy and sophisticated.
Bell sleeved:
Bell sleeved shirt type blouse designs are some of the most favourited of blouses amongst the customers.
Plaid: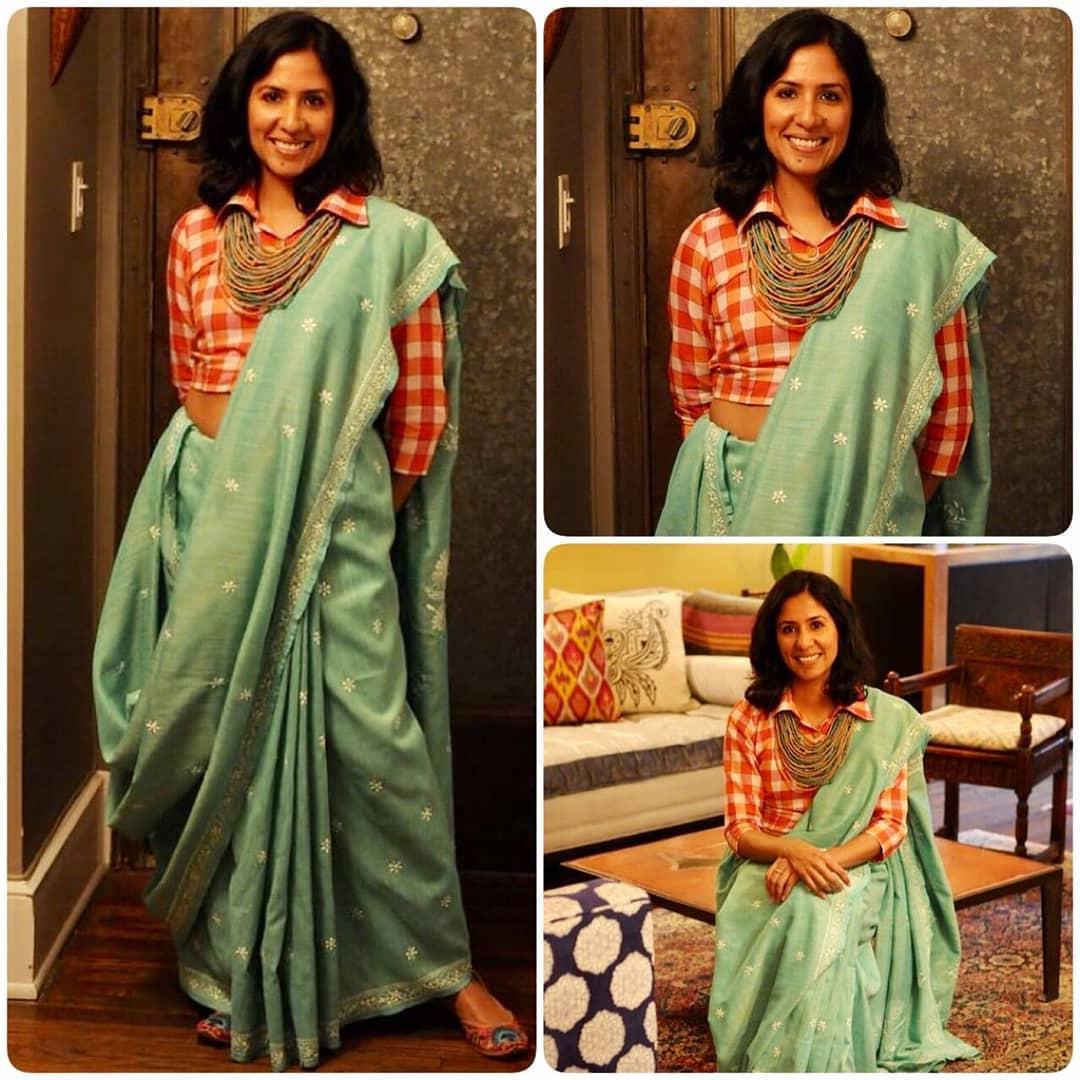 Plaid shirt type blouse designs are very popular because of their sophisticated look that many other designs fail to provide.
Choli style:
Inspired from the ghaghra-choli attire of Gujrati women, these shirt type blouse designs are colourful and vibrant.
Bottle green:
This bottle green blouse is sleek and has its own lustre to show. It looks good paired with a muted natural colour.
Blue:
This blouse in the combination of white and shades of blue looks playful and breezy; perfect for get-togethers!
Kalamkari inspired:
These shirt type blouse designs are made in kalamkari style, making these absolutely stunning.
Batik inspired:
These batik (tie-dye) inspired shirt type blouse designs are amongst some of the best of its kinds.
Kalamkari in green: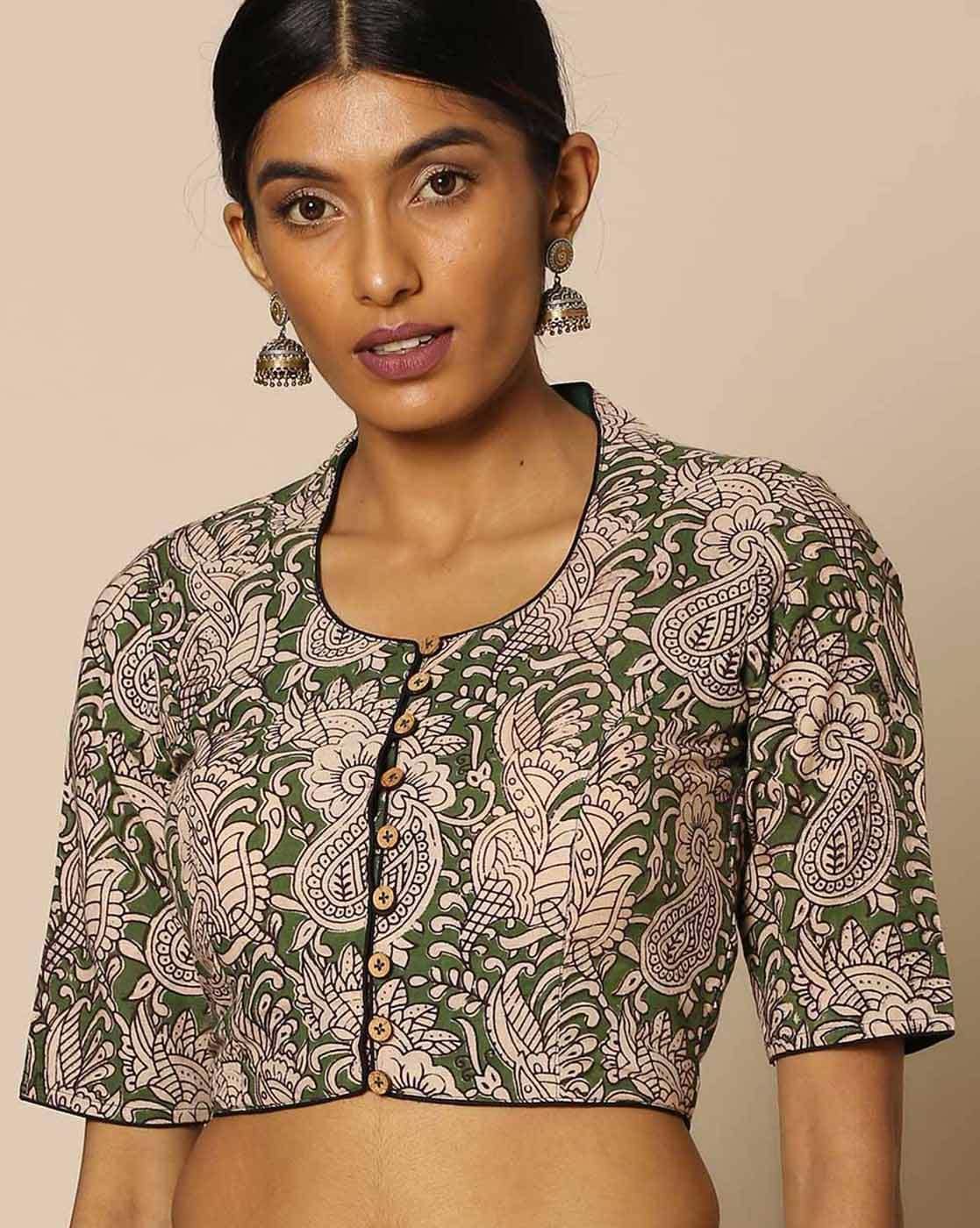 Kalamkari in green looks even more vibrant and can be paired with with a saree of complementary colours.
Multi-coloured kalamkari:
This combination of blue and green in kalamkari style looks phenomenal and in its simplicity lies its aesthetic value.
Red and gold zip-up: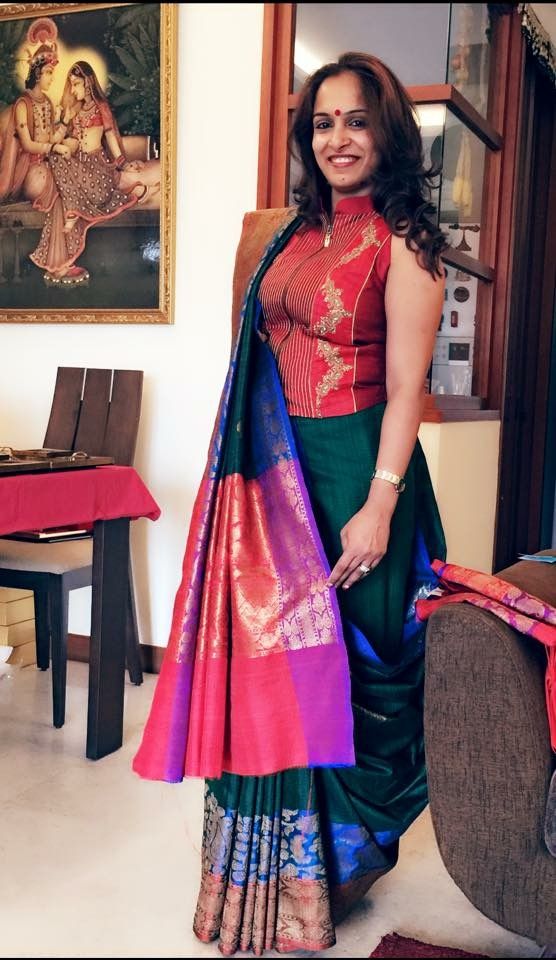 Zip-up shirt type blouse designs are modernistic and look very trendy in terms of fashion.
Block print:
Block print blouses have a rustic charm of their own and these are no different.
Turtleneck turquoise:
Shirt type blouse designs with turtlenecks are very uncommon, and look absolutely breath-catching.
Denim:
Denim blouses are slowly but surely entering the fashion scene and adding their durably beautiful touch.
Zig-zag:
The zig zag design looks beautiful and sophisticated when paired with a solid coloured, preferably one of a neutral shade, saree.
Burnt sienna:
Shirt type blouse designs look great when paired with white sarees, especially Kerala cottons, with thick golden borders.
Halter styled neck and collar:
Halter style necks are all the rage in an evergreen fashion sense, and these shirt type blouse designs look fabulous.
High neck: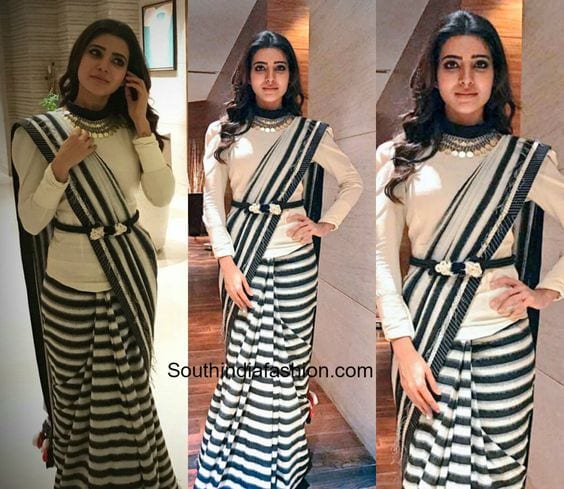 Neck neck shirt type blouse designs make one look very polished, and is especially recommended in a formal setting.
Puffed full sleeve: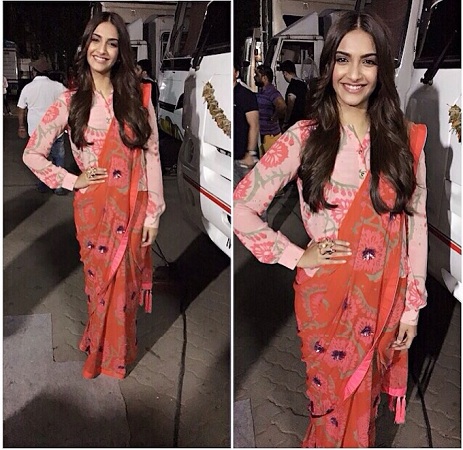 Puffed full sleeves are almost as popular as the bell sleeved shirt type blouse designs, and one of the most favourited.
Horizontal stripes:
Horizontal stripes provide an almost wider berth of eyesight, and make the outfit look more come together.
Conclusion:
Shirt type blouses are popular for their elegant style and sophisticated look. It gives a western touch to an otherwise traditional look.
Check out more of our works at: Baggout.com