If you're looking for some fantastic Cotton Suit Neck Designs, you've come to the right place because we're here to help. In this article, we will introduce you to some stunning designs that will elevate your desi look to the next level. Below is a gallery of some stunning neck designs for your suit that you will adore. You only need to scroll down to find all of your favorites. So, without further ado, go ahead and check it out because it's time to channel your inner desi girl and flaunt your ethnic ensembles to steal the show wherever you go. Come on, people, here are the 20 must-have cotton suit neck designs.
1. MANDARIN COLLAR NECK DESIGN WITH BUTTONS IN FRONT
Mandarin collar neck design works well for Indian suits, giving an exceptional and confident vibe. To add saas, this standing collar style is complemented with a potli button row in the front. For a distinct yet smart formal look, pair this neckline with your workwear brocade, silk, or cotton suits.
Make this an all-season neck pattern by using real buttons instead of faux buttons. Keep the buttons closed in the winter and open some in the summer for an airy look.
2. COLLAR NECK WITH SCOOP NECKLINE
A high back collar neck with a front scoop neck looks both sophisticated and edgy. This look is a winner and will elegantly highlight your curves. It's simple to do on fabrics like silk, cotton, or crepe and finishes with decorative button details. This is ideal for occasions such as Diwali or Eid, and you can adjust the depth of the front scoop to your liking.
3. BROAD V-NECK DESIGN
I'm sure we all have an Angrakha-style dress in our ethnic wardrobes. If your dress material is black linen, indigo, or warli art, consider this broad V-neck design that sweeps to the side. Get some piping for the neck and tie it in a side knot. It defines your outfits and fits well on you.
Check out the Latest Churidar Neck Designs in 2022
4. BOAT NECK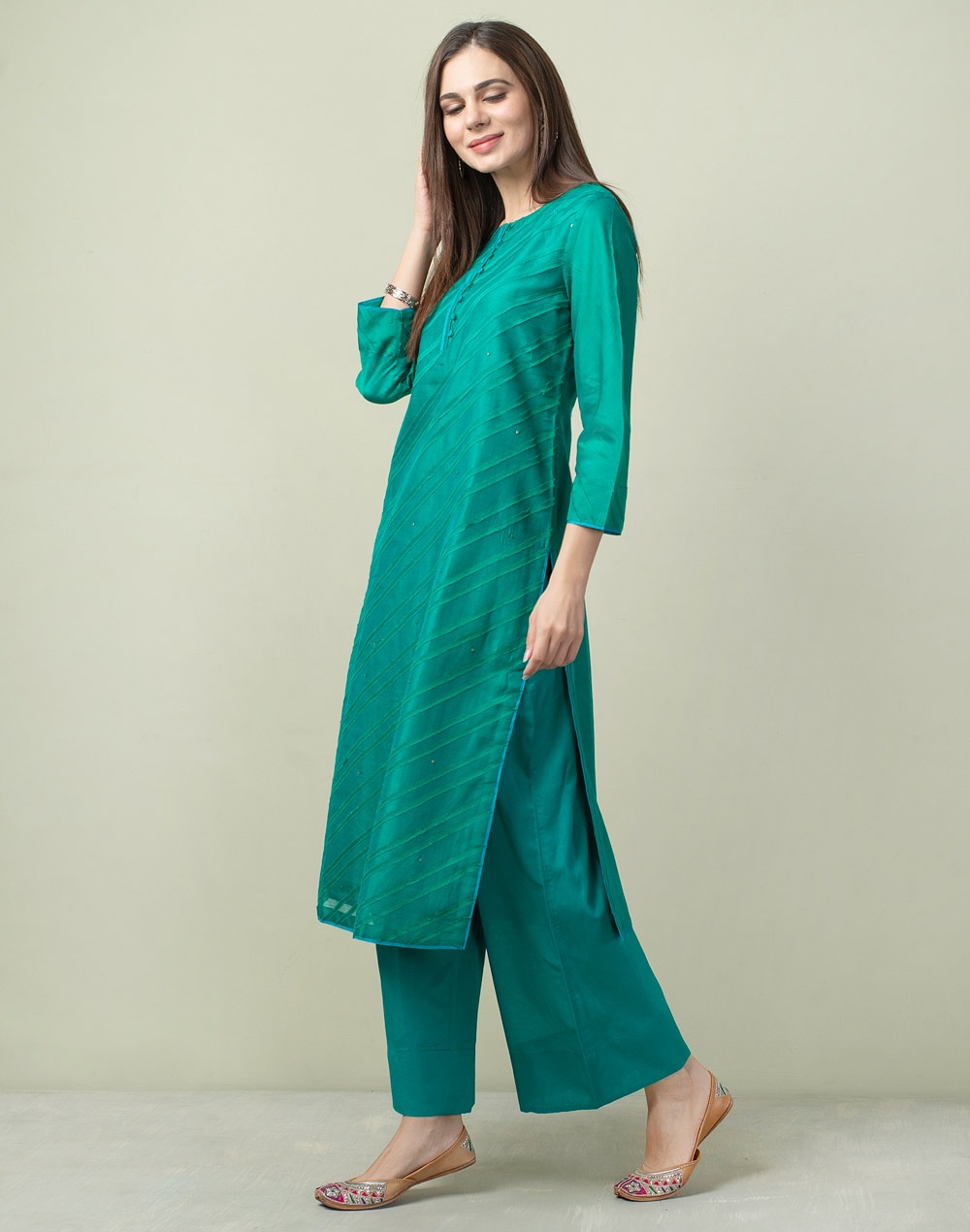 Can we ever have enough boat necks for our blouses, suits, and dresses? I can't, and I think they're gorgeous. And, because cotton makes everything stand out, the z-boat neck will look great as is or with piping/embroidery, etc.
5. COLLAR WITH PLUNGED V-NECK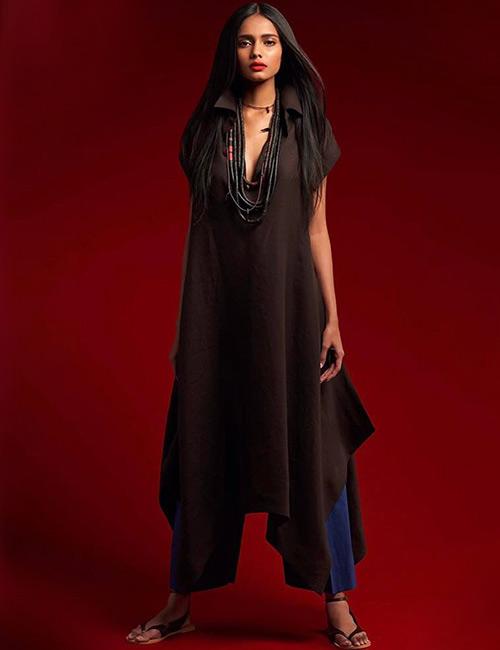 How about combining our two most popular neck designs? It's now possible, thanks to our designers. Collar neck with a plunge V-neckline – but no buttons! Don't be afraid to try it.
6. PLAIN ROUND NECK
Plain round necks will never let you down, but they can be quite bland at times, especially when it comes to cotton dresses. So, spice it up a little by adding something to the bodice that looks like an extension of your neck design.
7. BROAD HALF-DIAMOND NECK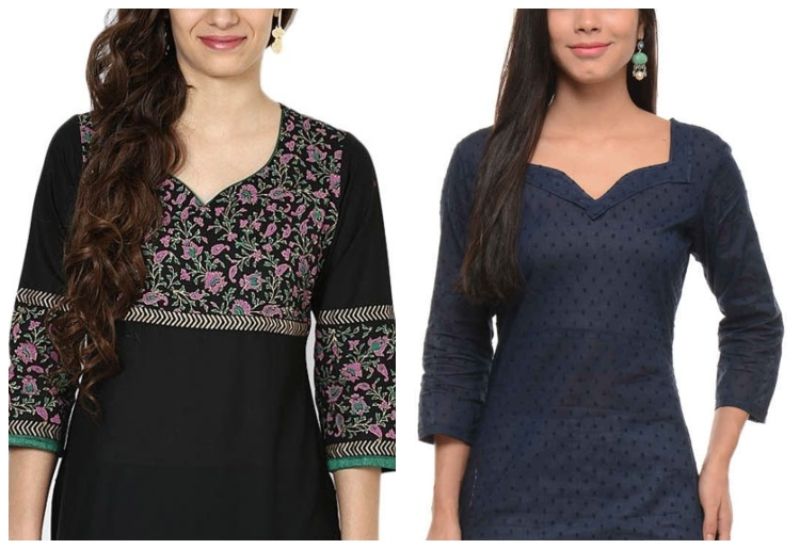 The half-diamond neck is another stylish neck design for your handloom salwar suits. It is broad and deep. Sambalpuri, pochampalli, ikkat, and other ethnic fabrics complement this neck design.
8. U-NECKLINE
Those who do not want a broad neckline from the shoulder area can choose a U-neck instead of a round one. This neckline is deep like a round, but it's cut in a more closed shape that looks like the letter U. It flatters women with broad shoulders and a large bust. It's a good look for everyday suits and office-appropriate salwar kameez.
9. SQUARE NECK DESIGN
This is a structured version of the classic neck shapes. Apart from suits and kurtas, this looks great on saree blouses, gowns, and cholis. Within the square neckline, there are many variations, with a less broad but deeper one being a rectangle and a broad one at the shoulders that tapers as it dips being a quadrangle or trapezium. Too much geometry – but quite lovely in Indian attire!
10. SWEETHEART NECKLINE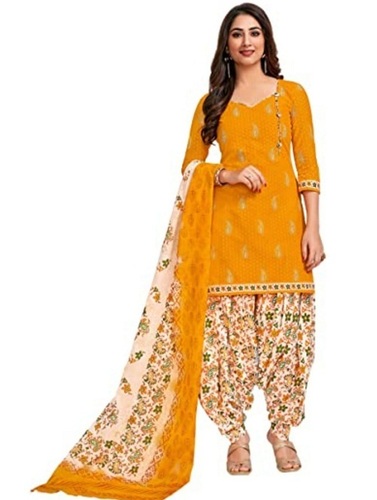 Sweetheart necklines are a variation of square necklines with a pointed, tapering bottom. It has the advantage of a square, wide-cut neckline as well as a defining, skimming V at the decolletage. Sweetheart can have severe or slightly curvy lines and is ideal for suits with heavy embroidery and distinctive dupattas. This neckline is suitable for women of all body shapes and all occasions. If you want to show off a necklace, this is a great option. If you are uncomfortable with deep-cut styles, avoid getting a broad sweetheart.
11. CHINESE COLLAR NECKLINE
This timeless style, which is a kurta staple, comes in a variety of variations. The collar can be made wide or narrow, with or without a kurta Patti or slit. If you have a swan neck, you can wear a buttoned Chinese collar with no slit in front, which is very fashionable but not for everyone. If you have a short, stocky neck, avoid it. Choose a variation with a narrow collar width and a deep front slit.
12. ANGRAKHA NECKLINE
A classic Angarakha neckline is where a fabric strip is made to visibly overlap the other. However, variations to this Nawabi, regal style are created, where extra fabric is attached – as shown in the picture – and an Angarakha design is created. This one looks stunning on grand Anarakalis, floor-length suits, cape-style suits, and lehenga suits.
13. KEY-HOLE NECKLINE
Peekaboo keyhole detail in any shape can be added to a close-cut, high, or collared neckline. This appears to be a fun and pretty way to strategically place embroidered patterns.
14. SIMPLE V-NECK WITH THREAD WORK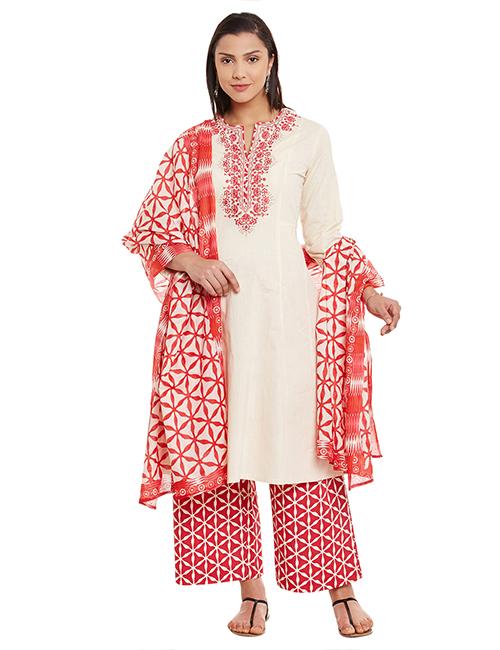 It's a neck that's built into most suit materials, so it's nothing new to us. However, a simple V with threadwork or embroidery will never go out of style. You don't need any accessories because the dress speaks for itself.
15. ROUND HIGH NECKLINE
Complete round necks are becoming increasingly popular for sarees and suits for two reasons: one, they look polished and neat, and two, they help to pull off the whole bare neck and chunky earrings look. If this is your style, a round neck with 3/4th sleeves should be your go-to outfit.
16. PRINTED FABRIC PATCHWORK ON THE NECKLINE
Add a contrast printed patch detail to your U neck design. Finish with decorative buttons in contrasting colors. If you have a plain kameez and a printed bottom in your salwar suit, this is a good neckline to try using the printed fabric from the salwar part. You can also try this look with Kurtis.
17. HIGH NECK DESIGN WITH TRIANGULAR CUT-OUT
Almost closed necklines in Punjabi suits are popular, and if you don't have any suits stitched in this style, now is the time to start. If you find higher necklines stuffy, try a triangle cut out in the front, as shown in the suit neck design image above, which acts as a breathing space and adds an ethereal touch. This neckline looks best with structured bottoms or more modern silhouettes such as trouser pants, palazzos, and so on.
18. NECK DESIGN WITH CONTRASTING FABRIC
Most of us who shop for cotton salwar suits prefer path work front neck designs. There are numerous variations and styles you can try with the patchwork technique, allowing you to create a one-of-a-kind new design for each suit you own. Basically, in a neck pattern like this, contrast fabric is used to form a design detail at the neck area, mostly from the salwar bottom. This is extremely attractive and also contributes to the overall harmony of the suit look.
19. SLEEK EYE SLIT NECK DESIGN
Everyone has tried or seen the keyhole neckline, which is a hole in the front neck, but here is a kaira-inspired suit neck design with a horizontal eye-shaped slit in a closed neckline. This slit is edged with piping details, and a little skin peeking out creates a modern vibe for girls with distinct tastes. This pattern is only suitable for festive suits that you can wear to special occasions and parties.
20. FLAT COLLAR NECKLINE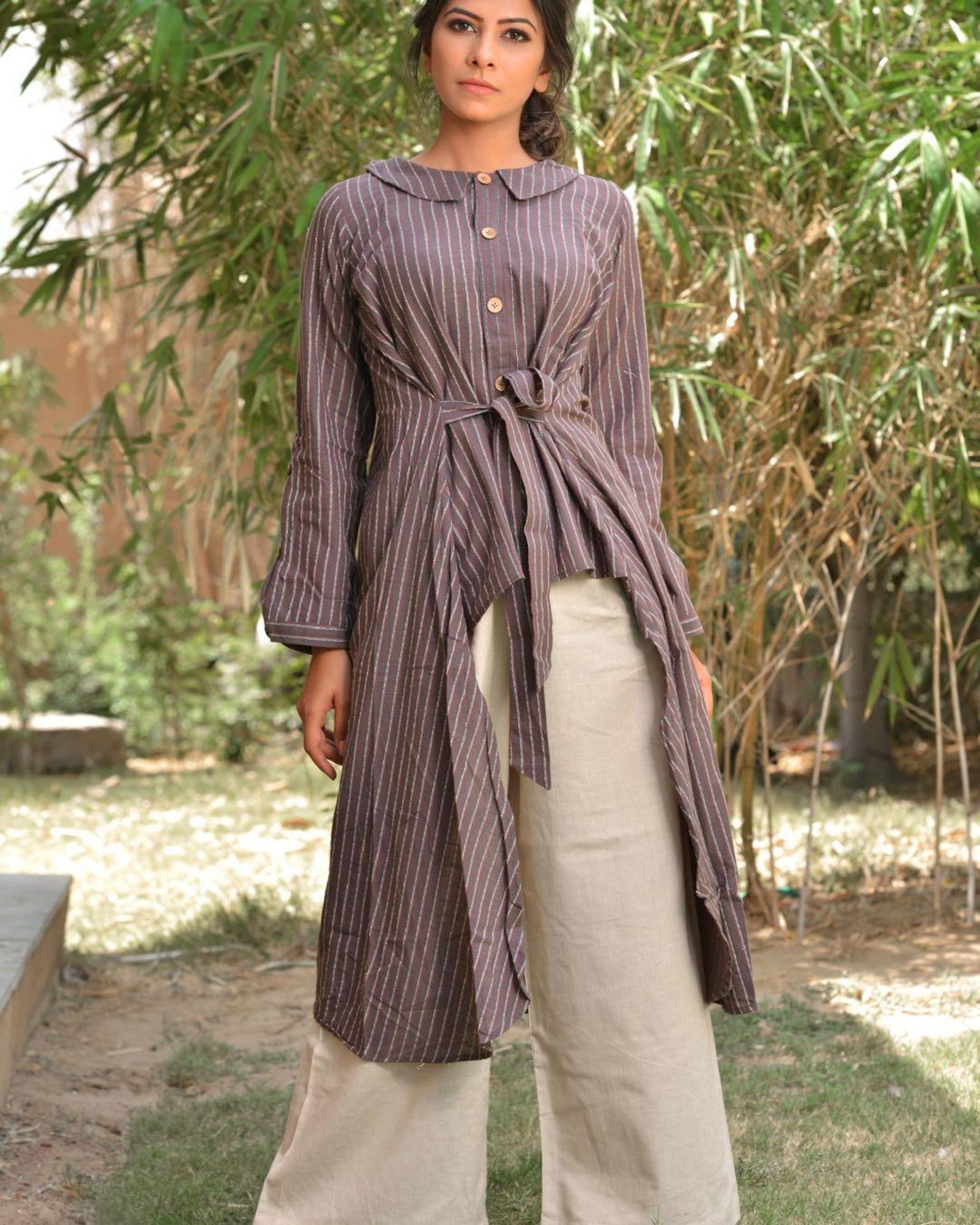 This new suit neck pattern screams girly and chic. This neck design is a modern choice, and when done in bright prints and colors, it is sure to draw attention at any party or event you attend. This is ideal for summer day events. Pair with a plain dupatta and Dori details where the neck flap ends. Keep the dupatta away from the neckline design, or else this lovely neckline will go unnoticed.
If you are looking to amp up your desi style, pairing them with a few gorgeous cotton will do the trick. With the right jewelry, a high neck or collar neck design with a colorful pair of palazzos can make you look super classy. If you're feeling bold, pair Chinese or choker-style Kurtis with patialas for a wonderful meal or party with your friends. There are numerous things you can do with a cotton suit neckline. We hope this article has given you a better understanding of the various cotton suit neck styles and how to style them. You can also check our other articles by clicking here. Happy styling and shopping!