The past has had a big impact on vintage clothes. Its primary themes each make references to popular fashion from the 1940s, 1950s, 1960s, and 1970s. Vintage clothing may be used in a number of ways due to its versatility. Women still choose knee-length dresses with flared bottoms and pleated skirts in the twenty-first century. Fashionistas of today are in awe of the charm of vintage attire. The grunge and hip-hop-inspired attire was without a doubt the decade's most defining feature. Due to the rising demand for vintage apparel, several department stores now carry it. At the moment, vintage attire is in style. In this article, we'll tell you how to get ready for retro theme party.
1. ANARKALI
It reminded me of that moment when Madhubala was found in the 1960 Mughal-e-Azam film wearing a full-length Anarkali. She's ignited the fashion world with her stunning appearance. One of the most romantic retro clothes one might wear on a Bollywood vintage night is a full-length Anarkali. Your look is improved by this attire, which is likely to fit all body types.
2. POLKA DOT DRESS
Nowadays, it's rather typical in India to hold a bridal shower or hen's night. The bride wants to look like a diva on this night, but so do the bridesmaids and other female visitors. If you're having difficulties with your past, try the polka-dot approach. Who can ever forget Dimple Kapadia wearing polka dots in Bobby? She successfully executed the look.
3. SAREE DRAPE STYLE
If you don't want to buy new clothing for every occasion, you may still look stylish at a theme party by restyling something you already own. Choose a worn-out saree from your or your mother's closet and drape it firmly. Draw attention to your little frame with Mumtaz's iconic orange saree drape or an ensemble like Sharmila Tagore's with sensual knotted back blouses.
4. KNEE LENGHT PUFFY TULLE SKIRT
It's possible that your mothers or aunts have mentioned how much they cherished donning the puffy knee-length skirts during their vogue in the 1950s and 1960s. You could still be donning those skirts right now if you ever loved them.
5. BLAZER WITH WELL TAILORED TROUSER
If you believe a blazer can only be worn in a contemporary, business-casual context, you are missing out on a crucial fashion trick. For a casually traditional appearance, pair your jacket with well-tailored jeans. This calls for a collared shirt and a jacket with a velvet finish. Accessories are a must-have to finish the outfit.
6. T SHIRT AND BAGGY JEANS
Wearing a t-shirt with the image of a famous singer from the 1990s is one of the best ways to embody that decade (think Madonna or the Spice Girls). This makes a stylish 90s outfit when worn with loose denim pants, platform sandals, and sparkly blue eyeshadow.
7. OVERALLS WITH ONE STRAP UNHOOKED
Supermodels posed in overalls for movies, music videos, and live performances in the 1990s. You must, however, wear a rayon shirt with a single strap that matches your overalls to complete the 90s party look. Many shirts with floral patterns and vivid colors were in demand. Best way to tell you how to get ready for retro theme party.
8. BELL BOTTOM
Bell bottom pants were previously worn by male and female Bollywood artists in both public and private situations. In the Bollywood film "Action Replay," Aishwarya Rai Bachchan and Akshay Kumar both wore bell bottom pants. High-neck shirts frequently include it.
9. PETER PAN COLLAR DRESS
Take this vintage outfit out on the town. It has a Peter Pan collar neck and is a straightforward 1940s style. The chiffon material used to make this dress will give its wearer a stunning appearance. This garment comes in a variety of colors. Try it out for a fashionable appearance. Best way to tell you how to get ready for retro theme party.
10. HIIPIE IN YOU WITH THE RETRO STYLE ACCESSORIES
Numerous hippie ideals have an impact on the retro style. Channel your inner hippie with vibrant colours and bizarre accessories to get the vintage vibe. Accessories from the 1970s included wide-buckled belts, round-framed sunglasses, headbands, and pendants with peace signs.
11. PALAZZO STYLE JUMPSUIT
This outfit is ideal for a throwback-themed Bollywood party. Zeenat Aman is seen wearing a Palazzo jumpsuit in "Chura Liya Hai Tumne." She wore a plain white jumpsuit with a Palazzo-inspired pattern, and it made her appear charming and stunning. When Malaika Arora wore a similar outfit, this trend resurfaced.
12. VINTAGE FLORAL GOWN
Put gorgeous flowers all over yourself to make yourself appear like a Bollywood star. The delightfully vintage floral colors and designs are available to everyone. The majority of weddings will have a summer or garden theme because summer is almost here. Pick a princess dress with plenty of lovely flower designs. Flowers in pink and light blue appear beautiful. Put on a stunning tiara to go with your evening dress. Best way to tell you how to get ready for retro theme party.
13. RUFFLE DRAMA
Choose a dress or top with flared sleeves for your stylish retro-themed event by drawing fashion inspiration from Zeenat Aman's vibrant looks or Neetu Singh alias Kapoor. To finish the outfit, pair a saree with a crop top that has bell or bat sleeves. If the theme has a western influence, keep the outfit casual by donning a bell-sleeved dress with a bright pattern and a coordinating scarf.
14. KNOTTED SHIRT AND DENIM SHORT
Wearing a plaid shirt is the key to looking retro. You may make your shirt look like a crop top by buttoning the top and tying a knot at the end. Tuck your shirt into your denim shorts if you don't want to tie a bow or knot. Wear this blouse with black leather ankle boots and denim shorts.
15. BIKER SHORTS AND SWEATSHIRT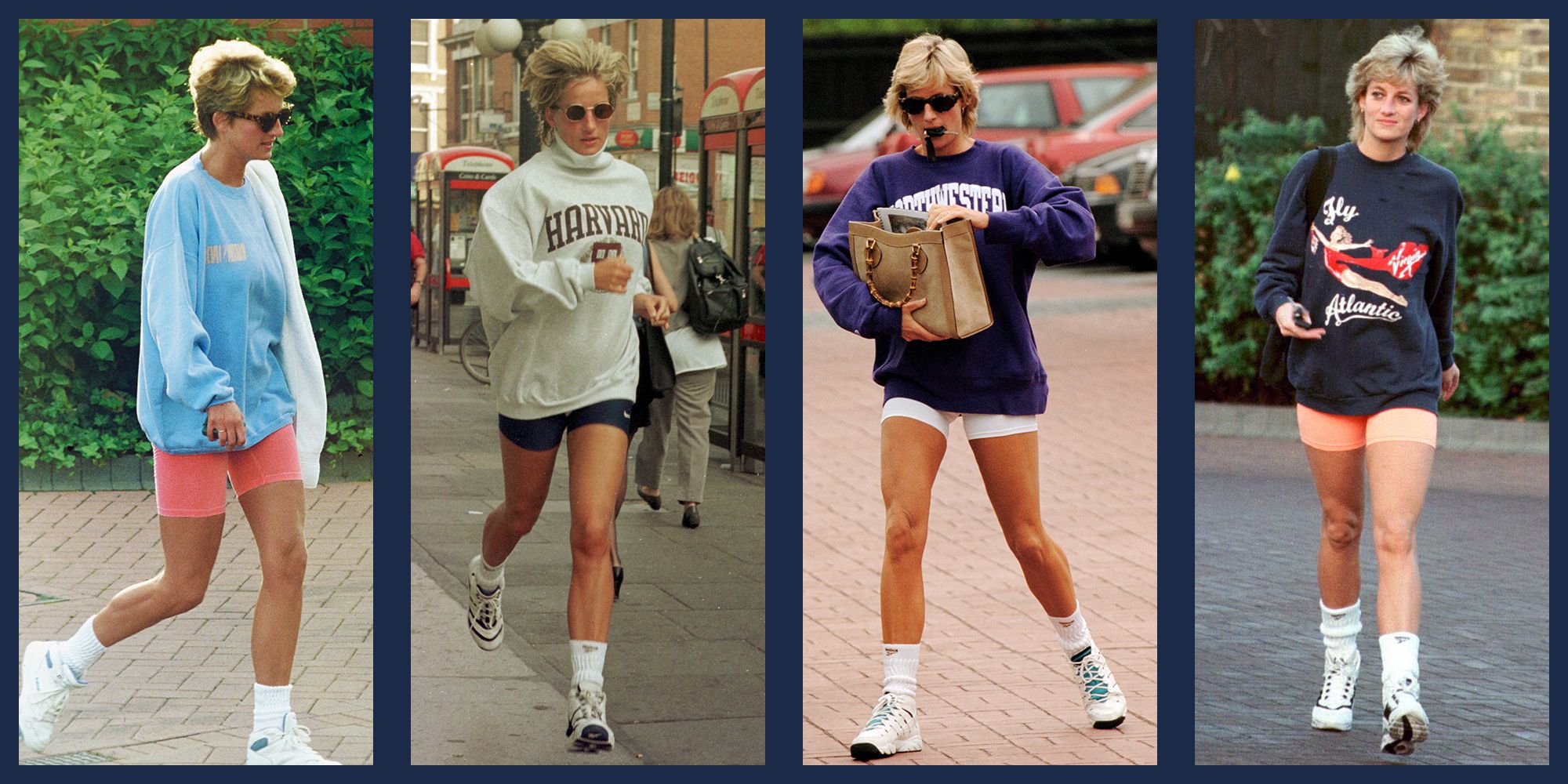 The costume was frequently worn by Lady Di on her route to or from the gym. The basic outfit consists of a sweatshirt, biker shorts, crew socks, and chunky white sneakers (plus, often, her car keys). Spandex shorts have had a rebirth in popularity in recent seasons, thanks to models like Bella Hadid and Hailey Bieber.
16. PALAZZO PANTS AND SHIRT
Palazzo pants were quite popular throughout the 1990s. To emulate 90s style, put on a blouse and a pair of palazzo trousers. Wrap a bandana across your forehead to complete the 90s party look, just like 90s R&B singer Aaliyah did. Best way to tell you how to get ready for retro theme party.
17. TURTLE NECK TEE WITH HIGH WAIST JEANS
High-waisted jeans and a turtleneck sweater were another popular outfit combination from the 1990s. Even though the style was widespread, it wasn't officially recognized as a 90s fashion classic until Steve Jobs attended the "PC Forum" conference in 1991. But with his 1996 attire, which featured high-waisted jeans, platform sneakers, and a ton of accessories, Dwayne Johnson—The Rock—personified the famous 90s party look.
18. RETRO HAIRSTYLES
Having a lot of hair was quite trendy at the time. Even Madonna and Bollywood stars from our own country had lush, thick hair. There was a lot of hairspray used to recreate the appearance. You can choose to wear your hair in a stunning bouffant, like our Bollywood stars did, or you can tease and crimp it to resemble Madonna's outrageous hairstyle.
19. RETRO POP LOOK
One of the most stunning and sparkling retro-themed party outfits is this dress. As a cabaret performer in the song Piya Tu Ab to Aaja from the fantastic film Caravan, Helen came in a golden attire. You can dress in her clothes for the retro-themed party. Make sure you accessorize with the appropriate jewellery and gorgeous eye makeup. Best way to tell you how to get ready for retro theme party.
20. FLARED PANTS
These fashionable pants are back in vogue and on-trend. For the pre-wedding ceremony, the bride and her bridesmaids must try on flared pants. They are a dated requirement. These trousers have form-fitting thighs and hips, yet the knees either flare out or stretch out. By wearing these trousers with short kurtis with floral motifs, you may channel the fashion of Bollywood women from the 1970s. Do you remember the actress Neetu Singh?
21. BODY HUGGING CHURIDAR
It's time to flaunt your curves! Take a cue from the body-hugging churidar suits worn with inspired elan by the B-town beauties of the Eastman colour and black-and-white eras. By glitzifying traditional clothing with their flawless flare, our antique divas changed Indian fashion. Despite the current trend for loose kurtas, these form-fitting shapes might help you amp up your appearance. Best way to tell you how to get ready for retro theme party.
22. CAPPED SLEEVES MIDI DRESS
With the pleated cap sleeves and simple designs, you'll be taken back in time to the classic 1950s. A pastel midi dress may be purchased, and red heels and lipstick can be added as accessories. The spring or summer are good seasons for this look.
23. LEATHER JACKET & SKIRT
There are several instances of antique clothing's refinement and maybe professionalism. This combo is the ideal illustration. You will surely appear more professional at the party if you dress this way. This jacket is larger than normal and has a magnificent aspect. A leather skirt looks wonderful with the blazer. Put on a pair of knee-high boots to finish the look. Best way to tell you how to get ready for retro theme party.
24. SCHOOL UNIFORM IN RETRO STYLE
The schoolgirl uniform fad was made famous by none other than Britney Spears, the decade's Princess of Pop. In 1998, the renowned "Baby, One More Time" music video was produced, and schoolgirl outfits also became more well-known. Most of the costume's parts are probably ones you already have, making assembly quite simple.
25. GO TACKY
Back then, being straightforward and vocal was crucial. To get the intended look, choose vibrant colors and dramatic styles. Because your retro attire doesn't exactly reflect your sense of style, get outside of your comfort zone. So instead of trying to play it safe, be cheesy. Even the 1970s' hair bows and fishnet stockings lacked refinement! Best way to tell you how to get ready for retro theme party.
26. CHIFFON SAREE
You're definitely missing out on life if you don't show up to a retro-themed party wearing a chiffon saree that was inspired by Sridevi. The Mr. India chiffon saree worn by Sridevi rapidly became well-known in the Indian fashion industry. Chiffon sarees were popular both in the past and the present. The fashion was influenced by Rekha's chiffon saree in the 1981 film Silsila.
27. MATCHING SET FOR RETRO LOOK
This feminine outfit has a retro vibe to it. This matching outfit looks opulent thanks to the same peplum top, balloon sleeves, and pants. You look wonderful doing this. Wear long necklaces and scarves. You may use headbands or ribbons in a variety of colors as hair decorations. Put on some cat-eye or round-rimmed sunglasses for some extra flair!
28. BANDANA STYLE
Do you desire the ideal bohemian appearance? To conceal your unkempt buns, get silk bandanas with polka-dot and checkered designs. To complete your appearance, have a look at these bandana hairstyle suggestions. Tie a bandana across your forehead like 90s R&B star Aaliyah did to complete the 90s party look.
29. PLEATED SKIRT AND HIGH KNEE LONG BOOTS
At that period, the knee-length skirt was highly fashionable. You might go with a cold-shoulder top or a shirt with a high collar for the top. Put on a pleated skirt. Go ahead and wear tights if you find them comfortable. Best way to tell you how to get ready for retro theme party.
30. GET THE MAKEUP RIGHT
However, dressing up in a costume isn't the only way to seem old-fashioned. Makeup is a key element of any style that can work for you. Select one of two options based on your attire and hairstyle. While the second is a more natural appearance with minimal makeup and winged eyeliner, the first is a bold look with vibrant red lipstick and expressive eyes.
CONCLUSION
So to help you get ready for a retro theme party, here are 30 lovely and amazing retro-style costumes. Hema Malini of Sholay and Dimple Kapadia of Bobby are two instances of Indian fashion icons who have always set trends. Everything moves and transforms. Now that you are fully informed of the most recent trends, you may choose your wardrobe. If you want to draw attention, be sure to adorn it properly!