Banarasi sarees are Indian sarees made in Varanasi, a city called Benares or Banaras. The sarees are well-known to be among the best in India. Rich Banarasi sarees have a timeless quality that makes them perfect for any occasion, whether you want to include one in your bridal trousseau or wear one on your wedding day. A Banarasi saree has a characteristic that is unique to its prints. Yes, there is a reason why some of the most well-known designers in the world continue to use Banarasi in their works, and we have all the information and ideas you'll ever need in one post! The Banarasi saree came into existence during the Mughal Empire when Muslim weavers began making silk Banarasi sarees in Banaras because it complemented their cultural heritage nicely. You can look up to several different Banarasi saree styles rather than simply one.
1. Pure Silk Banarasi Saree (Katan)
A simple silk fabric is called Katan. This has produced pure silk sarees by weaving pure silk threads, which are subsequently twisted. While these sarees are currently made on looms, Katan sarees were handwoven on handlooms in the past. Benarasi has fallen in love thanks to the fabric's exceptional softness and fineness.
2. Butidar Banarasi Saree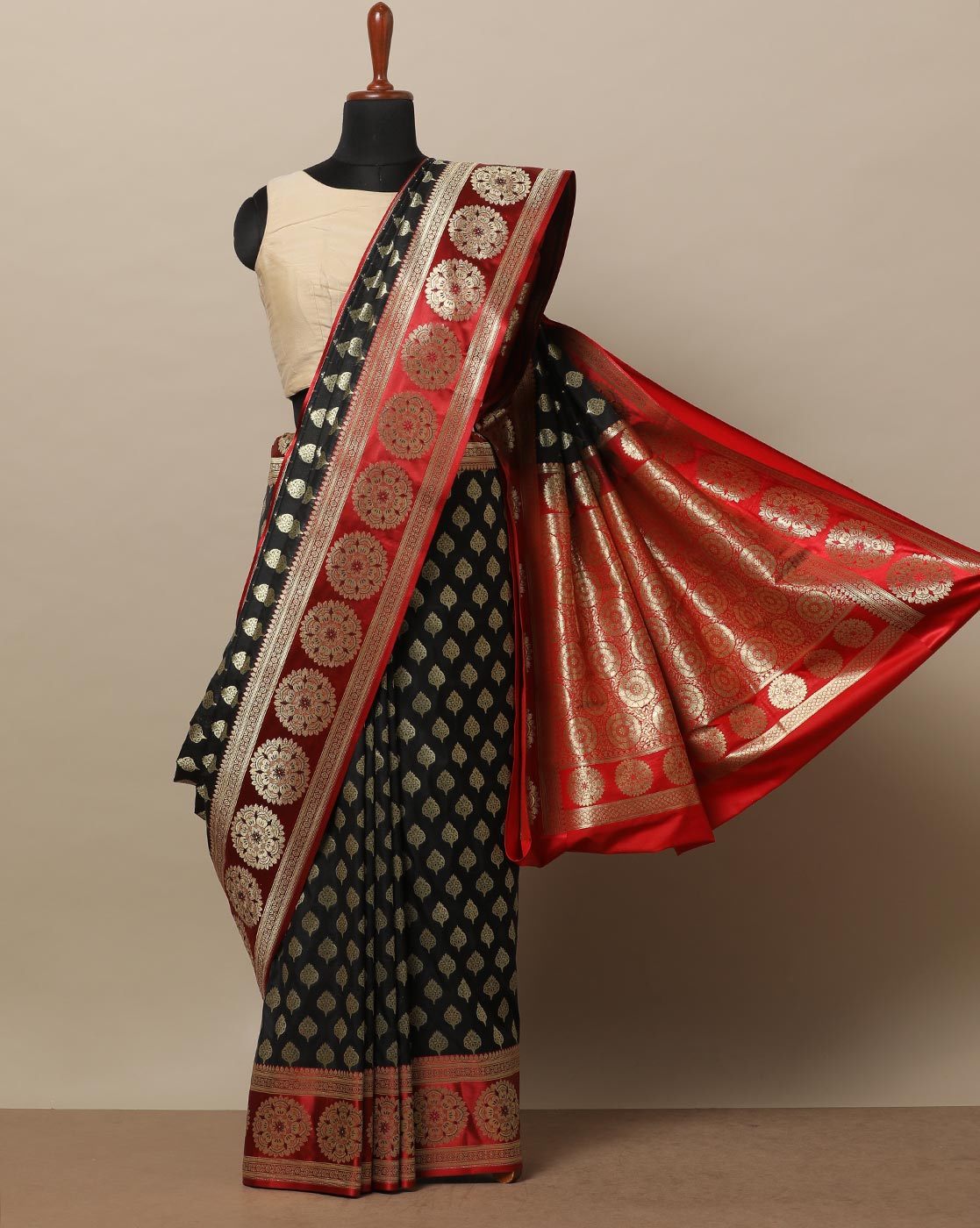 The most well-known and recognizable sarees are probably Butidar sarees, which are intricately woven and brocaded with gold, silver, and silk threads. Compared to silver threads, gold is a deeper color. As a result, this type of brocade patterning is referred to as Ganga-Jamuna by Banaras weavers. Angoor Bail, Ashraffi Butti, Latiffa Butti, Reshem Butti Jhummar Butti, Jhari Butta, Patti Butti, Baluchar Butti, and many other motifs are well-known locally.
3. Cutwork Banarasi Saree
These sarees are essentially the less expensive Jamdani sarees, as opposed to the ones that were previously discussed. This one is produced using the cutwork technique on simple silk fabric with a little cotton added. Jasmine, marigold flowers, creepers, and leaves are the most widely used motifs in cutwork sarees.
4. Shattir Banarasi Saree
We all know that brides need a touch of modernity in their attire, making shattir the ideal choice. Under the name Banarasi, shattir is the only fabric utilized to make cutting-edge, unique designs.
5. Organza (Kora) designed with zari and silk Banarasi Saree
The most exquisite and lavishly woven fabric, brocades have varied patterns created by the warp and weft. Zari brocade is made by tightly weaving coated silver and gold threads around a silk yarn. This material is ideal for a Banarasi saree that will make a bride at a wedding appear stunning.
6. Georgette Banarasi Sarees
Georgette is a delicately woven light fabric with a plain weave, as you may already know. Modern sarees are more popular for this.
7. Jangla Banarasi Sarees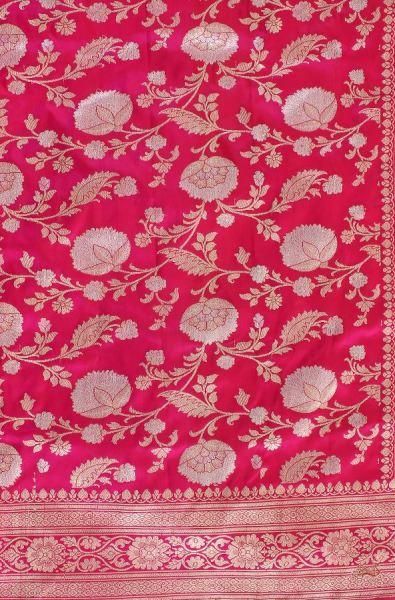 This particular pattern, which covers the saree with a plant motif, explains how the word Jangla was adapted from the word jungle. It is a variety of brocades distinguished by its complex weaving.
8. Tanchoi Banarasi Sarees
This is a stunning labyrinth or paisley pattern woven with zari in the "Jamawar" manner. This is a different style of Benarasi saree that is particularly popular for weddings. Weavers from Banaras use vibrant weft silk yarns to weave motifs onto these sarees. This sari's pallu is frequently embellished with huge paisley motifs, while the border may feature criss-cross designs.
9. Tissue Banarasi Saree
These are the most delicately designed and executed of all. These exquisitely woven tissue sarees have a golden zari weft that gives them a shimmer. Popular patterns for tissue sarees include a golden zari-woven lotus floating in a brilliant pond with the cut-work technique used to design the water drops. The sari's border and pallu are decorated with self-woven paisley patterns.
10. Shikargarh Banarasi Saree
Banarasi sarees in the shape of Shikargarh feature patterns inspired by numerous natural sources. These have patterns with hunting and animal motifs as their foundation. It has Zari work, especially on the pallu side and at the borders. When you consider the wider picture, Shikargarh is not only thought of as a Banarasi saree but also as a form of art in and of itself.
11. Jamdani Banarasi Saree
Thought to be more of an interpretation than a particular Banarasi saree style, this saree. A Dhakai saree was crafted from cotton, silk, and some zari threads. The non-structural weft weaving method is used by craftsmen to paint lovely flower patterns. Commonly used motifs include marigolds, jasmine, and emeralds. Jamdani Banarasi sarees are incredibly lavish and hefty. They look nice with plain blouses that have prominent shading for a richer appearance. If your saree has a half-and-half pattern, you may pick a lovely brocade to go with the fundamental style.
12. Dupion Silk Banarasi Saree
Dupioni is another name for Dupion. Dupion Silk has a distinctive structure that makes it likely the most immaculate Banaras silk. Its inherent characteristic of bumps or silk ties inside the yarn texture makes it easily distinguishable from other varieties of silk. Since dupion silk cannot be stretched, estimates must be made carefully before designs are removed. Additionally, the surface isn't as smooth as other silks, and the edges tend to unravel. When the texture is viewed from particular angles, two strings that are separated by stubs create a shining effect.
13. Khaddi Georgette Banarasi Saree
Khaddi silk, which is often made of silk, has a sheer, delicate feel. Compared to chiffon, it is slightly thicker and opaque. Georgette khaddi appears to move forward on its thanks to the springy characteristic that comes from the twisted crepe filaments from which it is constructed. It has a thin, often crepe-yarn, and development is woven silk texture.
14. Chanderi Banarasi Saree
It is made with cotton in the weave and the finest silk in the warp. Consequently, also known as SICO, or Silk by Cotton. a typical cloth that is advised for summer due to its cooling properties.
15. Monga Banarasi Saree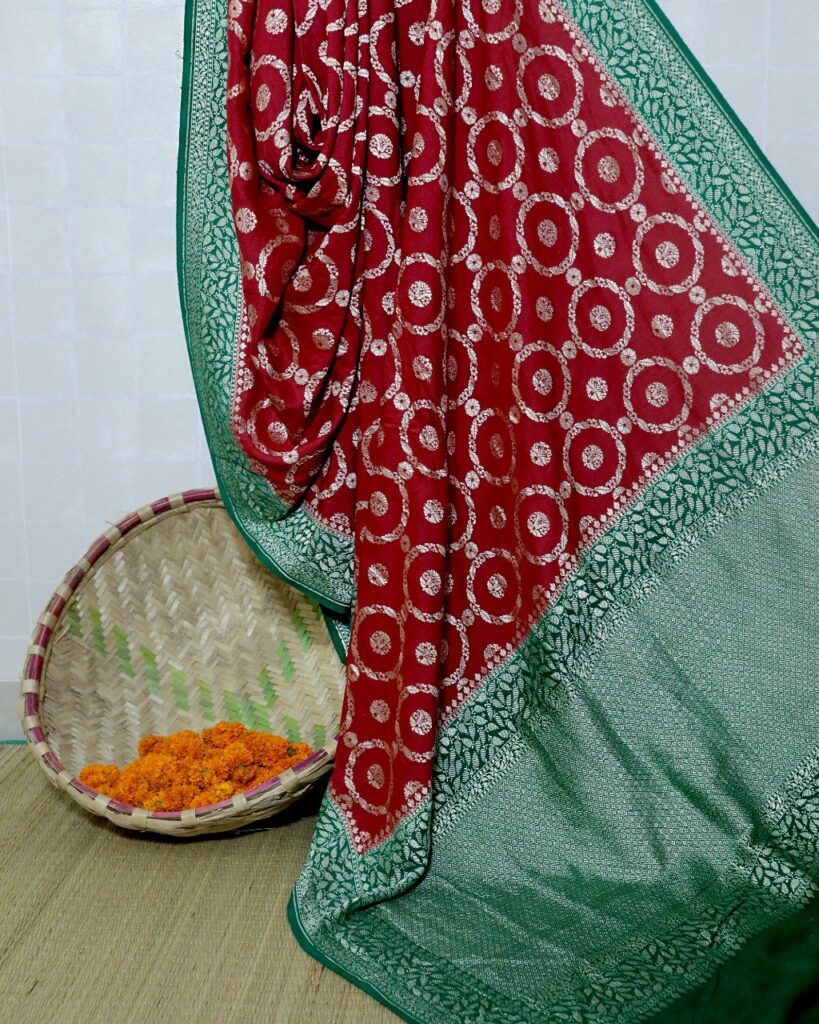 A Banaras saree fabric that was once valued by royalty because of its exquisite golden-yellow hue and tough construction. It is made of Muga silk yarn, which is widely used in northern and eastern India.
16. Linen Banarasi Saree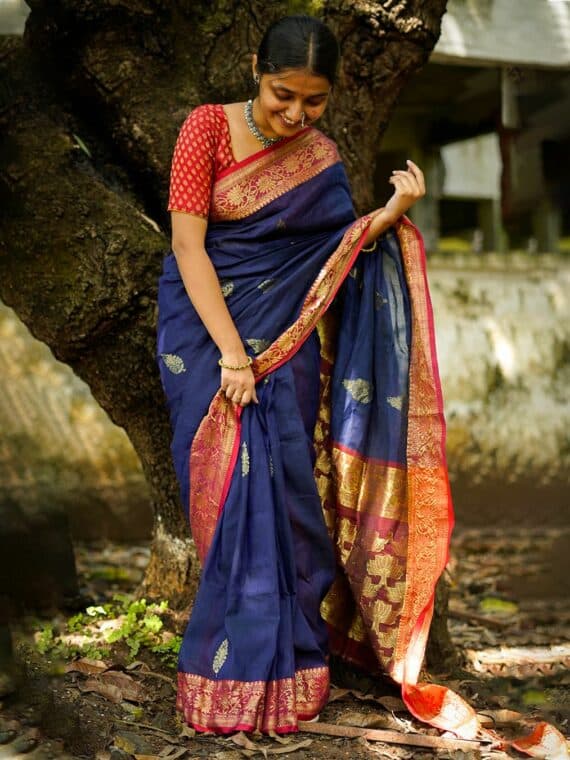 Among the earliest fabrics made from linseed. Because it dries more quickly than cotton and has a high absorption rate, it is favored in heat.
17. Raw Silk Banarasi Saree
Sericin is present in raw silk. It is essentially made of untreated silk threads, which are easily fashioned into a variety of clothing. The second-largest producer of this antique silk handloom is India.
18. Kadhwa Banarasi Saree
Also, known as Kadwa or Kadhua. It is one of the most time-consuming methods. Through the use of this technique, a single saree can be weaved in a variety of sizes, hues, designs, and textures. As opposed to the cutwork method, all the motifs are individually woven, therefore no cutting is necessary at the rear.
19. Meenakari Banarasi Saree
Multicolored motifs are produced by weaving this pattern using zari in the weft and various hued silk threads.
20. Kadiyal Banarasi Saree
By using multiple-colored silk threads in the warp, this technique allows the border of the saree to contrast with the body color.
Hope you find this article useful… You can also check other articles by clicking here. Happy Shopping! 🙂