Since the beginning of time, the Indian subcontinent has been familiar with silk sarees. Sarees produced from the finest mulberry silk are considered to be luxury items because they are very expensive. The chief host must dress to the nines in her finest silk saree for any wedding or traditional celebration to be complete. Even the mere mention of silk sarees quickly makes us think of grandeur and wealth. India's women consistently choose silk over all other materials as their top preference. We have a ton of options because dozens of distinct types of silk saris are produced throughout India. Come along as we look at some of the newest and most popular silk saree designs!
1. ASSAM SILK SAREE
Because of its delicate and lightweight qualities, every woman's dream is to own an Assam Silk Saree. Its silk has also been a favorite since antiquity. Additionally, Assam produces three key types of wild silks that are used to create its silk: warm Eri silk, white pat/part silk, and golden Muga silk. In addition, Assam's silk industry, which is now based in Sualkuchi, requires a lot of work. Every single Assam Silk Saree produced traditionally is handwoven. Additionally, it takes longer than a month to finish. Price-wise, Assam Silk Sarees are less expensive than Patola and Kanjivaram Silk Sarees.
2. UPPADA SILK SAREE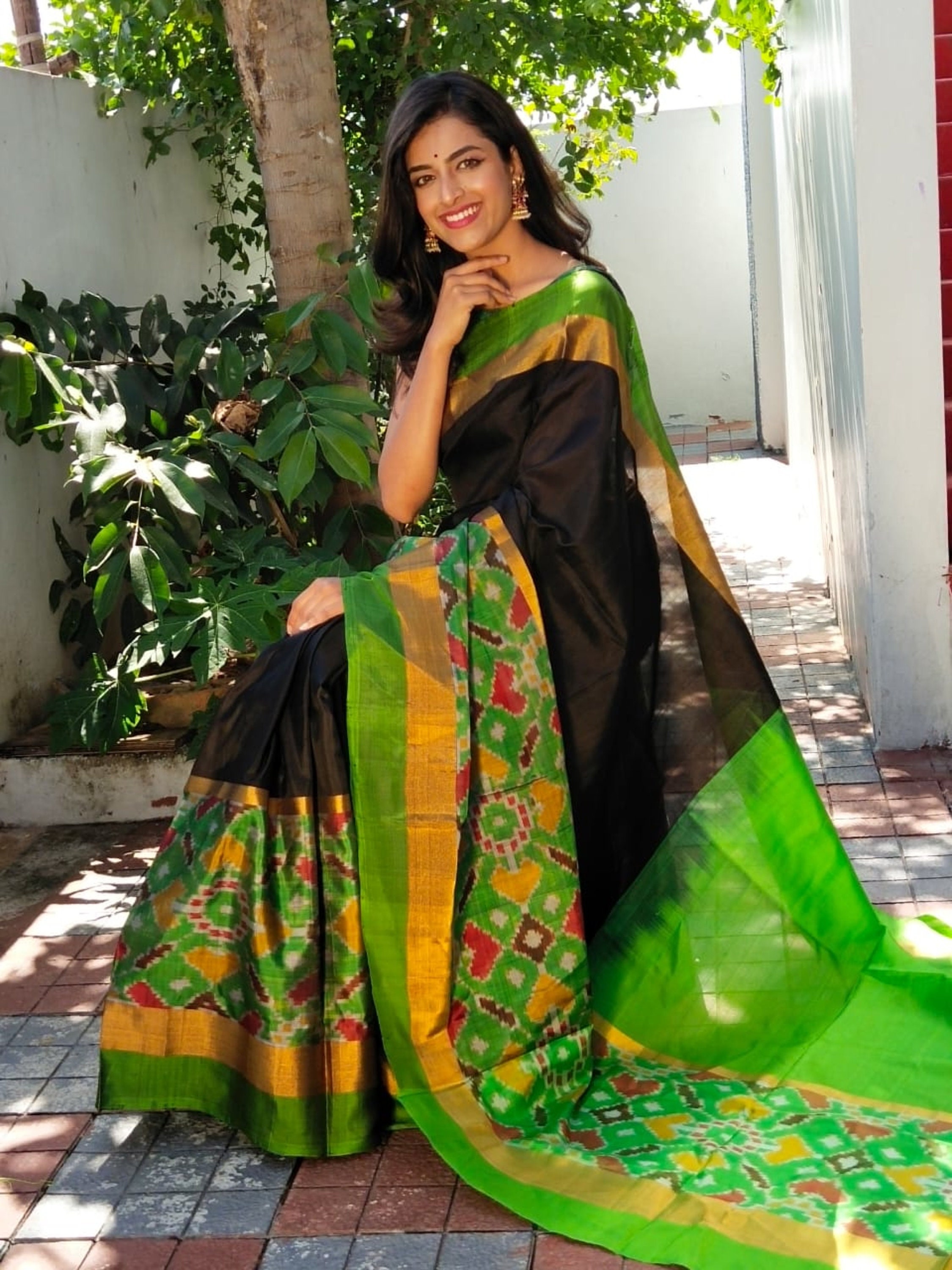 First off, the East Godavari district of Andhra Pradesh's small beach is where Uppada Silk gets its name. Second, it is made using the conventional Jamdani procedure. Additionally, the length and width of Uppada Silk sarees are used to determine thread count. The weaver also employs a significant amount of zari work in the elegant patterns of Uppada Silk sarees.
3. BANARASI SILK SAREE
It stands for wealth and refinement. It is frequently included in an Indian bride's. Goldwork, compact weaving, figures with fine details, metallic visual effects, pallus, jal, and mina work are further characteristics of Banarasi silk sarees. Additionally, a Pure Elegance Banarasi Silk Saree is sufficient to win the bride's heart. The cost of a banarasi silk saree often ranges from $20,000 to $2,00,000 for the bridal collection.
4. ART SILK SAREE
Bamboo silk is another name for artificial silk, which is made from synthetic fiber that resembles silk. The cost of art silk sarees is typically lower than that of other varieties of silk sarees. It is recognizable from pure silk, yet it is slicker than other kinds of silk sarees. It is offered for a reasonable price that starts at Rs 1000. So if you adore silk sarees but find it difficult to purchase pure silk, use this one instead. It is fashionable yet refined for a party.
5. BALUCHARI SILK SAREE
One of the 34 National Awards for the years 2009 and 2010's main weaving styles winners was the Baluchari silk sari. The silkworm's cocoon serves as the material for the saree. Baluchari silk sarees are stunning because they are polished after weaving. Starting at Rs 20,000 to Rs 2,000, the Baluchari Silk Saree price ranges in cost.
6. TUSSAR SILK SAREE
It is substantially less expensive than silk and was created during the Industrial Revolution. This silk is wearable in hotter regions of the world because of its cooling nature. Bhagalpuri Silk Saree is also known as Tussar Silk Saree. Tribes seem to favor it more. The larvae of numerous species of silkworms in the moth genus Antheraea are used to make its silk. It is renowned for its luxurious texture, deep natural gold hue, and brilliant artistry of nature-inspired motifs that set it apart from the competition. Designers like Manish Malhotra and Sabyasachi have always played around with this material. Prices for Tussar Silk Sarees begin at Rs. 2500. Its primary characteristic is the way it reflects two different hues at various angles.
7. BOMKAI SILK SAREE
Sonepuri Sarees are another name for Bomkai Silk Sarees. Popular handcrafted silk sarees like this can be seen at many fashion shows. In the past, Orissan Bomkai silk sarees with eye-catching hues and fish motif weaving were popular because they were viewed as symbols of prosperity and success. Costs for Bomkai Silk Saree vary from Rs 10,000 to 50,000.
8. BANGLORI SILK SAREE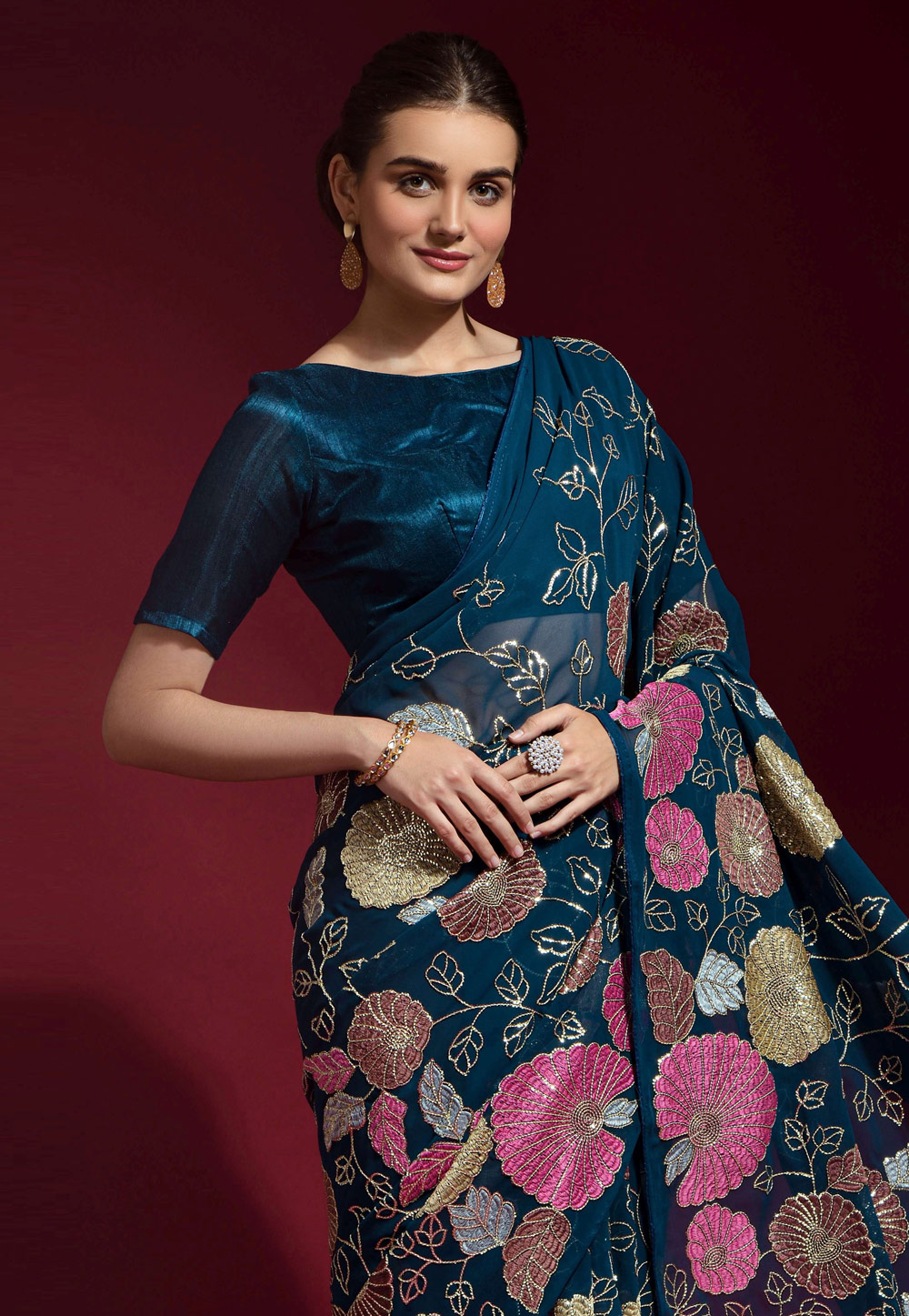 Sarees made of silk from Banglori are renowned for their elegance and silk purity. The most recent Banglori silk printed saree, which is available in double-color, printed crepe silk saris, and reversible silk saree design is more well-liked by young women. Price ranges for Banglori silk sarees begin at Rs 10,000 and above.
9. CHANDERI SILK SAREE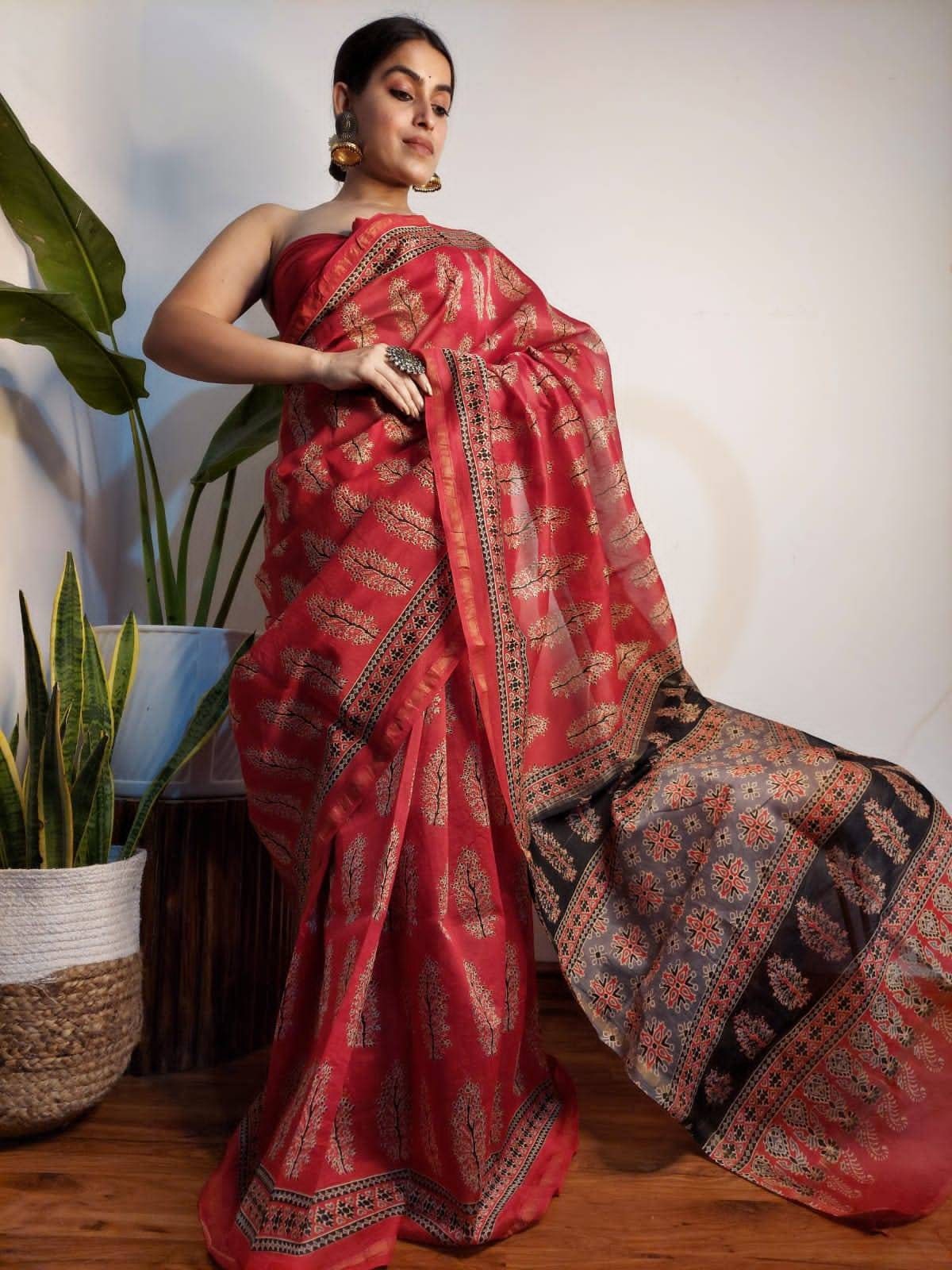 The lightweight, shiny, smooth, silky, and sheer texture of the handwoven chanderi silk saree, as well as the distinctive designs that are inspired by nature, are what attract women to it. It is divided into three categories: chanderi cotton, pure silk, and silk cotton. The Chanderi Silk Saree features geometric patterns, peacocks, floral paintings, and conventional coins. It is well-known for its beautiful silk, lavish embroidery, and brocade or zari in gold and silver. The cost of a Chanderi Silk Saree starts at Rs (3500).
10. GADWAL SILK SAREE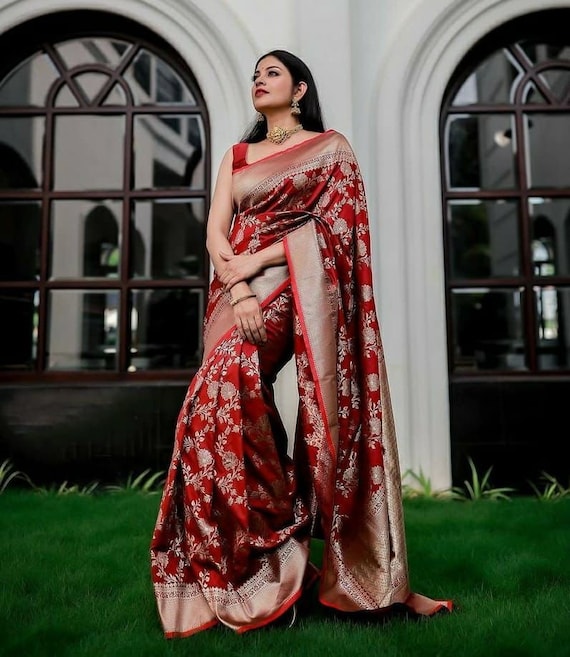 Gadwal Silk Sarees are renowned for their seductive fusion of patterns and fabrics. This saree stands out since the body of the garment is made of cotton fabric and the border is silk. This saree is also made of pure silk and is offered in vibrant hues like lime green or canary yellow. The saree's beauty lies in its ability to be folded down to the size of a matchbox. The starting price for a Gadwal Silk Saree is RS 30000.
11. DHARMAVARAM SILK SAREE
In the South Zone of India, the Dharmavaram Silk Saree is primarily referred to as a bride saree. Dharmavaram Silk did not establish its roots in the world of tradition by enhancing ethnic fashion. Additionally, these silk saree styles look great on women of all ages and body types. The gold-plated borders and artwork prints on Dharamvaram saris are among its most distinctive features. These saris display the religious culture through their use of gold brocaded patterns and motifs such as elephant designs, peacocks, or even beautiful temple borders. The cost of a saree made with dharmavaram silk ranges from INR 10,000 to 1,50,000.
12. KANCHIPURAM SILK SAREE
Among all varieties of silk sarees, the Kanjivaram Silk Saree is regarded as a royal, historical, and affluent saree. South Indian brides typically favor it for special occasions. Kanchipuram silk is another name for the Kanjeevarum saree. It is woven with Gujarati zari and pure Kanchipuram mulberry silk. The contrast border, temple borders, checks, stripes, and floral motifs set it apart. The price is determined by the style, color, pattern, and zari and silk used. According to folklore, this silk was said to be Lord Shiva and Lord Vishnu's favorite material. The Kanjivaram Silk Saree price ranges from Rs. 15,000  and for the bridal collection it starts from Rs. 5,00,000.
13. KONRAD SILK SAREE
The border, which is adorned with various motifs, is what gives Konrad silk sarees their distinctive look. The borders are 10–14 cm wide, plain-colored, and have thin bands of extra warp patterning. In some regions, they are also quite popular as sarees worn in temples. Wide borders with elaborate designs or motifs of natural elements, like flowers, vines, and creepers, as well as animal and bird motifs like peacocks, elephants, parrots, double-headed eagles, etc., set these sarees apart from ordinary silk fabrics. The starting price for a Konrad Silk Saree is Rs 7000. Konrad silks are incredibly shiny, yet they are not as hefty as other silk sarees.
14. KOTA SILK SAREE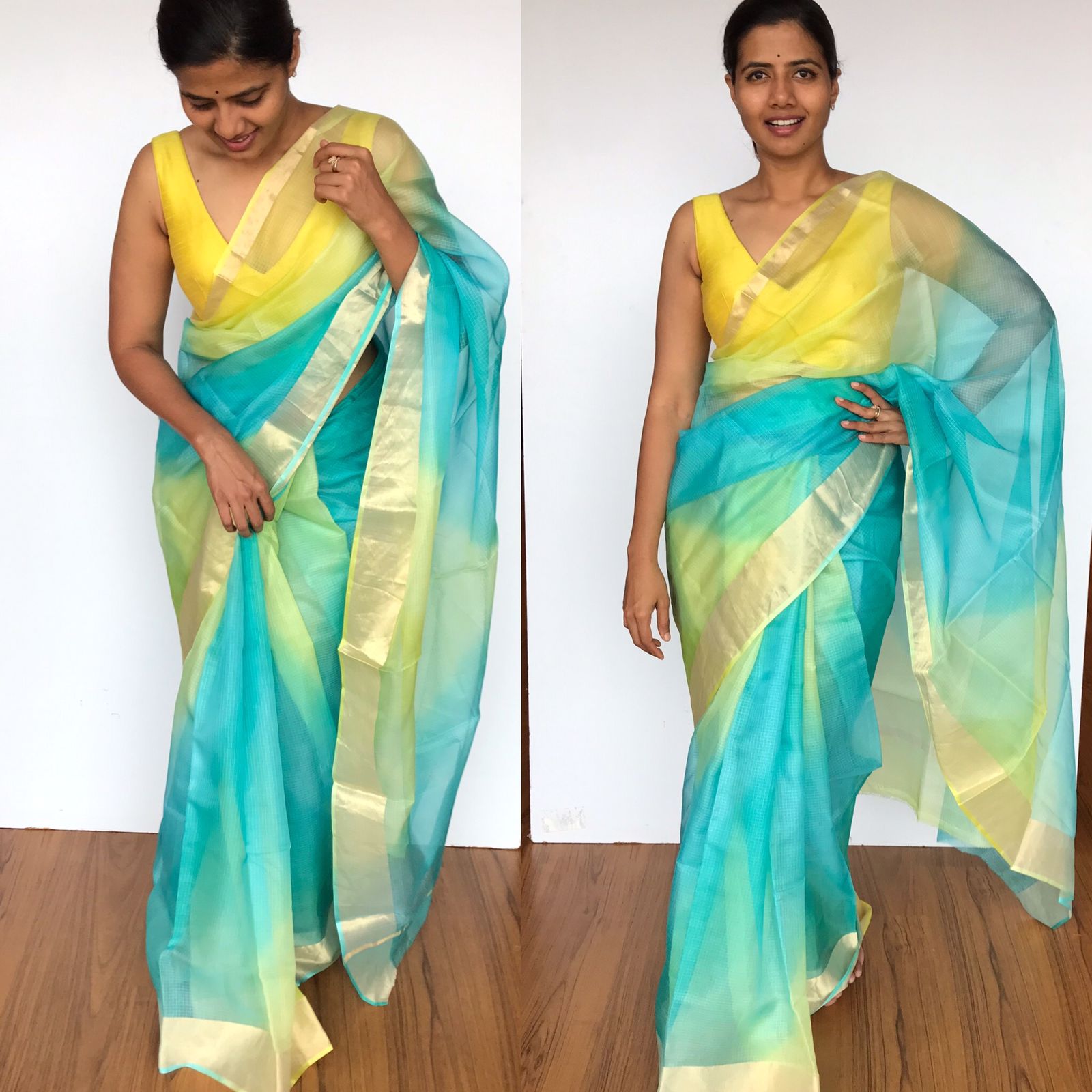 These sarees are quite lightweight and manageable. The term "Kota-Masuria" was also widely used in the 17th and early 18th centuries. It originates in Kota, Rajasthan, from kaithun. Kota Doria or Kota Doria is woven in chowkdi square check patterns using only pure cotton and silk. With great care, they carefully smudge onion juice and rice paste into the yarn, making it so robust that no more finishing is necessary for preparation. Price ranges for Kota Silk Sarees begin at Rs 4000.
15. KORIAL SILK SAREE
Bengali women traditionally wear korial sarees for poojas, holidays, and other events. Its texture is comparable to tissue, and it is lightweight, drapeable, and simple to handle. Korial implies "solid" or "blank." Due to its two distinct features—a luxurious white base saree with border gold or silver zari embellishments as a Banarasi sari—Korial Banarasi Silk Saree is highly popular among women. Most frequently, older women choose this sari for weddings. The price for Korial Silk Sarees ranges from INR 1500 and beyond.
16. PATOLA SILK SAREE
Double Ikat sarees, commonly known as patola sarees, are renowned around the world for their intricate weaves. The exquisite motifs on this navy blue and red Patola saree are a good illustration of that. This saree's geometric patterns have a mesmerizing effect on the eyes. Dress to impress at any wedding for lots of praise.
17. ORGANZA SILK SAREE
Organza silk sarees are made of sheer materials and have a delicate appearance. This delicate white organza saree resembles a blooming garden filled with a variety of lovely flowers. The hand-painted pattern on the saree brings much-needed color to the otherwise somber white fabric.
18. MYSORE SILK SAREE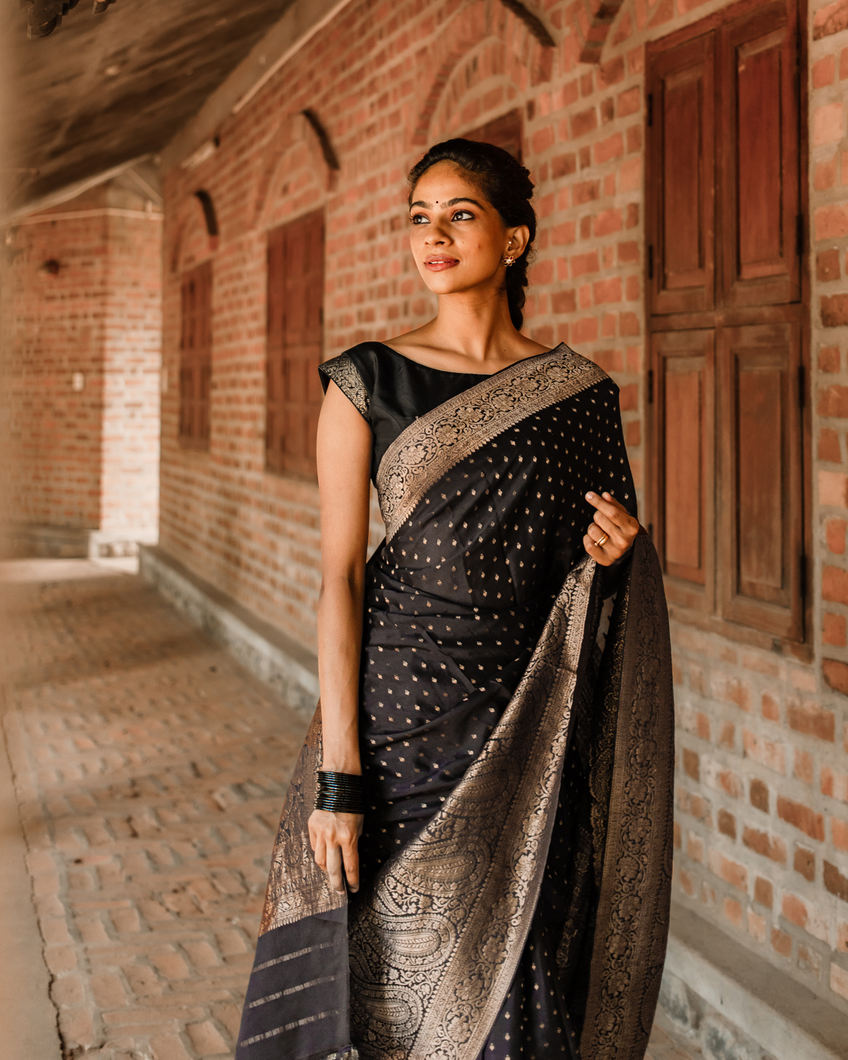 It is more of a special occasion cloth that women wear primarily at Indian festivities or weddings. The royal aura of the Mysore silk saree is appropriate for formal occasions. Karnataka brides prioritize wearing a Mysore silk saree on their wedding day. A Mysore Silk saree is in high demand both domestically and internationally. It is thought to be the purest form of silk, and the Mysore silk saree line is particularly light and lovely with little glitz. It is popular because of its durability and its long-lasting luster. Mysore silk is produced from mulberry silk and it is the highest quality silk from cocoons. The Mysore Silk Saree Price range starts from Rs.6000 to Rs.20,000.
19. MATKA SILK SAREE
It is a coarse, hand-woven matka silk fabric manufactured from Bombyx Mori, a waste form of Mulberry Silk, minus the sericin portion. Karnataka and Kashmir are the states where it is primarily produced. Matka Silk is made from thick yarn spun from the Bombyx Mori silkworm, giving the fabric a slightly rough texture. Tweed-like matka silk resembles it in look. Despite being rough, the Matka Silk texture is distinctive. Other silk sarees are more expensive than the Matka Silk Saree.
20. COTTON SILK SAREE
The greatest substitutes for cumbersome, pricey silk sarees are cotton silk saris. The highest quality threads are used to create this navy blue and purple cotton silk saree, which is meticulously woven. The Golden Zari is a striking item because of its extra-large border. For a big style, pair it with a golden/ black blouse and complementary accessories.
21. NARAYANPET SILK SAREE
The Narayanpet silk saree has a distinctive look; it has a checks design with embroidery and delicate ethnic temple embroidery on the border or pallu. Dark earth tones are used in the weaving of the pure Narayan pet silk saree. These sarees typically aren't decorated with designs because they are meant to be worn every day. It stands out thanks to the rich pallu that features a distinctive pattern of alternating red and white stripes. Instead of the usual 7 yards of cloth being climbed on the loom at one time, 56 yards of silk are ascended in this special procedure to create eight sarees at once. Price ranges for Narayanpet Silk Sarees range from Rs. 1000 to Rs. 6000.
22. PAITHANI SILK SAREE
This saree, which is composed of extremely fine silk, showcases the wealth of Maharashtra. By having an oblique square pattern on the borders and a pallu with a brilliant color of weave design like a peacock, flower, birds, and the artwork from the Ajanta Ellora caves, Paithani Silk Sarees stand out from other silk sarees. The three classifications of a Paithani Saree are theme, weaving, and color. It also comes in vibrant hues like magenta, dark green, purple, and peacock blue. Price ranges for semi-Pathani silk sarees start at Rs. 25,000 and for pure Paithani silk sarees go from 60,000 to 5 lakh rupees.
23. POCHAMPALLY SILK SAREE
Culturally, Pochampally Silk Sarees are well known for their Ikat weave and imprinted patterns. By weaving them together, the essence of cotton and silk is combined. These geometrically shaped Ikat patterns are woven into the fabric, ensuring that the user and onlookers will notice the complete appearance. For wedding ceremonies, South Indian brides favor pochampally-style silk sarees. It has a patola-like ikat weaving. Traditional weaving patterns like elephants, peacocks, and florals are present in Pochampally sarees, along with geometric and zigzag patterns. Price ranges for Pochampally silk saris start at 10,000 Rs and go higher.
24. RAW SILK SAREE
The most organic type of fine fiber that can be easily and smoothly woven into a variety of textiles is known as raw silk, also known as "Paat," "Resham," and "Pattu" in various regions of India. These short, broken threads made from mulberry tree silk were stitched together into a spinning thread. Due to the short strands used to create the fabric, these also offer a shiny appearance and a soft feel with a textured effect. 7000 and after
25. SAMBALPURI SILK SAREE
Sambalpuri silk saris are typically four to nine meters long and feature classic Indian cultural icons like the chakra, sankha, flora and wildlife, Krishna Raas Lila, and Ayodhya Vijay. The Sambalpuri varieties of silk sarees are ideal for formal events like ceremonies, festivals, or small weddings where a stylish yet traditional outfit is required. The majority of it is in the traditional colors of Odisha, which are red, black, and white. Typically, a Sambalpuri silk saree costs between 10,000 and 100,000 rupees. Four popular variants of Sambalpuri sarees include Sonepuri, Pasapali, Bomkai, Barpali, and Bapta saris.
26. SOURNACHURI SILK SAREE
The Ramayana and Mahabharatha, as well as other Indian mythological tales, are frequently the inspiration for the motifs and patterns on sarees. Some of these sarees can even depict a complete Bhagavad Gita plot. The sister of the Baluchari silk saree, the Sournachuri kind of silk saree originates from West Bengal. The complex Kalka and traditional Bengali motifs of animals, flowers, circles, and fish adorn the borders of the sarees, which are exceedingly attractive. It typically comes in dark colors. A single saree takes a week to weave. Price: from INR 25000 and above.
27. TANCHOI SILK SAREE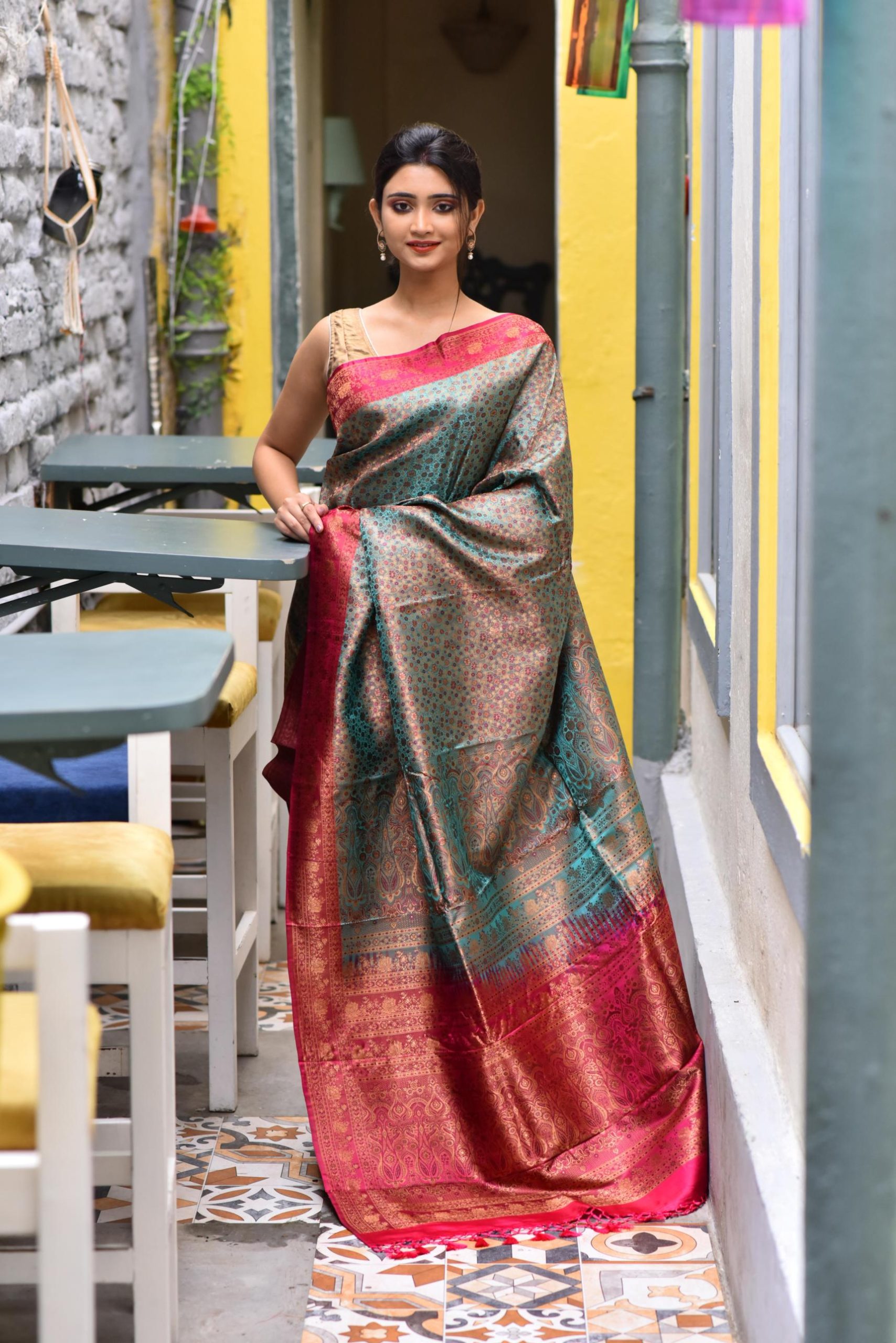 Tanchoi is a type of weaving that uses a single or double warp and two to five colors on the weft to create a fabric made of silk. Tanchoi shares the same satin-like fabric texture. In the end, it is ideal for formal gatherings, weddings, or festivals. Additionally, the weavers of Banaras deserve credit for the invention of tanchoi. They added zari to the already intricate weaving of the artwork. Additionally, there are other variations of Banarasi Tanchoi, including Satin Tanchoi, Satin Jari Tanchoi, Atlas or Gilt, and Mushabbar. Price: from INR 35000 and above.
28. JUTE SILK SAREE
Another natural fiber is jute silk, which is essentially silk blended with jute fibers. The end product is a smooth, dull-finished saree that is perfect for daytime gatherings. This traditional saree in shades of blue and off-white with a golden border is handwoven, which results in exquisite results. Combine it with a beige or blue blouse and complementary accessories.
29. CREPE SILK SAREE
The pallu of this Baluchari saree contains elaborate embroidery that depicts various motifs and tales. This Bengal-based silk saree is well-liked among Bengalis and people elsewhere. The saree shown above has black and white patterns in a dark shade of pink. One of the most popular types of silk sarees for formal occasions, weddings, and ethnic wear.
30. MANGALAGIRI SILK SAREE
The fabric and printed patterns on this Mangalagiri silk saree. The colors pink and violet are contrasted. The patterns are created using the colors white and yellow. This saree features straightforward patterns and a wavy pattern in various patterns all over it. Yellow and white alternate wavy patterns are used on pink borders.
Hope you find this article useful. You can also check our other saree-based articles here. There are so many types of silk saree you can wear for a party or any other occasion. choose wisely and have fun shopping! 🙂