Velvet is a luxurious fabric that gives a sophisticated, elegant, and polished look when worn in dresses and salwar suits. Nothing beats a velvet suit for staying cozy and comfortable while still looking stylish when the temperatures start to drop.
Here is a list of the best and most recent velvet suit neck designs that you can easily have stitched by your local tailor or boutique. These designs aren't challenging to create; all you need are some nice borders and velvet fabric in your preferred color to get started. So, let's see different types of velvet suit neck designs to rock your styling.
1. V-NECK WITH PEARLS
V-neck is very common in suits and allows you to show off your collar bones and deep neck cut to look nice, and if you add pearls and design to the v-neck, it will add to the appearance.
2. HIGH CUFFED NECK
Velvet suits are popular these days, and adding georgette fabric sleeves and high cuffed neck detailing will elevate your suit to new heights, giving it a designer punch.
3. BOAT NECK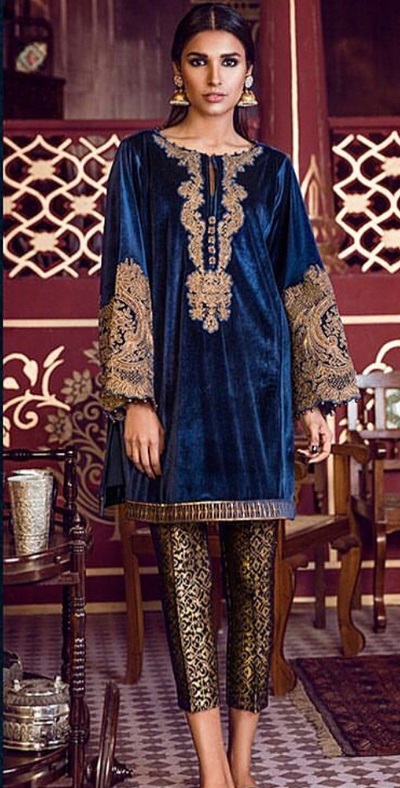 The most basic velvet style to try is to keep the suit plain and add some embellishments on the sleeve area and make the neck shape boat. This gives your suit a bold and confident appearance. Such designs are exclusive and make you look super stunning.
Check out our top 25 Latest Churidar Neck Designs
4. YOLK SHAPED NECKLINE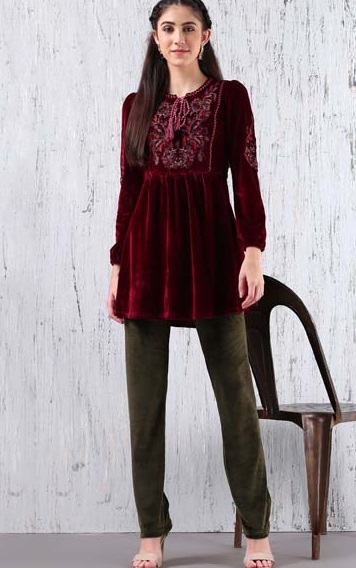 The yolk pattern is embroidered on the neckline. It is Indo Western attire that can be paired with jeans or regular trousers. It will enhance your appearance.
5. JUST LIKE JACKET NECK DESIGN
The navy blue coloured salwar suit is a must-have for all women, with its unique design of golden laces all over and an attractive neck design. It has a plain salwar and a plain dupatta, giving you a simple and lovely look.
6. ANGRAKHA NECK DESIGN
If you like the angrakha style neckline, try it with a velvet suit to stand out in a crowd.
7. ROUND NECKLINE
It is the most common and simple neck design, which can be worn on a daily basis as well as for a party if embellished with embroidery, gota patti, and pearls.
8. U-NECK DESIGN Those who do not want a wide neckline from the shoulder area can opt for a U-neck rather than a round one. This neckline is as deep as a round, but it's cut in a more closed shape that resembles the letter U. It looks good on women with broad shoulders and a large bust. It works well with everyday suits.
Check out Top 30+ Women Long Frock Designs That You Would Love
9. SWEETHEART NECKLINE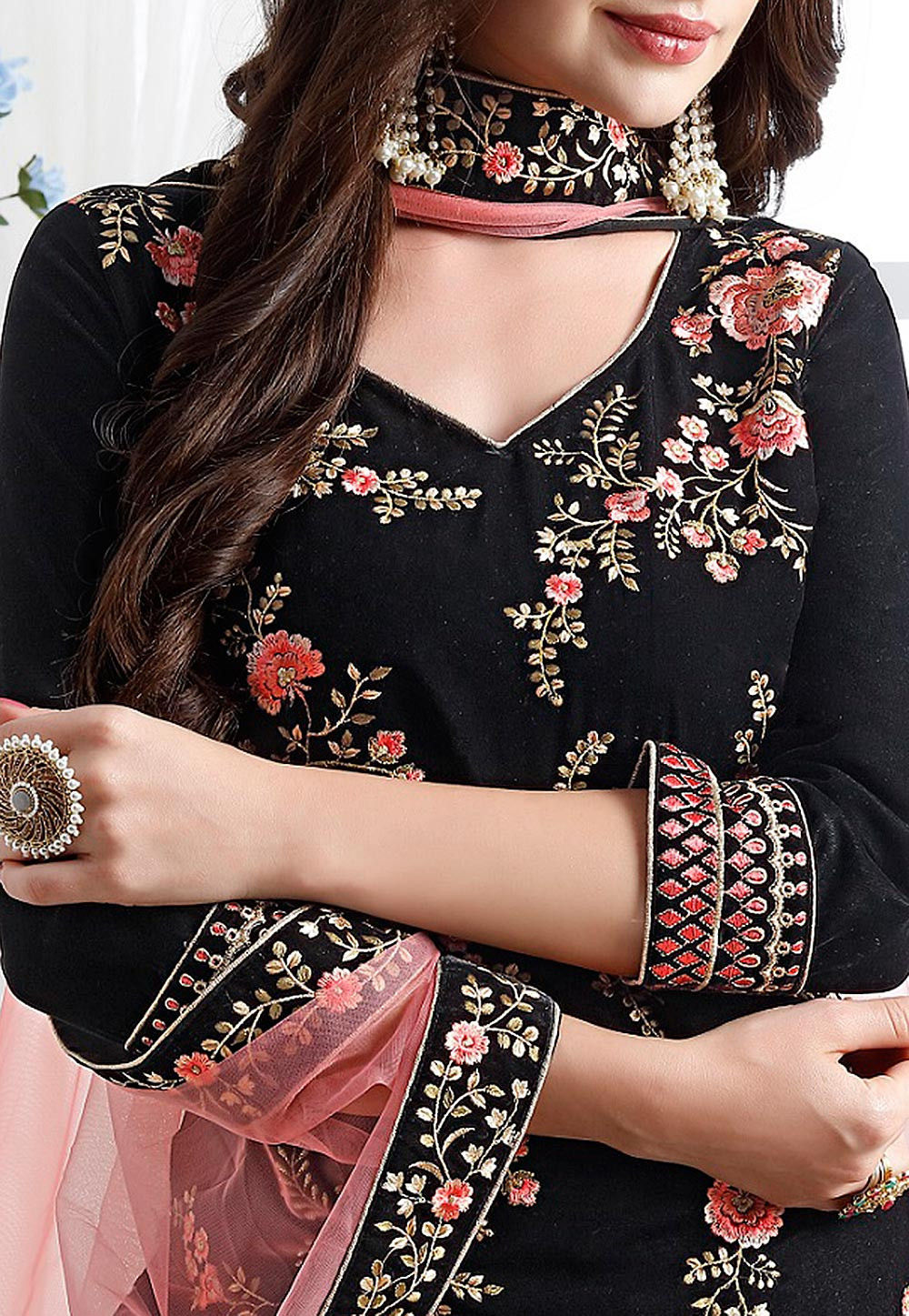 It is a cute and pretty neckline that is popular among young women; it makes your neck stand out and is suitable for velvet suits and ethnic wear.
10. MANDARIN NECK DESIGN
Mandarin collar neck design works well for Indian suits, giving a distinguished and confident appearance. You can rock this neck style in a velvet suit for an ethnic party look.
11. SMPLE V-NECK WITH BUTTON NECK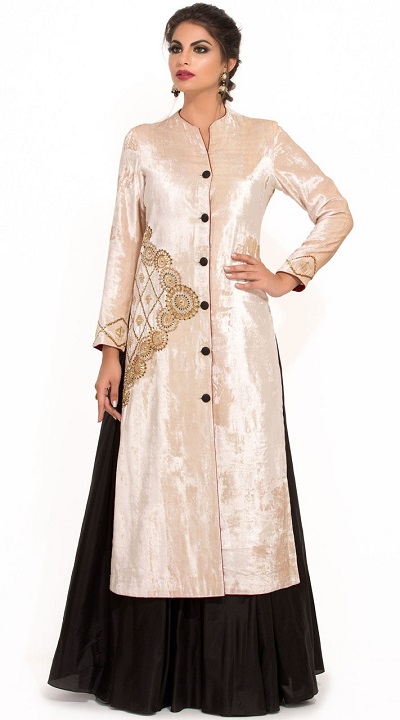 It's a neck that's built into most suit materials, so we're used to it. A simple V with buttons or embroidery, on the other hand, will never go out of style. You don't need any accessories because the dress is enough.
12. CHINESE COLLAR NECKLINE This neck design is ideal for suits for office women. It gives you a bold and focused appearance while also making you look elegant.
13. SHEER NECKLINE
A velvet suit is bound to look sober due to the material, but the above one takes it to the next level with a sheer neckline, which gives you both a beautiful and not-so-sober look.
14. OFF-SHOULDER NECK DESIGN Off-the-shoulder suit necklines are becoming increasingly popular at parties. You can also try it to show off your well-chissed collar bones.
15. SQUARE NECKLINE
The neckline is nearly square. It is very fashionable these days and gives you a sharp and attractive appearance. Depending on the design and embroidery, you can wear it to a party, a casual look, or even to the office.
16. CONTEMPORARY NECK WITH CUTOUT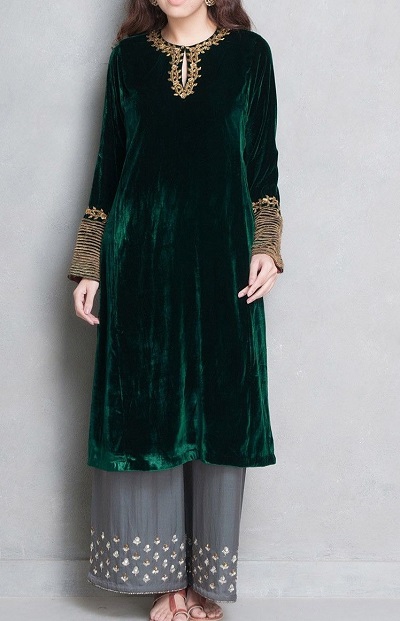 Circular cutouts in the front of the suit are another popular trend. This is a typical quirky and playful suit neck pattern.
17. BROAD ROUND NECK DESIGN
It is a simple yet elegant neck design that can be worn with a velvet suit. It gives you a bold appearance and can be worn to parties, weddings, temples, and other formal occasions.
18. BOAT NECKLINE WITH KEYHOLE ON SIDE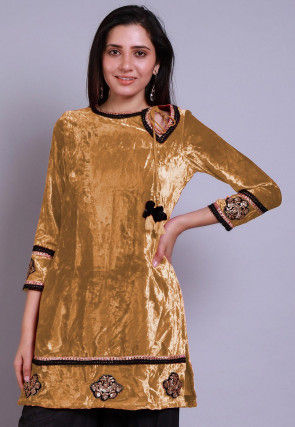 It is a new design that you can use to amplify your party look and make a distinct impression.
19. CONTEMPORARY NECK WITH GOTA PATTI IN FRONT
This is a simple yet unique design that makes you look new, original, fabulous, and comfortable. You can wear it to work, to a party, or even on regular days to hang out.
20. PLAYING WITH NECK DESIGN
You can be creative while also following the designs shown in the image above. This makes you stand out from the crowd and gives you a great look. There is no need for jewelry because your suit neck design will be the focal point of the day.
Hope you find this article useful. You can check our other article here. Happy styling! 🙂