Yellow is another color besides red that is regarded as lucky. Throughout the world, the color is honored during ceremonies and weddings. Yellow clothing conveys a very different mood. Yellow is a color that represents joy and success. As a result, the wearers will make any event they attend more lively. These yellow fashion sarees come in a wide range of colors; some are contrasted with other border colors, such as pink, green, red, and golden hues; others are dyed in various shades of yellow; these are further embellished with genuine handicrafts, beads, zari work, resham, and other materials. So, included below are many yellow saree parties look.
1. YELLOW CHIFFON SAREE
A show-stopping chiffon saree in bright yellow. The delicate and lovely saree has a golden border and gold embroidery. This saree can look incredible when paired with a golden blouse and is ideal for everyday use. To look like a diva, wear earrings in contrasting colors!
2. YELLOW RUFFLED SAREE
Ruffled sarees are recognized for adding a flirty, feminine touch to traditional sarees. The best outfit for a western party is a yellow ruffled saree with a coordinating blouse since it makes you look stylish while paying homage to Indian culture.
3. YELLOW SEQUIN SAREE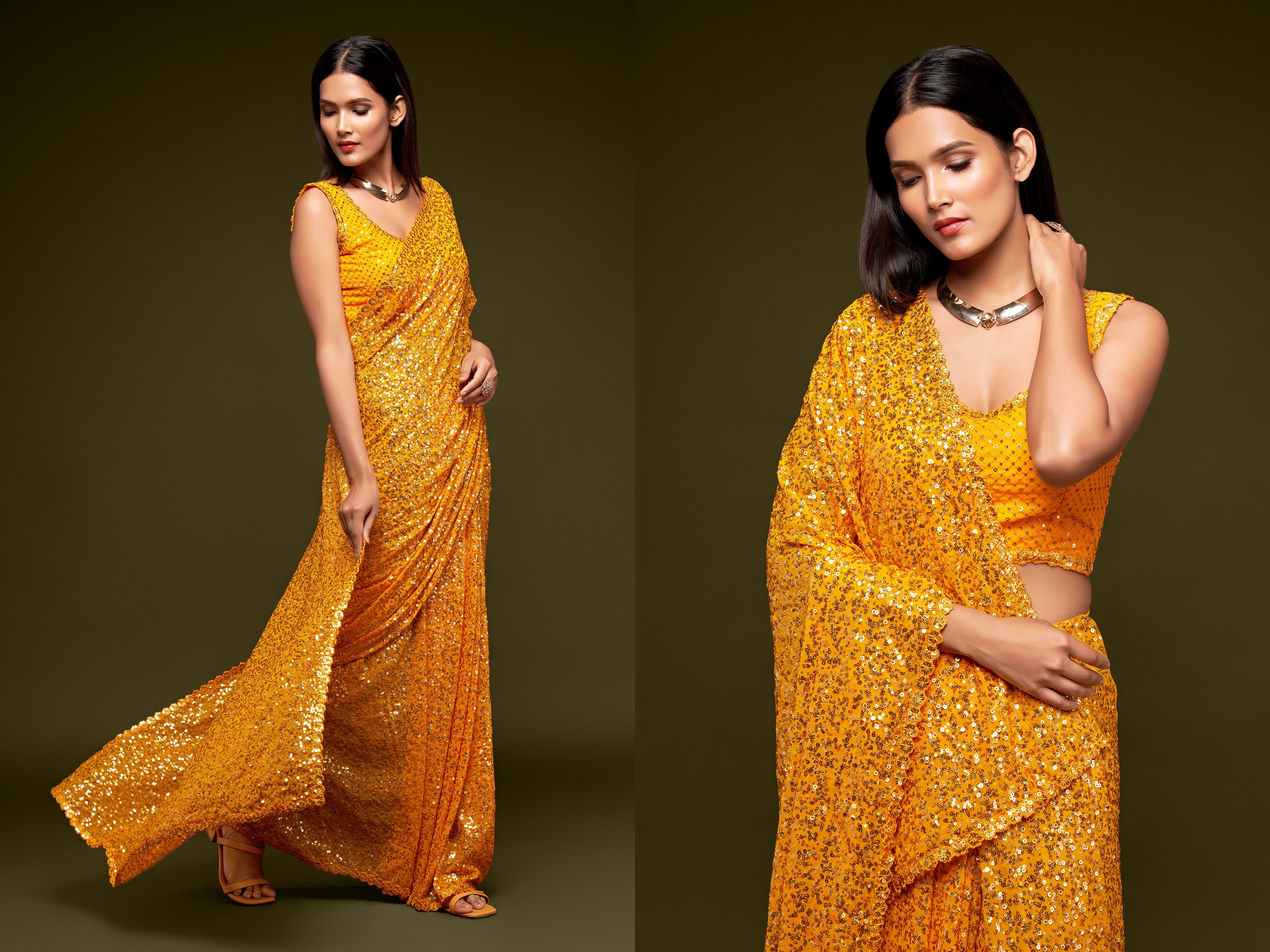 A yellow sequined saree costume is perfect when you need some sizzling charm. Bright yellow and shimmering sequins combine to create a bold design that is difficult to miss. Wear a red sequin saree that is either sheer or flattering with a designer blouse to align with the dress code of a glam cocktail party. Reduce the number of additions to a minimum to get a modern look.
4. YELLOW SAREE WITH FLORAL PRINTS
One of the best-looking sarees, it features little floral motifs in yellow. These little white motifs effectively adorn the entire saree. The saree is gorgeous and resembles a cut-work saree because of its jacquard weave. This looks best paired with a blouse in the same color and a basic necklace.
5. YELLOW-MUSTARD ORGANZA WITH FLORAL PRINT & EMBROIDERED BORDER SAREE
One of the most popular sarees. Such a classy saree ensemble will allow you to stand out at any celebration and look stunning.
6. YELLOW & RED DOTS BANDHEJ GAJJI SILK SAREE
It's the ideal saree for your friend's haldi celebration. This can be paired with any outfit to create elegance. On the skin, the soft silky texture feels like feathers.
7. YELLOW DUAL TONE CHIFFON SAREE
It is the ideal saree appearance for the holiday season. It is satisfying for a contemporary woman because it is quite classic and beautiful and not as glittery and sparkly.
8. MUSTARD YELLOW & GOLD TONED NET SAREE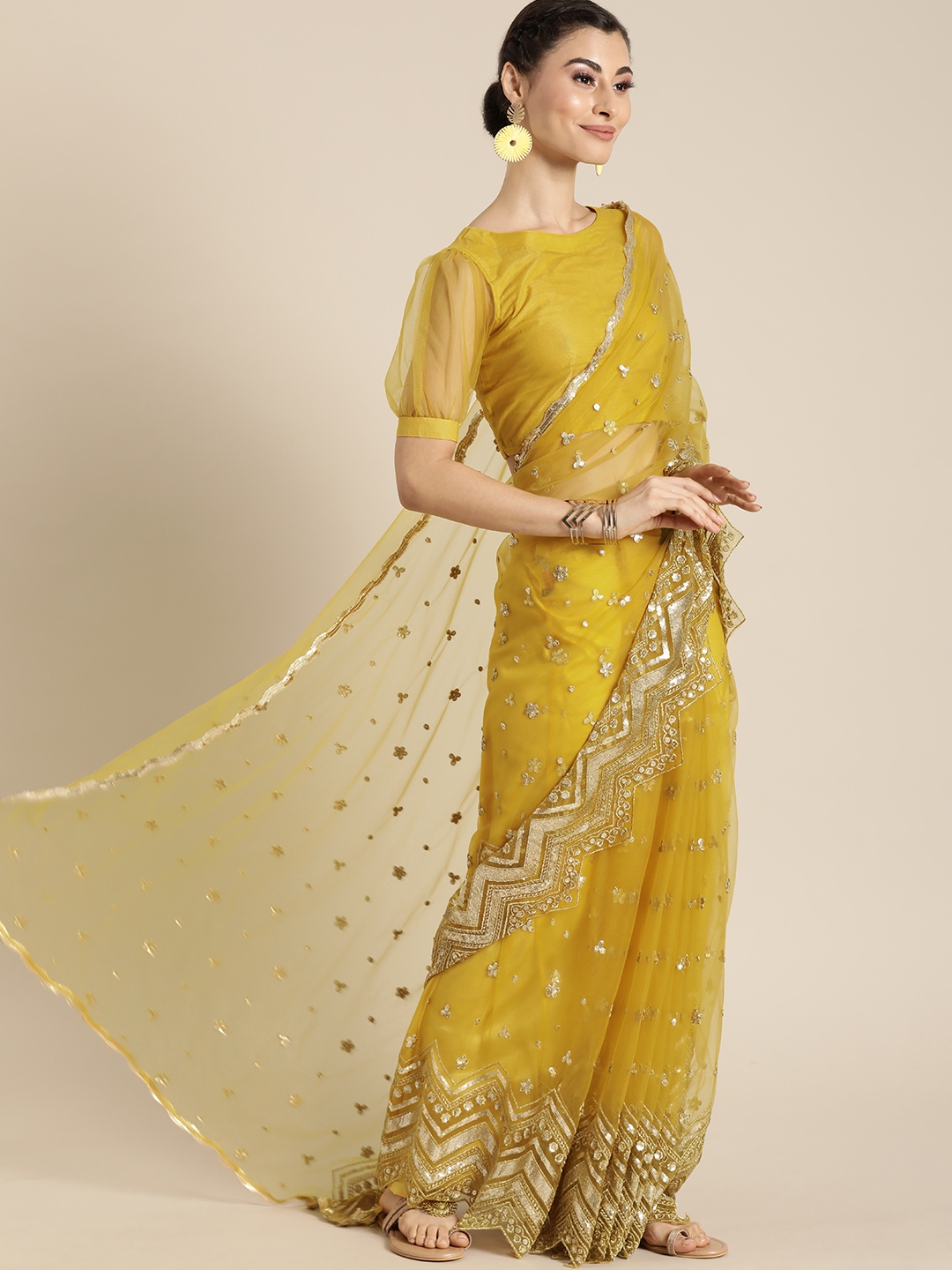 The net fabric is most likely the best base fabric for yellow saris. Women adore these sarees' designs, which is why they are so popular with females. It has a distinctive appearance and may be transported between weddings and family functions.
9. YELLOW HEAVY BORDER SILK SAREE
With this Yellow art silk saree, you can't go wrong if you're going to a wedding. The saree's body is covered in golden designs and is woven in the Banarasi style. It also includes a flashy red palla. It looks excellent paired with a red Banarasi blouse and luxurious accessories to turn heads!
10. CANARY YELLOW COTTON SAREE
Looking for a good saree to wear to work? Try this stunning gree-design yellow cotton saree. When worn throughout the day, the saree is stunning. The border, which has a striking red color, accentuates the drape's appearance. Best when worn with a blouse in the same color and golden accessories.
11. YELLOW PATTU SAREE
This sari's dreamy drape is yellow and deep blue/purple. The saree, which is made of pure silk, is quite light but has a regal appearance. This saree's palla, which has exquisite weaving throughout, is the focal point. To contrast the palla's richness, the body is kept simple. Get ready to steal the stage by pairing it with a complementary or striking color blouse!
12. YELLOW GEORGETTE LEHERIYA SAREE
One of the most popular festival looks is the saree with the leheriya print since it is associated with Gujarati colors. Pair your engagement saree with a stylish, contrasting blouse to make the right fashion statement.
13. YELLOW KANJIVARAM SAREE
This vibrant yellow sari is an example of the rich appearance of Kanjivaram sarees. The pure silk fabric used to weave the vivid yellow saree is embroidered with golden zari, giving it a golden sheen. The body is covered in tiny butis, and the border is maintained straightforwardly. The ideal yellow saree for weddings and special occasions is this one.
14. YELLOW SAREE WITH STONEWORK
The woman looks stunning as a result. You would be really proud to wear this magnificent saree, and it will serve you in the same way. The net materials are ideal for the design.
15. RAVISHING YELLOW SAREE
This would be one of the nicest yellow saris available if you're seeking something special. This design features a stunning pattern that is appropriate for wearing to weddings and other formal events. This saree looks best with the silver flora pattern, thus choosing to wear it in this way was the finest choice.
16. BLACK &YELLOW SAREE
One of the greatest methods to incorporate the two colors, yellow and black, into an Indian saree is definitely by doing this. It's worth observing the black creative pattern in the saree's midsection. This style will captivate women and make them want to wear it practically everywhere.
17. WHITE & YELLOW SAREE
This stylish saree is appropriate for wearing to weddings and other festive gatherings. The design of merging the white and yellow colors is done successfully, and it has only elevated the saree to wonderful status. It is the right one for you if you are willing to wear something that will draw all your attention to yourself.
18. GEORGETTE YELLOW- BLACK SAREE
Compared to anything you have seen thus far, this is unique. This saree is made with the ideal pattern, and almost everyone will wear it. It is both fundamentally straightforward and extremely fancy. It will be appropriate for all ages of ladies.
19. YELLOW SAREE WITH RED BORDERS
Given that the borders are the same color, this saree will look great with a red blouse. Almost everyone will wear this saree because of the lovely pattern that it has on the border area. This saree is not very fancy in any way. However, it is still rather lovely. Perhaps it's due to the way the woman in the image carries herself.
20. YELLOW PATOLA SAREE
If you love anything traditional, you must not miss the stunning Patola detail. The bright flair of their printed and woven shapes tremendously enhances the celebration of Indian festivals. Extra bangles and golden or pearl jhumkas look great with yellow patola-printed sarees since they often have a very traditional appeal.
21. YELLOW SATIN SILK SAREE
Be sure to dress appropriately for the situation! There is no finer piece of ceremonial clothing than a drape with imaginative themes. It is simple to carry and gives you a stylish appearance.
22. YELLOW ORGANZA SILK SAREE
It's the perfect look for a party. The saree's gorgeous shine and intricate embroidery make it stand out. You can up the style ante by pairing it with a blouse made of chikankari or sequins.
23. YELLOW KANJIVARAM SAREE
The stunning pearlescent-yellow saree is ideal for celebrations and nuptials. You will seem elegant and majestic in such a saree.
24. YELLOW CLASSIC LACE SAREE
A lace saree is a fantastic choice when you want to add some elegance and magic to your traditional clothes.
25. YELLOW DHOTI SAREE
The dhoti saree, which is comfortable and easy to wear, is at the top of the list of necessary sarees. The yellow dhoti saree is the best option if you want to look faultless and be the life of the party. To finish the appearance, accessorize with a belt and minimal jewelry.
26. YELLOW SATIN DIGITAL FLORAL PRINT SAREE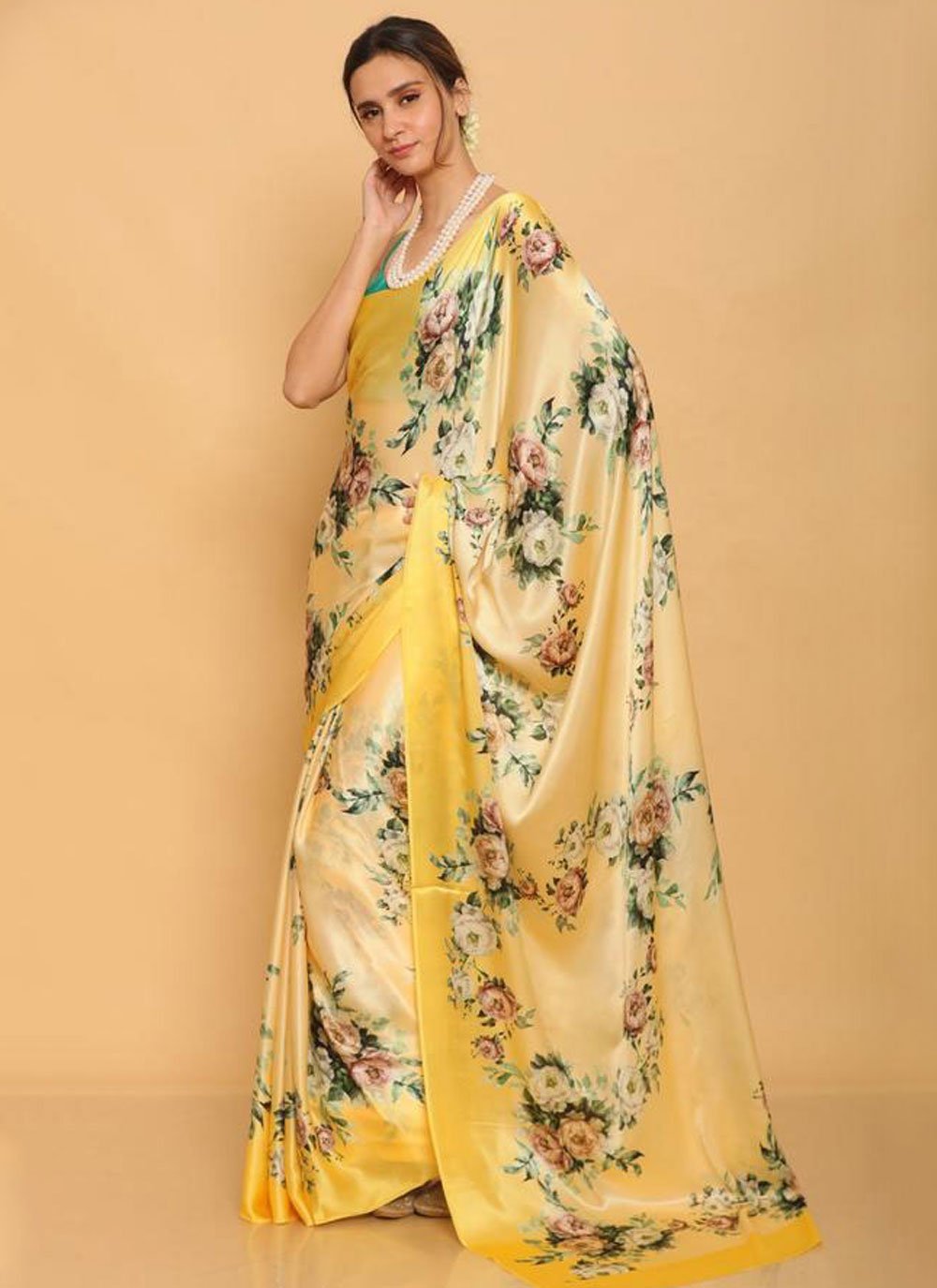 The floral print saree is perfect for folks who like lightweight, flowy, and airy fabrics to heavy silk sarees. It's simple but alluring.
27. YELLOW GEORGETTE SAREE WITH ZARI BORDER
An eye-catching yet attractive appearance can be found on a yellow georgette saree with resham embroidery and a zari patch along the border. Wear your outfit with heels and matching jhumkis to make a statement.
28. YELLOW SAREE WITH GREEN GOTA AND PLAIN BLOUSE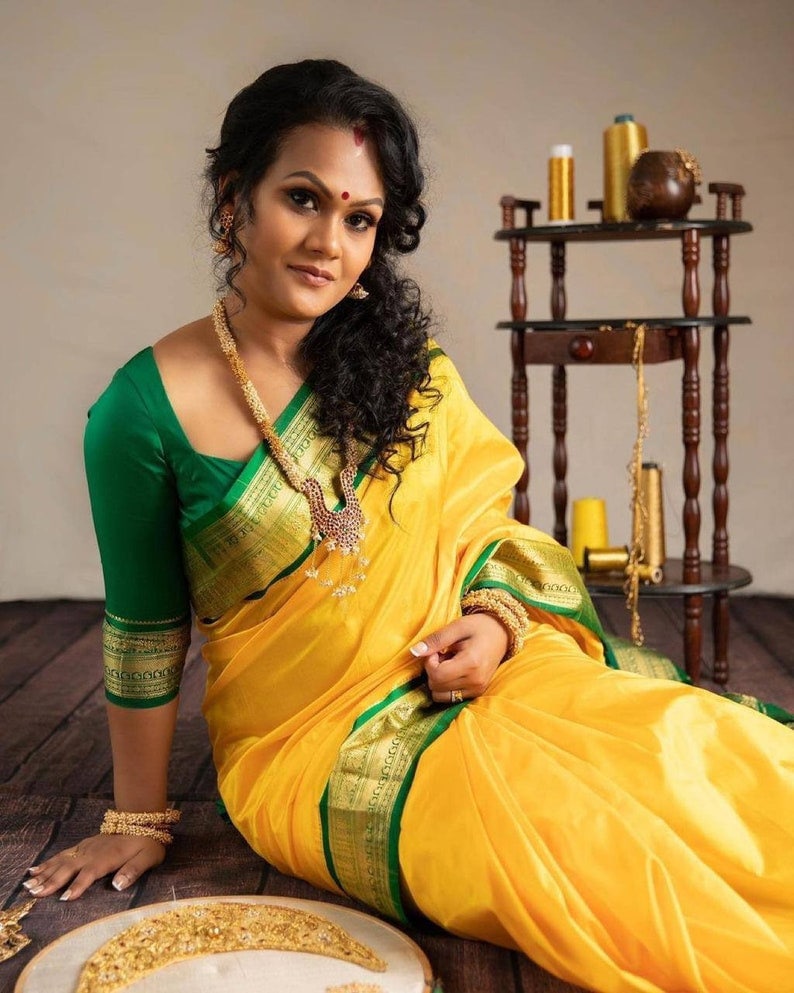 The saree's green zari border is its only feature. Tiny, randomly woven greenish designs add a gentle shine. The focal element of the saree is the beautifully woven golden-green zari pallu. Wear it with a cream or green blouse and some gold jewelry.
29. PLAIN YELLOW SAREE WITH OFF-SHOULDER FLOWY BLOUSE
Perfect for any occasion. Makes you look sophisticated and stylish yet isn't particularly shiny or glowing. This is the look to go for if you're a female who wants to stand out without wearing anything bulky or excessive.
30. YELLOW PATHANI SAREE
It is a lovely, simplistic, and comfortable saree. It is appropriate to wear it at formal party ceremonies like haldi. It provides a flawless appearance and has a floral border. You may complete the appearance by donning it with a pink-and-blue blouse.
Hope you find this article helpful. You can also check other articles by clicking here. 🙂