There is never enough of a good thing when it comes to lovely saree blouse designs. To get a flawless saree look, blouses are crucial, thus we can't ignore attractive designs. If you are currently experimenting with different blouse designs using beads, pearls, and delicate embroidery, you need to include one more stunning blouse template on your list. It's the timeless beauty of ikat blouses. For those who are unfamiliar with ikat, it is a type of dyeing method used to produce distinctive patterns and motifs on the fabric. These patterns can look fantastic on saree blouses, as you have probably imagined. Here are some Ikat blouses that you can try on depending on the occasion and your mood and rock the look.
1. Ikat Blouse with Circular Cutouts at the Back and an Ikat Border
This straightforward Ilkal blouse with an Ilkal border and circular cut-out back are one of the easier blouses for women who prefer simple yet attractive clothing. This blouse has gained a great deal of popularity since it can be worn with almost any style of saree. This blouse will not cause you any discomfort, and you may save the hassle.
2. Sleeveless Ikat Blouse with Deep Back Neck
This classic sleeveless blouse is highlighted by an attractive deep-back blouse with buttons in the middle. The style is finished with a plain front design. An Ikat saree will look the finest with this blouse.
3. Ikat Blouse with Dori Back
Among basic blouses, the design of this one will undoubtedly stand out and catch your eye. This dress is extremely endearing and is appropriately understated to wear to any family function. Additionally, if you want a more conventional appearance, this basic blouse with a Dori back is a fantastic option.
4. Chic Collar Neck Ikat Blouse
This stylish collar-neck ikat blouse, which features many color hues, is ideal for a professional meeting or formal party look. You'll get a creative and bohemian vibe from it.
5. Simple Ikat Blouse with Back Cutout
It is really simple and features a patchwork pattern on the back. For a laid-back day out, pairing this design with light-colored cotton Ilkal sarees is excellent. Every wardrobe needs a blouse like this.
6. Stylish Tie Back Ikat Blouse
Your ikat blouse will give you the ideal fusion of hot and elegant with its simple blouse design in the front and a pretty sensual tie-back design in the back. The effect is enhanced and added to by the frilled sleeves. Be the queen you are by wearing it with complementary jewelry.
7. Ikat Blouse with Lace Sleeve Border
While admiring this basic blouse design, consider how nicely it pairs with the majority of saree patterns. With cotton Ikat sarees, this blouse with lace-bordered sleeves will look stunning. Silk sarees look stunning when worn with this design as well.
8. Bell Sleeved Ikat Blouse
Your saree style will look more sophisticated with the bell sleeve and striking patterns. It will make your clothing more confident.
9. Green Ikat Printed Blouse with Pompom Lace
This green ikat saree blouse has a neckline that accentuates your collarbones without being too deep. You can put on a black cotton saree with it and wear a provocative appearance. 
10. Ikat Blouse with a Sweetheart Neckline
The sweetheart neckline on this ikat saree blouse provides you with a lovely appearance. This ikat blouse has an edgy vibe thanks to the color blocking and fabric buttons on the back.
11. Red Ruffled Ikat Blouse
Ikat blouses with bell sleeves or ruffled sleeves have quickly gained popularity in the fashion world. To achieve a stylish look, pair it with a plain or frilled saree.
12. Boat Neck Ikat Blouse
The princess-necklined ikat blouse cut is a go-to choice for an easy, understated, and elegant appearance. 
13. Halter Neck Ikat Blouse
This halter-necked ikat blouse design contributes to the creation of an electrifying ensemble that can be worn with ease to day events.
14. Ikat blouse with a Splash of Bold Beads
The ideal top for a cocktail or night party is an ikat blouse with borders decorated with enormous beads. Rock the style by donning this blouse with complementary jewelry.
15. V-Neck Ikat Blouse
If you love to show off your collarbones and have a small chest, this type of ikat blouse is ideal for you. Its lovely color is appealing and makes you stand out.
16. Plain Full Sleeved Ikat Blouse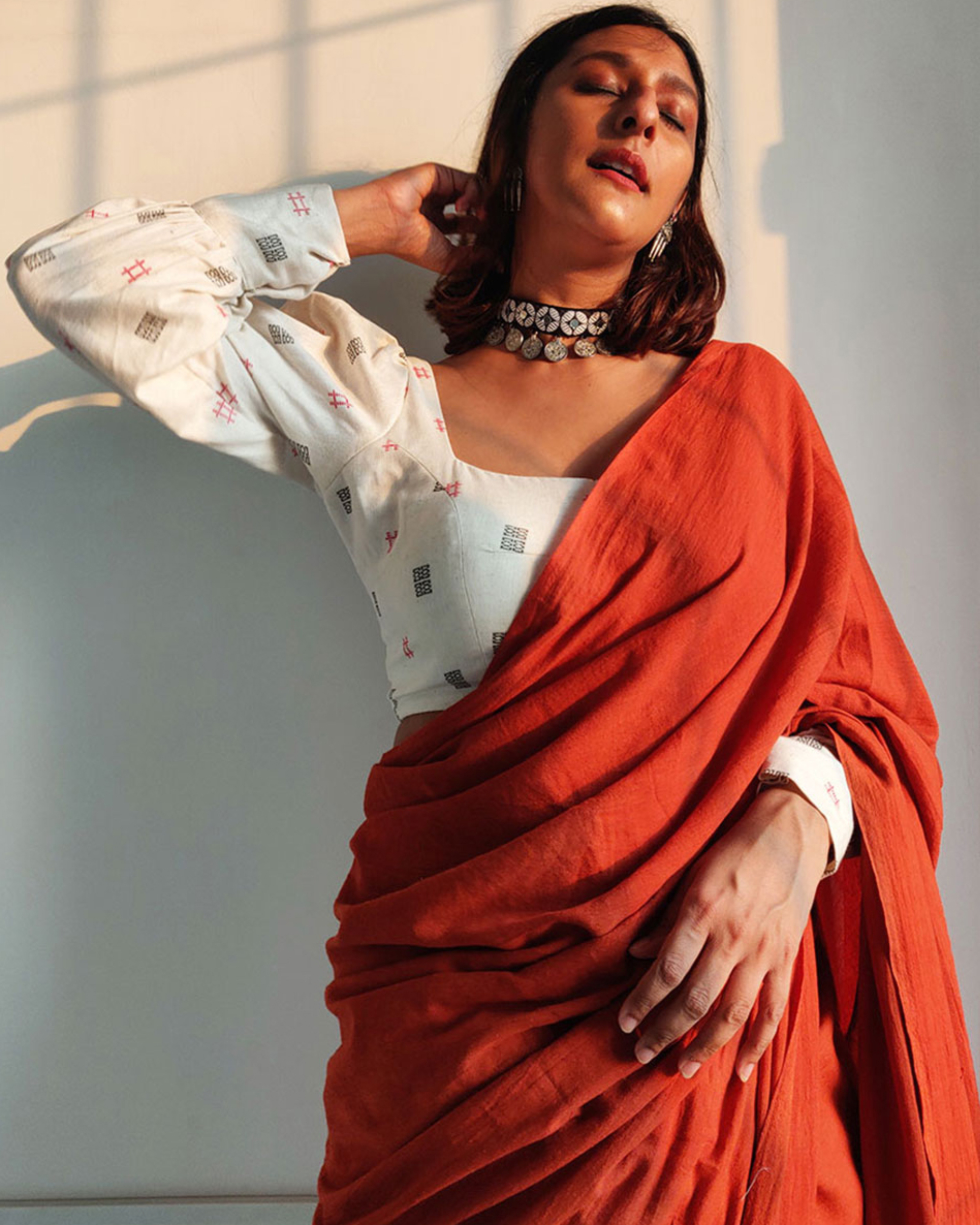 This off-white ikat blouse has dreamy, dramatic full sleeves and tight cuffs, making it the perfect showpiece for any occasion. It is made of ikat cotton and has a wonderfully fitting bodice and a broad, deep neckline. To emphasize the fluff, the cuffs contain press buttons for a secure fit. For comfort, the blouse has a zipper along the front.
17. Cold- Shoulder Ikat Blouse
This style is a blessing for young women who don't want to make any compromises for a fully traditional appearance. For a spectacular effect, accessorize it with pearls or beaded details.
18. Ikat Blouse with Puff Sleeves
This one is always in style. To start the trend game, wear any saree with a puff-sleeved ikat blouse.
19. Front-Open Ikat Blouse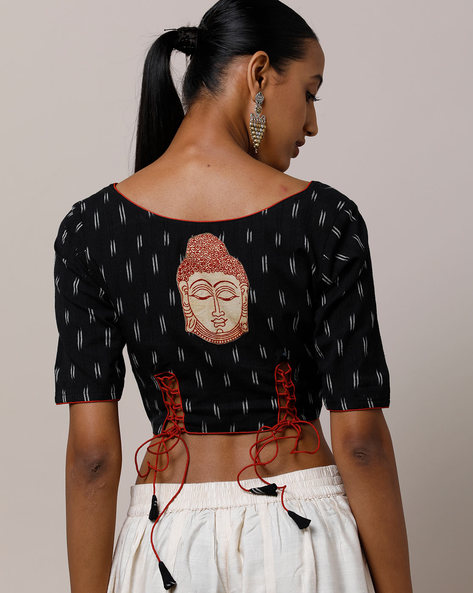 Black ikat cotton shirt with elbow-length sleeves, kalamkari patchwork on the back, tie-up details, and wooden buttons on the front. The collar is finished with contrast maroon piping. It makes you stand out and is incredibly distinctive.
20. Ikat Blouse with Ruffles at Waist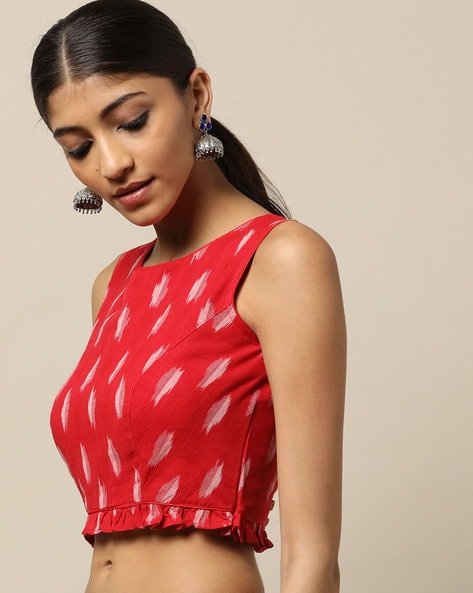 A mid-neck, sleeveless red ikat cotton blouse with wooden buttons on the back and ruffles at the waist. It makes you seem adorable and lovely.
Hope you like this article. You can also check other articles here. Have fun exploring!