Do you like wearing halter-neck shirts? Halter-neck blouses go nicely with all styles of sarees, as well as with bottoms, leggings, and skirts. They are quite flexible. Finding the appropriate business clothes may be really challenging. With so many options, it could be difficult to remember what you like and what you're wearing. Some of you might be envious of the divas and celebs who look amazing in halter-neck tops. If you want to give your shirt a stylish look, a halter neck can be the best option. One of the top blouse patterns among renowned designers, however not the best choice for traditionalists. Here are some halter-neck blouse designs you should have a look at.
1. SIMPLE HALTER NECK BLOUSE DESIGNS
Blouse You may wear the Halter Neck Shift to any event since it is fashionable and comfy. It's a great choice for lunch with a date or brunch with friends. The cutaway in the back and the stunning halter blouse give the outfit a sensual appeal.
2. HALTER NECK BLOUSE DESIGNS WITH TULLE
This indigo halter neck blouse has exquisite golden embroidery and gradient tulle that drapes, giving it an airy, asymmetrical appearance. If you want to draw attention, pair this with a lehenga to accentuate your curves or a palazzo and heels!
3. BACKLESS HALTER NECK BLOUSE DESIGNS
It is possible that some of you are envious of celebs and divas who look stunning in halter neck saree blouses. Look at this gorgeous halter neck blouse design, the ideal addition to your closet to make your collection pop.
4. HALTER NECK BLOUSE DESIGNS WITH BOW KNOT
Don't ties and bowties appear to be out of style? The blouse had a halter neck, interesting tie shoulder straps, and either a wonderful bow at the waist or a stunning bow at the rear. To improve your appearance while maintaining a pleasant and attractive structure, spend money on a shirt with excellent beading or sequins and a side zip clasp.
5. HALTER NECK BLOUSE WITH HOOK
The gorgeous dark maroon halter blouse, which has hooks and a trap in the back, This garment is made from a brocade fabric that has intricate sequin embroidery on it. The blouse was designed for traditional Indian attire. You're invited to wear your sarees and lehengas to take it. Because of how it was produced and how it was fashioned, the blouse is lovely.
6. HALTER NECK BLOUSE WITH EMBELLISHMENT
If you decide to pair a saree or lehenga with more exquisite embroidery with this wonderful halter neck blouse designs, you'll notice how stunning your outfit looks. Only the bands are allowed to embellish their blouses' necks, torsos, or both.
7. GOLDEN SEQUINS HALTER NECK BLOUSE
Probably never before have you seen a neckline as seductive as the one on this blouse. Halter necklines are the name given to these necklines. Due to its golden allure, this blouse is one of the best halter-neck designer blouses. The blouse is perfect for practically any festive occasion and pairs wonderfully with a stunning saree.
8. HALTER NECK BLOUSE WITH NET AND POTLI BUTTON ON BACK
We provide the most stylish advice on how to wear stunning sarees with halter neck shirts for you. The royal blue halter neck blouse with net and a potli button is shown from the back in this picture. It will cause many individuals to turn their heads in response.
9. NET PATTERN HALTER NECK BLOUSE
Halter neck blouse with net wrapping This new halter-neck blouse is ideal for the spring and summer seasons. It's just a plain white fringed halter-neck shirt. This is a great way to include some unique elements without going overboard. It doesn't matter what you wear it with—skirts, shorts, jeans—this net halter neck top goes with anything.
10. MIRROR WORK HALTER NECK BLOUSE
You must not pass up the chance to get this exquisite mirror-work blouse with halter neck closure if you like the look of embroidered blouses. The scalloped hem and golden base of the blouse make it the perfect match for both your traditional and contemporary attire.
11. HALTER NECK BLOUSE WITH KEYHOLE BACK
Women frequently want to be distinctive and stand out. Additionally, if you wear this striking halter-neck blouse, you will appear to be a diva. Never attempt to accessorize a halter-neck blouse with jewellery. Pair it up with heels to finish the look.
12. HALTER NECK BLOUSE WITH TASSELS
Are you wearing a lehenga to the next event? Consider a halter-neck blouse with tassels at the waist. Anyone may wear this fashionable outfit, regardless of their body type. If you switch out your elaborately embroidered dupatta for one made of net and have the border embroidered, you'll seem more collected.
13. HALTER NECK BLOUSE WITH CENTRE FLAP
A beautiful pink halter-style chanderi makes up the blouse. A center flap serves as the attachment point for the blouse's neck strap or collar. It is aimed at vibrant, modern Indian women. At any party or wedding, you would stand out as one of the classiest and most fashionable guests. As well as net or bulky silk sarees, it may be used with plain georgette or chiffon sarees.
14. HALTER NECK BLOUSE DESIGNS WITH STRAPS
The halter neck design is one of the most stylish and modern sorts of blouses, and it will instantly make you the focus of attention. There is the ideal mix of jazz and fury. It seems finest when worn with a cotton saree in an opposing colour. It might also be worn with a sari that is one solid colour but a different color from the straps.
15. CUT OUT HALTER NECK BLOUSE DESIGNS
Your outfit will have more panache with this cutout Halter neck blouse style. The halter-neck blouse has a modern feel thanks to the waistline and specially designed halter-neck blouse back. This pair is made for social gatherings. You must try it on with this ensemble if you appreciate wearing antique silver jewellery.
16. MULTI COLOURED HALTER NECK BLOUSE
The neckline and cuffs of this blouse have a diamond weave jersey and resin base with camo heart print and metallic clasps. The cotton material of this blouse and its sleeveless design will make it feel comfortable. Most of your sarees, lehengas, and palazzos will look great with these colorful details.
17. FLORAL PRINTED HALTER NECK BLOUSE
Adding colour and design to your outfit is simple with the flowery halter neck blouse. The blouse has a tropical flower pattern in watercolor style on a white backdrop. The blouse's halter neckline is a result of the translucent fabric utilized at the bottom of the asymmetrically cut garment.
18. CHIKANKARI HALTER NECK BLOUSE DESIGNS
This white halter neck blouse is a sensual addition to your wedding attire. It has stunning Chikankari embroidery and Aari embroidery. The shade is perfect for Haldi ceremonial attire or wedding festivities. Summer or spring are the ideal times to wear a halter neck saree blouse.
19. HALTER NECK BLOUSE WITH 3D EMBROIDERED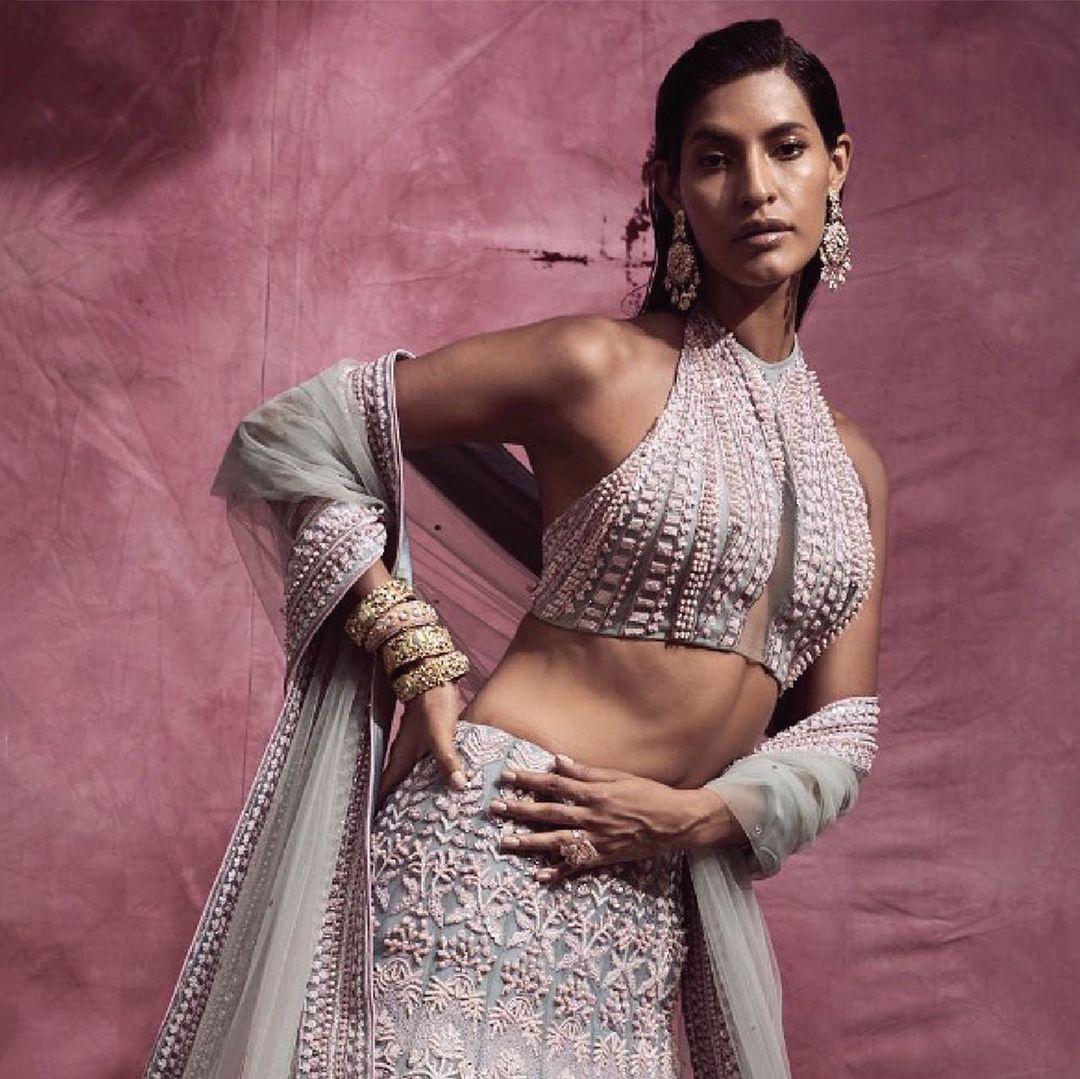 Your extraordinary beauty will make you glow brightly both during the day and at night. Your favorite saree teamed with this exquisite halter neck top becomes the ideal look for this occasion. You will seem imaginative in this stunning embroidered halter-neck blouse with tulle elements. Yet another stunning halter-neck blouse style
20. SILVER HALTER NECK BLOUSE DESIGNS
You can make any ethnic bottom, saree, or lehenga seem great for a night out by wearing this silver-style blouse. It is quite beautiful and has a really sparkly appearance. It may be worn with a variety of saree fabrics, such as chiffon, georgette, and net.
21. NARROW HALTER NECK BLOUSE DESIGNS
The top of this blouse is designed like a kitetop, and the bottom is more traditional. Bright hues will look amazing and go beautifully with a sweetheart neckline. There is this bold halter-neck blouse for those who enjoy daring designs.
22. COLLAR STYLE HALTER NECK BLOUSE
It is a beautifully designed blouse of the highest caliber that complements net and silk saris. The gorgeous blouse has a collared neckline and no sleeves. Since you need clothing that enables you to breathe this season, halter-neck blouses work well with the best shoes.
23. COLD SHOULDER HALTER NECK BLOUSE
The conventional business blouse is a classic design that is easy to include in your wardrobe. Whether you wear this halter-neck blouse with slacks, a skirt, or jeans, it will always be appropriate. This blouse is now offered in plus sizes so that everyone in the workplace can look fantastic.
24. STRIPES HALTER NECK BLOUSE DESIGNS
Beautiful striped halter-neck blouse designs are available for sarees. It could be straightforward but nonetheless trendy and appealing. Check out this trendy striped halter-neck blouse for style. This one is without a doubt a winner when combined with a gorgeous handcrafted saree. You may finish your outfit by accessorizing properly.
25. HALTER NECK BLOUSE WITH FRONT OPENING
This blouse is a terrific choice if you want a halter neck that is quite fashionable. This halter blouse stands out because of the gorgeous needlework. You have to understand how unique and appealing these halter-neck blouse styles with sleeves are.
26. HALTER NECK BLOUSE WITH THREAD WORK
This gorgeous blouse uses a brand-new blue hue called tulipe blue. Accept it? The blouse has an interior sweetheart neck tube and a halter neck as features. Fine embroidery thread and intricate sequin work are used to embellish the body. Pretty pearl danglers finish off the waistline.
27. HALTER NECK BLOUSE WITH CHAIN LINKED STRAP
These stylish halter-neck blouses are the perfect post-marriage event attire. It boosts your confidence and adds a touch of opulence to the simple saree. A chain-link strap and the renowned 3D embroidery by Papa Don't Preach with metal collars, pearls, and stones are featured on this military-green taffeta bralette. Any outfit may be transformed into one appropriate for the red carpet with the aid of this halter-neck bralette.
28. BOHO HALTER NECK BLOUSE
If you want to seem boho, this halter neck is a great choice! Due to its light hue and embroidered decorations, it has a very bohemian vibe. Just be careful to wear the proper shoes with it to avoid seeming too casual.
29. HALTER NECK BLOUSE WITH HARNESS TUNIC
Throughout the wedding season, you will be the center of attention thanks to this stunning powder blue shoulder harness tunic. The harness adds a unique twist to the halter-neck blouse's style. The vibrant burst of color throughout the mehndi ceremony will surely increase your bridal beauty!
30. SCARF HALTER NECK BLOUSE
This gorgeous halter-neck blouse wraps around your neck and waist like a scarf. The mauve color of this blouse and its halter-neck style with gathered details make it stand out. It is both fashionable and dismal. You should pair it up with your lehenga.
CONCLUSION
The ideal blouse for a night out is one with a halter neck. Choose fabrics made of raw silk, jute, or chanderi if you wish to wear this blouse style with traditional party dress sarees. Every single halter-neck front and back design is attractive and sexy.