"Ghagra choli" is the first thing that springs to mind when we consider creating our wedding shopping list! Today, we'll show you how to style one in this article to help you wear a ghagra choli at your next major event. In addition, we have you covered if you are the bride. Scroll down to see how to carry out all the countless ways of draping and stealing the show. Here are some fantastic ways to style ghagra choli.
1. BACKLESS GHAGRA CHOLI
If you don't have a backless choli to pair with your ghagra, your traditional wardrobe is still lacking. Go with a backless, plain raw silk ghagra and embellished blouse. Keep the front straightforward. If you don't want to embarrass your family, you might wear a plain dupatta in the form of a saree.
2. RAW SILK COUTURE GHAGRA CHOLI
The short choli and ghagra have made a comeback in the couture variants. Consider wearing a raw silk skirt with many embroideries and a choli-style short saree blouse. You can wear a bare neck, large earrings, and a maang tikka while keeping both hefty. If you feel a little self-conscious, cover your entire body from your neck to your belly with a lightweight net or organza dupatta.
3. ONE-SLEEVED FLORAL GHAGRA CHOLI
We concurred that there is no such thing as too many ghagra cholis, and we are grateful for the designers who make any amount of them seem insufficient. A floral outfit with a one-side-sleeve choli strikes the ideal mix between modern and traditional components. It's perfect for sangeet celebrations or destination weddings.
4. PUFF-SLEEVED ORGANZA DIGITAL PRINT GHAGRA CHOLI
With this yellow and white color lehenga made of soft organza material and finished with digital print, singular beauty can emerge from your fashion sense. This adorable ghagra choli is specially made to wear at weddings, haldi rituals, engagement parties, weddings, and other special occasions.
5. GOLD & BLACK GHAGRA CHOLI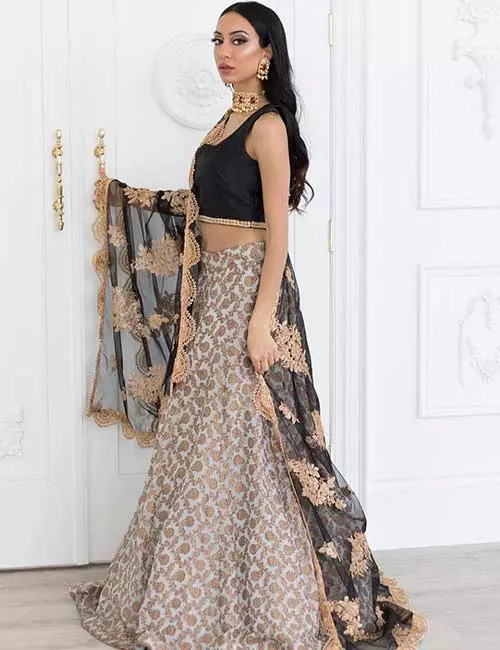 Although seeing a crimson Sabyasachi-style lehenga when we think of a bride is wonderful, what about the other events we must attend? Break the mold by wearing a choli, a golden-threaded ghagra, and a black sleeveless choli. A contrast choker and earrings will look great with smokey eye makeup.
6. PRINTED GEORGETTE SILK PARTY WEAR GHAGRA CHOLI WITH ATTACHED JACKET
This type of ghagra choli is appropriate for women to wear at celebrations, weddings, engagement ceremonies, and other events where they wish to be the focus of attention. Combine it with classic accessories to enhance your appearance.
7. CROP TOP STYLE CHOLI WITH GOLDEN TULLE GHAGRA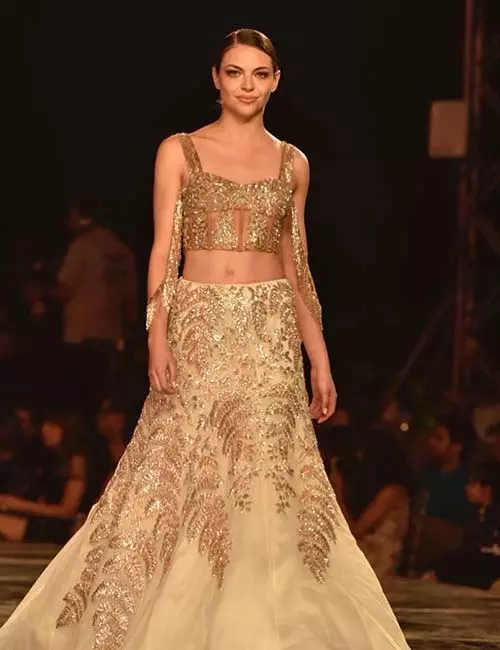 Such designs are constantly innovating with the ghagra and are giving us an abundance of options. A wonderful Sangeet outfit for the bride or her clan is a crop top style noodle-strap-gold choli and a richly adorned tulle skirt without a dupatta or other accessories. Make a chignon updo with your hair and let the outfit speak for itself.
8. LONG CHOLI WITH GHAGRA
Mix and match your lehenga to create a modern style whether you are going to a friend's bridal party or somewhere less casual. Please choose one of your simple long ghagra and wear it with a choli in a contrasting long color. Preserve one of them. The perfect lehenga look for modern women.
9. PRINCESS CUT GHAGRA CHOLI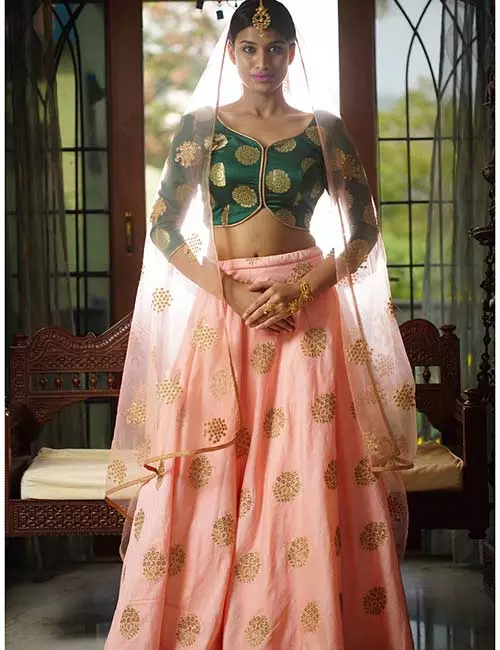 To appear like a bride who has it all figured out, pair a soft pastel ghagra with the traditional green long-sleeved Banarasi short choli and cover your head with a chiffon or tulle dupatta. Choose a minimal or bare-faced appearance, and keep the rest subdued.
10. OFF-SHOULDER CHOLI WITH GHAGRA
Choose an off-the-shoulder CHOLI if you are little or short or both. Ghagras can appear overwhelming, which makes small ladies feel like they are wearing too much. A lovely skirt perfectly complements this look, which has an off-shoulder style top that slightly opens up your shoulders.
11. ORGANZA CHOLI WITH RAW SILK GHAGRA
Lehengas typically consist of raw silk and tulle, but the embroidery adds a lot to the ensemble. Therefore, choose an organza full-sleeve choli to pair with your simple, raw silk ghagra the next time you're going to an Indo-Western restaurant.
12. ANARKALI STYLE GHAGRA CHOLI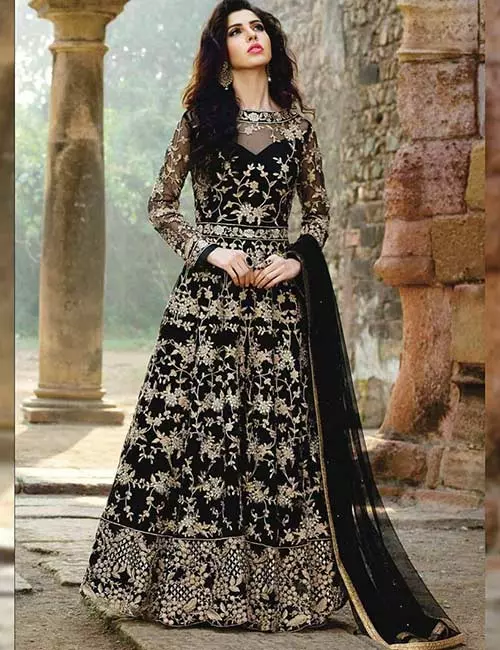 Today, unlike in the past, the majority of lehengas have a cropped top type choli. Choose a choli with full sleeves that falls below your belly button, an illusion bodice, and a fully embellished ghagra if you still want to be that but with a modern twist.
13. EMBROIDERED NET GHAGRA CHOLI This outfit has a mirror, resham, and dori work to enhance the poly shantoon lining. If you are a person who enjoys the internet, you will undoubtedly fall in love with this style of ghagra choli.
14. ZARDOZI BACKLESS CHOLI WITH GHAGRA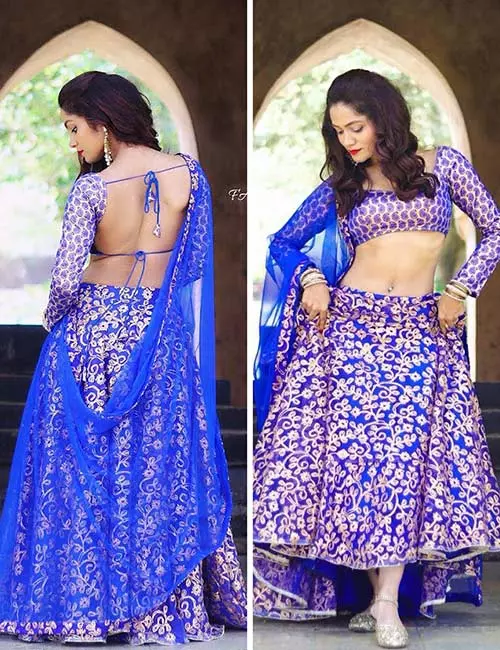 Are you the upcoming bride? The bride's sister is much better. You may wear a backless choli without any restrictions. For the complete ensemble, stick to a single color and fabric, but let them both steal the spotlight. The oomph-emitting choli will go wonderfully with the finely pleated lehenga skirt.
15. MULTI-COLOURED THREAD EMBROIDERY WORK ART SILK GHAGRA CHOLI 
With this multicolored art silk lehenga, you can appear stunning thanks to the elegant embroidery done with sequins, multicolored thread, and beautiful stonework. You can wear this soothing banarasi silk lehenga choli to weddings, cocktail parties, engagements, or any other special occasion.
Hope you like this article. You can also check other articles here. Have fun styling. 😉