Similar to the role of the black garment in western fashion, the RED SAREE plays ethnically. Celebrities and actresses have regularly worn both of these famous yet classic evening gowns, both on and off the screen.
Red sarees are nonetheless considerably more essential in Indian culture due to their cultural significance. These are the customary sarees worn by newlyweds and brides, reflecting the auspiciousness of the occasion as well as the women's beauty and fecundity. The red saree, on the other contrary, can be dressed either way based on the fabric, embellishments, and design. It appeals to people with both traditional and modern preferences, adding a sensuous aspect while preserving the ethnic color scheme.
1. RED RUFFLED SAREE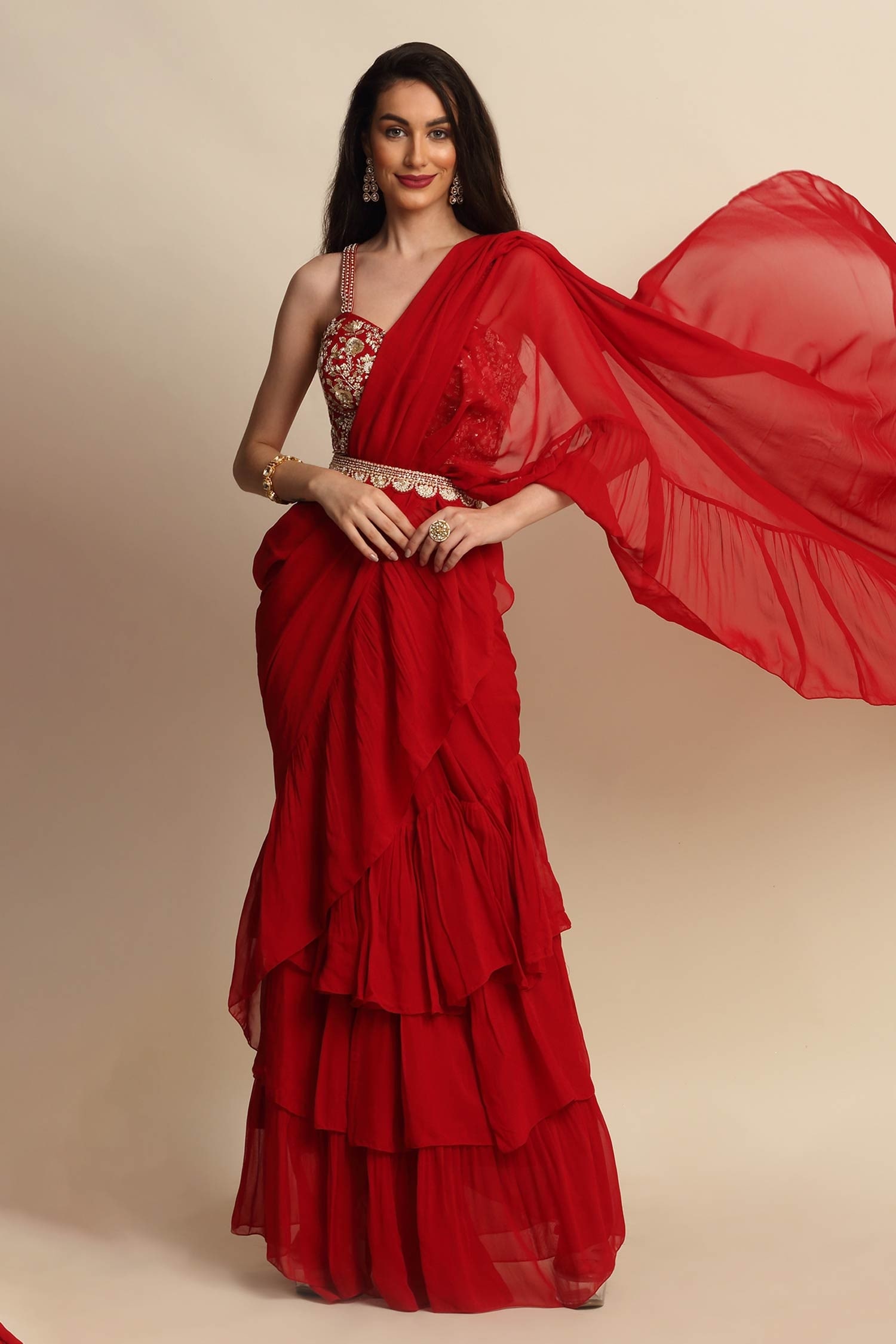 Having considered how well-liked designer ruffle sarees were in 2021-2022, it is anticipated that this trend would continue in 2023. They are renowned for giving conventional sarees a fun, feminine touch. Wearing a red ruffled saree with a golden-red blouse is the ideal ensemble for a western celebration; it allows you to seem fashionable while still honoring Indian culture.
2. RED SILK SAREE BOHO STYLE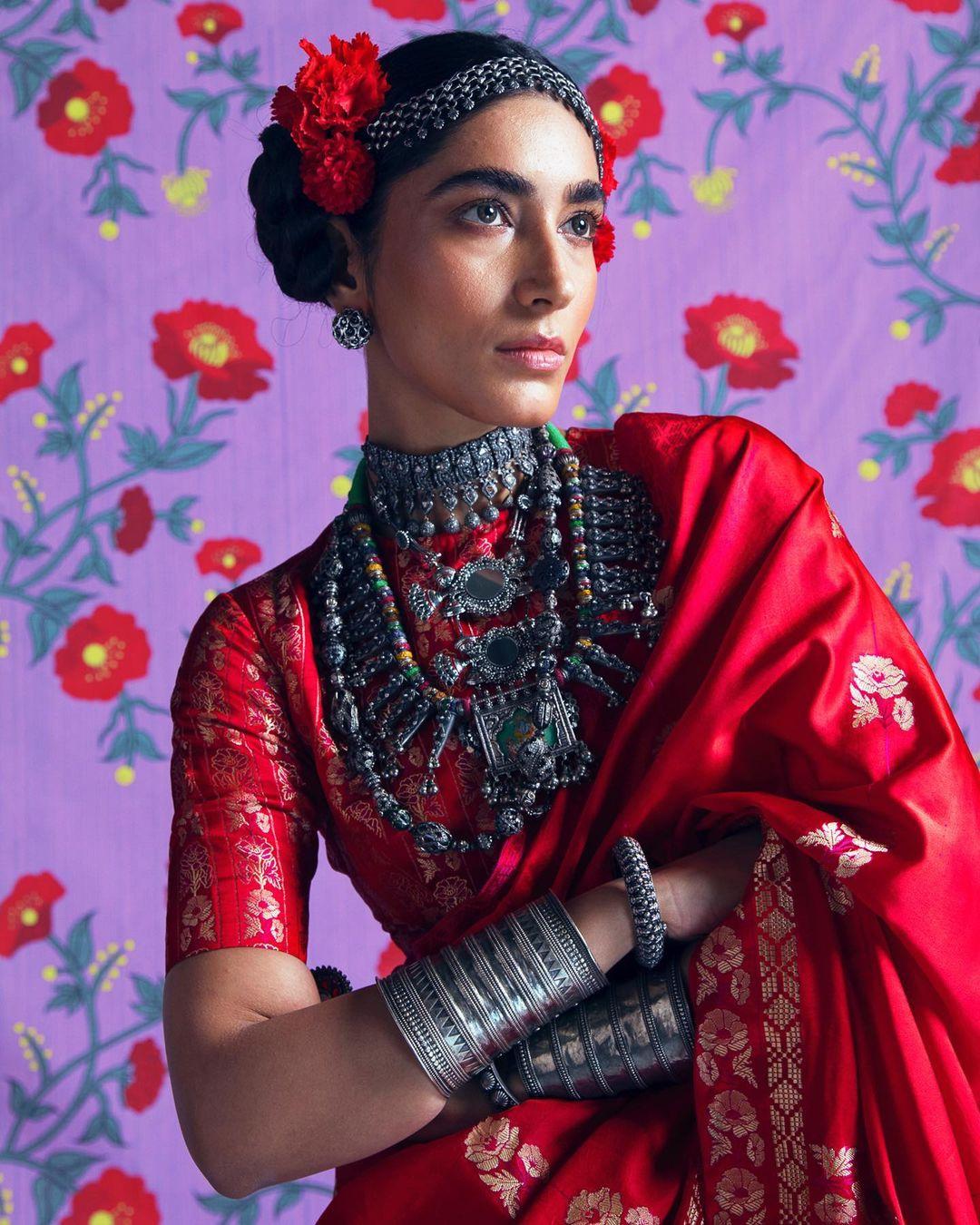 You can achieve a boho appearance for the event by wearing a probably printed red saree and matching printed blouse with some silver bangles, raanihaars, and jhumkis. With it, you can give off an air of elegance and be prepared for a party without appearing to be an old heroine.
3. SATIN RED HAND-BLOCK FLORAL SAREE
Such a look will be ideal for many events like society functions, where you can look both elegant and alluring. It is minimal and classy. It is for those who just wish to look attractive without standing out.
4. SHIMMERING SEQUIN RED SAREE
A red sequined saree look is the ideal go-to outfit for occasions when you'd want some sizzling charm. The combination of vivid red and glittery sequins makes for a striking look that is challenging to ignore. To adhere to the dress code of a glitzy cocktail party, wear a designer blouse with a red sequin saree that is either sheer or flattering. To achieve a modern style, limit the add-ons to a minimum.
5. RED SILK SAREE WITH GOLD ZARI
Can you picture a wedding without the bridesmaids donning vibrant red silk sarees? You'll steal the stage with this stunning saree made of Pochampally silk and zari-embellished with gold. The recognizable geometric patterns of Pochampally are woven with gold zari threads to give them an ethereal appearance.
6. PLAIN RED SAREE LOOK
Attending a party? Your ideal company for the day will be this. There is a pretty nice pattern on this saree. Wear this if you're seeking something hip and current. For people who are confident in their bodies and wouldn't hesitate to flaunt them, the saree's translucent material is ideal.
7. RED BRASSO FAUX DESIGNER SAREE WITH BLACK BLOUSE
This is yet another red saree appearance that is appropriate for usage as party apparel. This saree's fabric is incredibly lovely, and the black patterns that have been applied to it are quite lovely as well. The most recent designer item will be this saree if you're looking for something to wear this season.
8. MARBLE-PRINTED RED SAREE WITH SILVER BORDERS & BLOUSE
If you're going to a small party with your pals, choose this red saree with a marble print. The saree is made of silky georgette fabric and has a satin border with silver checks. The rest of the woman gang will be envious of your style thanks to the designer print on the saree's body!
9. RED PATTU SAREE WITH RED/GOLDEN BLOUSE
Without the hostess donning a vivid red Pattu saree, no Indian celebration is complete. The typical Pattu sarees are elaborately embroidered, unlike this lovely one. Large temple borders are added to the saree, and the Pallu is kept plain as well. It is ideal for small occasions where you want to appear elegant but not garish!
10. RED GEORGETTE SAREE
The sturdy fabric of Georgette and the delicate fabric of the net are well combined in this pretty red saree. Net material with floral work is used to decorate the upper portion, the pallu, and the lower border. To twist the story, the remaining portions of the saree are made of georgette cloth. For a hot look, wear bold earrings and a bun!
11. RED COTTON SAREE
Attending a wedding in the summer? Say hello to this light Tant saree that combines silk's opulence with cotton's coziness. The finest cotton and golden threads are woven into the saree to give it a luxurious appearance. To stroll in flair and elegance, wear this saree with golden accessories.
12. RED CHIFFON SAREE
Is there anything more sensual than a chiffon saree? Wearing this vivid crimson chiffon drape to evening and nighttime celebrations looks stunning. A red shimmer border is applied to the basic saree to offer extra brightness. With tassels in the Potli style at the end, the Pallu is given a contemporary feel.
13. RED SAREE WITH GOLDEN GOTA AND PLAIN BLOUSE
Choose this chili red saree in Aheli silk for a fashionable appearance. The only decoration on the saree is a golden zari border. For a soft luster, tiny gold motifs are weaved at random. The pallu, which is made of elaborately woven golden zari, is the saree's focal point. Put on some gold jewelry and a cream or gold blouse with it.
14. RED GEORGETTE SAREE WITH ZARI BORDER
A crimson georgette saree with resham embroidery and a zari patch along the border has a distinctive yet lovely appearance. Rock your look by donning it with heels and matching jhumkis.
15. RED PLEATED SAREE
This outfit is ideal for you if you want to seem refined, and sophisticated while wearing a saree. It offers the conventional nine-yard saree a more contemporary look. Because the crepe silk's lightweight and comfortable, you may effortlessly enjoy your time at the party.
16. RED BANARASI SILK SAREE
Because they are created with embellished zari and gold and have elaborate embroidery, these sarees have a timeless aesthetic that will never go out of style. They are expensive yet excellent.
17. RED FLORAL DIGITAL PRINT SAREE WITH BLACK BLOUSE
For people who like lightweight, flowy, and airy textiles over heavy silk sarees, the flower print saree is ideal. It is basic but sexy.
18. RED PLAIN SAREE WITH TRENDY BELT & BLOUSE
Want to stand out from the crowd? Try to match the stylish belt on your georgette, crepe, or organza saree to the pattern on the blouse. The modern equivalent of your traditional kamar bandh is the belted saree. It highlights your curves and gives you the ideal party looks.
19. RED DHOTI SAREE
The dhoti saree, which is cozy and simple to wear, tops the list of essential sarees. If you want a flawless appearance to rock the party, the red dhoti saree is the finest choice. Use minimal jewelry with this outfit and a belt to complete the look.
20. RED CLASSIC LACE SAREE
When you want to give your traditional clothing some elegance and magic, a lace saree is an amazing pick.
21. RED KANJEEVARAM SAREE
The gorgeous raspberry-red saree is perfect for festivals and weddings. Such a saree will make you appear regal and refined.
22. RED SILK ORGANZA SAREE
It's the ideal appearance for a party. The saree stands out due to its lavish sheen and elaborate Aari embroidery. By wearing it with a sequin or chikankari blouse, you can upgrade the style.
23. RED PATOLA SAREE
The gorgeous Patola detail cannot be missed if you are a fan of everything traditional. Indian festivals benefit greatly from the vibrant flair of their printed and woven forms. Red Patola Printed Sarees typically have a very traditional charm, thus extra bangles and golden or pearl jhumkas look best with them.
24. RED SATIN SILK SAREE
Dress in a way that is appropriate for the occasion! What ceremonial attire could be finer than a drape decorated with creative themes that tell the tale of the wedding? Red satin silk saree with a statement-making wedding baraat scene pallu and lavish embroidery of peacock, elephant, and flower motifs.
25. RED LEHERIYA SAREE
Leheriya print is connected to Gujarati colors, and this saree is one of the most well-liked festival looks. To create the proper wedding saree statement, match it with a chic, contrasting blouse.
26. RED ORGANZA WITH FLORAL PRINT AND GOTTA PATTI EMBROIDERED BORDER
My personal favorite and such an elegant saree look with which you can rock any party and make a unique yet gorgeous appearance.
27. RED BANDHANI SAREE WITH MODERN BLOUSE
Embroidered puree red bandhani saree has a retro style that is both fresh and modern. Put on a deep-v-neck blouse with it to rock your party appearance.
28. RED CHINESE PRINTED CREPE SAREE
This a stunning saree look for ladies who enjoy standing out from the crowd. Enjoy the party while sporting this outfit with silver jewelry, light makeup, and a deep-v blouse.
29. RED CHIFFON SAREE WITH GREEN BROCADE BLOUSE
It is a perfect saree look for the festive season. For a modern woman, it is satisfying as it is not so shimmery and shiny but is very classic and elegant.
30. RED SILK SAREE WITH BANDHANI PALLU
This gorgeous silk saree with Bandhani pallu and cutwork is perfect for you if you're the kind of bride who would pick a wedding saree over her bridal lehengas. The cutwork pattern, which is currently quite fashionable and not too heavy, will undoubtedly make you stand out.
Hope you like this article. You can also check other articles by clicking here. Have fun shopping!