You've probably exhausted your Bollywood and also Hollywood watchlist! If you're addicted to suspense, intrigue, and also thriller dramas with a nail-biting conclusion, South Indian suspense thriller movies come to your rescue. Southern Cinema responds with something unusual and also amazing that captures the hearts of the audience. Everything about their films is unusual, while they continue to win audiences' hearts with their out-of-the-box concepts.
So, if you're tired of viewing the same old movies, what should you do? Check out this list of the best South Indian suspense thriller movies that have recently been dubbed in Hindi.
1. Dhuruvangal Pathinaaru D-16 (2016)
Director: Karthick Naren
Cast : Rahman, Prakash Raghavan, Sharath Kumar, Santhosh Krishna, Praveen, Bala Hasan, Vinod Varma, Ashwin Kumar, Kunal Kaushik, Anjana Jayaprakash.
The story is about a police officer who loses his leg while investigating the strange death of a couple, and is a Tamil sleeper hit yet critically acclaimed suspense-thriller. Many years later, he is compelled to relive his past, which includes some unexpected twists and turns.
2. 7th Day (2014)
Director: Syamdhar
Cast: Prithviraj Sukumaran, Tovino Thomas, Vinay Forrt, Janani Iyer, Anu Mohan
An IPS officer, David Abraham, is involved in an accident and meets Shan and Vinu. As Vinu leaves the hospital, while David senses something is strange. The story is about a suspended officer who is trying to solve a twisted mystery until the final scene of the film. This movie is exciting and also compelling with twists and turns.
3. Nenokkadine (2014) – Ek Ka Dum
Director: Sukumar
Cast : Mahesh Babu, Kriti Sanon
Nenokkadine is one of the well-known Telugu psychological South Indian suspense thriller movies. The story revolves around a rock star who has developed a mental illness as a result of his parents' deaths, which has led to psychological inhibitions to seek vengeance.
Also read, Top 30 Long Frock Designs That You Would Love
4. Thani Oruvan (2015)
Director: Mohan Raja
Cast : Jayam Ravi, Arvind Swamy, Nayanthara
The story of this criminal South Indian suspense thriller movies is about an IPS Officer. Furthermore, he wants to arrest a rich scientist who is profiting from secret illegal medical practices.
5. Vikram Vedha (2017)
Director: Gayatri, Pushkar
Cast : R Madhavan, Vikram
A police officer and a smuggler are the main characters of this story. After a while, the movie progresses, and the police officer realizes the true cause.
6. Maayavan (2017)
Director: C.V. Kumar
Cast : Sudeep Kishan, Lavanya Tripathi, Daniel Balaji, Jackie Shroff
The thriller follows a police officer on a mission to arrest a high-profile criminal, who murders people in mysterious pattern.
7. Mumbai Police (2013)
Director: Rosshan Andrrews
Cast : Prithviraj Sukumaran, Jayasurya, Rahman, Kunjan, Aparna Nair, Deepa Vijayan, Hima Davis
This Malayalam film follows a police officer, who is attempting to reclaim his memories following a terrible accident. But he is re-assigned the case, and finds the identity of the killer. Also, one of the best climaxes ever witnessed in a Malayalam cinema may be seen in this film.
Also Read, Woman Kitty Party Themes For Your Kitty Gang
8. Drishyam (2013)
Director: Jeethu Joseph
Cast : Mohanlal, Meena
An orphan, has raised a family and also works as a cable operator in a tiny village where he and his family live peacefully. When his wife and daughter accidently murder a pervert youngster who happens to be the Inspector General's son. The world comes crumbling down while he must now do everything in his power to defend his family from the law. This is one of the best South Indian suspense thriller movies that you will love to watch!
9. Vishwaroopam (2013)
Director: Kamal Haasan
Cast: Kamal Haasan, Andrea Jeremiah, Rahul Bose.
Viz teaches Kathak in New York. Nirupama, who is turned off by his femininity and prefers to have an affair with her boss, hires a private investigator to dig up dirt on him so she can divorce him. While, this sets off a surprise turn of events that Nirupama had not anticipated.
10. U-Turn (2018)
Director: Pawan Kumar
Cast: Samantha Ruth Prabhu, Bhumika, Aadhi.
This bilingual spooky thriller of a young journalist who is horrified at the number of illegal U-turns that also resulted in a traffic accident. She finds herself in the middle of a police case and also in a series of murders.
11. KavaluDaari (2019)
Director: Hemanth M. Rao
Cast: Anant Nag, Suman Ranganathan, Rishi.
This Kannada police drama has an interesting story with twists and also some excellent performances. Moreover, the story is about a bored traffic police officer who wants to join the crime department. But he begins to investigate cases himself off the records. While one day, he finds himself on a strange unsolved case from 40 years ago involving the skulls of three people. 
Also Read, 25 Latest Churidar Neck Designs
12. Ratsasan (2018)
Director: Ram Kumar
Cast: Amala Paul, Ammu Abhirami, Munishkanth.
This horror-meets-psychological-crime suspense thriller South Indian movies is very creepy and also is recommended only for the brave hearts. Furthermore, a filmmaker gives up his goal and becomes a police officer after his father's death. He then finds himself in the case of a psychotic killer who preys on school girls.
13. Gultoo (2018)
Director: Janardhan Chikkanna
Cast: Naveen Shankar, Sonu, Avinash
A contemporary Kannada suspense thriller with a plot and characters that are relatable. Moreover, it's the only cybercrime film worth seeing. The story is about a trainer at a computer institute who dreams to be an entrepreneur and also create his own start-up business. But he is caught for a cybercrime one day, putting his goals on hold.
14. Aaranya Kaandam (2010)
Director: Thiagarajan Kumararaja
Cast: Yasmin Ponnappa, Ravi Krishna, Jackie Shroff.
A Tamil film, Aaranya Kaandam, is unquestionably one of the best South Indian suspense thriller movies. It is influenced by films such as Traffic and Pulp Fiction and is titled after one of the epic Ramayana's chapters, which means "Jungle Chapter." Aaranya Kaandam tells the story of an elderly mobster who devises a great plot to defeat his arch-enemy. Although it did relatively well at the box office, it earned cult status over time and is now considered a classic in Tamil and Indian film.
15. 13B (2009)
Director: Vikram Kumar
Cast: Neetu Chandra, R. Madhavan, Sachin Khedekar.
13B is the story of Manohar and his family that moves to a new apartment, 13B on the 13th floor of a building. Furthermore, only Manohar notices that the events on the show are strangely paralleled by occurrences in his family's real life. While the entire family becomes addicted to a new television series called Yavarum Nalam. Manohar decides to examine the incidents himself in order to prevent instilling terror in his family.
16. Ezra (2017)
Director: Jayakrishnan
Cast: Priya Anand, Prithviraj Sukumaran, Sujith Shankar.
Ranjan and Priya find it tough to get accustomed to their new surroundings when they move to Kochi. Furthermore, Priya buys an antique box and carries it home one day. Moreover, after opening the box, the couple encounters a series of weird paranormal incidents.
17. Anjaam Pathiraa (2020)
Director: Midhun Manuel Thomas
Cast: Kunchacko Boban, Unnimaya Prasad, Nandhana Varma.
This fascinating Malayalam drama of suspense thriller South Indian movies tells the story of a consultant criminologist who assists the Kerala Police Department in solving an unique pattern of serial killings that must be solved as soon as possible.
18. Memories (2013)
Director: Jeethu Joseph
Cast: Prithviraj Sukumaran, Meghana Raj, Miya George.
Sam is a cop who became an alcoholic after witnessing the murder of his wife and children right before his eyes. When he is assigned to a case involving the kidnappings of several young married men, he becomes emotionally involved.
19. Kuttrame Thandanai (2016)
Director: M. Manikandan
Cast: Pooja Devariya, Vidharth, Aishwarya Rajesh.
Ravi suffers from tunnel vision, a condition that causes his eyesight to degrade and eventually blindness. Ravi needs a loan of 3,20,000 rupees to fix his vision, but his loan is denied. Furthermore, In a murder trial in which he is the only witness, he decides to blackmail two suspects.
20. Anukokunda Oka Roju (2005)
Director: Chandra Sekhar Yeleti
Cast: Charmy Kaur, Jagapathi Babu, Shashank.
After a night of partying, Sahasra wakes up the next day, while unknowing that the next day is actually the day after. She has a feeling something is awry, but she is afraid as she is pursued by two assassins who are aiming to kill her. She tries to recall what happened the night of the party in order to piece together what happened the next day, which she has no memory of.
21. Goodachari (Intelligent Khiladi) (2019)
Director: Sashi Kiran Tikka
Cast: Adivi Sesh, Sobhita Dhulipala, Madhu Shalini.
Despite the fact that the film received mixed reviews from critics, the crowd adores it. The plot of the film centers around the protagonist being falsely accused while entering the RAW. The story of the film is highly intriguing, but with many twists and turns.
22. Thani Oruvan (Dhruva) (2016)
Director: Mohan Raja
Cast: Ram Charan, Rakul Preet Singh, Arvind Swamy.
The plot of this crime thriller centers around IPS Officer Mithran, who is attempting to arrest a rich scientist. Furthermore, the rich scientist is profiting from illegal medical practices. Moreover, the movie's twist and turns can blow your mind.
23. Aparichit: The Stranger (2005)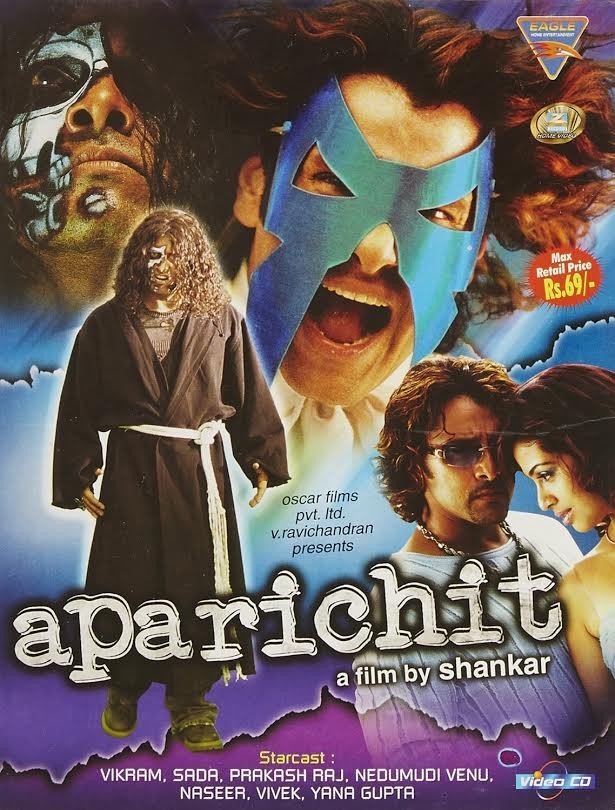 Director: S. Shankar
Cast: Vikram, Sadha, Vivek.
It is a Tamil-language action South Indian suspense thriller movies that was released in 2005. Ambi is an idealistic and also a law-abiding lawyer in this film. Moreover, he has numerous personality disorders that he is completely ignorant of. Also, he adopts two new identities: Anniyan, a murdering vigilante, and Remo, a metrosexual fashion model. This incredible movie will keep you on the edge of your seat at all times.
24. Rangi Taranga (2015)
Director: Anup Bhandari
Cast: Sai Kumar, Radhika Narayan, Nirup Bhandari.
The story takes place in a small village when Gowtham and his wife, Indu, pay a visit to her ancestral house. As his wife goes missing, while Gowtham attempts to unravel some of his life's mysteries in the pursuit of locating her.
25. Irumbu Thirai (2018)
Director: P.S. Mithran
Cast: Vishal, P.S. Mithran, Arjun Sarja.
This P.S. Mitran film is an attempt to revolutionize the field of suspense thriller South Indian movies. This film has a growing societal relevance in light of recent Facebook and Aadhar data leaks. While it raises awareness of the scope of cybercrime and data theft.
26. Pencil (2016)
Director: Mani Nagaraj
Cast: G.V. Prakash Kumar, Sri Divya, VTV Ganesh
Pencil is a school based mystery thriller movie. The story is about the mysterious murder of a student, and investigation follows in order to figure out who is responsible. The film is based on the film 4th Period Mystery, in case you didn't know.
27. Drushyam 2- The Reassumption (2021)
Director: Jeethu Joseph
Cast: Venkatesh, Meena, Nadhiya.
The sequel to Drushyam which is one of the best crime thriller films ever made, and also it's about the same family. The same cast, but a different story, makes the film more intriguing. Again Georgekutty has to protect his family from the law, when his family gets entangled in a crime. This is a must-see film for fans of thrillers.
28. Visaranai (2015)
Director: Vetrimaaran
Cast: Attakathi Dinesh, Anandhi, Aadukalam Murugadoss.
There's a reason why this Tamil crime suspense thriller movie has received so much national and international acclaim! It shines light on police corruption, the misery of the immigrant class, and also the never-ending battle between good and evil.
29. Okka Kshanam (2017)
Director: Vi Anand
Cast: Allu Sirish, Surbhi, Seerat Kapoor.
This movie brings the concept of a parallel universe. The story is about a couple who loves each other very much, and also dreams of spending their whole life with each other. The twist and turns takes place when one of them kills the other in the parallel universe life and they both try to change it to the present.
30. Thadam (2019)
Director: Magizh Thirumeni
Cast: Arun Vijay, Tanya Hope, Smruthi Venkat, Vidya Pradeep.
This story is based on the lives of two twin brother's life, who look alike but are very different in nature and hate each other a lot. The twist and turns takes place when these two gets involved in a murder case. While investigation takes place to find out the answer who committed the murder. This movie is also considered one of the best South Indian thriller suspense movies.
Conclusion
Have you enjoyed our list of the top South Indian suspense thriller movies? Also, comment below to tell us which ones you are eager to watch!